Welcome To The New Season – Men's Essentials For The Rainy Days
|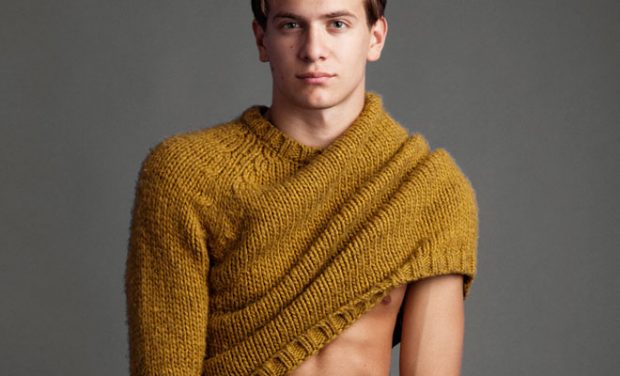 With hardly a day left of August, the summer is long gone for the fashion industry, which works hard on introducing the new collections to the crowds. Fall season's rainy days are the moment when this change truly sinks in, pouring rain is to stumble upon you without a moments notice. So, whether you are a fan of shopping or not, you have to be prepared at all times.
Men are often looking for comfortable when it comes to their wardrobe, luckily fraternity shirts are very much on trend this season, however the coming fall and winter are in demand for well crafted outerwear. First in the line is rain. I am sure you just as many of our readers are not particularly a fan of an umbrella. Basically, there's not much to do with it when it's not raining. I doubt you would prefer just holding on to it? All day long? Furthermore, by the rule of thumb you are to forget to take it home with you on your way back from the office. If you too have this massive umbrella problem, or you are simply too forgetful and have lost way too many to even count for, in the following article we are will try to help.
Scroll down for our rain-proof tips for the autumn season: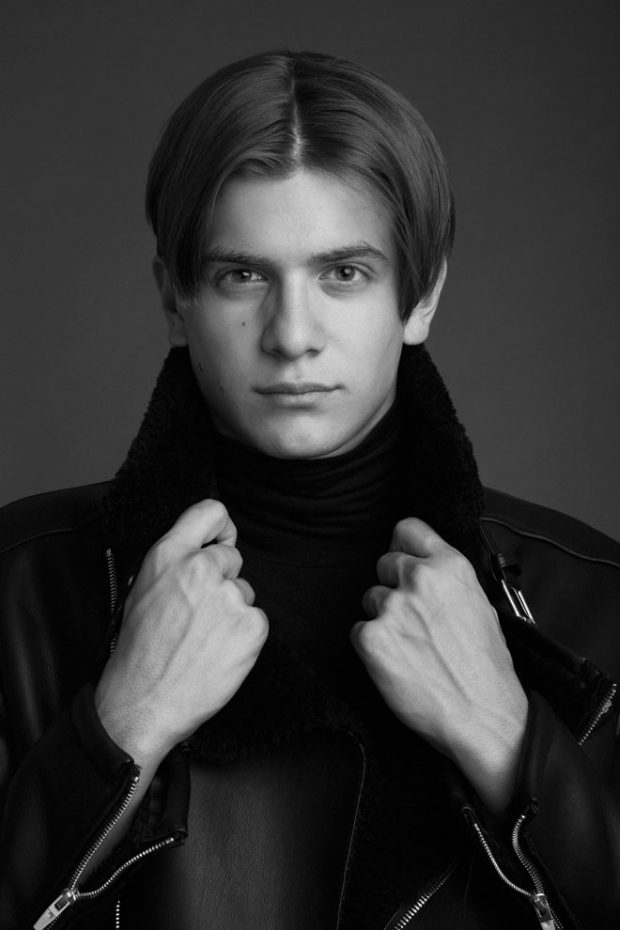 Waterproof faux leather jacket, warm and water resistant –  available at ZARA. 
THE ESSENTIAL OUTERWEAR 
August to early September are the perfect moment to focus on your outerwear, the new collections are just settling into the high-street shops, giving you a myriad of choices. Still, all these choices might actually discourage you from heading out to shop. So, just start with the basics, get yourself a rainproof coat or a jacket which is light, yet warm and mostly practical for the coming fall. While looking for functionality, you also need an outerwear pieces inviting and cool enough to hang on to rain or not. While shopping, do remember that jacket is sure to get wet sooner or later. None have mastered these problems better than the British, the inventors of the all mighty trench coat.
A well fitted trench coat is a perfect solution to your problems, the design lines of the same allow you to wear it along with jeans and a shirt but also a classic and timeless suit. Furthermore due to the length of the trenches, they are to keep your thighs dry, important during the rainy autumnal days.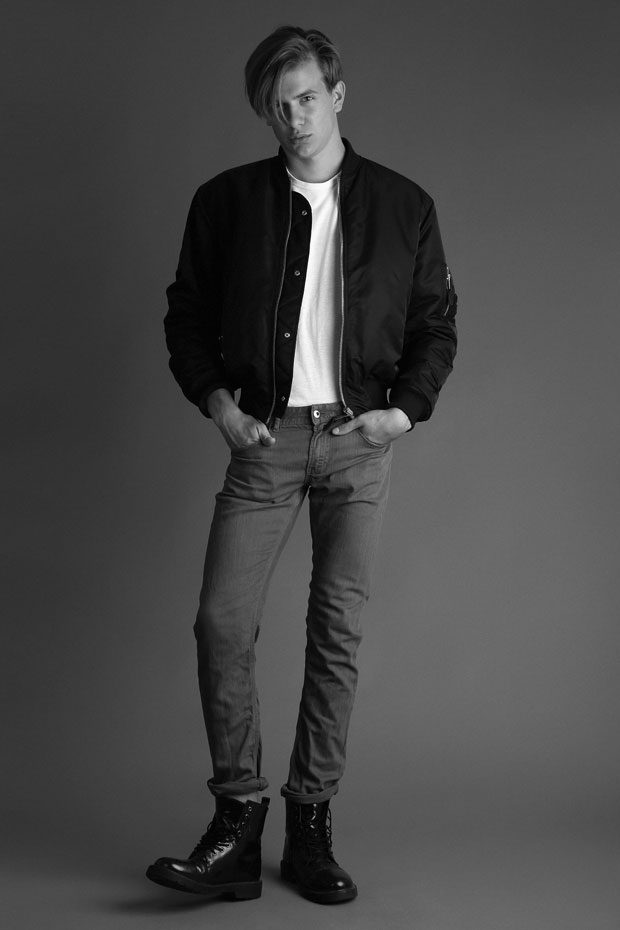 Dr. Martens boots never out of fashion and always water resistant. 
THE APPROPRIATE FOOTWEAR 
However, the most important part in battle against the rain, whether you carry an umbrella or simply do not is the appropriate footwear. We are hardly gonna propose you go out and get yourself a pair of rubber farmer boots for work (tho those are sure to keep your feet dry), still a nicely designed boot covering your ankle is the answer. It will keep you safe and dry while navigating the streets and those puddles in the rainy days or that bus driver is simply determined on getting you soaking wet.
A classic white t-shirt an essential pieces for your wardrobe – tshirt Benetton, jeans Levi's.
When it comes to choosing the right boots for the rainy season, leather is always a good choice, however you will have to rid the shoe label carefully or simply ask the floor staff at any store for help. Not all leather shoes are water resistant, while some indeed are, a leather sole is definitely not your choice for a rainy day. Therefore the perfect choice is the rubber sole, thankfully there's a vast choice of faux leather pieces for your footwear available on hand.
THE WATERPROOF MATERIAL
Industry has gone far in this field, you are no longer cornered into getting terrible plastic like synthetics to battle the rain. Wearing waterproof just to leave you feeling like a plastic bag full of sweat is part of history, nonetheless today you will be more than easily spoiled of choice when it comes to these materials. Today, you can find any piece of clothing well designed and crafted out of waterproof materials. Even when it comes to athleisure and performance gear, while you are out for a run there's a great deal of jackets, tights and shorts keeping the elements at bay.
Camel coat a classic piece, available in rain proof versions as well – Coat H&M, shirt and trousers Zara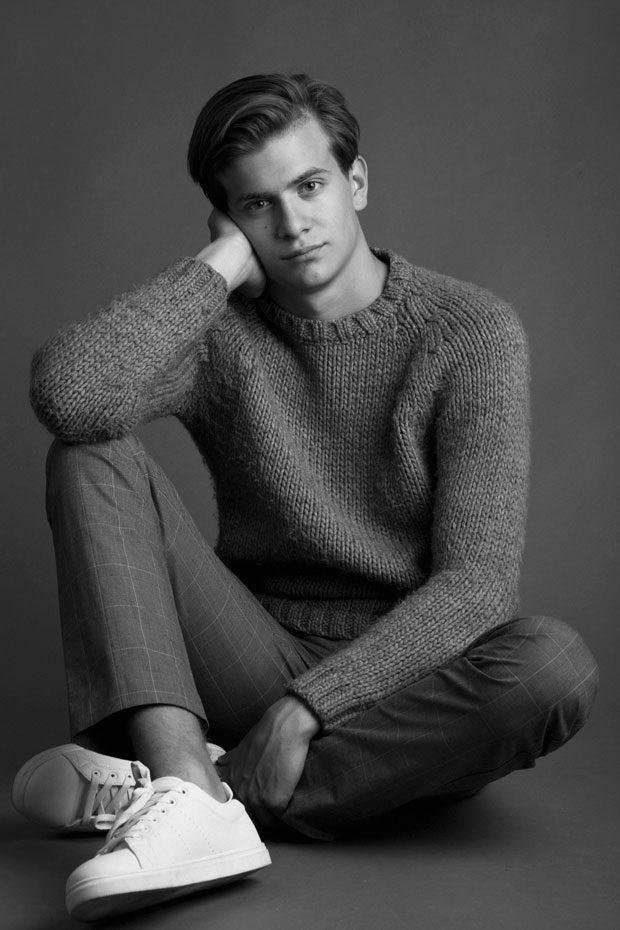 Waterproof white sneaker, comfortable and functional – sneakers Topman, Trousers Reiss Menswear, sweater Zara Man.
When it comes to fall weather and faux leather, high street chains such as Zara and H&M have simply mastered the craft of imitating the feeling of real weather. So you can get even a perfect imitation of a shearling jacket, which unlike the real leather one is not only far less expensive but also far more water resistant.
The new Fall Winter collections are well versed with the subject of keeping yourself dry and warm for the rest of the year, so rather than rubbing yourself down feel free to rub in your slick new wardrobe.
All Images starring Milos at FOX Models by Igor C for MMSCENE Style pages.  Text by Zarko Davinic at D'SCENE Publishing.