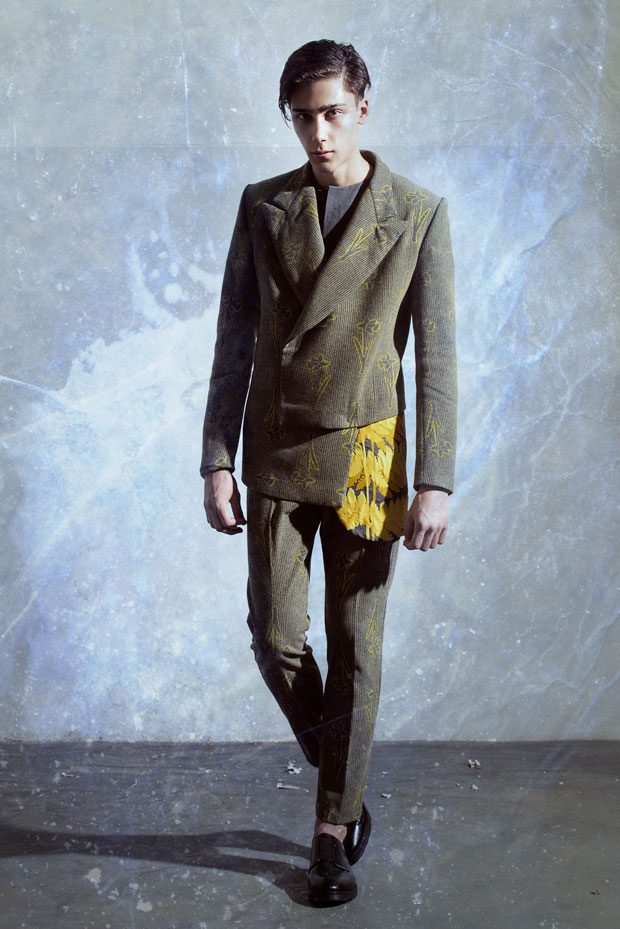 MMSCENE Magazine catches up with 23 year old menswear designer Boaz van Doornik coming from Apeldoorn who graduated at ArtEZ Academy of Arts in Arnhem, the Netherlands.
Introduction
My name is Boaz van Doornik, I recently graduated with a BA in Fashion Design at the ArtEZ Academy of Arts in Arnhem, the Netherlands. Nominated for Mittelmoda 2016, Milan.
Can you tell us something about your current collection ?
My collection ''Monumental Memories'' is an ode to my childhood memories, with a central place for the nostalgic feeling of my childhood. As a child, and to this day, I was always fascinated by nature. This fascination and eye for details are things I learned from my father. Especially the times when I roamed the forest as a small boy with my father are very precious to me. With prints of the ferns, and daffodils I drew as a child strewn across my clothing designs, with my work I wish to build a monument to these memories. Before I forget them.
What attracted you to choose designing menswear instead of designing a collection for women?
It feels more natural for me to design for a man, and it's also really nice and a lot of fun to work with male models. My interest in menswear has gotten increasingly stronger during my final year. Particularly when focusing on the male silhouette, tailoring, proportions, composition, detail and its functions.
Which men's fashion 'faux pas' should belong to our history?
I really don't like the v-neck shirts… it's part of womenswear and not a man's attire.
Women should have at least one little black dress, what should every man have in their closet as a fashionable basic?
A really good suit! And I prefer a tailored one.
So in your opinion, what will or may the future hold for the fashion industry?
Social media will become more and more important for the fashion industry. But I hope it will not destroy the old-fashioned catwalk show.
What will or may the future hold for you personally?
It would be amazing to start my own label. But for now I would love to work for a nice brand to gain more experience. I'm still young, so I have a long way to go.  And it will be a great adventure for me!
We'll see what the future holds.
Photo Armando Branco – www.armandobranco.com
Hair by Redken
Makeup Artist Kathinka at Unspoken Agency
Model from FIC Model Management
Originally published in MMSCENE Magazine Issue #010