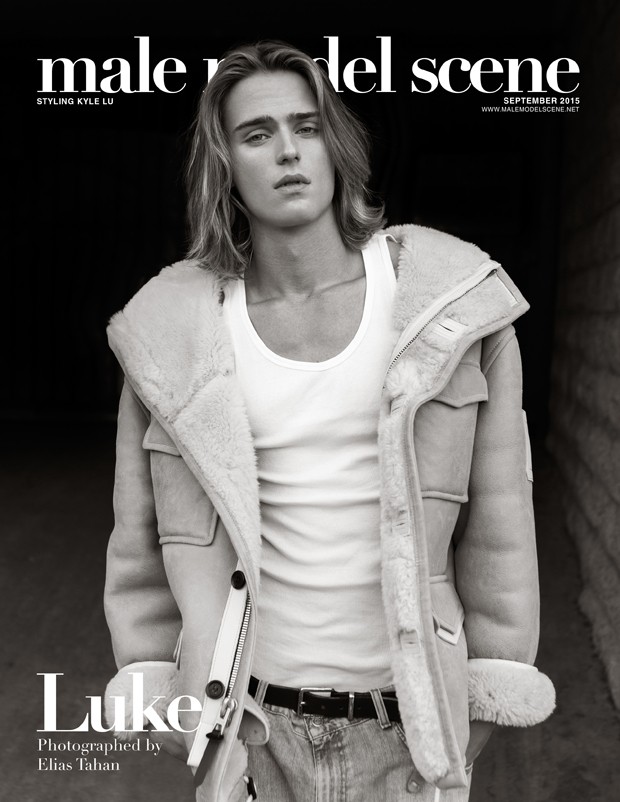 The model industry is changing by the day for our latest exclusive MALE MODEL SCENE editorial and interview we got the chance to talk to Luke Eisner who was photographed in Los Angeles by our contributor Elias Tahan. Luke is a true example of a young model millennial and an entrepreneur.
Fashion stylist Kyle Lu selected relaxed Fall Winter pieces for the session while grooming is courtesy of Cherish Brooke Hill. Luke is represented by Vision Models in Los Angeles, but there's more than modelling to this young man.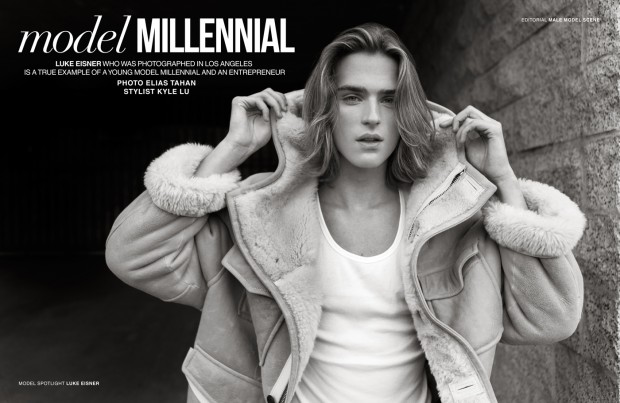 See our very interesting chat with Luke as well as the rest of the story after the jump: 
Who is Luke Eisner?
I'm a recently turned 19 year old from a small town outside Milwaukee, Wisconsin that moved to Los Angeles last year. My mother agency is Vision Models LA. I am fortunate enough to be a recording artist singer/songwriter under my own name and a touring dance music producer in a duo under the name "Symphony". I also have a project under the moniker, "Captain", which is branching out into an entertainment conglomerate called "Captain's Quarters". I'm currently a Sophomore in the Music Industry program at USC, play guitar, piano, and sing. I also own a DJ and Lighting company, "Luke Eisner DJ & Lighting" that specializes in weddings, private parties, and formal events. We now have branches in Milwaukee, Madison, San Diego, and Los Angeles thanks to the hard work of a staff I am proud to call friends.
How did you start modelling?
I was actually really fortunate on how it all came about because it wasn't a job I was seeking out! I went in for a haircut at Alon Shalom Salon in West Hollywood and the owner, Alon, was washing my hair and asked me, "Are you getting a lot of work out here?" I answered with some of the clubs and gigs I was playing in town and he gave me a look and goes, "What are you talking about?" I was like, "Music, what are you talking about?" and he was like "Modeling!", which was the last thing I thought he would say. I told him that I was not a model but he insisted I give it a go. He gave me a list of agencies and after that whole process I wound up at Vision with my agent Marco Servetti. So I essentially owe the pleasure of this interview and the whole modeling adventure due to the kindness of a stranger. Big cheers to you Alon, blessed to have crossed your path!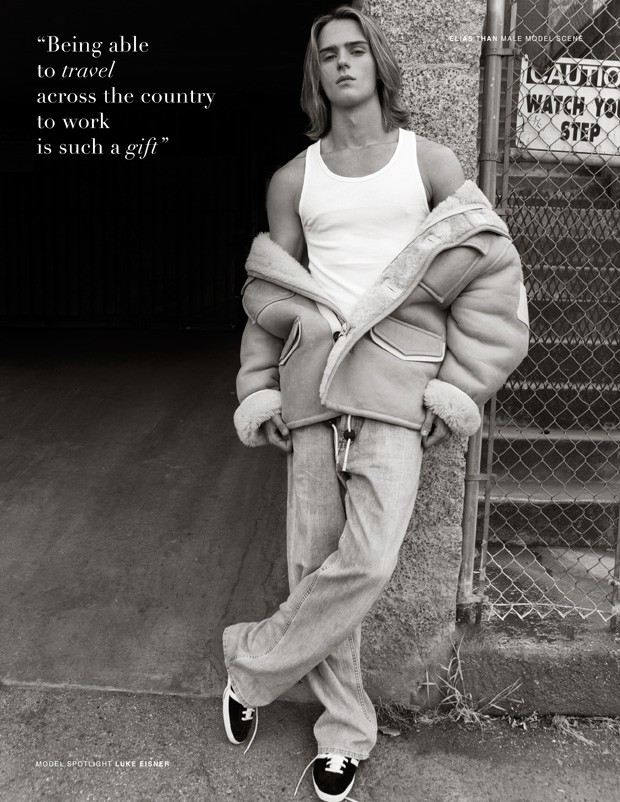 What's been the best experience for you so far modeling?
I've really enjoyed shooting on location for various campaigns. Being able to travel across the country to work is such a gift. This summer I did a few that will be in stores this winter, but that means dressing in big coats, scarfs, hats, and sweaters in the sometimes 100 degree sun. I know that sounds miserable, but it was actually a great experience due to the hospitality of the client and the locations they provided. It made a little sweat go a long way. A few of the campaigns used a lot of fake snow, which brought up a lot of nostalgia from living in Wisconsin. As a songwriter, many of the scenes were very inspiring, so I always brought a guitar and and pen and a pad everywhere I traveled. Above it all though, as cliche as it sounds, I made a bunch of really selfless friends along the way that I enjoy being around both on and off set.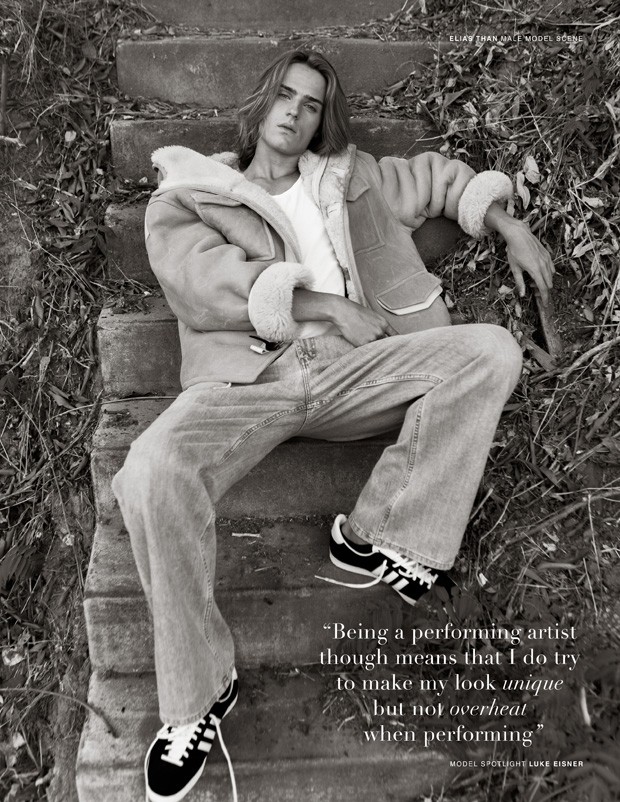 How would you describe your style?
I would say I am a very clean and simple dresser, mostly because I want my impression on people to come from conversation verses what I am wearing. Most everything I have is very solid colored; black, white, grey and blue for the most part. Form fitting v-necks, low long sleeve scoop necks, linen pants, cable knit sweaters, and halfway buttoned up collard shirts are the staples for me. Being a performing artist though means that I do try to make my look unique but not overheat when performing. I'm a big fan of antique jewelry: watches, rings, and necklaces as well as vintage suit coats. I also am not a big fan of shoes, I am loyal to my flip flops. So if I show up to anything with shoes take it as an honor!
What's your beauty secret or essential grooming routine?
Nothing that would be anything out of the ordinary. When I go on shoots there is no telling what they will do with my hair, a lot of times I don't even recognize myself. But in daily life I either wear it up or I style it down so it looks presentable and not too messy or bummy. I don't know any beauty secrets, but a smile and eye contact go a long way.
You study, are a performing musician, songwriter, run a DJ and Lighting company, and do modelling, do you have a time management advice for us?
Honestly I'm the one who needs help with time management haha! I don't mind being busy because it is all the different projects, relationships with new people, and experiences that give me the inspiration for my songwriting. It also keeps my brain fresh so I'm not always doing the same thing day in and day out. I also am so lucky to have such a strong belief in me from everyone I work with. I owe everything to gracious opportunities and kind people. The advice I have to go with that is to tell everyone you know how they make you feel when you see them as if it was the last time you will get the chance. This can lead to the most honest compliments and builds the strongest relationships. The other piece of advice I would have is that everyone with a plan B ends up doing their plan B. That doesn't mean don't be open for new routes, it just means don't go somewhere where your heart isn't. And lastly, keep things in perspective. This is easy for me to say but many times when problems pile up its hard to do. For example, if you are having a bad day right now but you are reading this article with two working eyes you are doing a lot better than a lot of people.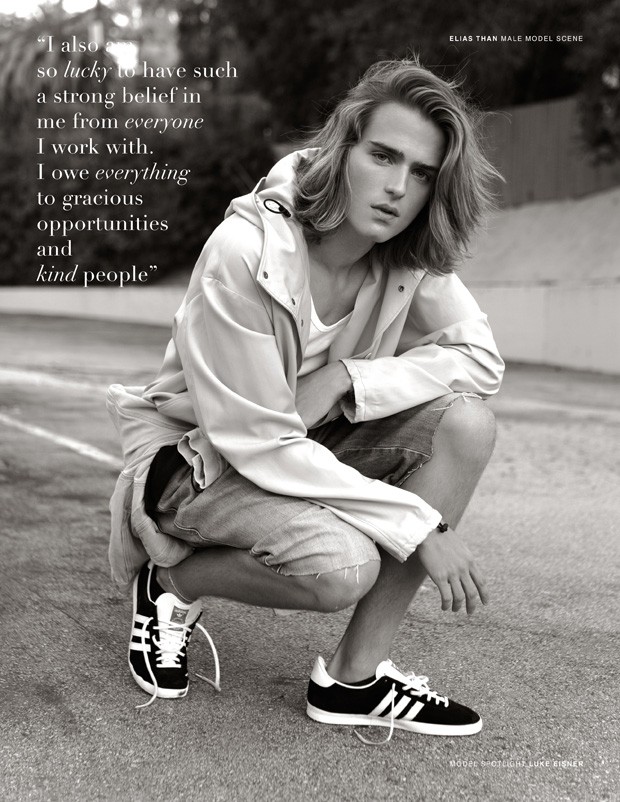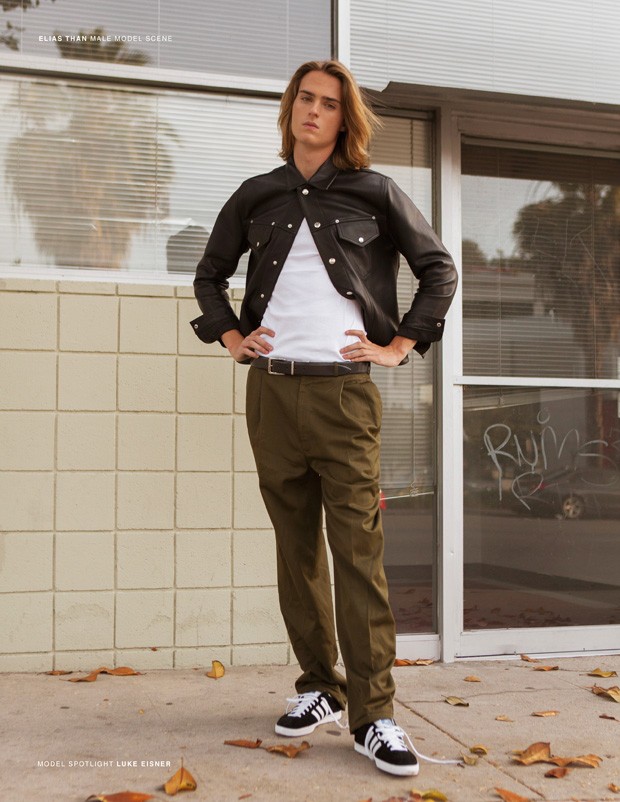 Ten years from now (you will be…)?
Ten years older haha! I think it is hard to know, I have a lot of dreams but I try to live each day as if I was telling a story about it. Meaning, I try to immerse my attention in the details and little nuances of the present, just like any good book. With stories it's almost bad practice to skip ahead in the text and I hold that true to life as well. For example, even a half a year ago I had no idea I would be modeling. If I would have been so focused on what I thought my life was going to be, I wouldn't have been open to listening to Alon and I would have never tried modeling. That would have cost me some really nice adventures. I can say that I hope my future involves sharing my songs with people on a level that touches and inspires them. I can hope that 10 years from now my friends and family are alive and well and proud of what I'm doing!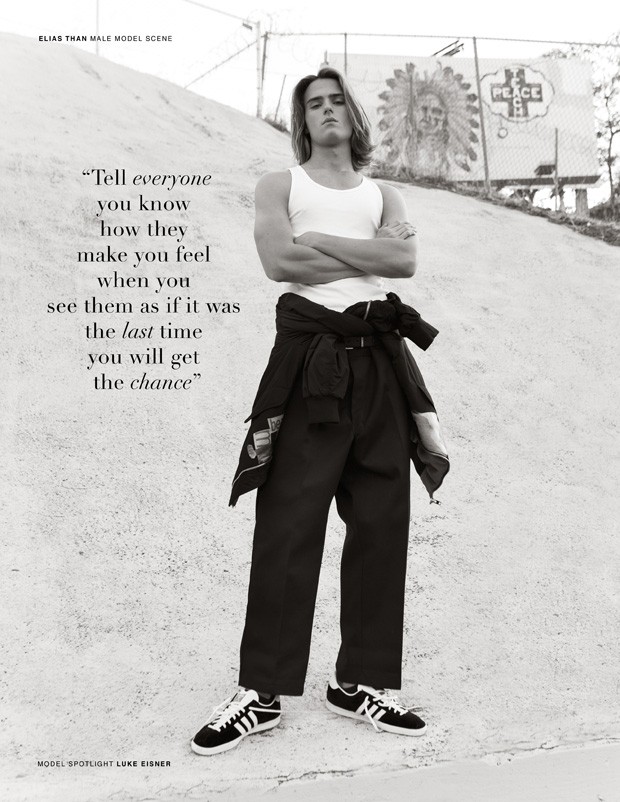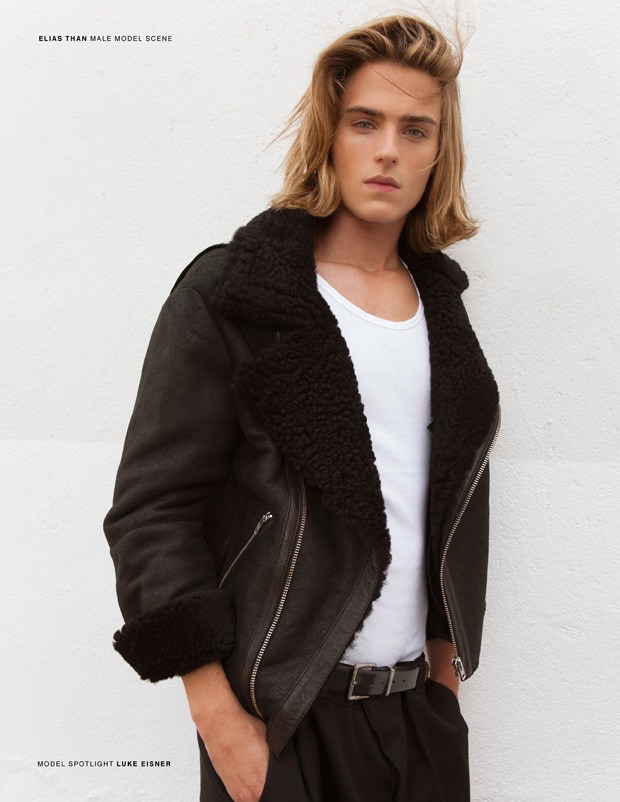 Favorite word?
"XO". I guess I'm cheating a little bit because it is more of a phrase but it is definitely my favorite. It works on a romantic and platonic level for me.
Instant gratification?
I'm a big fan of fish! I love animals in general, but something about fish really makes me happy. I'm a big scuba diver because of it and I never miss an opportunity to go to the aquarium. It's funny, some of my friends ask me what I would do if I won the lottery. For me it isn't a fancy mansion or a new car, it would be a big fish tank haha.
Follow Luke on INSTAGRAM @lukeeisnerofficial.
What's no fun?
Waking up early! I'm a big sleep inner. I'm also not a fan of coffee, so if you meet me in the morning just talk really loudly!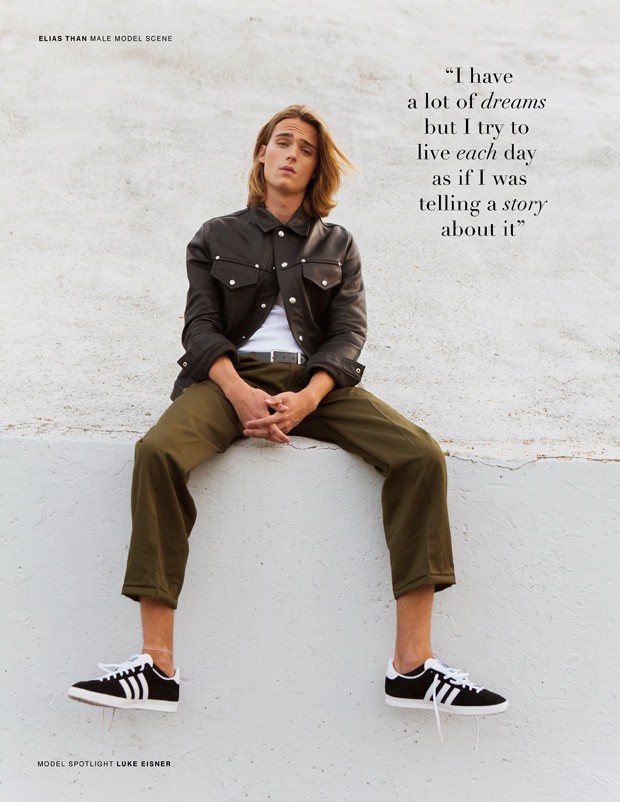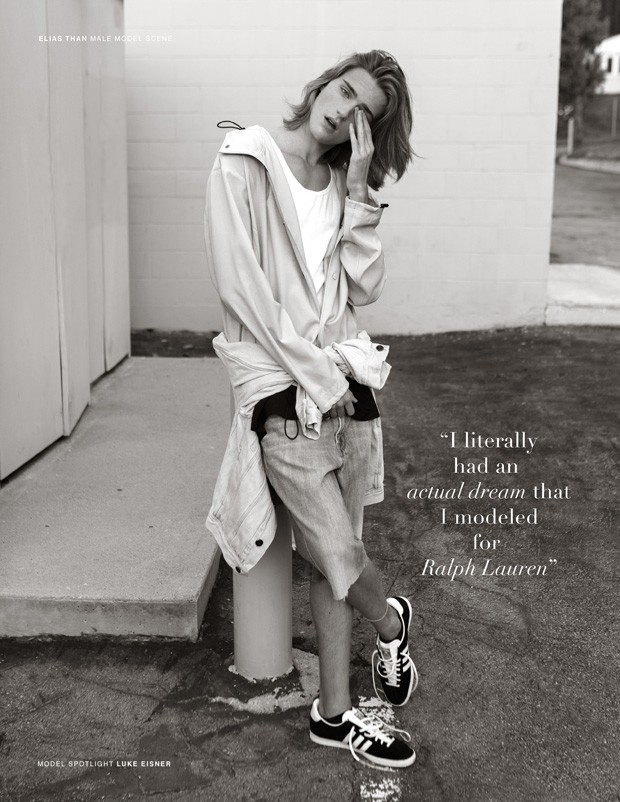 Current 'eye candy' – could be a girl, actress, model?
Ever since I was little I've always had a crush on Daphne from the Scooby Doo cartoons. Good for Fred.
Favorite movie?
Good Will Hunting! I thought the story was very telling to the influence of friendship and the acting speaks for itself. The soundtrack was done by Elliott Smith, who was the artist that got me interested in music. I also love the movies "About Time" and "Remember Me" and pretty much any romantic movie honestly.
Name a famous person you'd most like to meet?
I think Robert Pattinson is really cool and most people don't know he is a musician too.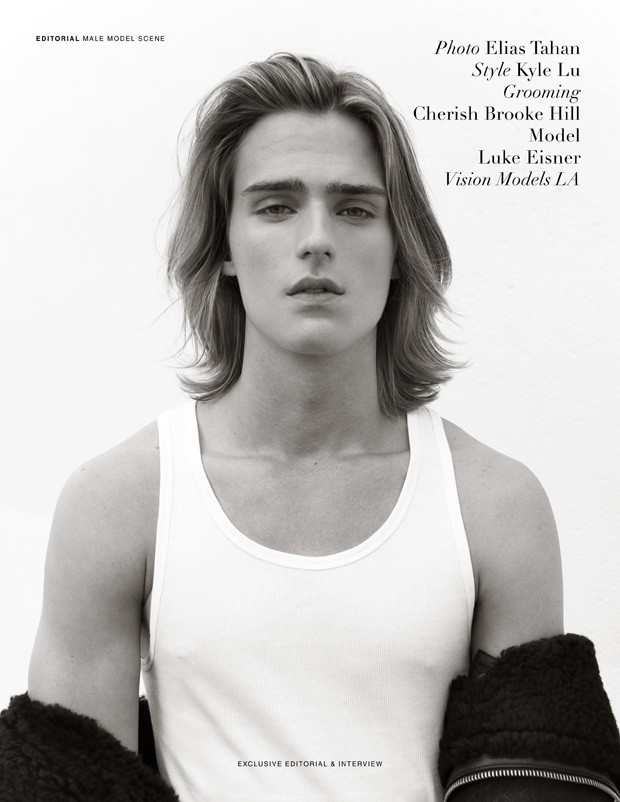 What's on your current playlist?
Tom Odell has been my favorite lately. I think he is a really good story teller and his music has an old soul. For the most part this summer though I've been crate digging through my old records and have a nice 60's-70's playlist going now. Being a DJ I also have to be on top of all the blogs to see what is new an exciting so I can rotate them into the live sets.
Who are your favorite all-time artists, DJs, musicians?
The biggest living influence on my acoustic music is Ed Sheeran and on my dance music is Avicii so I would love to meet/work with either of them. Outside those two I pull from Elliott Smith, The Kooks, Sam Smith, Trevor Hall, John Mayer, Bob Marley, Calvin Harris, Brendon Urie, Goo Goo Dolls, and Jimi Hendrix.
Your Dream modeling Job?
I literally had an actual dream that I modeled for Ralph Lauren once so I guess you could say that's my dream job haha!
Find more of Tahan's photography at eliastahan.com.