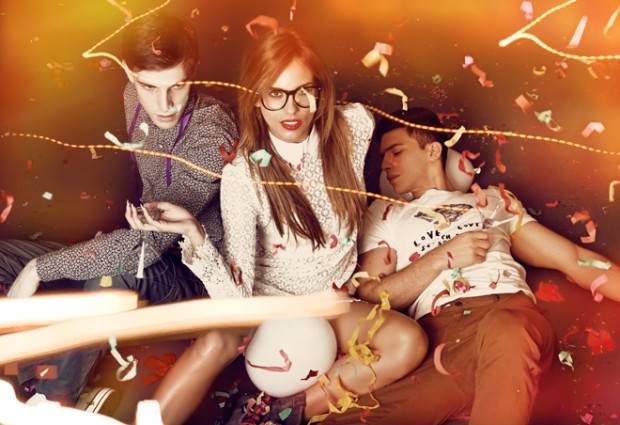 One of the constants if you're a model is the need to network and be seen, and this means you want to make sure you're a part of the party scene. Your career as a model, especially if you're male, depends on the oxygen of publicity, on those people who make the hiring decisions, and they won't phone you if they don't know who you are.
Models are wearing left to right total look Scotch & Soda, dress Diesel and Office Shoes, Diesel Tshirt and Scotch & Soda trousers.
Parties are the ideal way to get noticed, to get to know new people in the modelling industry, and, of course, to have a great time! When you're throwing a VIP party, there are a number of dos and dont's, so here are some tips on how to make the ultimate swanky party go with a swing.

Get the right-sized venue
There's nothing worse than 30 to 40 people rattling around in a room that can take 300. Yes, it might be a lovely room, but you need to consider what scale of party you're throwing. A smaller, intimate party will work in a more intimate space, but you don't want people to feel claustrophobic, so make sure there is plenty of space to circulate easily.
Styling above left to right Scotch & Soda jacket, shirt Tommy Hilfiger, trousers Replay shoes Kenzo; girl wears Maiscon Scotch coat, dress Diesel and boots from Office Shoes; Shirt Scotch & Soda, Diesel Jeans, sneakers Converse; shirt Hilfiger, trousers Scotch & Soda, shoes Aldo.
When you're throwing a big bash, you still don't want guests to feel constricted, so look carefully at your numbers – remembering there will be no-shows – and talk to those who've done it before to get some advice. Make sure that whatever the size, it's warm inside, or guests will just feel like heading home. You also need a venue that people can get to easily by a mix of public transport and taxi.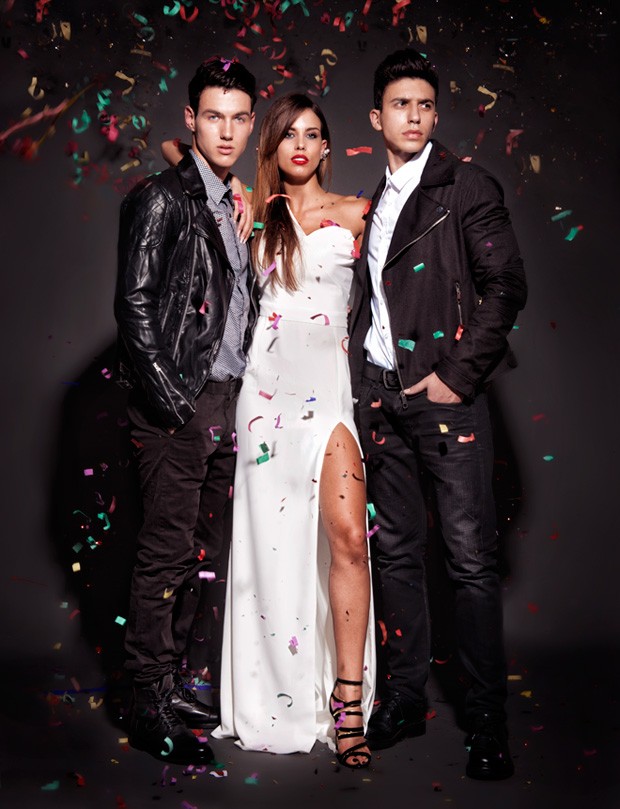 Music and entertainment
Everyone likes to get down on the dance floor, especially when drink has been flowing. If you want live music, then beware of bands that just do covers – you need a band that can mix things up with a variety of styles rather than a one-trick pony. A good DJ can really make a difference to the entertainment and will be experienced at knowing how to get people dancing as well as to change mood and ambience at the right time.
Styling above left to right Antony Morato shirt, jacket Zara, trousers Replay and shoes Aldo; Girl wears a dress from Milica Opacic; boy on the right Antony Morato jacket, shirt Zara, trousers Replay shoes Emporio Armani.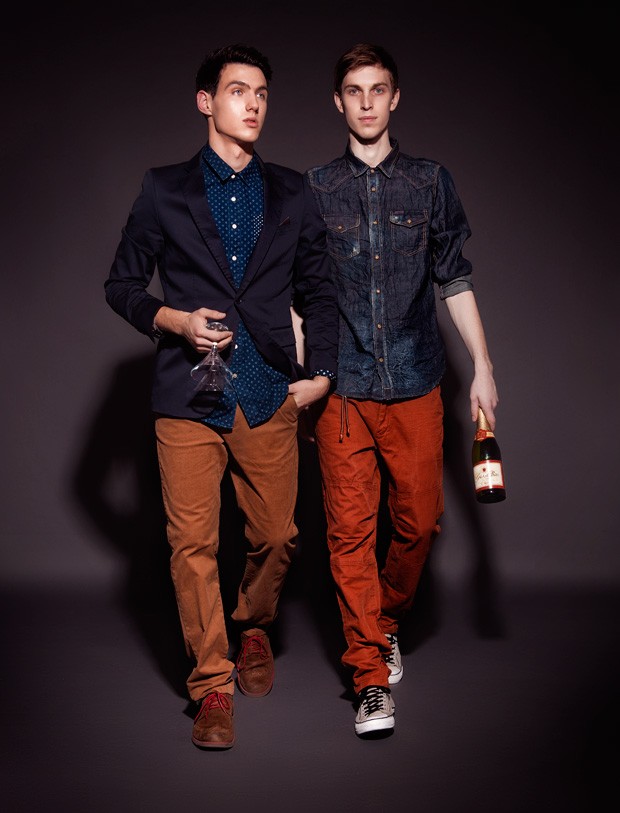 Drink
It has to be champagne or an equivalent, but champagne stamps a party with a mark of class. Check that there are attractive champagne flutes for the bubbly to be served in – the last thing you want is for guests to think you have no style. Remember that you're looking to impress so that people will hang out with you and you can continue to develop your business networking. Don't forget to provide soft drinks as well.
Styling above left to right jacket Diesel, shoes Also, trousers and shirt Scotch & Soda; shirt Diesel, trousers Scotch & Soda, shoes Converse.
Staff and food
It's important that there are enough trained staff members to serve drinks and know when glasses need to be refilled. If food is being served, the same applies – don't provide anything greasy or crumbly as you don't want guests getting food stains on their finery.
Styling above total look Diesel both.
Enjoy!
A great party will be remembered by everyone for a long time, and even though it's hard work organising everything, just make sure you have a good time yourself.
Photos above by Igor C featuring models Isidor, Vladan, Tomislav and Jelena K at FOX Models Belgrade, style Vanja Pantin for Male Model SCENE.