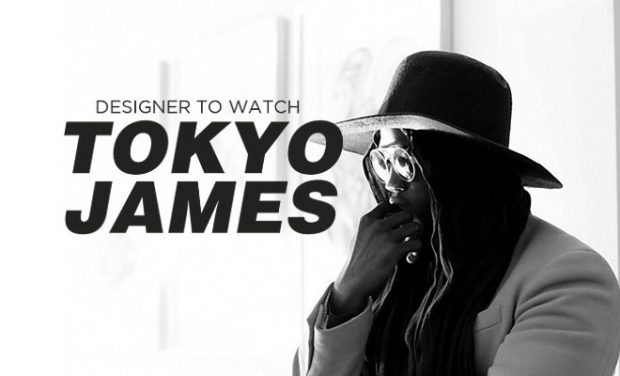 London based designer TOKYO JAMES successfully merges his South African background with is life as a Londoner, taking the attention of the fashion scene both in the UK and SA. For MMSCENE Magazine Issue 14 (OUT NOW IN PRINT IN DIGITAL) James sits down with Fashion Features Editor KATARINA DJORIC to talk about his start ups, working with top fashion brands and the future of his eponymous line.
How did you first get interested in fashion?
I always had a love for fashion from a very early age, I can remember my grand mother she was 60 and still a size 8 uk size 8 that is, she always was so fashionable and very androgynous in her style she use to wear my grand fathers clothes, his suites and trousers and always mix it with African traditional wear. Ahe married the sentiment of Western civilization and Africa perfectly for me and that rubbed off on my mother who was another great  inspiration and made it easy for me to get interested in fashion
How did you switched from studying Mathematics at Queen Mary University in London to fashion?
I actually didn't switch I was doing fashion whilst studying for my mathematics degree, I never had many friends at university since all my friends were all grown up, were already in work or entreupenures in different forms of the arts so I used to hang with them a lot. We used to be in soho and Covent Garden most off the time pulling cloths and styling shoots for editorials for my [ROUGH] magazine that I had just launched back then I was in a very creative space during my university days. But to be honest I hated everything about school, well that's between us and your readers [laughs].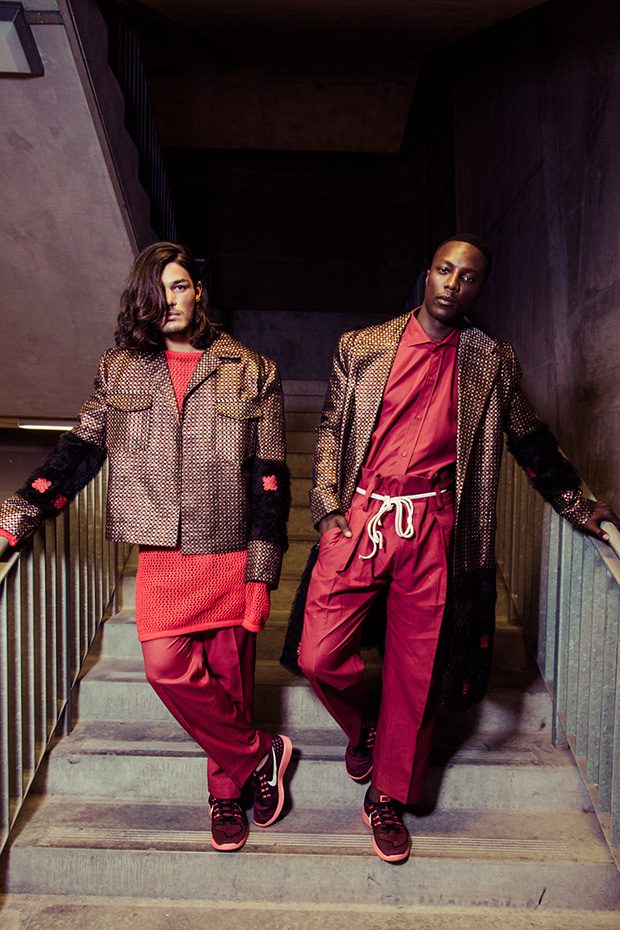 Photo Neil Roberts
You worked on digital campaigns for Brioni, Issey Miyake and Puma Black Label, what's the most important things you learned from that experience?
I learnt it is not about you it is all about the vision of the client and alos how you best interpret their idea. Therefore the audience gets the message but does not forget your identity as a creative who shaped the project and the client remembers that is why they came to you in the first place.
So, when you think of your own design what impact would you like to generate? What is the philosophy behind your work?
Fashion is very clique and most of the times I feel like such an outsider both from the fashion perspective and the world in general.  I never felt that I fitted because well I didn't attend a fashion school and I hated university so I learnt quick that no one was going to give me anything and I had to create my own opportunities and create the reality I wanted for myself by any means possible. It was about just having to get up and do it on your own, so I would like what I create to impact the next generation of creatives and inspire them to shoot for the milky way cause shooting for the stars is so last year. My philosophy is to create your own reality.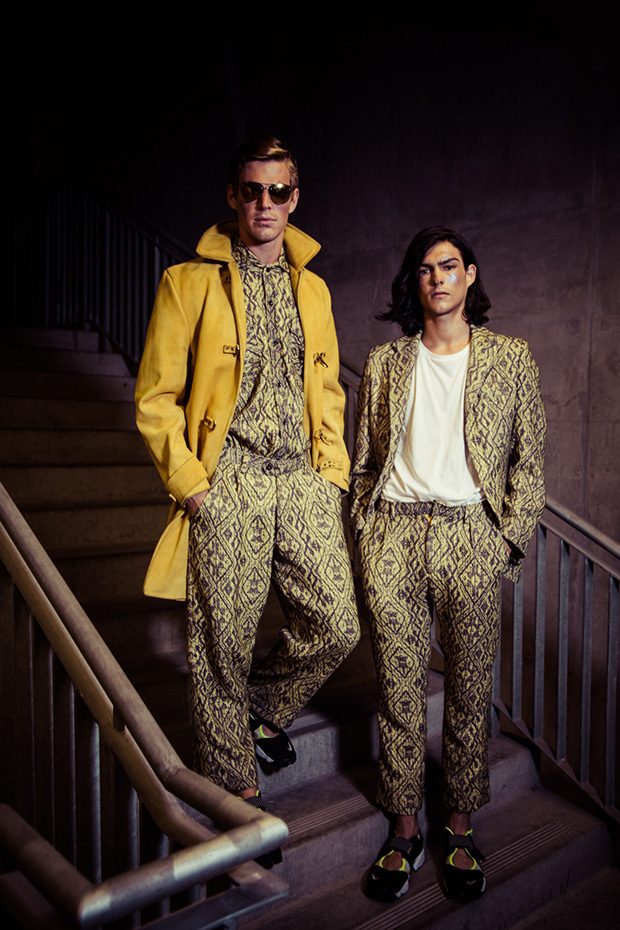 Photo Neil Roberts
Could you tell me more about your AW17 collection named "Son of God"? What's the inspiration?
The collection's full name is actually "END TIMES : SON OF GOD" and it is a very political inspired project. Taking in account the current faux in the world it seems like the world is about to implode, the free world is lead by a racist, megalomaniac, bigot, mesogonisty and the list goes on….  my home country United Kingdom voted to leave the European Unon and other world countries are becoming more isolationists than ever. The world is going through a serious change and that is quite frightening for a lot off people.

When we saw "Ugly is the new cool" at your AW17 show, was that the direct critic of the "the aesthetic of ugliness" trend?
It has a double meaning, one is that we are tired of pretty and being not conventionally good looking is actually cool but it also means that the ugly side of humanity is now becoming cool which is again quite a scary thought.
What sets apart South Africa's fashion scene from the main stages such as Milan, London, Paris, New York?
South Africa has the ability to bring all the best on the continent under one roof is amazing and having fashion as our common language is a beautiful thing. From the fashion capitals we kind of know what to expect, and the designers but with south africa it has the mistery of Africa around it. That is what is making it fresh and new something that the others don't have any more apart from London, but I am partial cause I'm a Londoner.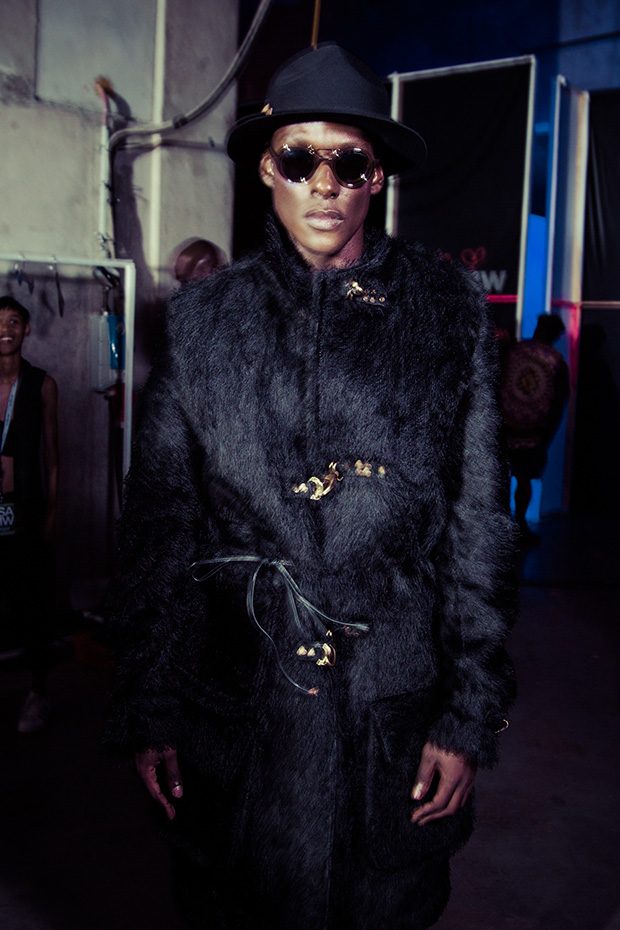 Photo Neil Roberts
But does the fashion tradition of South Africa influence your design and what is more international in your work?
I get asked this a lot and the answer is yes, but I also find a lot off inspiration form London cause I was born and raised there so my design style is very european however with a very Modern African twist or sociability to it. While my still Afican influence will show be it the choice of fabrics am drawn to or the motifs I decide to use in conveying the aesthetic for that season.
What is your attitude toward consumerism and the pace fast fashion sets on today's designer?
To be honest with you I totally hate it , it does no good for anyone, especially not us as independent designers, the consumerism or even the environment seriously need to change , as a young designer and being a one man army I do not have time to breathe, as I talk with you I am already starting work on SS18. It's madness I haven't event finished selling SS17 or started with AW17.
Who is for you the most inspiring person in the fashion industry today? And why?
The most inspiring for me in fashion have to be my friends, Cuba Charles whose the editor in chief of Rough Magazine, his patience, tolerance  and dedication is beyond inspiring. The other would have to be Roxy Bones she styles like a beast, her scene of fashion is out of this world we went to the same university together. The last and definitely not the least is Andre Deveaux whose an al round creative Genius no one gets and understands fashion like he does he's an amazing image creator.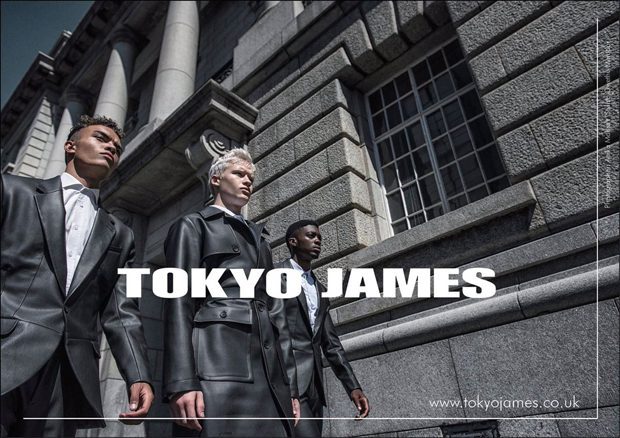 Tokyo James Fall Winter 2017 collection on Design SCENE
Very few young designers are able to maintain their eponymous labels. What advice would you give to young designers dreaming of starting their own business?
Get a 9 to 5 job until the brand kicks of and can sustain itself since it won't give back as soon as expected.
How do you see your brand evolving from here?
I would say we would get more and more refined in our aesthetic, God is in the Detail.
For more of Tokyo James visit tokyojames.co.uk