Our MMSCENE Magazine cover star this month is top model Xavier Serrano, who next to his remarkable model career is about to land his seven hundred thousand follower mark on Instagram. I mention his followship number simply because Serrano's story suggests that good things happen to those who work hard, even tho the follower count doesn't have a monopoly on success. True, Serrano's note worthy career goes back several years – including his memorable covers for menswear staple magazines such as GQ and L'Officiel Hommes in addition to numerous designer runway walks for the likes of Givenchy, Dolce & Gabbana and Armani to name a few. Serrano has already achieved his top model status years ago, yet an award from GQ Magazine as a model of the year is a nice momentum in any model's career. For the cover shoot by Igor Cvoro we teamed up with the top model in Milan, and also sat down for an exclusive interview to talk the ins and outs of the fashion industry and future plans.
And as Xavier reminded me it was a reunion with MMSCENE as well, at the beginning of his career we had the honor to shoot him for a top models online exclusive – long before we ventured into print!
Discover more of the new shoot: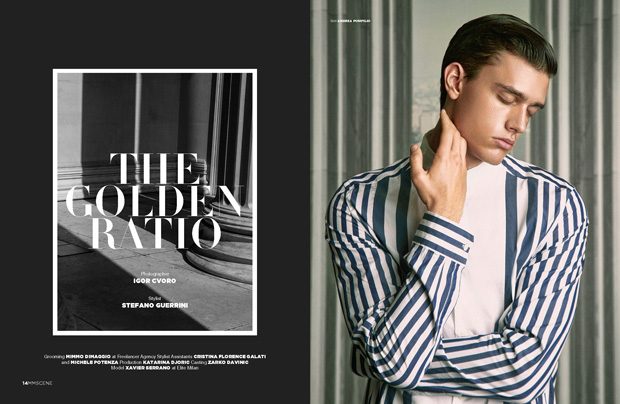 Elsewhere in the issue, when it comes to fashion stories we reunite with that f*cking Luke (name of his IG account) and photographer Joseph Sinclair who created a scorching New York story starring the young breakthrough star. Photographer Tobias Wirth returns as a contributor with Beyond The Tree, a stunning country side editorial complementing the season's obsession with everything camel. While photographer Reissa Biscoti mixes fashion into the anthology and Greek gods with her Gods & Monsters session styled by Francesco Migliaccio. Fashion telling continues with the showstopping Sans Filtre fashion shoot by photographer Chuck Ryes starring model Barry Lomeka in an edgy future obsessed vision by Calvin Nymon.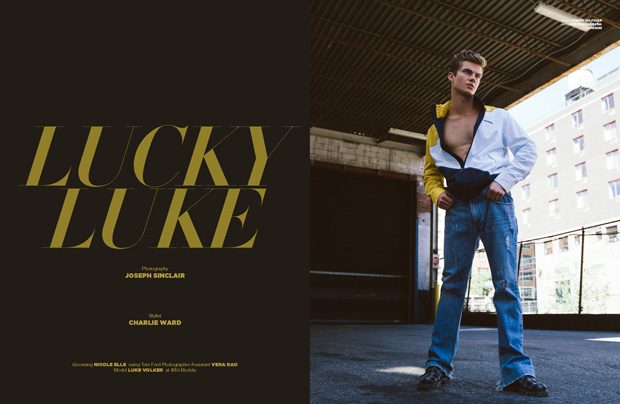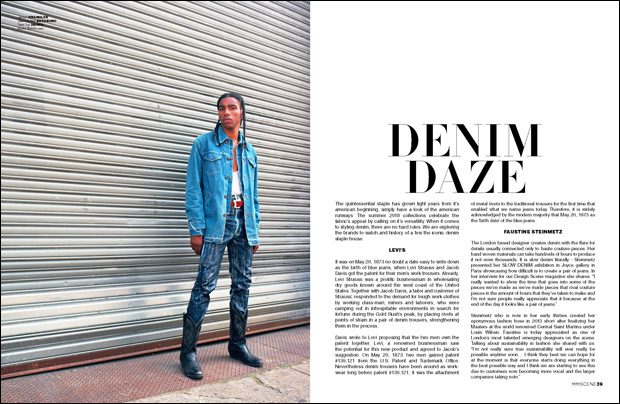 Our August 2018 issue is focused on image and we are honored to have for the first time on the pages of our magazines Brazilian heartthrob model Pietro Baltazar who was photographed for an exquisite black and white session by the talented Tommy Chung. Staying in the black and white domain we are exploring the fashion's latest fascination with hats in a shoot from photographer Daniel G Castrillon styled by Ana Tess. When it comes to our regular model talk, it is once again a reunion, the ever upbeat Julian Weigl who we worked with on a D'SCENE magazine shoot sits down for an exclusive interview and poses for a fun session.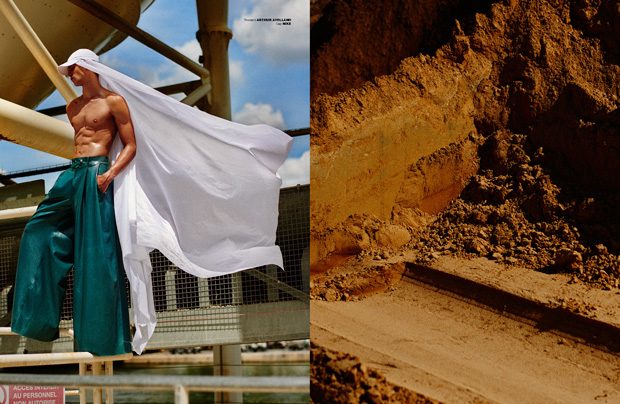 Paris fashion week is still on our minds, therefore we celebrate two of the most impressive designers we had the honor to see once again presenting during the prestige menswear fashion week. Both legends in their own right, with our exclusive backstage photography by Benoit Auguste we explore the history of legendary Yohji Yamamoto and the always impressive Thom Browne. Finally this issue reflects also on a true staple of everybody's wardrobe denim – in the Denim Daze write up we spotlight two legendary brands but also two up and comers on the denim scene. Faustine Steinmetz who turned jeans into couture pieces as well as Japanese designer making waves in the denim market Kozaburo Akasaka. Alongside our shoot by photographer Andrew Morales captured on a sunny day in New York.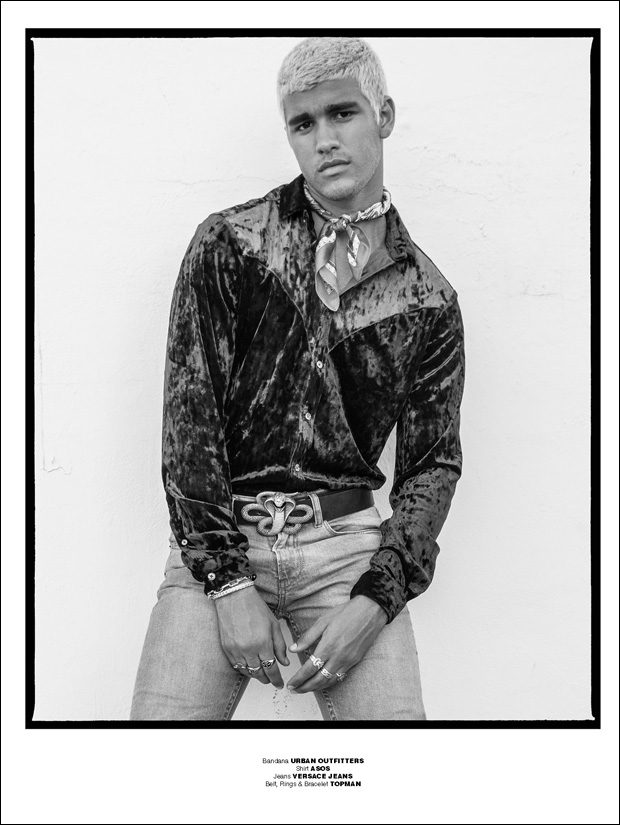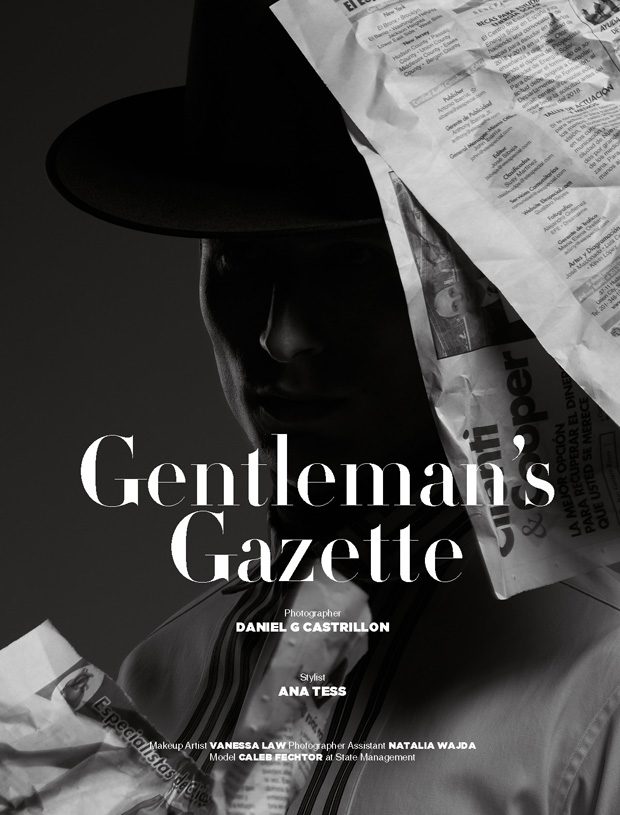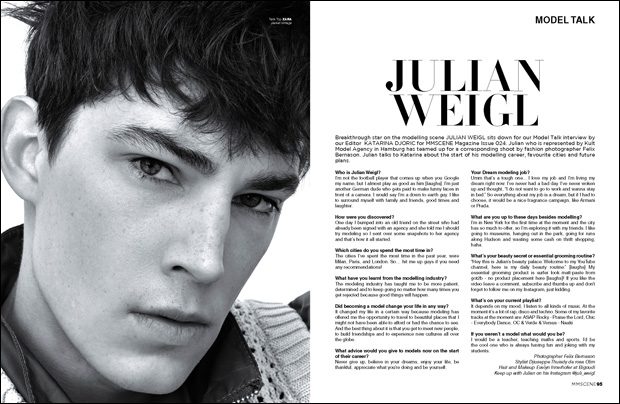 As the summer takes over I hope you'll find the following pages of MMSCENE brimming with inspiration, beautiful imagery and ideas – in addition to a bit of reading during your days off. Hopefully also a pleasure to keep and hold in your home.
Words by Zarko Davinic, D'SCENE Publishing Editor In Chief
Contributing Photographers Joseph Sinclair, Andrew Morales, Tobias Wirth, Raissa Biscotti, Chuck Ryes, Tommy Chung, Daniel G Castrillon, Felix Bernason
Contributing Stylists Stefano Guerrini, Charlie Ward, Karlo Steel, Julia Quante, Francesco Migliaccio, Calvin Nymon, Mimi Tyko, Ana Tess, Djuiseppe Thuisdy
Models Xavier Serrano, Luke Volker, Tyler Hendrix, Johann Kohlhoff, George, Raphael, Simone, Mateus, Kurganova, Barry Lomeka, Pietro Baltazar, Caleb Fechtor, Julian Wigl