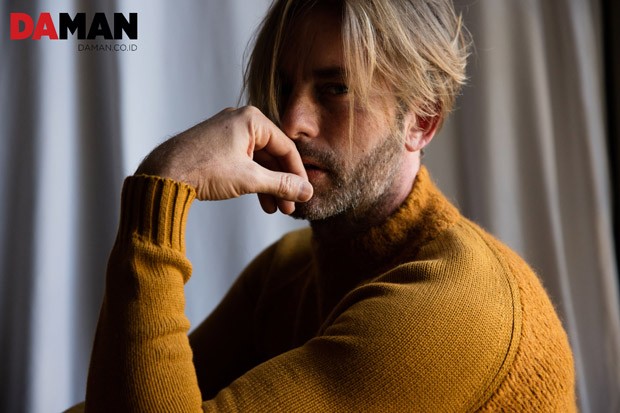 Former ice hockey player turned model / actor Chris Tschupp (Ford Models) takes the pages of DA MAN Magazine's latest issue captured by fashion photographer Mitchell Nguyen McCormack. Styling is work of Lauren LaRocca, with grooming from Rachael Vang using Tarte Cosmetics.
"On Easter Sunday I was having brunch at Felix in Soho, NYC, with some friends. And since we were out the night before, I was still slightly groggy and looking a bit disheveled. But we agreed to meet, so I had to honor the promise. The only cure for how I was feeling was … to start drinking again. Oh, what it was like to be younger!
The stories started flowing and we got a bit raucous, among a fairly conservative crowd, and a man approached our table. He asked me if I was a model or was interested in modeling, to which I promptly responded, "No." I was a pro hockey player living in NYC in the off-season. He left his card and said if I changed my mind, I should call him. Unaware of who he was, I placed his card on the table and continued the story I was telling. My buddy, shaking his head at me, said, "Do you know who that was?" I responded, "No idea." I picked up the card then responded, "Probably some guy that works at Calvin Klein." Unbeknownst to me, that man was Calvin Klein. I honestly did not know that there was an actual person named Calvin Klein and just thought it was a brand of underwear. Most hockey players at the time were not very privy to fashion.
I eventually called Calvin later and he expressed his interest in meeting to get to know more about me. He was genuinely interested in hearing about where I was from, my family life, my hockey career, etc. Looking back, I feel he was looking to cast someone with a "story" beyond what you typically find in the fashion world. So, I guess I was in the right place, right time and right story—or at least some story.
The next day I was called and asked to come to the Calvin Klein offices to try on a few items. But since I was still in hockey mode, I was at the gym training and completely lost track of time. I was called to see if I was en route and stretched the truth with, "Not too far, see you in a few." I ended up being almost an hour late but didn't think much of it, as I had no idea what I was walking into. As I got out of the elevator, Calvin greeted me as if it was no big deal. I walked into a boardroom with Calvin's entire creative team around a table. Oh s–t! I'm sure they were all a bit peeved but were extremely pleasant and patient. I went into a change room where Calvin dressed and styled me and then presented the collection to everyone. Mind you I had no idea what a "collection" was. At the end, everyone thanked me for my time and Calvin said he would be in touch.
The next day he called and said everyone loved the way the clothes looked on me and asked if I was interested in shooting his fall/winter collection campaign with Kate Moss. Mind you, I had no idea what a "campaign" was either. Now, I certainly knew who she was, so it was a no‐brainer. And the cherry on top was he told me, I was going to get paid for it. What? I was going to put some clothes on and stand next to the biggest supermodel in the world? Okay, I'll do it.
The next day, Calvin called me and suggested I get an agent, but I had no contacts, addresses, etc. So he got me all the pertinent info and I hit the streets. I went to the top 10 agencies in NYC and, upon entering their offices, I let each receptionist know my interest in modeling and whether or not a men's agent was keen on representing me. I did not let anyone know that I already booked the Calvin campaign as I wanted to see their genuine interest. Eight agencies said they were not interested, and one asked that I come back tomorrow.
On my final attempt at seeking representation, I was denied once again by the Men's Board but another fateful thing happened. A New Faces booker, Gregor, was walking by and recognized me from a bartending gig I had in a club in Soho. He agreed to take me on his board and was sternly instructed that I'm not to be brought to the main board until I booked something. So I signed a two-year contract with Wilhelmina Models and off we went. I let Calvin know whom I was represented by and he personally delivered the news to Wilhelmina on his selection for the highly coveted campaign. When the main board received the news, they were scrambling to figure out who the hell this Chris Tschupp was. Gregor was summoned to help solve the mystery and, if memory serves me correct, responded, "Oh that's the guy that you didn't want to rep yesterday? He's on my board!" But not for long, as I got pulled to the main board—but not without the only booker in NYC who believed in me. If I was going, he was going. Non‐negotiable." –  Chris on meeting and working with Calvin Klein. – read entire interview on daman.co.id