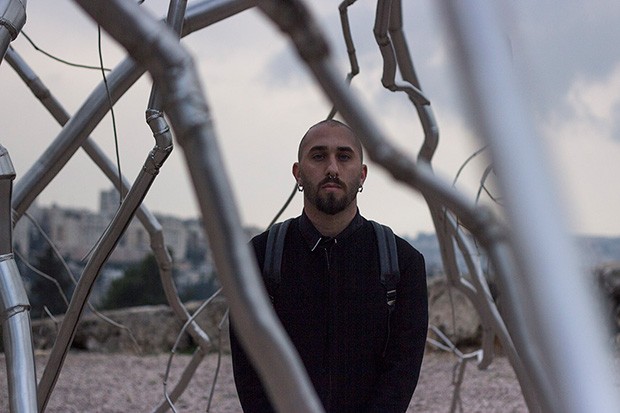 For the latest issue of MMSCENE our editor KATARINA DJORIC had a chance to sit down for an interview with breakthrough designer on the scene ELIRAN NARGASSI. The Israel born designer who focuses on menswear is garnering international attention, recently Eliran's work even caught the eye of VOGUE Italia's Editor-in-chief FRANCA SOZZANI who invited him to be part of VOGUE Talents for Asia initiative. Eliran also talks for MMSCENE career start ups, inspiration and the future of his eponymous label.

How did you get into fashion and how did you come to start your own line?
My first contact with fashion came early on when I was a child, I used to take my sisters' dolls and dress them up in small dresses I made. Before applying to college I managed to put my hands on a sewing machine and I made a simple jacket for myself, I was very proud of myself and I realized that fashion is what I really want.
Fashion became my full time job a few years ago, after graduating I was supposed to participate in a group exhibition that dealt with aesthetics, I started working on a piece but eventually the exhibition was cancelled.  Nevertheless taken by the inspiration I decided to create a small collection based on the piece I was preparing for that exhibit.
Read more after the jump: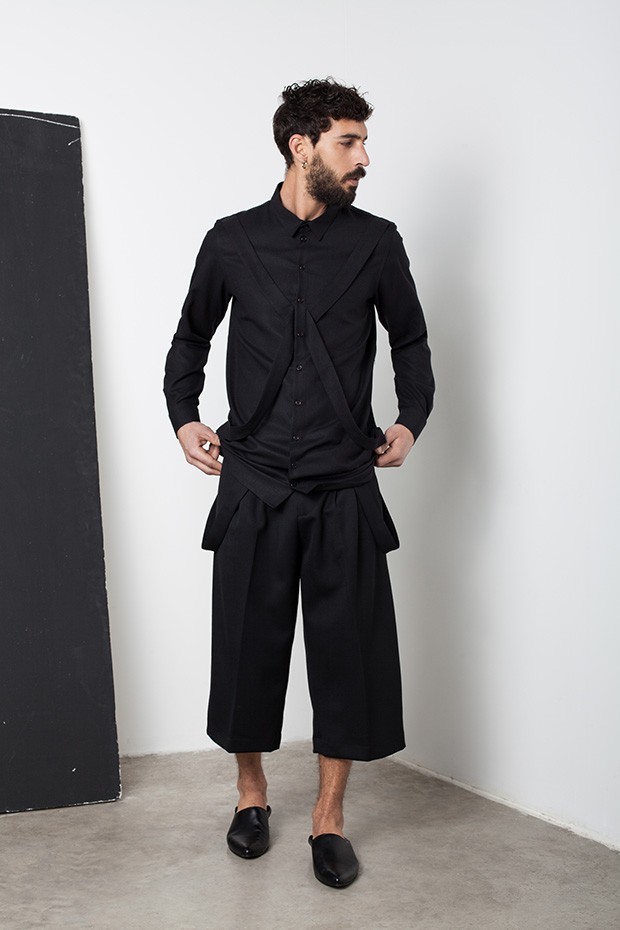 I read that you are mostly inspired by architecture. How does that inspiration turn into reality?
Mostly, my inspiration comes from contrasts and conflicts that I experience in my life, for example religion vs secularism, gender but also architecture which took a big part of my inspiration for the SS14 collection. Furthermore,  I examined the architectural difference between 2 major cities in Israel, Jerusalem which is a religion and Tel Aviv which is secular. The two cities are characterized by different architectural style, while in Tel Aviv you will find many Bauhaus buildings and modern architecture, the one in Jerusalem is a bit more conservative.
Who's the ELIRAN NARGASSI man?
One who is self-confident, elegant, he's between the ages of 20 to 45, he has some approach to design and aesthetics, he's technology-savvy and appreciates a design with an added value and attention to small details.
How long does it take you to actually put together a collection?
Usually within two to three months I manage to design and create samples.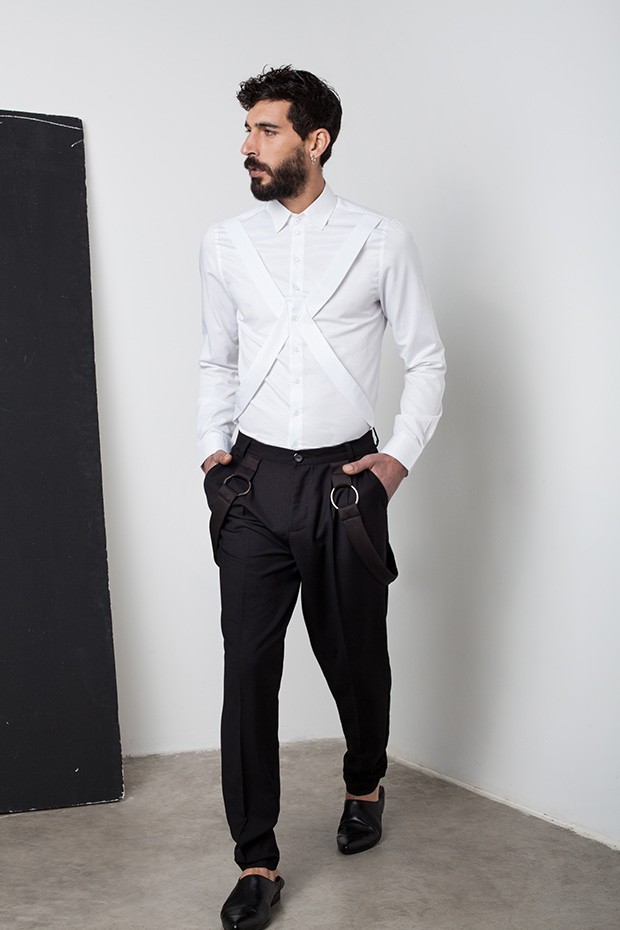 You mostly use wool, cotton and neoprene fabrics. Why? 
I tend to interpret a modern look to my designs, according to my inspiration, I think that Neoprene is timeless, it doesn't worn quickly, it has a new and modern look and I love the structures it creates. While wool and cotton are classic menswear fabrics, I usually use them for classis silhouettes, and also wool gives a luxurious look.
Your Fall Winter 2016/17 collection is inspired by Jewish religious and secular lives. Tell me something about it.
My collection for the Fall Winter 2016-17 season deals with secularism and worship. Three years ago, as part of my thesis; I designed a collection that was inspired by the tension between Jewish religious and secular lives, tension that was reflected in my life at the time.
The current collection focuses on my own secularism while incorporating elements from the BDSM fantasy world, something I regard as secular worship.
In the pieces I integrated my interpretations  of harnesses and other components from the BDSM sub-culture, such as slits and cuts in the fabric, oversized overalls accessorized with leather straps and metal rings, as well as tailored oversized T-shirts, dress shirts, Nehru shirts, dress pants, wool coats and Bermuda shorts, fusing  casual and elegant elements to create a cohesive collection.
What about BDSM?
I'm visually attracted to the BDSM culture, on one hand it symbolizes sexual freedom and the release of bottled up urges, while on the other hand it poses aspects parallel to a religious worship. The conflict rising in both is actually the same, and I like to deal with conflicts.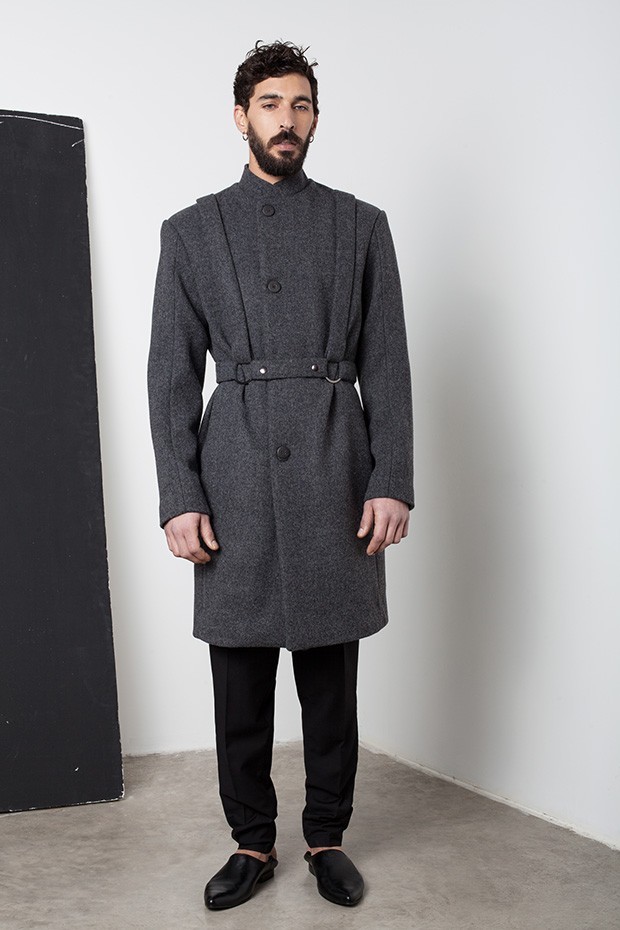 What do you believe is the role of the contemporary fashion designer in society today?
Contemporary fashion has a big role in society and the fashion world these days, it's an alternative to trends which you see all over, it brings a more unique design and approach to fashion.
 What is a piece we will always find in your collections?
I will always have a classic button down shirt, made out of 100% cotton, with a small detail not easy to spot with the naked eye.
What is next for you professionally?
I'd like to expand my line in order to provide a bigger variety to my crowd. I want to expand my knowledge so I'm thinking about a Master in interior design or textile. Eventually I want to be available to anyone who appreciates fashion.
See Eliran Nagrassi Fall Winter 16/17 Collection
Keep up with Eliran @eliran_nargassi and www.elirannargassi.com