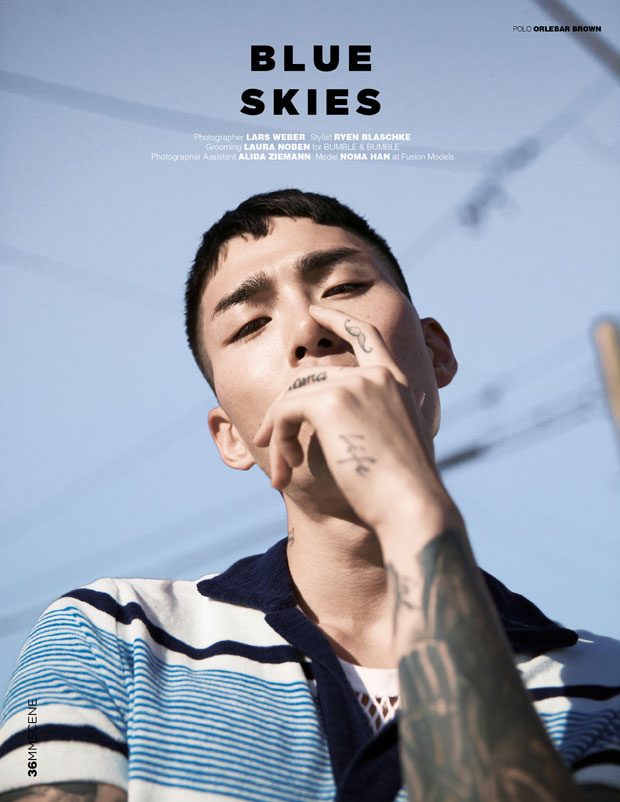 On our MMSCENE Magazine cover shoot top model NOMA HAN talks to our Editor In Chief ZARKO DAVINIC about his beginnings, New  York and things he can't leave without. 
The must-see Seoul Fashion Week has turned the heads of the fashion industry, but so have the South Korean models. One of the leading boys not only in Seoul but also NYC and Europe is our latest cover star Noma Han, who is already part of the much referred to models.com Hot List and has booked some of the most coveted jobs in the industry.  But  how did it come to the rise of the 'Asian Model'? Unfortunately, it is hardly a racially correct moment, in the beginning, it was industry's courtesy to the dominating Asian market. Thankfully, we are seeing the change with a growing number of designers in Europe not doing the terribly out of order 'one of each' castings anymore even tho that is still often the case.
For a Korean top model our cover boy Noma, fits the description, with his cutting cheekbones he already has a massive following both at home and abroad. His rabid fan base tho came gradually, Han remembers his first trip to Europe remembering the start of his career as well: " My best modeling experience came when I got my first job ever I guess, I was so nervous." Of course, his first trip was not easy, " For me the worst was my first trip to Europe, it was okay looking back now, but I hated the trip for some reason that I can't explain."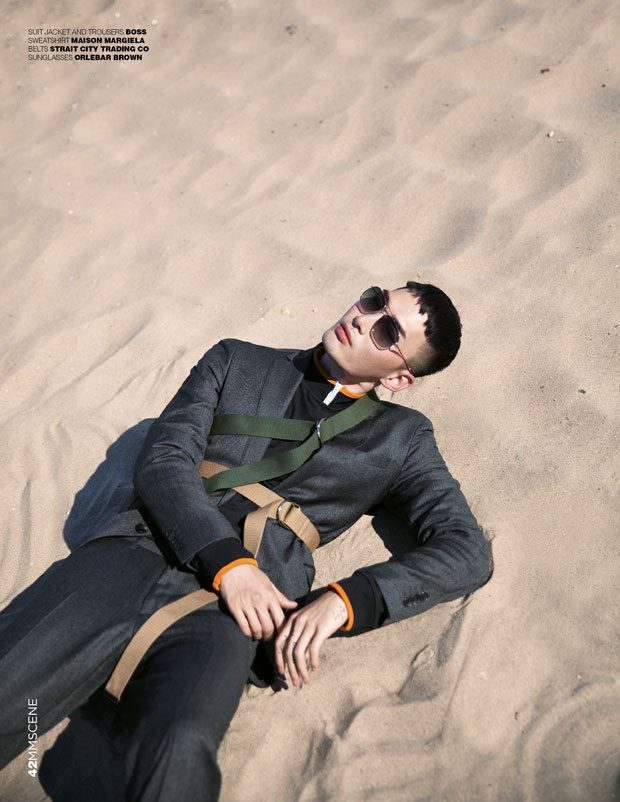 There is a fun parallel between the Korean male models their fan base and boy bands, Noma himself when we talked about personal style jumps in with "Formal Punk" to define his relaxed and undeniably cool wardrobe.
Sitting between the shots for our beach taken New York editorial, removed from the hustle of the city, Han shares his unease with the social media, "Yes when I take a selfie with my phone" remarks with laughter about being shy in front of the camera. While taking a moment between the outfit changes to breathe, laughing and joking with the team, he shares with us his experience of the Big Apple: "Language is the main difference I think, but also the atmosphere is different. In Korea everything is far stricter when you are on a set, New York is far more relaxed." Noma's infatuation in New York shows on the set, he's blasting on his phone the somber notes of the "New York I love You" by LCD Soundsystem. With his upbeat mood on the set, we are not sure the city is 'bringing him down' as the lyrics of the track go.

There's another reason the designers and casting directors are obsessed with Korean models, it's their sense of style. Noma who appeared also in campaigns for top brands such as Calvin Klein and Lane Crawford is a must have boy on Milanese runways for houses such as Dolce & Gabbana and Philipp Plein. What makes him stand out is also his love for tattoos, when asking him how he chooses his tattoo art he's shy to remark, "As I get a tattoo by a tattoo, the more I fall in love with them." We go into playing a listing game with the team on the set, and Noma off the back names tattoos as one of the five things he can't leave without, among his phone, eating meat, cool shoes and the necessity – money.
The game of five does not stop there while we are walking to the next location for our shoot with our photographer Lars Weber. Noma is now listing five facts we don't about him,  "I'm pretty quite when I'm not working" we did get him to be chatty on this day. "I love McFlurry" he adds which makes us go into a discussion about fast food, he follows up with "I quite like the sweets" but is quick to add, "I do not like cakes!" Another of Noma's love-hate relationships: "I hate Instagram but I love Instagram."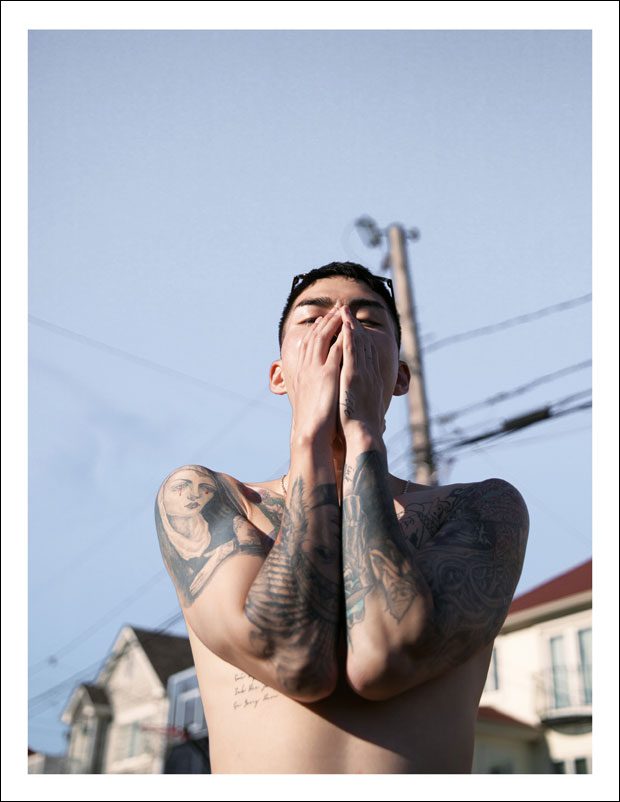 Talking about the strange moments we experienced on Instagram he adds: "Make a video for me it's my birthday" requests as one of the strange or maybe even tho he won't admit annoying demands of his fans.
It's a wrap of the shoot and Noma sure made a strong impression, we are packing up and I make him drop a quote that sums him up which comes as a good note to end my write up "Live your life."
Words and interview by Zarko Davinic, MMSCENE Editor In Chief
Photographer Lars Weber – www.thelarsweber.com
Photographer assistant Alida Ziemann
Stylist Ryen Blaschke
Grooming Laura Noben for BUMBLE & BUMBLE
Model Noma Han at Fusion Models