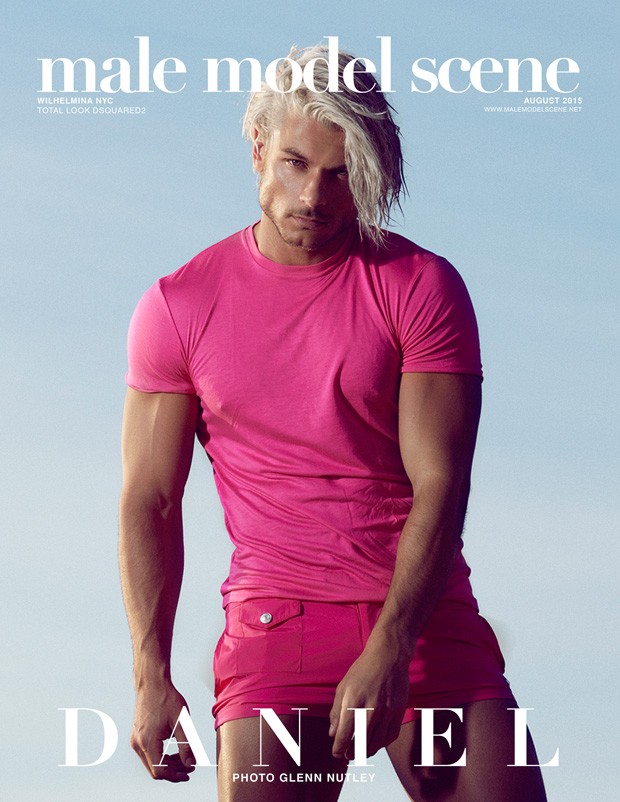 Top model Daniel Garofali travels to majestic Vasquez Rocks in California for exclusive MALE MODEL SCENE stories session by photographer Glenn Nutley posing against the landscape in pieces from MOSCHINO and DSQUARED2. The spectacular location is used for various filming projects, it appeared in Star Trek as well as Michael Jackson's Black And White video.
Production courtesy of BP Major, post production Mitch Major. Daniel is represented by Wilhelmina Models in New York, continue below for our exclusive interview with Daniel and more of WORK IT OUT story.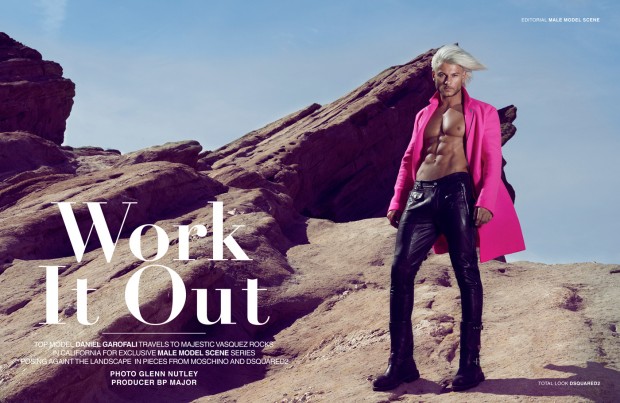 How did you get started modeling?
I was scouted in my hometown back in Sydney, Australia while performing onstage. After the show, the model scouts were waiting for me at stage door. From then, it all happened really quickly. I booked my first modelling shoot that week and it took on a life of its own.
If you weren't a model what would you be?
Growing up, I attended a performing arts school similar to that of Fame where we would train in all forms of arts from acting to dance. When modelling became an option, I was already touring in shows and performing around the world. If I weren't on set now I would be still on stage.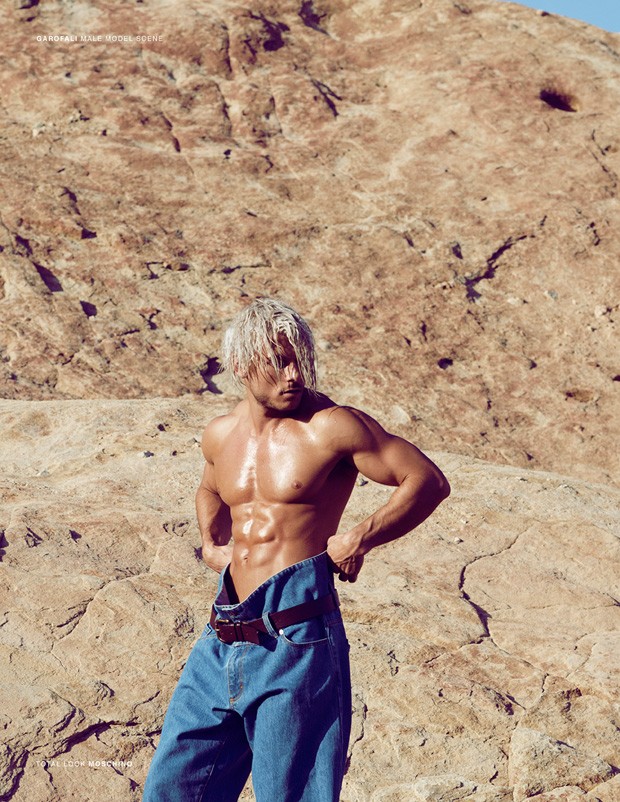 Your Dream modeling Job?
For a number of reasons, the ultimate booking for a male model is a fragrance campaign. There aren't that many opportunities in themale market for fragrance and beauty especially with most of them faced by male celebrities but it's usually a global campaign, high visibility and very lucrative. I wouldn't say it's a dream but that's where it's at.
Working on countless fashion editorials, yet standing in 'fitness model' category were you ever advised or perhaps pressured to lose weight?
Never. I guess it would have been an issue if I didn't fit the sample size though. You heard stories of stylist having to unpick the seams and open up the back of jackets or pants. You would be surprised what the clothes actually look like from the back of these shoots – they are either pinned and clipped so much the models can't move or they are feeling a pleasent breeze from the open seam in the arse of their pants.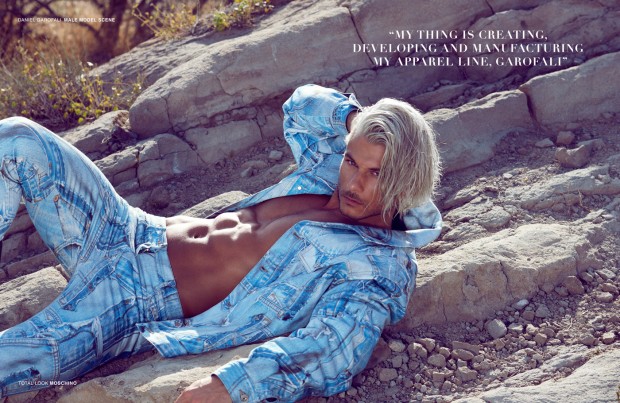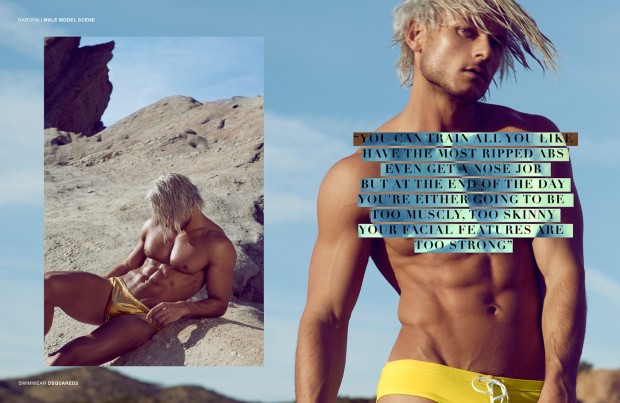 Many models deal daily with rejection which creates body image issues for them, its easy to come across rude casting directors who will rip into you. Did you ever have such experiences, and if so how did you deal with those situations.
It's actually one of the main determining factors on whether or not a guy lasts in this industry. I grew up in the audition/casting process so I was well-seasoned to the rejection that comes with the job but I know it can be really tough. At the end of the day, you might not look like the storyboard drawing and the client just can't imagine you in its place. You can train all you like, have the most ripped abs, even get a nose job but at the end of the day, you're either going to be too muscly, too skinny, your facial features are too strong, there not strong enough and so on. In the end, you are lucky to be the one that gets chosen and even then sometimes you aren't the first choice. You can't invest into their decision process which can be difficult when you live off each booking.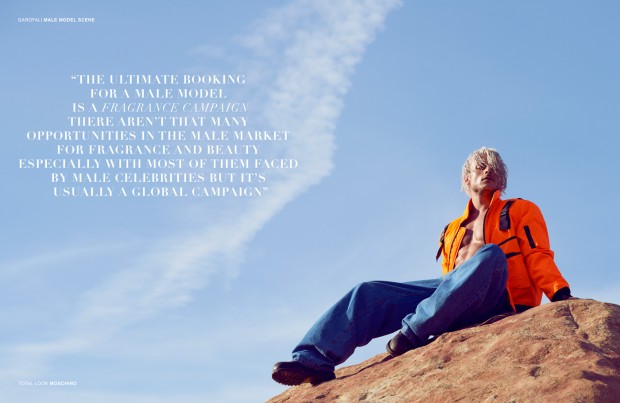 How was it going platinum blonde? Blonde or brunette do you do anything to your hair?
Going Platinum Blonde was a process. I had never dyed my hair before so it was all new to me. It's a lot of work, all the time. I usually don't do anything toy hair but when it's bleached you have to look after it. Although, it looked cool and we created some amazing looks for a few shoots I'm happy to be back to my natural colour.
What's your beauty secret or essential grooming routine?
Oils are the secret. For your hair and skin. All day everyday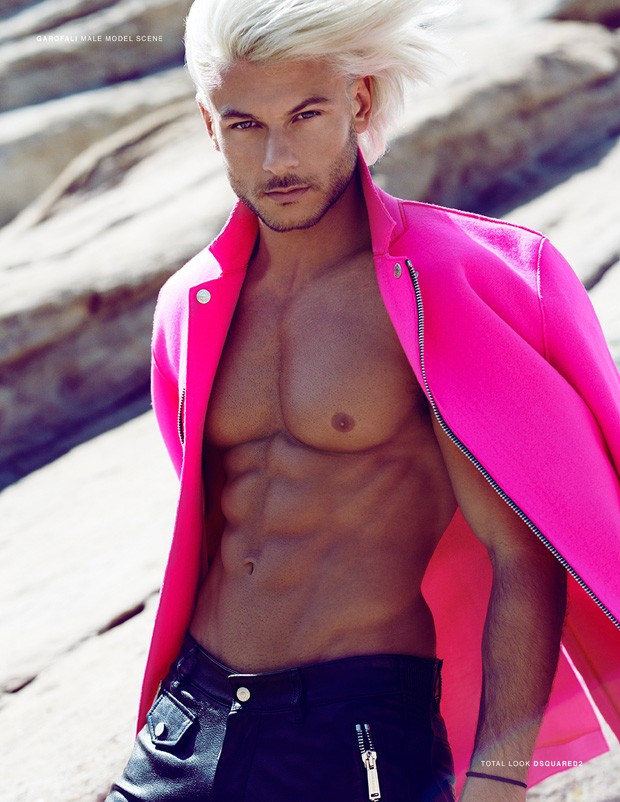 How would you describe your style?
I guess it would be described as Black on Black High-Athleticwear. It's a style that is the result of my lifestyle of staying active, travelling and being comfortable.
Social media trends come and go, you are in keep with most of them. Old or new which of the Social platforms is your fave?
Snapchat is my fave. It's easy, simple and no pressure to be of any importance or even any good. It just is what it is…and it's gone forever in seconds. There is so much content on the internet that is there forever and most of it shouldn't be. That being said, No to Screenshots!
Your personal passion or hidden talents?
My thing is creating, developing and manufacturing my apparel line, GAROFALI. There is so much satisfaction in creating something in your mind and then seeing it worn in someone's selfie on the other side of the world.
Ten years from now (you will be…)?
Reading this interview and thinking why did I say that
What's on your current playlist?
Lady Leshurr
What's no fun?
Donald Trump
Name the famous person you'd most like to meet?
I don't want to meet famous people…I'd rather meet famous characters…like Morpheus from The Matrix and he will ask me if I want the blue pill or the red pill. Of course I will choose the red pill.
A quote that sums you up:
Instagram has killed every quote [follow Daniel @danielgarofali]
Keep up with daniel on his web page www.danielgarofali.com