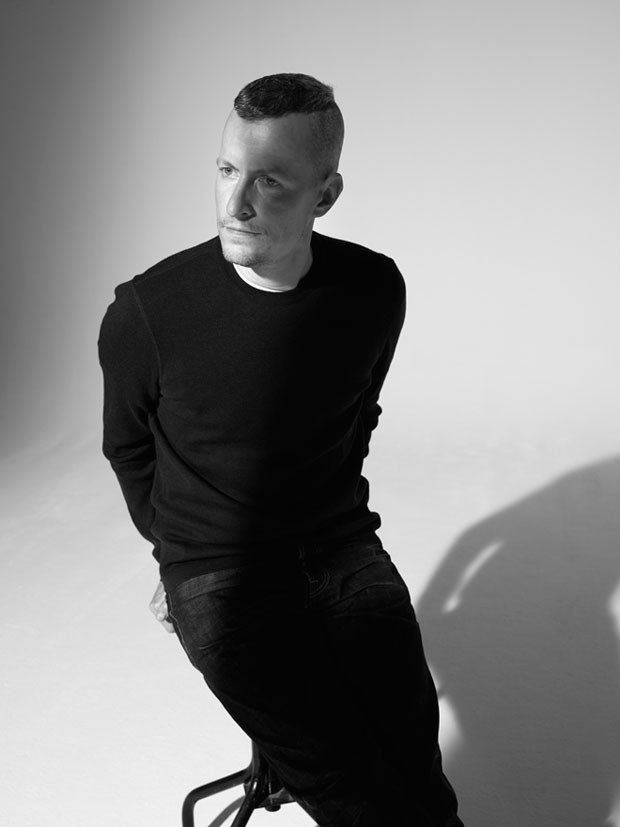 For the latest issue of MMSCENE we had the honour to sit for an interview with LUCAS OSSENDRIJVER the man behind LANVIN menswear collections. Celebrating a decade at the renowned French fashion house Lucas has certainly made his design sentiment synonymous to quality menswear. We had the chance to talk about his creative process, his timetable as well as the anniversary itself.
OUT NOW IN PRINT $24.90 & DIGITAL $.2.90
How do you start to think about your collection?
Collections always start with an intuition, a feeling of where you want to go. It can be a very abstract idea or just a word. You want to change everything you've done before and explore new things. It's this that I love most about fashion, the change every season to start over, re-invent yourself and try to do better. Especially in the beginning, when everything is open and possible, then soon after reality comes in, and you have to become more pragmatic, ideas become clothes and you have to start thinking of the customer and their needs; what works in real life so it's not just about the catwalk. I love the process; designing is constantly making choices actually.
How would you describe today's Lanvin Men?
Clients come to us for a specific point of view. There's a story behind the clothes. It's not just basics, they're special. A lot of details. They appreciate the quality of the fabrics and the variety of the offer.
You are celebrating your 10 years with Lanvin this year. What was your greatest achievement at Lanvin in your opinion?
When I think of my ten years at Lanvin, I think of all the people I've worked with, the journey it has been, and the chance I've had to meet all these people. Designing is not a solitary occupation, it's all about teamwork and working with people; from my team that I love, to the factories, to the press, to the clients. Step by step we've been able to build a business that still grows. It's difficult to last in fashion because the attention-span is very short nowadays. One day you're in, next day you're out! So maybe that's what I'm most proud of…
Did you predict your success when you started to work at Lanvin 10 years ago?
Not at all! It wasn't all easy from the start. But I got there through working and giving all that I could. There was never a plan or marketing strategy to what we did. It was more of an intuition; and you adapt as you go along. I was lucky to be given the time to develop.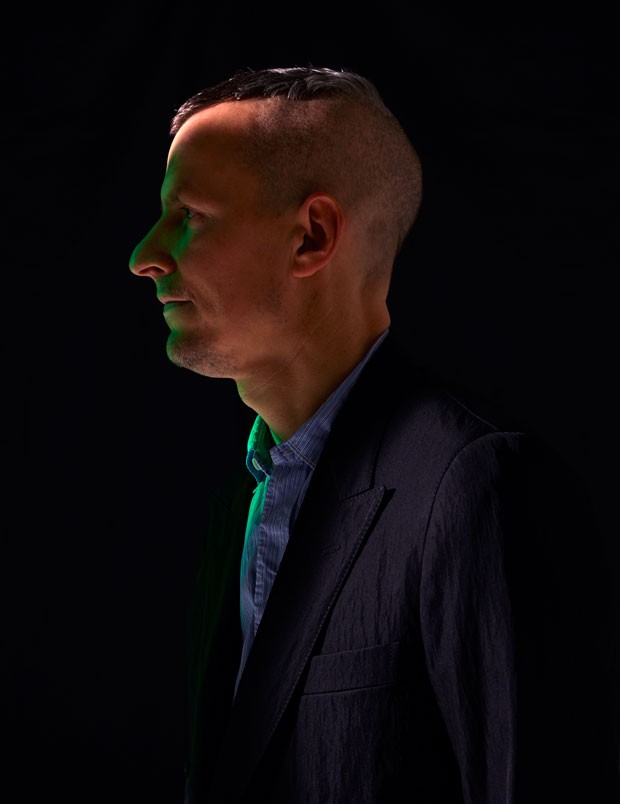 I guess many changes and progress happened at Lanvin during 10 years. What was the evolution at Lanvin for you?
The best illustration is maybe my studio; from starting alone to having a proper studio with seven designers and an accessories studio. Year after year it grew, it's also visible in the shows. From the first at the salons of the Crillon Hotel with 200 guests and 28 looks to nowadays with 650 guests and 45 looks. Or, as a last example, the showroom; from 3 tables in my studio to a vast showroom with 35 tables!
RELATED: BROWSE LANVIN ARCHIVE ON MMSCENE
Do you have a favorite collection?
They're all different but maybe one marked a change in attitude for me. That was winter 2011/2012 at the "Palais de Tokyo". Strong white lights, concrete floor, and a bigger audience.It felt more grown up and assured. To me it felt like a turning
There are always little trademarks and design details like grosgrain trim or raw edged seams, what else would you consider to be a Lanvin men's wear trademark?
I think there's a very specific way we work at Lanvin. A lot of research and effort is put into the clothes. Every seam and stitch is thought through. The way we work with colors, often muted or "in-between" tones. The textures we develop in fabric and knit to give depth to the collection, nothing is taken for granted, everything is considered. All that work you see and feel as a customer when you see the clothes up close. That intimacy is very important to me. It is also how I judge clothes; how are they made? What makes it stand out? I love craft and craftsmanship; it never bores me, even after all these years. I'm still very passionate about that. Sometimes I feel more like a tailor or architect than a stylist. I love making clothes. The whole process behind it. That's also why I love the bespoke department, where everything is done according the highest standards, all by hand. Incredible!
We are facing big changes in social situation, the growth of digital media. The world has changed a lot these past 10 years. How is it in a fashion company?
The media has really taken over! I remember (without wanting to sound nostalgic!) the time where you had to look and search for information because it simply wasn't immediately available to all. The mystery is gone nowadays. But that's just the way it is. You just have to deal with it. I personally don't have Instagram for example, because I don't feel the necessity to communicate all the time. It doesn't interest me. My work is important, that's the way I communicate; my private life is mine. In a way it makes you think more about your own position and way of living. What is important and what is not. But it's purely personal.
Do you think men's desires for fashion have changed over the past 10 years?
People don't change; men don't change, our lifestyle does. What I've seen is that there is much more interest in fashion than there used to be. Men's fashion has become a growing business. Men are more open to fashion. The way we live now makes that all the information about fashion is immediately available worldwide, no matter where you are. Fashion has become democratic and everybody has an opinion about it. It is less elitist than it used to be. The speed has changed! In men's we also started doingpre-collections so instead of two shows it's four collections now. This constant demand for newness put a lot more pressure on us, designers. Men started to buy clothes more like women do; less about needs, and more because they want certain things, more impulsive, more outspoken. You have to deal with those things. It also creates new opportunities for us. You have to adapt. That's what I love about fashion. The constant questioning of things.
What do you hope to see in the next 10 years in fashion?
I hope fashion will become more about design and less about entertainment! That there will be more space for newness, other possibilities, invention.
Key look from LANVIN Fall Winter 2016 collection
Please tell us your time table as an artistic director at Lanvin.
I usually start at ten in the morning, get a coffee and from there it is from meeting to meeting. Actually it takes a lot of energy to switch from one subject to another, you really have to dive in each time. One moment it's shoes, then fabrics or colors, then leather and so on. People are always looking for answers and sometimes you don't have them! It's kind of all in my head and you have to communicate that to others. I love the people I work with, that's very important. You spend a lot of time together, almost more than with your family, so trust is very important. I cannot function when there's conflicts, it blocks me, I want people to feel free to express themselves. Lunch, I usually have at the office not to lose time. Between meetings, I see the studio or people come see me in my office if they have questions. It took me a while to get used to the system and have the assurance that in the end things will come together, because during the process it's never that clear or linear, it's always chaotic with lots of different ideas and elements and at one point you have to decide. But again it's what I love about fashion. It's still a free space that's about creation. You just have to understand the rules, and make them your own so that you find the space to create. I don't like working very late so I try to avoid that. I'm more of a morning person, I have a lot more energy when I start the day than when I finish.
If you weren't a designer, what would you be?
I wouldn't know what to do if I wouldn't be a designer. It occupies my mind full time. I do have otherinterests like art and music, but nothing drives me more than creating. I love the speed and find it difficult to step out. Even holidays, I get bored easily.
You are known for your innovative fabrics. How did your interest develop in that path?
I've always been passionate about fabrics, even after all these years I still love looking at fabrics. I never get "blasé". New materials mean new possibilities. It's very tactile, about touch, weight and feelings. It's funny also how your opinion changes from season to season, one season you love flannel, until you've used and seen it so much that the next season you hate it! It's cyclical.
What is the most challenging part of designing for Lanvin?
The most difficult part of designing is finding the right balance between innovation and needs. In short between fantasy and reality. At the beginning of a season you start extreme with your ideas, but then during the fittings you ask yourself "would I want to wear it?" or "who is going to wear it?", and that's where you start softening things and adjusting until the balance is right. In the end, we make clothes, not art. They are for real life and not just for the picture on the catwalk. You want to make people who buy the clothes to feel good about themselves, give them confidence, underline their personality, not take over. That is the hardest thing, to be in the middle without being mediocre.
What would you like your legacy to be at the house of Lanvin?
I never think about the past or what I leave behind. I prefer to look to the future. It just excites me more.