With fashion houses becoming media outlets in their own right, are we in danger of accepting the industry's desire to please the 'racist customer'? American writer Collen Tonderai Demerez questions the casting polices, examines the token model phenomenon and the position of a black male model for MMSCENE Magazine's April 2017 issue (out now in PRINT & DIGITAL). 
The fashion industry has been a more than just an escapism for the masses but a contributor to thoughts and perceptions of beauty. Whether we choose to believe or not, the covers of the magazine and the women and men on billboards in our favourite cities have come to shape society's perception of beauty. The industry has been shaped and moulded to what it is today but countless cultures, countries and people from all walks of life, so it is confusing that it would still be named one of the most racist industries in the world.
The discussion of racism in the fashion industry has come about due to the lack of opportunities available for people of colour whether it is in modelling or other fashion professions. Even with the rapid increase in diversity in the world, including all the fashion capitals, fashion has managed to keep its ignorant and discriminatory definition of beauty.

It's incomprehensive that in 2017, models of colour would still be getting less than half the work white models receive but it is the modern-day reality. Whether it is with agencies or casting teams, models of colour are usually only required to maintain a false appearance of diversity or if "their look" is trending in a particular season. Countless fashion productions have shown that creative directors in the fashion industry do not find diversity to be a priority. White models have been plastered on beauty products, Vogue and Elle covers and incalculable fashion campaigns, even being used in culture appropriating shoots.
Many fans of magazines and photographers are still questioning why white models would get photographed in Afro wigs, with tanned skin rather than for editors to cast a model of colour that has those features naturally. Well, the answer has never really changed, it is there for the one who has their eyes open to it. Fashion is still holding white supremacist values of beauty, and type casting models of colour as "urban" and "exotic". It's even more apparent in the fashion shows, from all white runways to shocking fashion week statistics. Many brands have become known for casting more than their average booking of ethnic models for as long as racism is a hot topic in the industry and then return to their predominantly white shows when the topic dies down again. This illusion of diversity, however, has started to get picked up by people on social media, as diversity reports for the Milan, Paris, New York and London has seen the percent of ethnic models go back and forth through the years.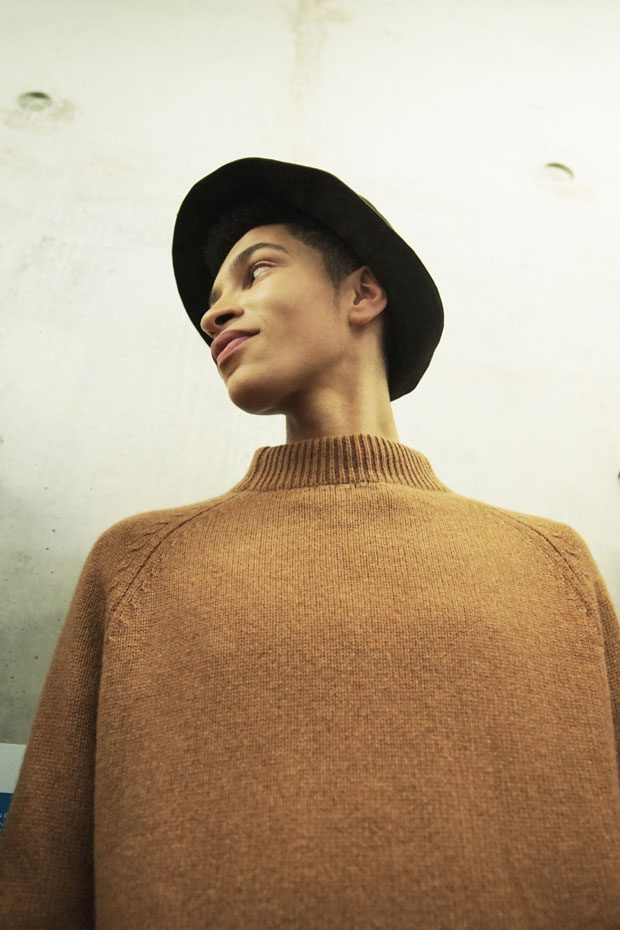 Even more frustrating is designers echoing the importance of diversity but only adding a couple of models of colour to their show or not adding any at all. TheFashionSpot.com shockingly reported the 2017 Spring runways as the most diverse season to date, but the statics left very little to celebrate, as models of colour still only made up 25% of the models walking in the 299 shows, seen in the SS17 fashion month. Surely there had to be a mistake, especially with so many new brands being made and with a large amount of them being influenced by subcultures belonging to people of colour, but numbers don't lie. New brands have just moved the problem to a larger scale, as it appears to be the case of, the more brands being made, the more white models being hired, instead of, the more brands being made, the more models of colour receiving work. Even more disgraceful is that it is almost impossible for models of colour to catch a break if they are not already established before coming to a casting. Models of colour seen walking in big fashion house shows are usually already famous through social media or have been given work previously by another credible designer.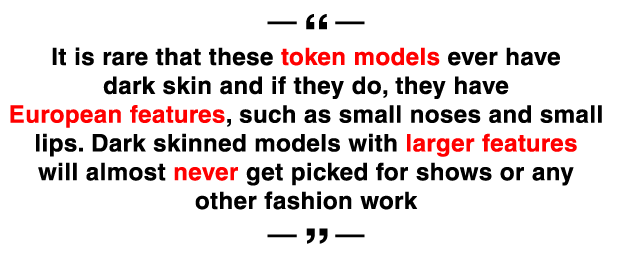 On the other hand, white models can be virtually unknown and still get booked by clients as big as Dior and Chanel. If you also pay attention to the more diverse shows, you will notice two things, one it is the Jourdan Dunn's and Imaan Hammam's rise, these two models get the most work (as they are the most established), and two, how long it takes for a new model of colour to be added to the mix. This kind of tokenism has been happening since the 90s, with supermodels like Naomi Campbell and as times have come to show, nothing has changed. Moreover, it is rare that these token models ever have dark skin and if they do, they have European features, such as small noses and small lips. Dark skinned models with larger features will almost never get picked for shows or any other fashion work, with clients stating outdated excuses such as "It's not our creative vision" or "Our customer isn't ready yet".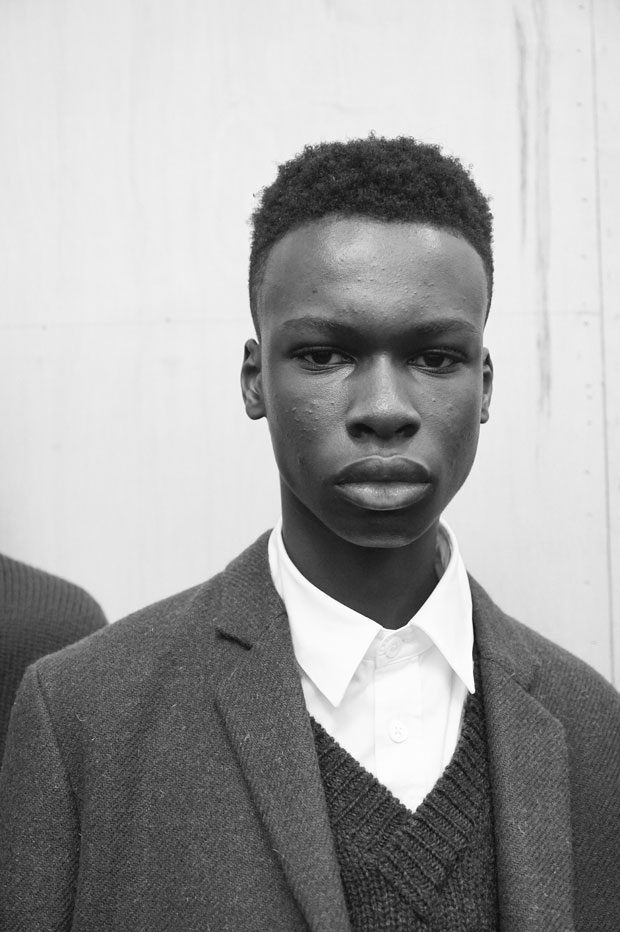 These racist outlooks are also coming to light on the men's side of things, especially with the rapid increase of fashion consumerism amongst men. Male models of colour, specifically black male models of colour appear to be at the very bottom of the industry. Most people lacking to acknowledge that there hasn't been a millennial black male model with a name bigger than Tyson Beckford, which should be something alarming considering the new age of social media and digital marketing. One of the main reasons for this being the lack of agencies and casting directors pushing to have black male models. Even looking at the current designer campaigns, shows, magazine covers it is uncommon to come across black male models. Models the likes of O'shea Robertson, Harry Uzoka, Adonis Bosso, David Agbodji and Sacha M'Baye who have been in the industry for several years, working for Dsquared2, Burberry, Tommy Hilfiger, Calvin Klein etc., never crack the top 20 of any male model ranking. These models are commonly ignored and not given the same publicity as their equally talented white counterparts, e.g. Simon Nessman, Adrien Sahores, Sean O'pry, Francisco Lachowski etc.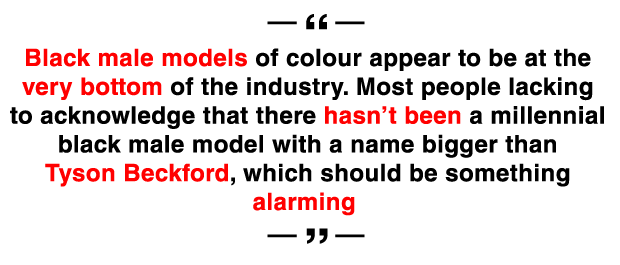 The highlighting of this fault in the fashion system not discrediting the hard work of established white male models, but underlining the depriving of opportunities to equally talented black male models. This kind of racist behaviour has been silently accepted, and it shows when looking at the new faces being launched into the male fashion industry, as the amount of white male new faces is incomparable to the amount of black ones. This is showing that male models of darker skin whether black or otherwise are still not respected or acknowledged as "marketable" by the industry. It is incredibly disappointing that in 2017 the industry still refuse to notice their contributions and accomplishments in fashion and give them their dues. Models of colour whether male or female have changed so much in the industry and this campaign to make things fair for them in the fashion world is just. The topic of racism in the industry is not just one of the fashion industry giving work to predominantly white fashion workers, it's also a topic of fashion not crediting workers of colour contributing massively to the industry.
Fashion has always seen its best moments in times of inclusivity and unity, and it seems ridiculous not to want that all the time. If the fashion industry wants to move in a brighter direction these kinds of prejudice and discriminatory behaviour need to come to an end. To all of the fashion fellow fashion workers, we must change with times or risk getting left behind.
Follow Collen Tonderai Demerez @kaliforniabaeby, originally published in MMSCENE Magazine April 2017 Issue – out now in PRINT and DIGITAL
Photos by Alin Kovacs for MMSCENE/D'SCENE backstage at LONDON FASHION WEEK menswear show by Margaret Howell.