Ferrari revealed its Spring Summer 2024 Power Of Desire Collection through a captivating fashion show that took place on Saturday, September 23rd, as part of the recently concluded Milan Fashion Week. The power of desire is a timeless and boundless emotion that has always pulsated at the core of the Ferrari universe. It ignites an unwavering passion within those who live and breathe Ferrari, inspiring them with an unparalleled dedication and devotion that echoes the indelible contours of this legendary brand.
SPRING SUMMER 2024 COLLECTIONS
This sentiment, which liberates, motivates, overwhelms, and expands with each new achievement, serves as a driving force for the relentless pursuit of excellence and elegance across design, performance, aesthetics, and innovation. Creative Director Rocco Iannone is guided by this desire as he embarks on a journey towards a new dimension characterized by intricate simplification and pure sublimation. He recognizes that emotions, even before objects, chart the course of emotional evolution and elevation found within a collection that radiates the allure and power of Ferrari through the medium of fashion.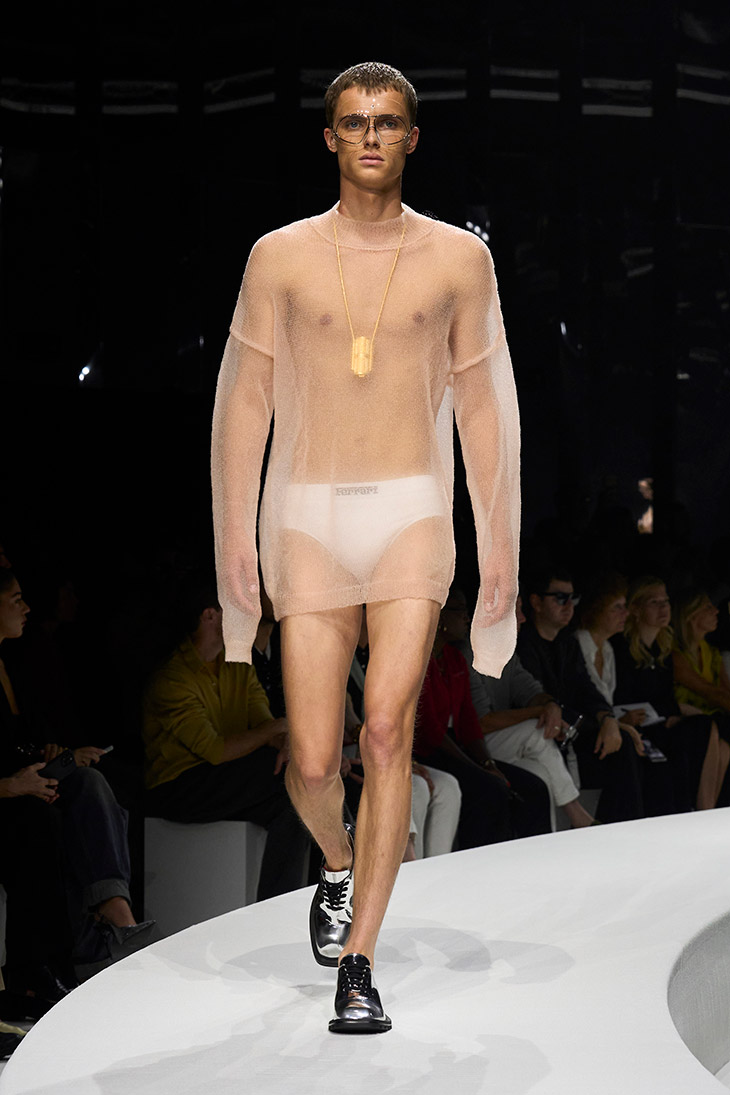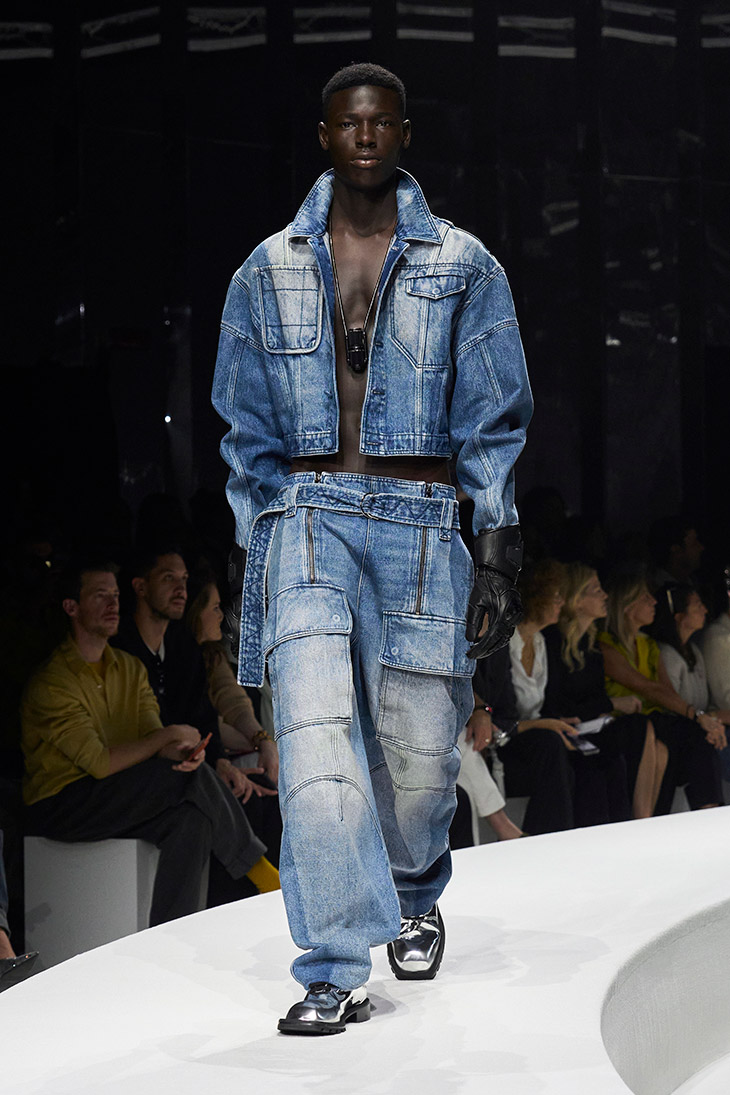 The distinctive style codes of the brand – racing, workwear, and tailoring – are meticulously filtered, synthesized, and amplified to place the human body at the very center stage. Here, the body's beauty and sensuality are elevated through the essence of form, color, and material.
Iannone employs a strategy of desaturation to emphasize, reduction to accentuate, and then iteration to identify. Silhouettes undergo transformations, with lengths shortened, elongated, and widths expanded through curved lines, rounded sleeves, anatomical cuts, and exaggerated volumes. This approach births a new language of the body, symbolizing and expressing the essence of desire.
The color palette orchestrates a continuous crescendo of layered hues. The show begins with dazzling white, embodied in the lightness and suppleness of "cloud" napa leather, embellished with 'check 7X7' quilting that serves as a distinctive and instantly recognizable motif of Ferrari's style. Flesh-tone leather features camouflage perforations that, upon closer inspection, reveal the Prancing Horse logo. Fine, transparent knitwear enwraps the body like a gauzy cocoon.
Experimental denim ventures into the realm of sophisticated washes, showcasing vertical discolorations that accentuate its rich textures. Navy blue introduces the draping of technical wool with an ultra-luxurious hand, while powder blue nuances grace the cabled knitwear and tactile, silky froissé nylon.
A rich and vibrant amber shade marks the transition from day to evening, enriching a new surface of silk woven with metal fibers. Finally, Ferrari red, in all its energetic and iconic glory, dominates the high-impact finale, characterized by the magnetic lustre of patent leather.
Ferrari remains committed to its sustainability mission by continually seeking responsible materials and low environmental impact solutions, seamlessly integrating ethics into the very core of its aesthetic statement. On the runway, garments made of GRS certified wool, organic cotton, and denim, as well as OEKO-TEK certified flock denim and plongé leathers, proudly adhere to supply chain traceability and transparency standards.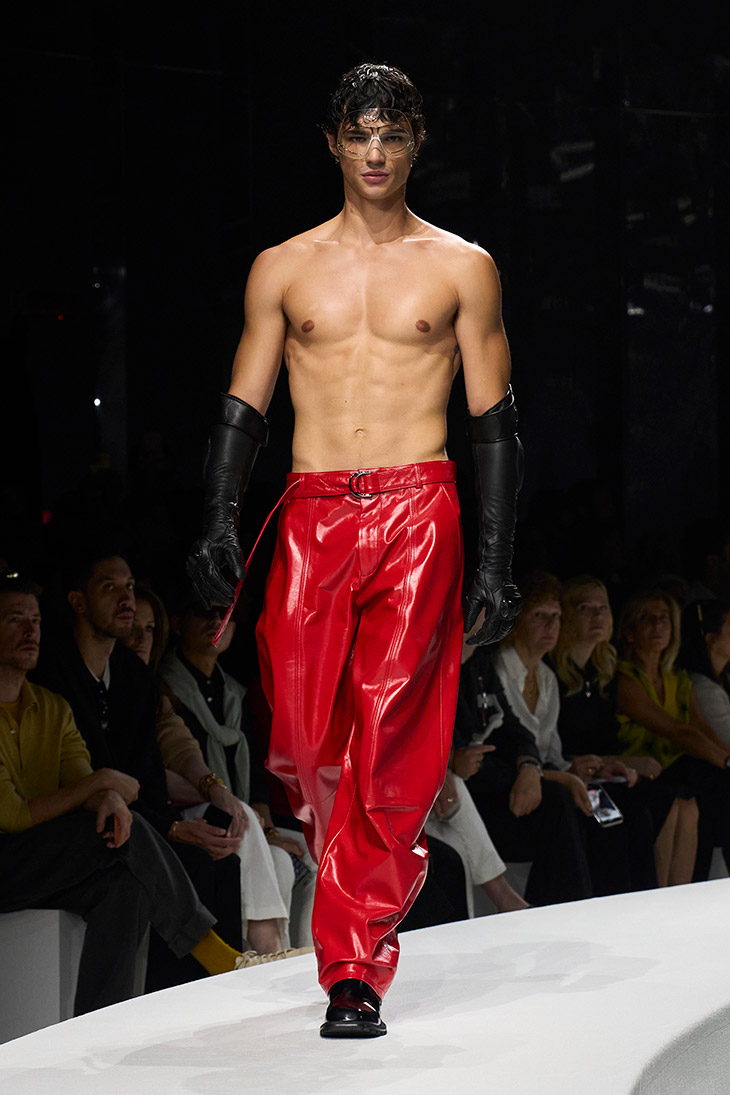 The Ferrari Spring Summer 2024 collection's novelties include sculptural jewelry inspired by original engine parts, tech-couture gloves, and futuristic sun visors. These accessories effortlessly complement the Ferrari Suit, establishing themselves as new icons seamlessly connected to both driver attire and the brand's own unique scenarios.
Additionally, the unmistakable Maranello Clutch, subject to the same dyeing process as Maranello cars, stands alongside the diverse shapes and functions of the Ferrari GT Bags. These bags are available in classic versions with high-frequency prints and in new extra-soft leather and suede forms, including mini, medium, and maxi duffle variations.