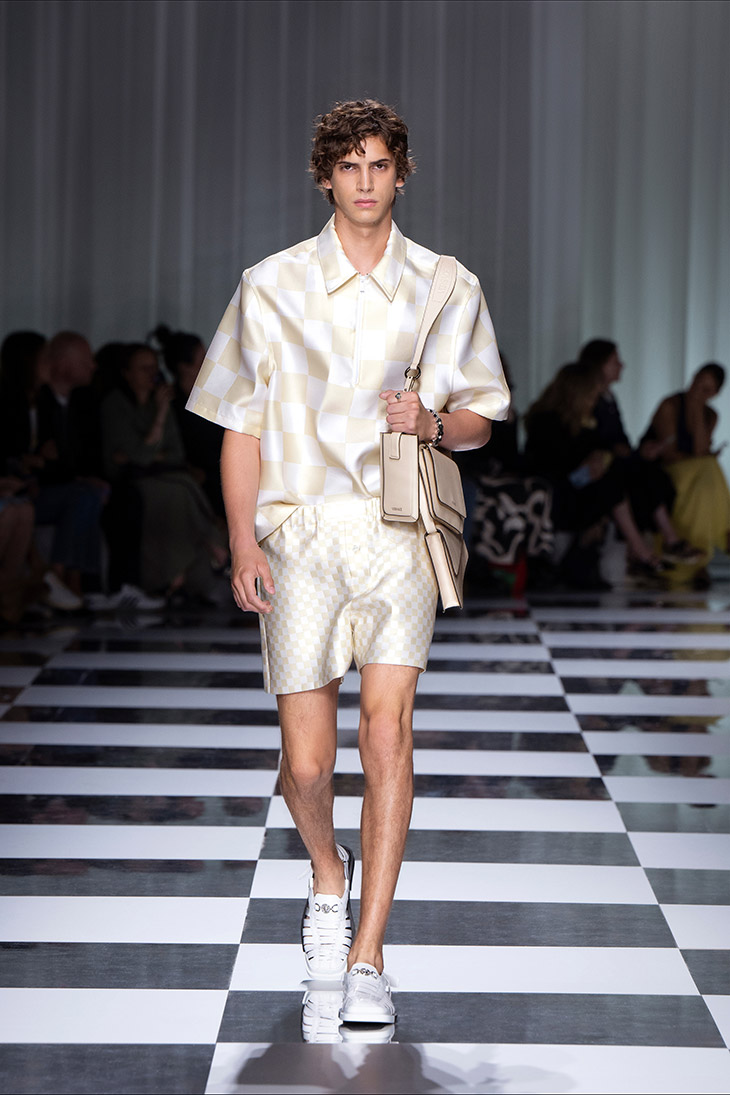 Italian fashion house Versace introduced its Spring Summer 2024 Collection with a fashion show held on Friday, September 22nd, during Milan Fashion Week. This collection draws its inspiration from youth, personal confidence, and the dynamic energy of urban living, offering a comprehensive range of wardrobe essentials alongside sensual and daring eveningwear. It emphasizes a straightforward approach rooted in Atelier craftsmanship, corsetry construction, and impeccable tailoring.
SPRING SUMMER 2024 COLLECTIONS
The commanding tailoring silhouettes from the previous Fall Winter 2023 collection have been transformed into light, sculptural, and sleek creations. Versace's signature sharp architecture is evident in the three-dimensional structured necklines, streamlined collarless jackets, and the iconic bustier. The collection breathes new life into the House's heritage by modernizing shapes through twisted and knotted pieces inspired by the Spring Summer 1995 Atelier Versace collection. These pieces reinvent dresses and tops with transparent georgette and jersey fabrics. Atelier pieces are stripped down to their essential elements, and several dresses focus on square and triangular shapes. The Versace denim adopts a sartorial approach, incorporating the iconic House code of metal mesh as inserts.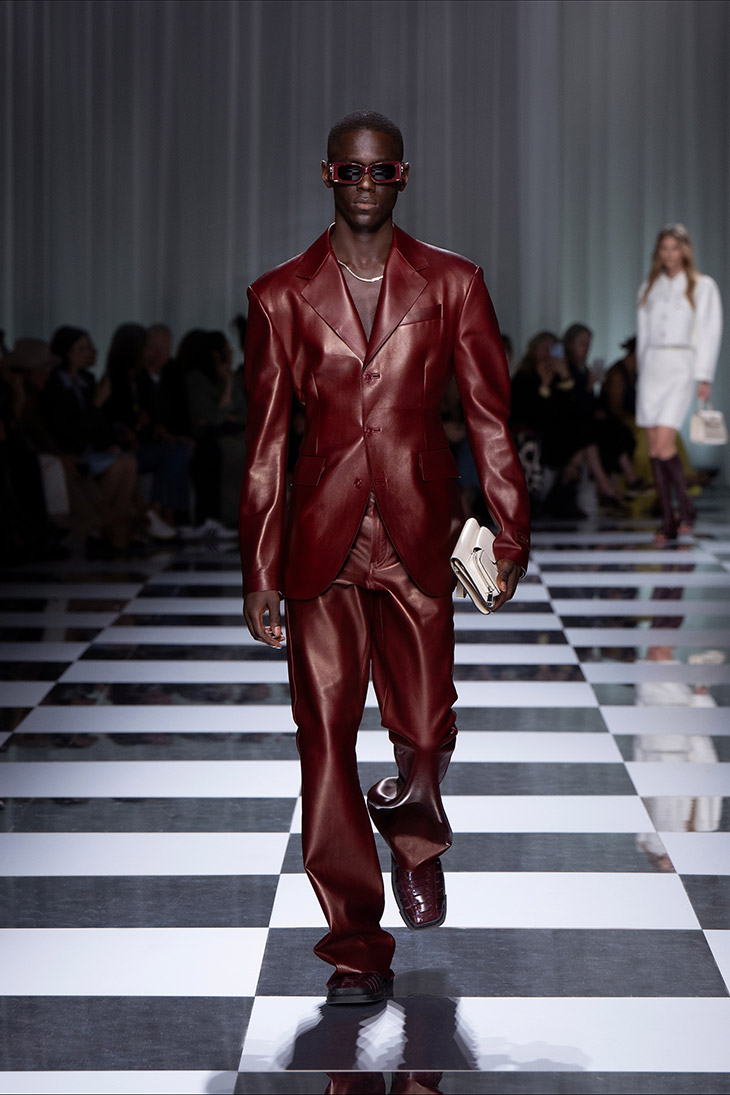 Fresh and graphic. This is a Versace summer with color and shine, tailoring and soft draping. I love the contrast between boxy suits and the transparency of an evening dress; matte sorbet tweeds and shiny metal mesh. The craftsmanship lessons of the Atelier are applied to achieve something super refined. This collection is joyful and sharp. The Versace woman is free and vibrant. The Versace man is confident and daring. – Donatella Versace
The Versace Spring Summer 2024 collection places a strong emphasis on design fundamentals that are at the core of the House's identity. Contrast plays a pivotal role, juxtaposing hard metal with intarsia lace and combining graphic checkerboard patterns with delicate embroidery. The Versace Contrasto checkerboard motif is expressed through new fabric manipulation techniques, including jacquard organic silk-blend duchesse, textural macramé, and RWS-certified responsibly sourced wool crepe tweed. The signature Barocco print appears as an emboss in silk-blend duchesse and as macramé borders. Stretch translucent chiffon incorporates devoré techniques and overprinting. Fluid and weighty FSC-certified responsibly sourced satin plays with matte and sheen finishes.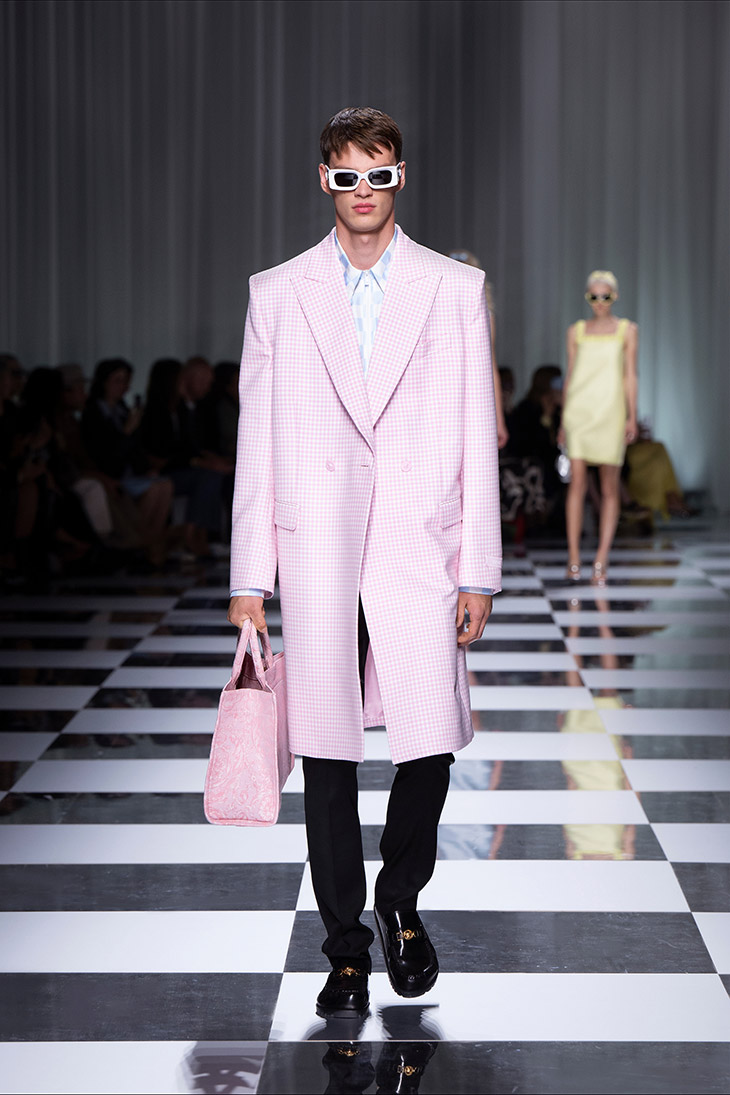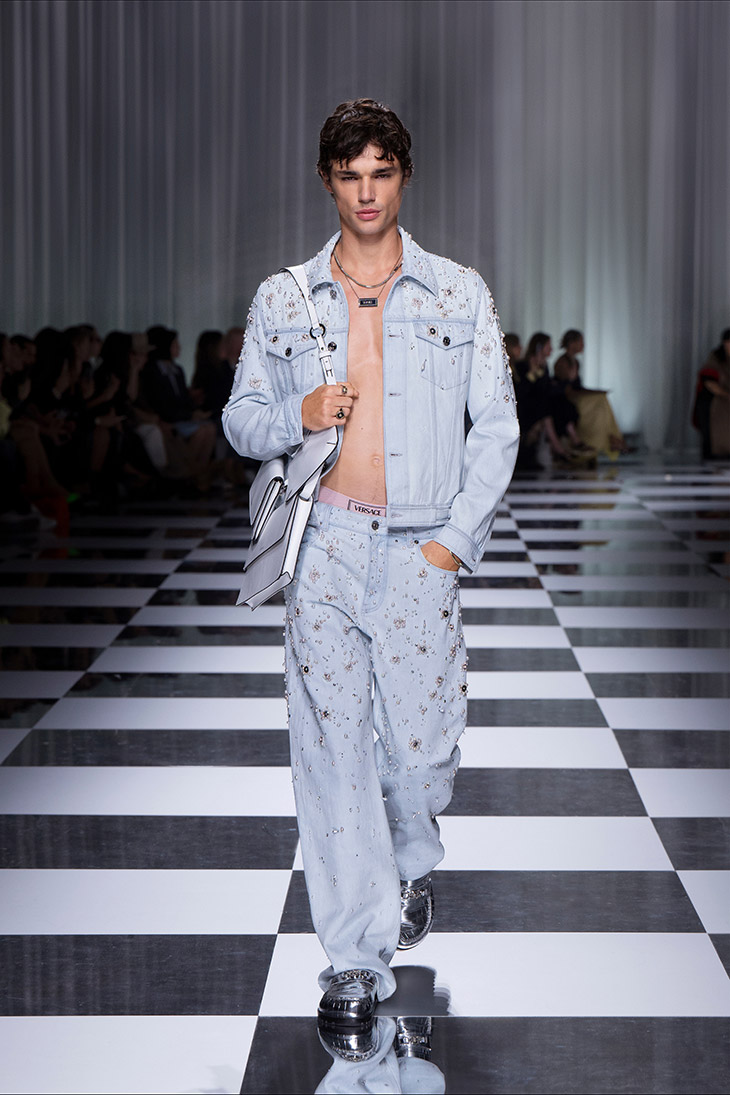 The color palette reflects a very Versace range, including pastel shades like Pastel Pink, Blue, Mint Green, and Pale Yellow. Natural hues of Light Sand and Pearl Gray complement these vibrant tones. Grounding the collection are colors like Dark Ruby, Black, and White.
Two notable design elements in the collection are the Versace Contrasto Checkerboard, a recurring motif since its debut in Spring Summer 1982 collections, and the Versace Rose, a seasonal symbol representing beauty, passion, and defiance.
The collection's vibrant colors and shapes evoke the optimism and vibrancy of the 1960s but are executed in a thoroughly modern manner, characterized by the sheen of materials, intricate fabric folds, and the interplay of transparency. A sense of youthful freshness, freedom, and fun emerges through the playful layering of tailored jackets, silk shirts, and micro shorts. The dominant silhouette remains sharp and clean. Men's tailoring introduces pinched waist jackets and shirts paired with wide flaring pants. The utilitarian aesthetic extends to the ready-to-wear collection.
In the realm of leather accessories, the House's iconic Barocco, Greca, and Medusa motifs take center stage. The Greca Goddess line expands with new finishes in metallic leather across existing icons of the House, including the top handle, hobo, and mini bag. The Athena tote bag, suitable for both genders, incorporates the Barocco in a chic daywear form, and the heritage Medusa '95 hardware makes its appearance in a new bag line. Cargo leather bags offer high portability and versatility with various shapes, from tote bags to handheld pouches.
Shoes in the collection echo the collection's key themes. For men, the Medusa '95 elegantly adorns sling-back mules crafted from ultra-soft and malleable leather. These mules come in various finishes, including crocodile-embossed, laminated, checkerboard, and pastel-colored leathers, as well as classic smooth leather in black, white, and burgundy.