Singer, songwriter and actor John Legend teams up with fashion photographer Thurstan Redding for the cover story of WSJ. Magazine's November 2018 Innovator's edition. In charge of styling was Karen Kaiser, who for the session selected pieces from top brands such as Saint Laurent by Anthony Vaccarello, Prada, Calvin Klein 205W39NYC, Hermes, and Dries Van Noten among other.
"I was always inspired by people who spoke out, whether they were artists or activists or politicians who went against the grain. When I was 6, 7, 8 years old, my parents used to take me to the library, and that's where I would read with pride about Martin Luther King and Frederick Douglass and Harriet Tubman—that inspired me to want to carry some of that spirit forward.
I always thought that was part of what it meant to be impactful in the world. To be an artist, to be a leader, meant that you had to speak out when you saw injustice, speak out for what's right. That's what it meant to live an important life." – Legend on using his voice
For more images + story continue bellow:
Legend on his friend Kanye's political leanings:
Though Legend has known West for more than 15 years, he doesn't want to speculate about his well-chronicled emotional issues. "A lot of people have tried to armchair-diagnose him, but I leave it to him and his doctor to discuss what's going on in his brain," he says. "Clearly I disagreed with some of the things he was saying, and I was worried that his saying it might empower some of the wrong forces, might be really demoralizing for people who looked up to him and thought of him as a leader.
"I understand what Kanye sees in Trump," he continues, "and I think it's a reaction to his personality and his marketing panache and don't-give-a-f—ness. But my point to him was that when you wear that hat, when you appear to be endorsing him, you're endorsing his policies as well, all of his rhetoric and not just the parts you like. I think we had to talk about it, because we didn't want people to be deceived into following his line of thought without considering the full ramifications."
Legend on his direction:
"I wrote an essay when I was 15 years old," he says, "and that essay said, 'This is what I want to do—I want to become an artist, work in the music business, be successful and use that success to be a leader in other ways.' If you read that essay, what I planned to do is almost to a T what I'm doing right now."
Wife Chrissy on John:
"John hasn't changed a bit," she wrote in an email. "I know it's the corny thing to say, but it's the truth. Of course, children naturally change your train of thought, but he is the same person I married."
Legend on his activism:
Despite the fever pitch of national politics these days, Legend's work has not been altered by the Trump era. "So many of the laws that affect criminal justice and education are determined in state legislatures," he says. "So much of the practice of adjudicating and sentencing is done by district attorneys. It makes you laser- focused on the local and the state level, because we definitely don't have a partner in the White House that will do the right thing. I still speak out against Trump as a citizen, as a voter, as someone who's got a national voice, but a lot of the activism we do is focused on local and state."
"I do a lot of work trying to improve the support that we give to teachers and reward their creativity, and amplify the great work that they're doing, so more people can do it," he says. This soon led him to get involved in criminal justice reform, including founding his FreeAmerica project, which involves speaking and listening to prisoners across the country. "We would see kids in tough communities, and a lot of times their fathers were locked up," he says. "You would see the decimation that does to a community. So we didn't want to continue to talk about civil rights in education reform without talking about civil rights when it came to criminal justice reform too."
Legend on a possible run for office:
"People ask me if I want to run for office, but I don't," Legend says. "Maybe when I'm 60—who knows what the world is going to be then?—but I love my life now and what I get to do.
"Part of me does want those things—when I hear things our leaders are saying, I'm like, 'If it were me, I would do this, this and this.' But I would not want to go to work every day, even at the Capitol Building or the White House. I just couldn't see it as the life I would want to live."
Legend on his new Christmas album A Legendary Christmas:
"I think my voice and my style are made to do a Christmas album, and my fans have been asking for it," he says. "The style palette is Nat King Cole, Stevie Wonder, Marvin Gaye, Donny Hathaway and Gamble and Huff, so it's like a tour of the history of black music in some ways. It just feels like this is what I was made to do—who I am and what I've grown up listening to—and it feels like home and family to me."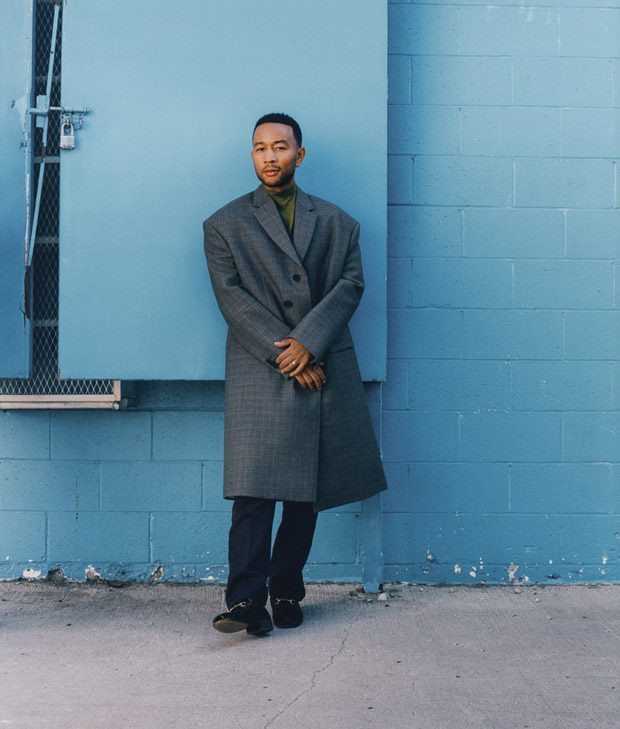 Legend on joining The Voice:
"I think it will be a lot of fun—I've been a guest on the show a few times and really enjoyed myself," he says. "I love meeting and working with up-and-coming singers. And an added bonus is it allows me to work from L.A. and not leave my family as much as I would if I were on the road."
WSJ. Magazine November Innovator's issue, on newsstands Saturday, November 10th, 2018 – www.wsj.com