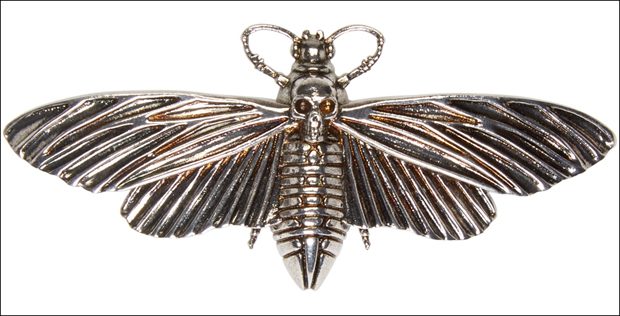 There are certain accessories that always seem to maintain relevance. Not necessarily because of what they are, but because of their versatility. You wouldn't think to associate all watches, rings or necklaces with one kind of style. Similarly badges and their versatility make them so easy to coordinate and match with different outfits styles. It was only this year after all that we saw carts designers picking the accessories up for their 2016 styles. (image: Alexander McQueen Silver Moth Pin)
The great thing is, badges are always going to be in style. Of course, certain types don't have as much longevity as others, but that mostly the fault of fleeting pop culture. After all, there are text t-shirts on designer racks that reference already dying trends and yet no one's expecting t-shirts to go out of fashion any time soon. Accessorising with badges comes with the same difficulty as investing in any kind of fashion.
See more after the jump: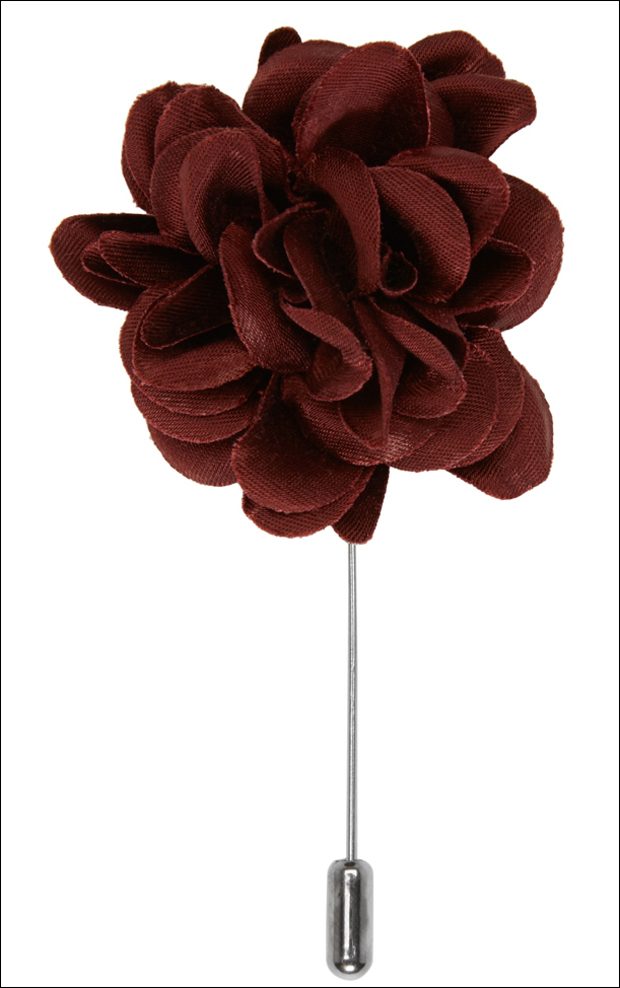 Lanvin Burgundy Rose Tie Pin
The reason why badges seemed to fall out of fashion a while ago was mostly due to this issue. Badges that don't have 'hashtags', app icons, or acronyms printed on them will probably last the wearer a lot longer than ones that do and have more sentimental value. We normally use accessories as expressions of our personality and our preferences, and badges are no different. This is why a lot of style icons are choosing to wear custom pin badges and vintage pins as opposed to those that are mass produced. By doing this they are finding and making badges that are unique and match their personal style. Perhaps they don the artwork of a graphic illustrator they appreciate, or ironically wear a vintage political pin to demonstrate their sense of humour.
Fashion has favoured minimalism for some time and now the designers are shucking off their old, plain styles in favour of the bold, bright future. Colour is creeping its way back onto our catwalks and badges are one of the ways that designers are showing off the versatility of their designs. The bland, faded denims that were paired with black and white are being covered in patterns and colours of all kinds, covered in badges, pins and patches. Fashion is once again being put back into the hands of the countercultures and the young rebels who refused to wear their clothes without first making their mark on them.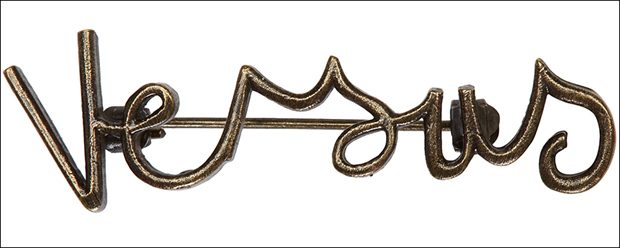 Versus Brass Logo Pin
However, we're also seeing the versatility of badges. Luis Vuitton, Gucci and other designers all have their own design of pin badges that kind of blurs the line between the traditional broach and the modern badge. They're bejewelled, intricate, delicate and being displayed proudly on the collars of faded leather jackets and ripped rucksacks. Badges are bridging the gap between elegance and grunge. Would you wear Calvin Klein with your dirty trainers? Would you sew a Yankees patch on your Rag & Bone denim jacket?
Technically, badges never went out of fashion. The fashion of badges just changed, just as much as any other accessory. If you want to start up a collection you should stock up on badges that are valuable to you. If you give in to what's cheap or what's popular then your collection will be outdated before you've managed to wear any of them. Wear them to express yourself and wear them with pride.