Day after ICOSAE Fall Winter 2018 menswear show our Editors Katarina Djoric and Zarko Davinic head to their studio for a conversation with the label's Founder and Creative Director Valentin Glémarec. Joining us for the chat is Dounia Merabet, who as Valentin's right hand helps with the business side of everything ICOSAE. Valentin and Dounia talk about the uphill battles of starting an independent brand, creating a collection from scratch and organizing a runway show in a Gothic cathedral!
How did you start with fashion? When did it start.
Valentin:  It started three years ago, but from a standpoint of an artist project not a real fashion brand. At the beginning everything was done from my bedroom, I did a first fashion show and we got interest from press and buyers, it was a fall winter 2014 season.
Read more after the jump: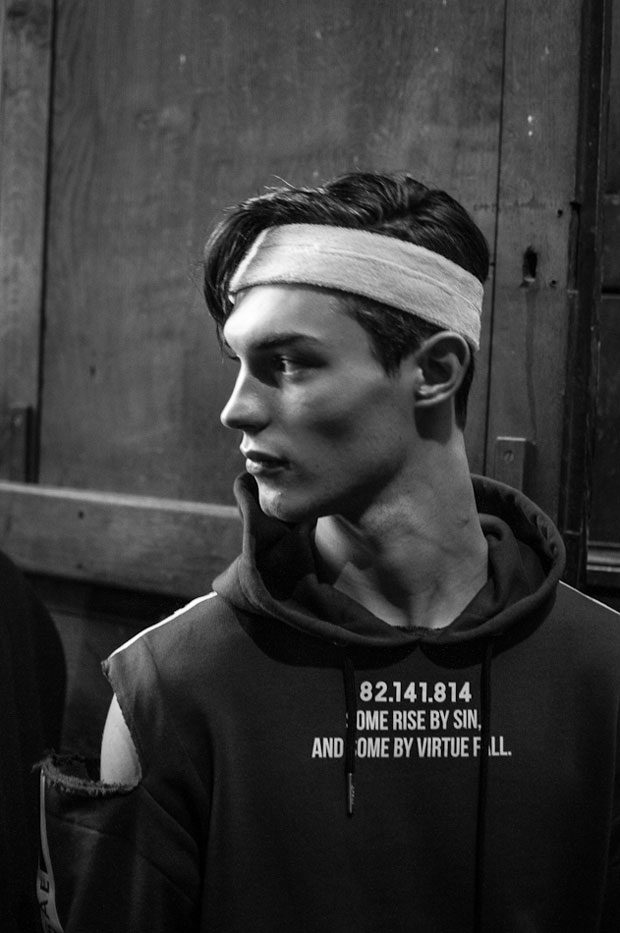 We are fascinated with the growth of the brand with each season. But also the model cast seems to play the part, how much attention do you pay to the casting?
Valentin: We do try to pay attention to the models we cast.
Dounia: There are guys we really like, one of them is Dylan [Fender] who we think has a strong look and we know his attitude. It's important for us to cast the models who represent the brand, just like Dylan, also after all these seasons we become friends with some of the models we work with.
Valentin is it easier for you to have Dounia, who is here to help with the business side of ICOSAE?
Valentin: Yes of course, and we are thinking a lot of strategy and discuss all the 'how to', even for the collection we are talking whether we should put this piece or that piece or editing a piece out.
Dounia:  When it comes to collection planning we work on it together. The way it works is that he is drawing with all of his inspiration, and after he comes to me and we are like OK so how can we make it a beautiful collection and wearable but also sell-able to people.

When it comes to the branding, what do the printed numbers mean?
Valentin: Each season we use the numerology, so if you analyse those are the letters. So in a way we have hidden branding.
We loved the campaign as well, which broke down the fourth wall in a way focusing on every day lives of models and the selfi culture. Does the campaign reflect on your plans for developing an e-shop?
Valentin: In a way. Before we start to sell each time the collection goes through a lot of editing, there are pieces that are missing on the e-shop since we do hear our clients and buyers as well.
Dounia: Whit the e-shop we focus on the best selling pieces, but we also do the world wide shipping to respond with the demand [currently shipping free world wide!]. We have people asking for certain pieces, and we work on responding to the demand from various territories. We are also working on something special exclusively for the e-shop, just like limited editions featuring prints developed from Valentin's paintings.  We are also to sell the prints of Valentin's paintings.
Now when you see how much fashion is going through the changes season after season, do you think working in the past at brands such as Givenchy is helping you respond to the market demands?
Valentin: I think that people want to feel a certain DNA, we are into the moment but not too much since in time we don't want to get unfashionable after a season. So we are dedicated on developing the unique DNA of the ICOSAE brand.
What do you think was the breaking point for ICOSAE, when did you think you established yourself the most?
Valentin: I think this collection was my most personal, but it is a growth from the start with each collection. However for this collection I did everything by myself, and I find it very personal. But for the prints and the mood we worked together with Dounia on creating a sort of a social statement. The prints are also focused on a social movement, you have scaled down images of riots turned into prints for a few of the pieces. That is how alongside fashion we wanted to also create this social statement on what is going on in today's society.

When it comes to designing which season do you prefer.
Valentin: I do like winter cause you can do more, but now we are always in a way mid season focused.
Dounia: I think winter is interesting and you can see a lot of Valentin's creativity through the coats. And even from the reaction of our clients everybody says we are very strong in outerwear. But we also do have some lighter pieces always incorporated, we have sleeveless hoodies for example in this collection as well.
When it comes to crafting the pieces, you basically sketch all the work, do you make adjustments in the sewing room?
Valentin: It's a bit of both, actually the sketches look very close to the look on the runway, because we have a process taking alongside the research of the mood for the collections, then I draw some looks and do the colours. Afterwards, I do a 3D preview of each of the pieces with all the details, to actually get a better feeling and see if its worth doing them.
Dounia: The interesting thing Valentin works on is the actual 3D rendering of each of the looks. For us as young designers you also have to be mindful when it comes to saving a budget, by getting closer to the final version of the look already in 3D. As a young designer you can not afford throwing away too many samples and canceling the looks. So when we do 3D rendering its how the piece is actually gonna look in the end.
It's a very modern process! It makes a lot of sense to do it in the 3d.
Valentin: Yes, it helps a lot so every time we have the 3D rendring it is what we are actually to get from the factories. So for us this way of working is much better.
Do you already have in mind what are you to do with the next collection?
Valentin: Yeah a little bit, essentially I am bringing in colours.
Dounia: Oh he didn't tell me! You said 'I have something in mind'. [laughs]
Valentin: I told you two weeks before the show! [laughs] Even the patterns are often in colour for me, so some of the colour adds energy to the clothes when you combine them to the original prints we work on developing.
How many weeks before the show you start working on the new collection. How long does it take to get the collection in the end from sketches to the runway. 
Valentin: You can say it's months, the plans for my next collection are gonna change throughout. I do want to rest a little bit, before starting, we are travelling to Los Angeles soon. I like to sleep on the ideas and see if they are gonna look good in a few weeks after I put them on sketch. But once everything is done and finalized, we can finalize the production of the samples in two weeks. My paintings which I work on for the prints, do take a lot of the time. But for example the samples arrive two days before the show, it's all very timed.
You must have been stressed?
Dounia: This time it was not complicated but it was definitely stressful! And you see everybody and they are 'oh your show is in two days'. Ateliers did already start working on creating all the samples already in December.
Did you get any sleep before the show?
Dounia: Two hours, which is fine. [laughs]
Valentin: Actually there is something which keeps you awake, and when it's done the pressure simply goes away.
I know ICOSAE is your baby, but if another brand asked you to take the helm as a creative director would you consider it? And do you have any dream brands you would like to be a creative director of, perhaps in a year or two?
Valentin: It is important always to have a resource, so big brands give other opportunities in that way. But when you work a day and night on your own brand it's a different situation. Big brands also have massive archives, and a lot more people are involved. For our brand we can create everything from scratch, working on art direction for a big brand you are also responsible to follow their heritage. You can also be fired in a blink of an eye. These days especially.
Dounia: I heard a spot opened in Louis Vuitton as of recently. [laughs]
Valentin: I have some missed calls today, I should check them. [laughs]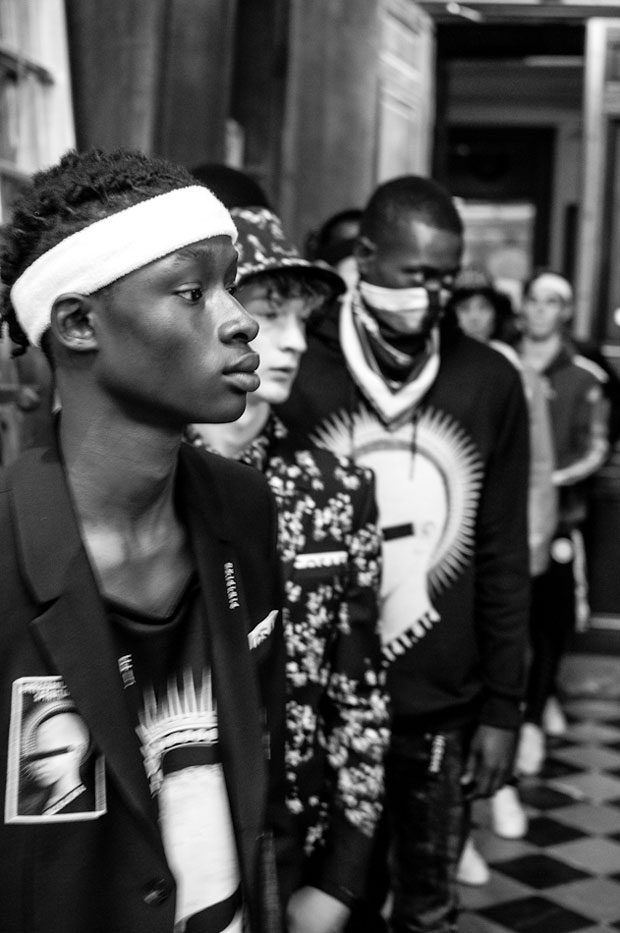 Now when we are speaking about the big brands, when you create ICOSAE, are you inspired by some of the important fashion designers?
Valentin: I do check out other people's work but I do try not to take too much of inspiration in such a manner, it is important to create your own DNA and do your own work. Even tho I admire some of the recent big progress of new brands, such as Vetements, I love what they did. I do like new designers or established brands for many different things.
But, I do not inspire my work from other people's designs. I am more inspired for example by every day things, seeing what people wear while drinking coffee for example. But the looks from the last show, we also can see some of our looks or similar pieces on the street styled by people differently on their own. Like wearing jogging pants with our coats.
Speaking of jogging pants, what do you think about the influence of sportswear? Especially now when we have the rise of athleisure as a newly defining term. 
Valentin: I think people want to be comfortable, it will evolve, and it will definitely last for a while.
Dounia: It is something very deep in people's culture. I also had a conversion with a buyer recently about the come back of true tailoring. A lot of people in the industry are talking about outerwear driving the menswear industry. So perhaps its coming out of trend to dress as sloppy, people are starting to dress little less street style.
Valentin: I do not see myself in a total suit on the street. I do love to create a suit, those are actually some of my favourites to design, but I do think people can not dress like that all the time and in every day occasions.

A lot of 90s sportswear brands are doing collaborations – Fila, Kappa, Champion they are all back, are you open for such collaborations?
Valentin: We love to do collaborations, this season we collaborated on creating special sneakers with Louboutin Homme. We designed with their team two styles, it is the first time we did sneakers so Louboutin was a good partner for such a a collaboration. I think it's cool to create pieces which people actually need every day.
Dounia, when you talk about sportswear, and the come back of the 90s sportswear brands for us it was specially interesting to work with a brand like Louboutins. A brand that has nothing to do with sportswear, they were like ok let's do sneakers today and we took them with them to a minimalist path going white with just their signature red touch. And we think we created a very good contrast.
Valentin: It was a good mix, even when you are doing runway show in a church.
Oh yes, you showed the fall winter 2018 collection in a church in the centre of Paris. Were you nervous about it?
Dounia: When we brought in the collection to the church I was nervous, I was wondering if we are gonna get in trouble.
Valentin: We started with the statement "when was the last time you went to church".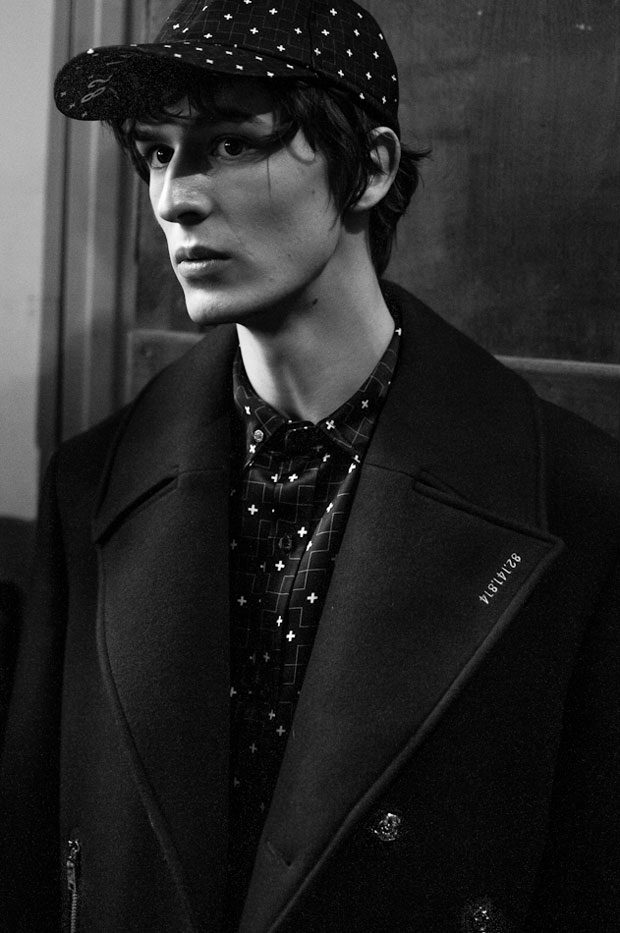 Are you religious?
Valentin: Not really. But it's not against or pro religion, it's more of a social statement.
I as an atheist can not get offended by seeing a runway show in a church. But did you get any negative reactions?
Dounia: Actually some people got slightly offended, some of the buyers actually told me the fashion doesn't belong the church. But I have to say the priest liked it! [laughs] It wasn't anti clerical so everything was ok.
For the end I have to know, did the priest give his blessing?
Valentin: [laughs] It's a very open minded priest, he thought it's a very cool collection!
Keep up with Icosae on instagram @icosae
Images captured by Benoit Auguste for MMSCENE Magazine