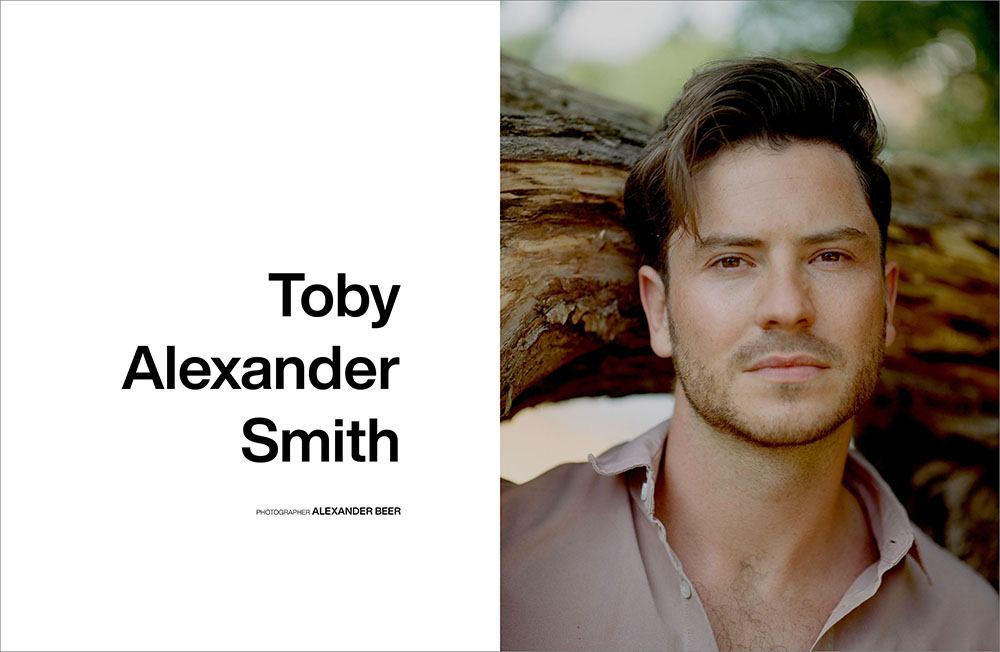 The handsome Toby-Alexander Smith, best known for playing serial killer Gray Atkins in EastEnders, is the star of our latest MMSCENE PORTRAITS feature. Our editor Igor Cvoro sits down with Toby-Alexander to talk about his plans after his exit from the soap, fatherhood and his upcoming projects.
Read the interview + see more of the story captured by photographer Alexander Beer below: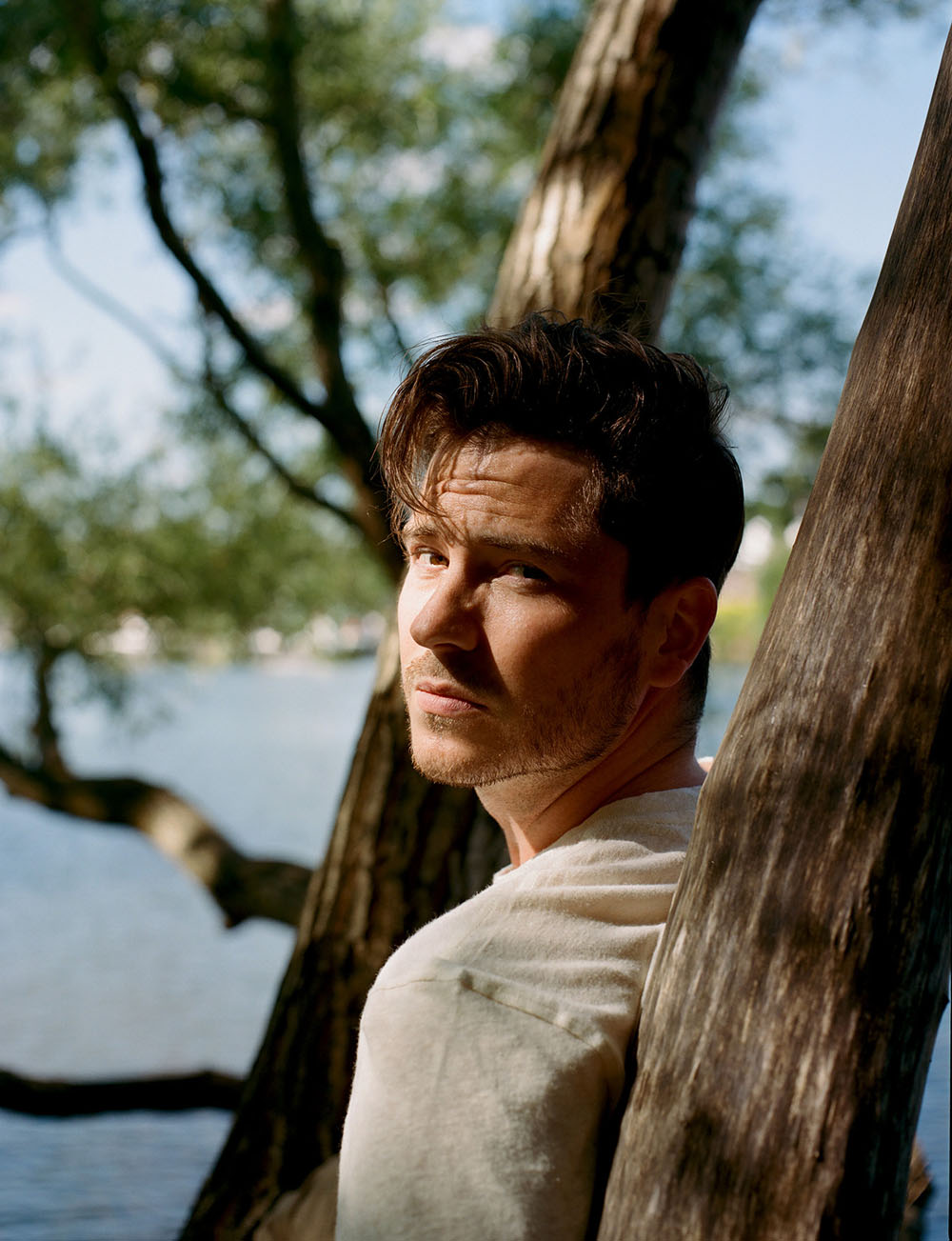 Hi, Toby! We're happy to have you at MMSCENE. Tell us more about yourself. Who is Toby Alexander?
Hey! Thanks for having me. I am an actor based in London, currently navigating my way through the best but hardest role yet…fatherhood. I love the outdoors, film scores and a good whiskey. One ice cube.
What was it like the first time you were in front of a camera?
Well, I'd done three years of acting training in London but mainly in theatre, so it was pretty daunting as I was kind of thrown in at the deep end. It was on a show called Berlin Station. The calibre of cast and crew on that show was amazing with the likes of Richard Armitage, Rhys Ifans and Richard Jenkins to name a few and I remember just saying to myself, you need to be a sponge here, watch and learn. You are in very good company. There was a craftsmanship and collaboration between the actors and the crew that I adored.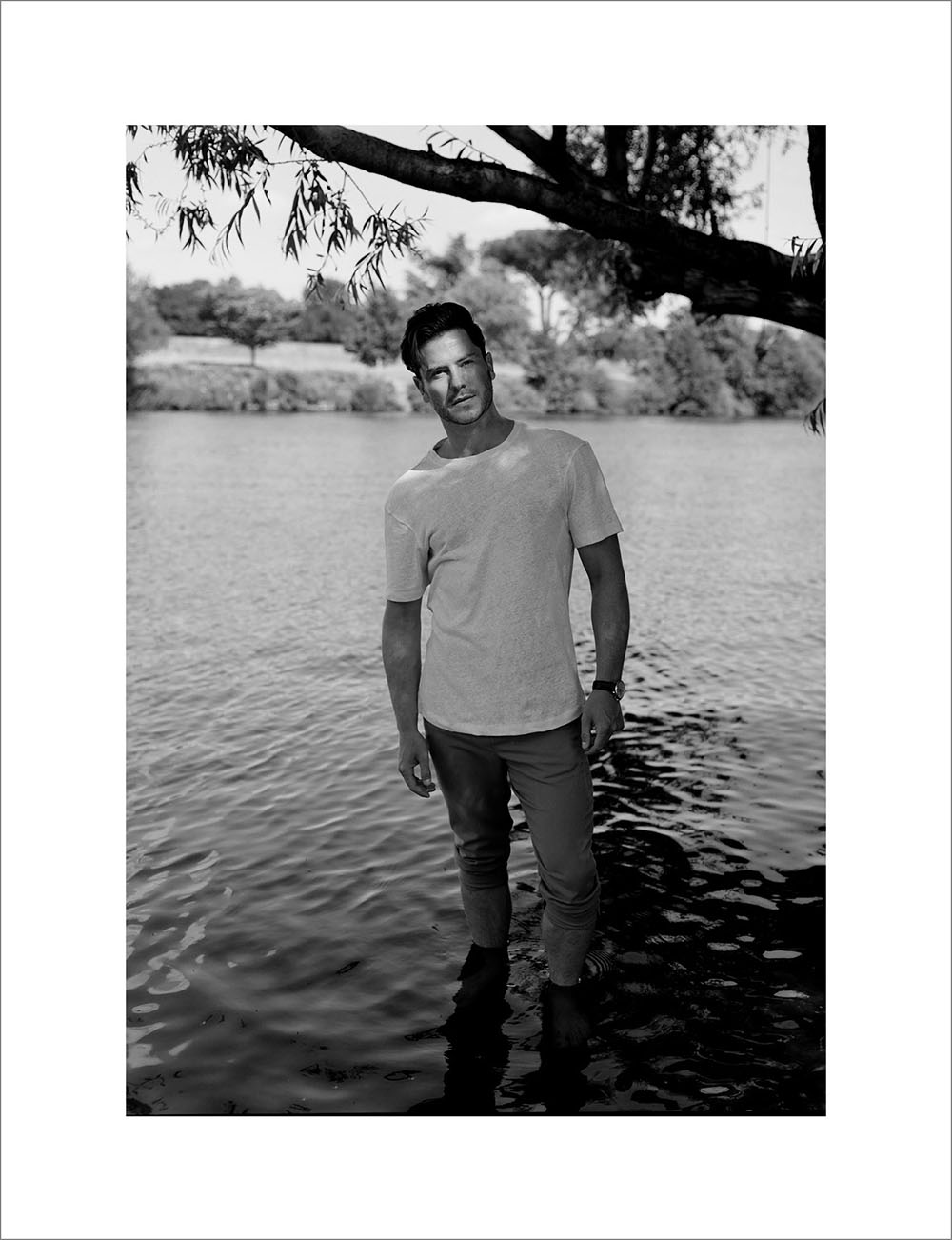 How do you prepare for a role? What are the first things that you do when you get a script?
The minute I get a script or scenes for something I literally don't stop reading them. It's usually around the third or fourth time the cogs start going and stuff starts happening. I identify the obvious first and then try and dig deeper to discover the nuances. I know it's good writing or a good character when my imagination and instincts start going a bit wild and every time I read it something else pops up. I'm like a kid at Christmas, I don't know what to open or play with first. I also love doing research and learning about new things. Whether you're playing a real person or a fictional character you need to understand the world they come from.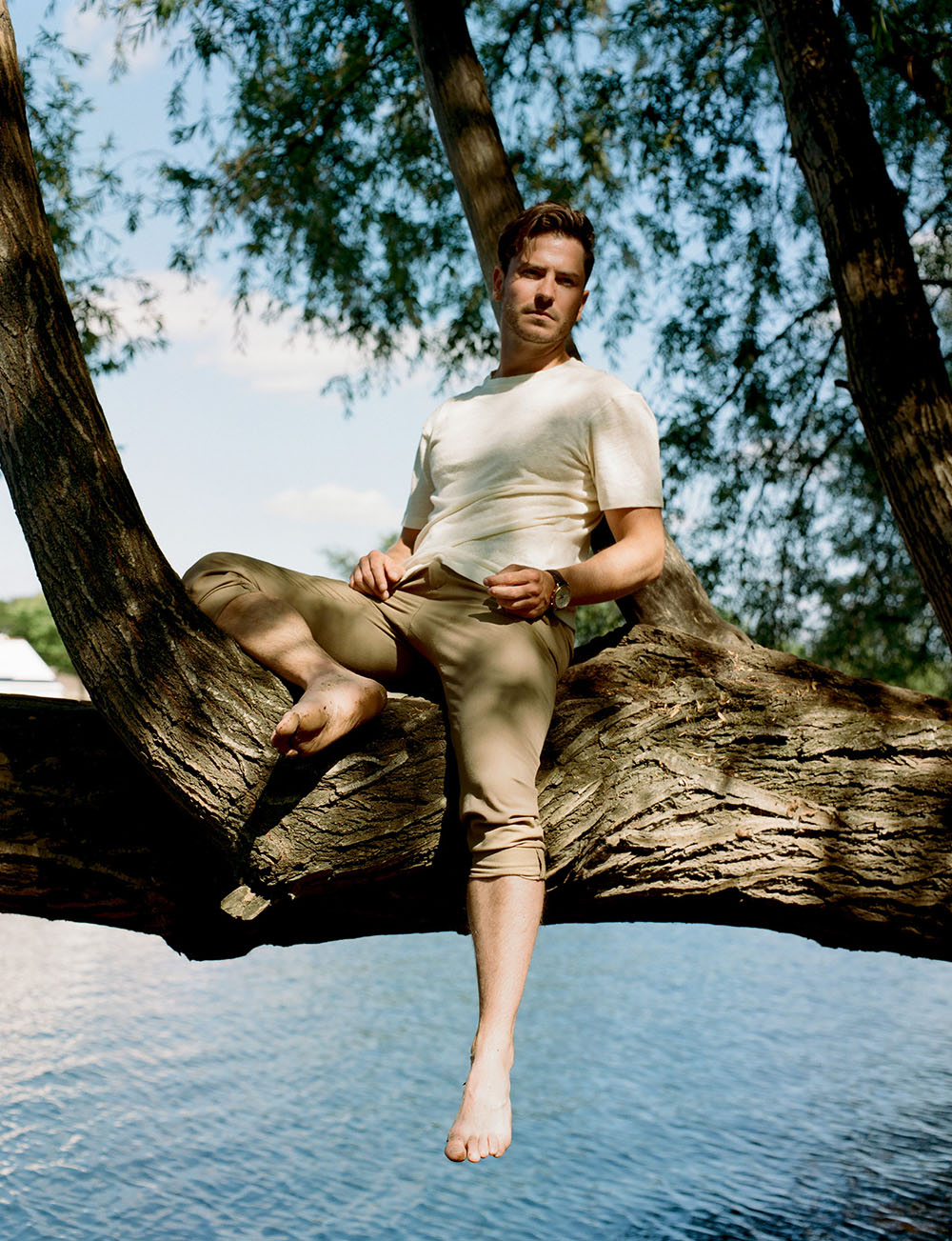 You're most well-known for your part in EastEnders. And, while many well-known actors began their careers on soap operas, there is always the worry of being typecast. What are your thoughts about that?
Soap operas are a great place to hone your craft as an actor and I loved it. It can be so rewarding as the more you put into it the more you get back. They are big machines, a bit like a massive treadmill. You have to jump on and you'd better have done the work and be ready to go when they shout action. I think it's fair to say if you play any character for too long there is a risk of being slightly institutionalised. I never wanted to get too comfortable in EastEnders but at the same time I had been given the chance to play a fascinating character that I really wanted to have the time to fully explore. I was also given a lot of creative licence in the characters development and journey which made the process really organic and satisfying.
You played a serial killer on the show. What was that like? Do your on-screen experiences ever get under your skin?
The initial storyline was about domestic abuse. The culmination of that storyline lead to my character, Gray, killing his wife, Chantelle played by Jessica Plummer. It was a bold and brave move by the producers especially given that it was around the height of the pandemic and domestic violence had spiralled during lockdown. My character then went on to have a mental breakdown and a combination of an all-consuming burden of guilt and an uncontrollable desire for power lead him to kill others around him who could potentially expose him for who he was and what he had done.
Over time I got better at shaking off the heaviness that came with playing that type of character. I was sometimes required to be in quite a psychologically oppressive and emotional state for twelve hours a day five days a week which you can't really sustain. We could shoot anywhere from eight to twelve scenes in a day so I had to get really good at finding pockets of time to break out of character, breathe and reset to go again.
You were on the program since 2019. Are you pleased with how things turned out?
Totally. I have grown and learned so much doing that job. It was unlike anything I had done before. When the first pandemic hit we stopped filming for three months and it was the first time the show had come off air in 35 years. When we came back to filming the plan was to finish the domestic abuse element of the storyline. However, we now had all these social distancing rules in place. EastEnders went above and beyond to be creative in how we filmed those scenes, which paved the way for other TV shows. From the standard two metre rule, to using tennis balls for eye lines, perspex screens between the actors and using mannequins as body doubles. A definite highlight for me was when the final episode got nominated for BAFTA's Must-See-Moment last year. It was a huge team effort and despite the obstacles, we put everything into those performances as we knew we had a social responsibility to get it right.
And do you think there are more stories left to be told about your character?
I think there's always more that could be explored but for now I am happy to put that one to bed. He's serving his time in prison and I doubt he'll be getting out anytime soon.
What's next for you? Do you have any upcoming projects you could tell us about?
I recently became a father for the first time. It's been pretty wild but I am loving it. After I finished EastEnders I needed time to just be present with my family. Everyone tells you it but it's honestly going so quickly and I just want to take it all in. I'm also aware the next job could potentially take me away from them.
Are there any types of characters you would love to explore? Any roles you would like to play?
I know that the further away from me I can get, the more fulfilling the experience is ultimately going to be. I would love to go the whole hog, accent, body transformation, prosthetics, the works. I'm fascinated about people who have done extraordinary things and I love autobiographies so I would really like to go on that journey of studying and becoming someone and then tell their story. Also, anything physical, action based would be cool. I've done a fair bit of stunt work, fight sequences, running into burning buildings, jumping off bridges. I live for that kind of stuff, I just throw myself into it and commit!
What was your worst audition ever? And the best one?
Auditions are funny things. I don't know if I have a worst and best but I've definitely had the ones where you come out feeling pretty crap and others where you come out and are on cloud nine. Jim Carey said once that until you audition for something you don't know if you can actually play it. I think that's true and I also like the idea of fighting for a role.
What does a character need to make a part interesting for you?
I love it if they have vulnerability. I think that is so interesting to play. Whatever the exterior is on the outside I love to have something that's hidden in the characters life. A secret beneath the surface or a weakness.
How as a life in showbiz been what you expected it would be?
I mean there's fun parts to it for sure. I've been to quite a few events now where you're meeting other creative people. That's nice. I'm a pretty private guy who keeps himself to himself. The pandemic helped in that sense as I didn't really need to leave the house. I love going to the cinema on my own or the pub for a pint. Whilst I still can do that it has changed since EastEnders. You kid yourself that'll you'll slip under the radar but then you see the show is the most popular on BBC Iplayer or you see your character name trending on Twitter. Getting recognised is something I'll always find odd.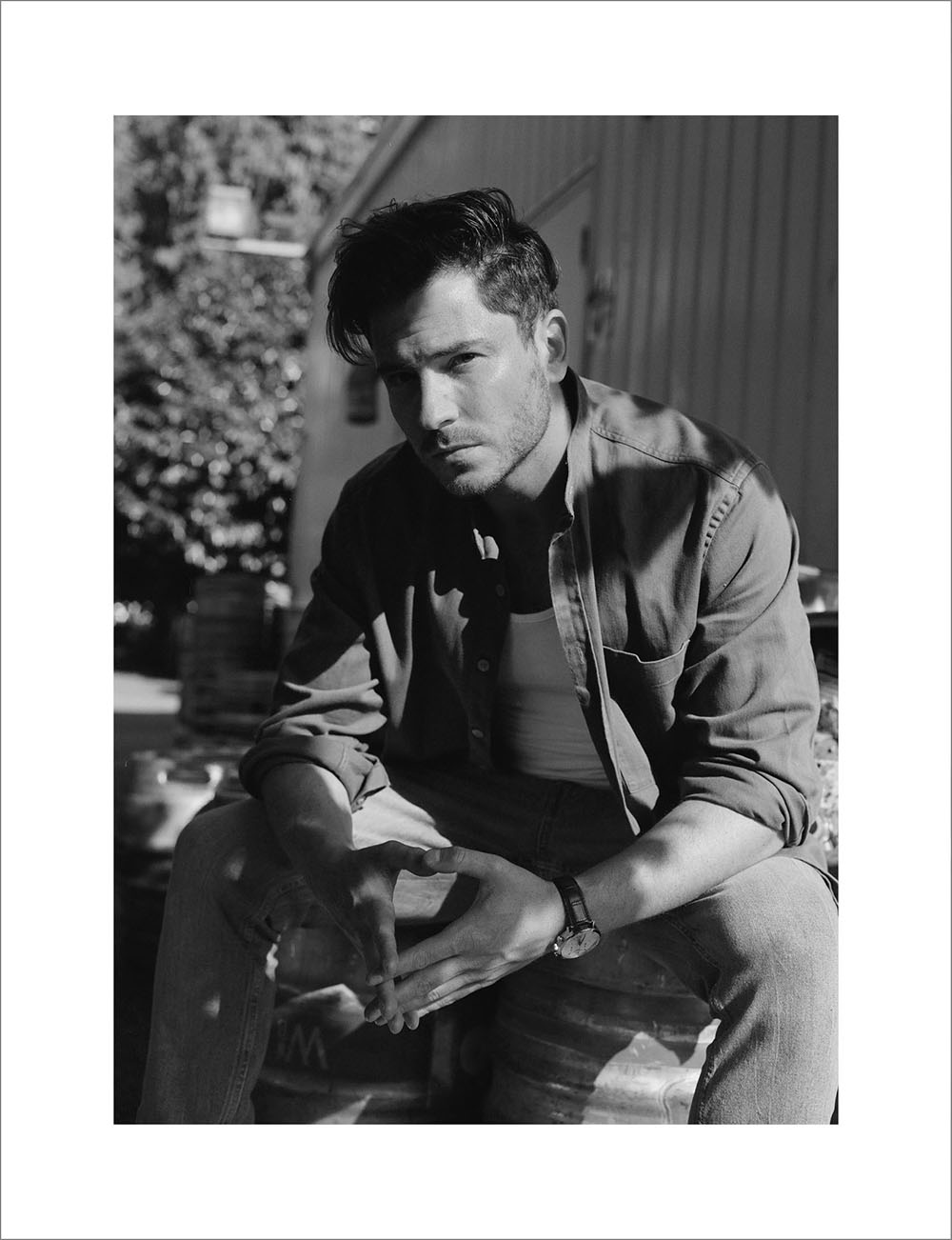 How do you measure success?
Cliche, I know, but if I can make a living and provide for my family by doing this job then I would say that is success.
What kind of movies do you love and what kind of movies do you hate? Any favorites?
I love movies. I would watch a film a day if I had the time. As a kid we used to go to Blockbusters every Friday to pick a movie for that night. I used to run up and down the aisles and look at everything. I've had a staple diet of films and have seen a lot from the classics to the more contemporary. A favourite of mine is Gladiator. It's just epic. I can't tell you how many times I've watched that. Also, Shawshank Redemption. Saving Private Ryan. Just brilliant stories.
What's the last TV show you binge watched?
Peppa Pig. But before that, when my partner was pregnant, we binged The Serpent with Tahar Rahim and Jenna Coleman. We watched all eight episodes back-to-back. That was brilliant and again amazing storytelling and performances.
Is there a TV show or movie you would really like to be part of?
My dad is a history fanatic when it comes to wars particularly World War 1 and 2 and so I've seen my fair share of those type of films. I would love to be part of something like that.
A director you would like to work with in the future?
I have always loved Ridley Scott. I get excited when I hear he's doing a new project. He's just great, as are his films. I listened to a podcast he did recently and I just found myself clinging on to every word. Sometimes you just get a sense from a director and for whatever reason you can just trust everything they say. I think that's really important in a director/actor relationship, especially if you're taking yourself out of your comfort zone. Christopher Nolan is another one, I'd love to get on his radar.
Name 5 facts about you people may not know.
I love film scores. I met James Horner two weeks before he died and got to tell him how much his music inspired me to be an actor.
I'm an ambassador for Women's Aid. A specialist service that helps women and children get to safety from abuse.
I used play a lot of Rugby.
I play Piano.
I love to sing and did a lot of it professionally before I did EastEnders.
If you weren't an actor, what would you have liked to have been?
I think possibly a psychologist. It kind of goes hand in hand with acting but I just know I would enjoy studying peoples emotional and social processes and behaviours. I always love hearing people talking openly about their mental health and the discoveries they make. I would also want to be a film composer. I've written bits in the past but I endeavour to write the music for a film I am also starring in, in the future…hopefully.
Photography by Alexander Beer @alexbeer7