While men's fashion might not be as fluctuating or complex as women's fashion, new trends are still emerging regularly and managing to keep your aesthetical appearance flawless means you need to look over some fashion magazines from time to time and check what experts are advising you in this department. In 2018, versatility is being promoted, style wise, and men are recommended to try out new things. If fashion has never been one of your strong suits, but you are trying to improve things in this department, getting some insights on the topic might help you achieve the style upgrade desired.
The following pointers will give you the chance to up your fashion game, and give your appearance the aesthetical boost it might currently need, so try to make the most of them before entering the new year:
Try out a bit of color
If you are like most men out there, you might tend to get your clothes in neutral tones, or black and white. While it's always safer to go for an earthy, neutral palette for your outfit, 2918 trends are all about making more daring choices, and adding elements that you might not normally wear. Strong colors, such as yellow, electric blue and even burgundy are great choices to make this season. While you don't have to wear colorful items from head to toe, a single piece of clothing or an accessory in a more vibrant tone can truly upgrade your entire outfit. Don't be afraid of colors, and when you go shopping next time, take a look at some other options besides your regular chosen palettes – and who knows, you might actually like wearing colors you have never tried before. From a fashion point of view, you will certainly stand out in a positive way – just see how many desires are promoting this trend lately.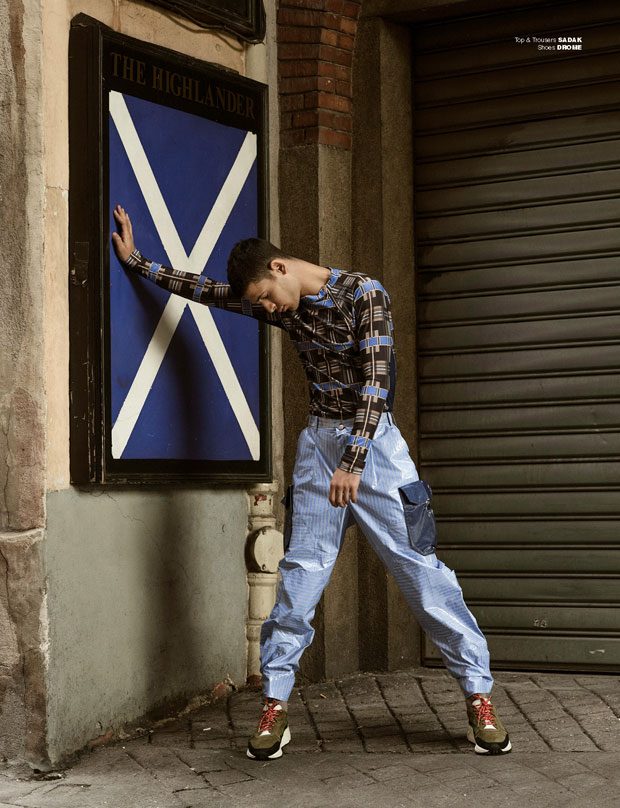 Ali photographer in Paris wearing trousers and top from SADAK and shoes from DROMe
Accessories are important for men too
While simplicity might be something the majority of men focus on, that doesn't mean skipping on accessories is fashionably acceptable. Regardless of what type of look you are going for, whether it's a biker inspired ensemble, or a street wear casual outfit, adding those finishing touches is necessary. Accessorizing is more important in 2018 than ever, and once you check a few fashion magazines or blogs with this topic, you'll notice how the majority of men's fashion looks are focused on designer accessories. Skull jewelry, designer shades, leather belts, hats, scarves, suspenders – there is a wide selection of options you have availed, which can turn a what-seems dull, casual attire into a fashion-forward outfit. If you are going for a biker look for example, a leather jacket and a pair of boots will not be all it takes to create that picture-perfect combo, biker accessories, such as gloves or rings being just as important. The market in 2018 stands at your disposal with endless purchase possibilities, s you won't have any troubles in finding items that suit your taste and style. A simple look doesn't need to mean boring, so never skip on accessories.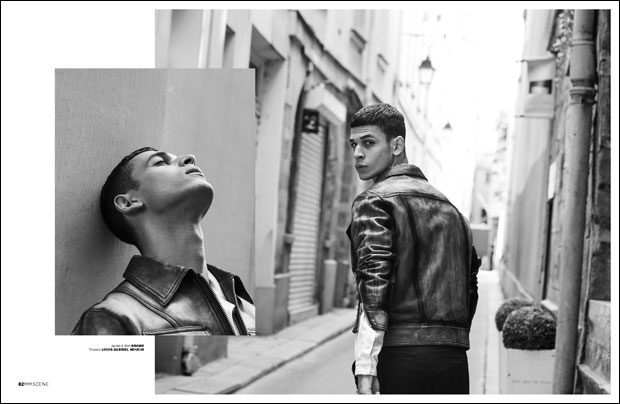 A leather jacket is your best friend
Any wardrobe should have that versatile element that can be included in various outfit combos, and for men in 2018 this is a leather jacket. Being suitable for casual outfits as well as more fashion-forward, complex attires, leather jackets are a must-have this season. A pair of regular jeans and a white t-shirt can be turned into a stylish, attention-drawing ensemble just by adding the right leather jacket to the outfit. However, you can't purchase just any jacket found in the mall, you need to invest a bit of money in an option that comes with visible quality, a proper fit and a more unique design. If there's something worth spending more money on, this is certainly it! And remember, if you go designer, you can't go wrong, so as long as you afford a more luxurious purchase, don't hesitate to make it.
Leather jacket from DROMe combined with jeans by Icosae and shoes by KENZO
It's all about those shoes!
When you are in a hurry and don't have time to make the most inspired choices in the fashion department, the way you can save your look is by putting on a great pair of shoes. Regardless if they are dress shoes or sneakers (depending on what suits the clothes you are wearing that exact time), a quality pair with a visibly interesting design will improve your ensemble even by 50 percent. Fashion experts always advise men to have a proper footwear collection, their choices in this department influencing their entire style tremendously. Also, make sure you always keep your should in a good condition, because there's nothing more aesthetically unpleasant than dirty, damaged or too worn shoes.
Distressed looking jeans are a no-no
Jeans are certainly the clothing element in a man's closet that is most frequently worn. Considering they are versatile, easy to match and can be appropriate in various settings, men's love for jeans is understandable. However, while some time ago, worn out, pre washed jeans were an actual trend, there are no longer something you should consider wearing, regardless of occasion. Rebellious jeans will probably not come back into style anytime soon, so it's best if you just give them up. Choose well fitted, classic indigo options that allow you to put together clean looks. These are also easier to match with other clothing elements, making getting dress much more convenient for you. Chinos are also a great alternative to jeans, when you are going for a dressier ensemble, so add a couple to your wardrobe.
In a world where appearances do matter, keeping your style on-point requires a bit of effort from your part. Considering fashion movements are constantly changing, keeping up with the trends means you need to stay posted and follow the necessary advice, at least if you desire to benefit from an impeccable style. You don't need to be a fashion guru in order look your best, just make the most of these tips.
All images by DANILO PAVLOVIC for MMSCENE Issue 025 – starring Ali at Next Models Styled by MMSCENE Magazine's Fashion Features Director KATARINA DJORIC – discover the full story.