We sit down for an interview with designers Joseph Lazo and Andreas Schmidl the creative duo behind the brand on the rise LAZOSCHMIDL. Our editor KATARINA DJORIC talked in Paris to Joseph and Andreas about the beginning of their label, their design aesthetic and Miuccia Prada.
Read more after the jump: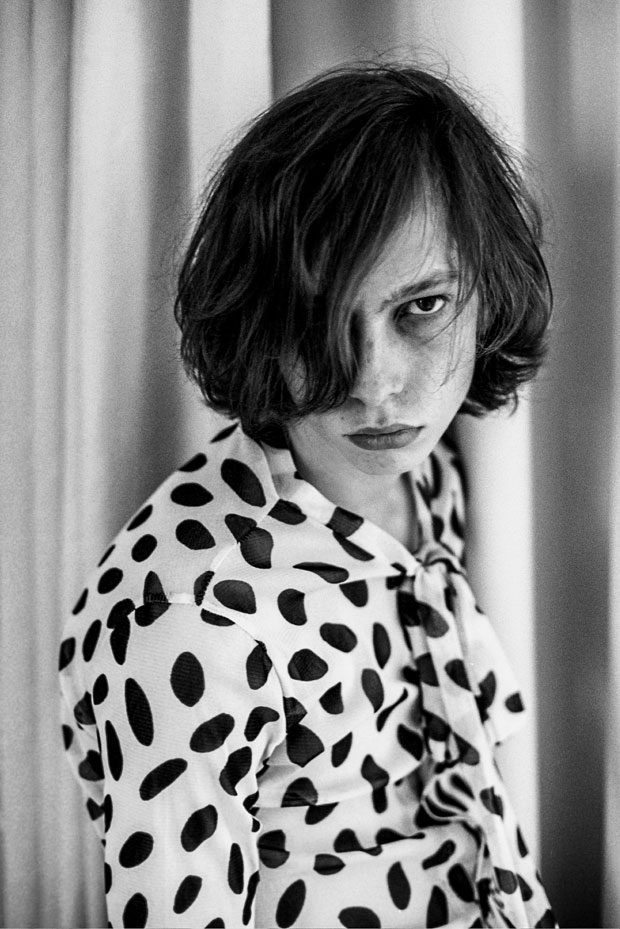 How and when did you start designing?
We started LAZOSCHMIDL as an interdisciplinary art project to combine our educational backgrounds and skills. Combining literature and fashion design, each collection is developed from writing and drawing into garments. The first collection was an exploration of artists' fascination with body liquids and featured silk pants with a crystal embellished crotch. Later on we explored ideas of the Dada and Fluxus movement – using a standard rope as a readymade belt for example. Then we started to write short fictional stories and create our own set of characters that we dressed accordingly to the time and place they inhabited – from a teenage bedroom to the red light district, from a louche 1970s Palm Springs resort to rehab and back to the dance floor. With each season and story we further developed our line into full collections and have started to show them on the runway since Fall Winter 2017 season.
How did you come to start your own label?
Josef studied fashion design in London and has always dreamt to become a fashion designer from an early age, redesigning clothes with his friends and improvising little runway shows at home – Andreas has studied literature and followed the fashion industry from a writer's perspective. At one point, we both wanted to experiment how a collection that combines our craft and characters would look like. To explore unexpressed thoughts and ideas with no limitations. The intellectual and the functional side clicked quite naturally and it progressed organically ever since – from a one-time project and a few sketches to a full-on brand selling at Opening Ceremony.
Which designer inspired you to pursue this career?
From 1990s Versace to Jil Sander and Helmut Lang, we were attracted to maximalism and minimalism at the same time.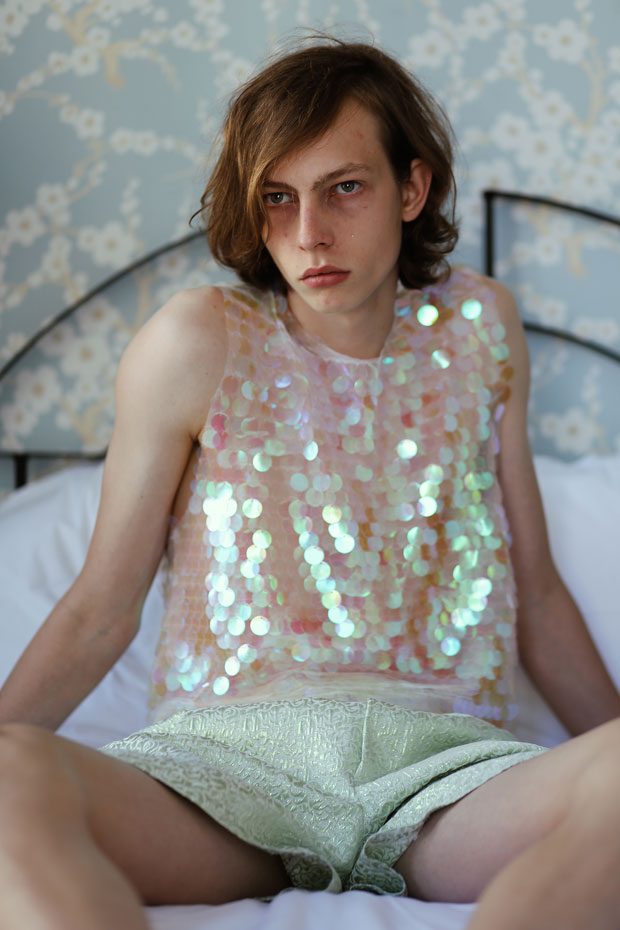 Who would you consider to be the most inspiring person in the fashion industry today?
Miuccia Prada is reinventing herself while always staying true to who she is. She explores themes she feels uncomfortable with at first and then turns them into something desirable. This perfectly resonates with our core principle to 'taste the forbidden fruit'.
How important is individuality to you when it comes to creating garments?
We like to offer people an alternative that they can choose from to express themselves – that's why we don't like to label them or follow standard rules of garment making or tailoring. We want people to feel something wearing our clothes, something that makes them feel special and comfortable even if the look is more daring but always close to the real 'me'.
Do you have particular pieces you enjoy designing and making more than others?
We're certainly in love with designing lurex knitwear, since it is very easy to wear but glamorous at the same time. It becomes that sparkly precious item in your closet that always twinkles at you. You can wear it at home and have a lounge-y moment, and you can wear it out and feel very very D.I.S.C.O.
How do you find a balance between creativity and production?
It's hard for any designer to find that perfect balance of challenging garment production, being innovative and progressive but at the same time allowing items to be produced in larger quantities with existing technologies, machines etc. Being new always means that new processes have to be invented – that's what one has to be smart about and keep in mind while designing, ideally always having a solution in mind already to allow this creativity and expression of unseen thoughts.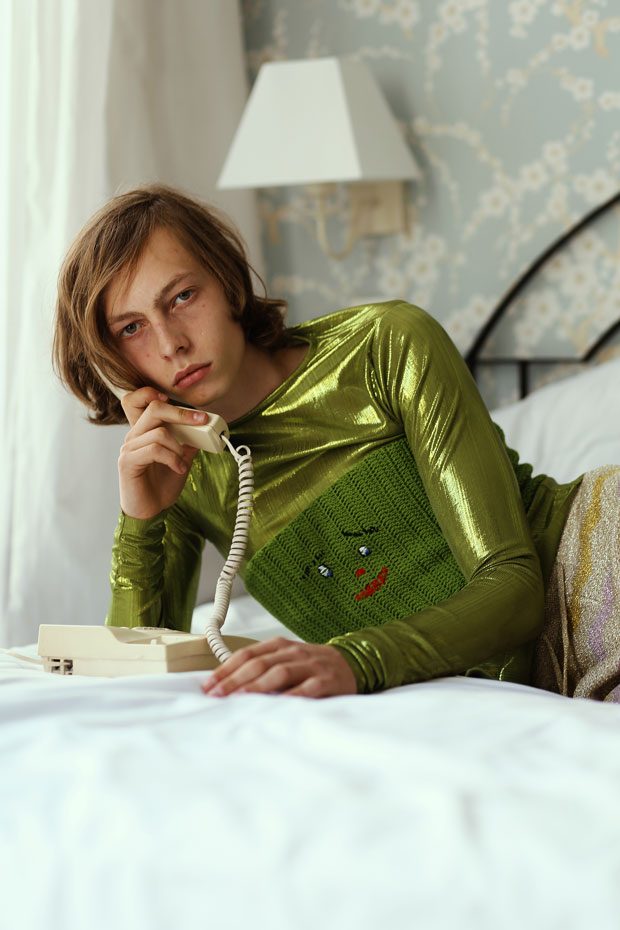 What are you fascinated by at the moment and how does it feed into your work?
The idea of the future existing in the past attracts us a lot at the moment. We once described a collection with 'Finding a Tinder match in the 70s' – so how do we dress if we lived in a world of innovative technology and advanced human abilities while maintaining the luxury of re-acting the nostalgic life of previous generations.
Describe your design aesthetic in three words.
The collection was inspired by the surrealist texts by Franz Kafka and Roald Dahl. They both describe moments of metamorphosis that we wanted to project onto the idea of adolescence and teenage love. So we imagined two young lovers holding hands and kissing; their heads spin and they loose grip of reality for a moment while the decorative elements around them slowly morph onto their bodies. Graphic and floral patterns from curtains, wallpaper and carpets were translated into lurex jacquard knits, while embellishments on sheer mesh tops feature pieces of shattered glass. Stuffed animal toys turn into hand-embroidered bandeau tops and a wrestling singlet which is one of the highlight pieces. Our aesthetics and be described with: Liberation. Glamour. Body.
What advice would you give to young designers wanting to start their own label?
Know who you are and what you want to express. And old-school as it may sound: Always believe in yourself.
How do you see the future of Lazoschmidl?
Shining bright like a diamond.
Images by Alexandre Chagnon
Keep up with LAZOSCHMIDL on Instagram @lazoschmidl
GET MMSCENE IN PRINT OR DIGITAL