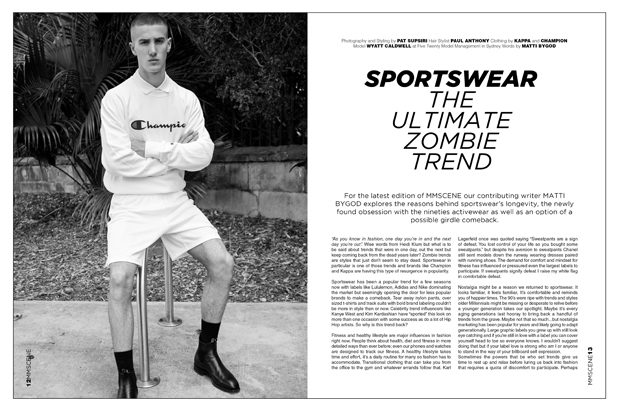 For the latest edition of MMSCENE magazine our contributing writer MATTI BYGOD explores the reasons behind sportswear's longevity, the newly found obsession with the nineties activewear as well as an option of a possible girdle comeback.
"As you know in fashion, one day you're in and the next day you're out". Wise words from Heidi Klum but what is to be said about trends that were in one day, out the next but keep coming back from the dead years later? Zombie trends are styles that just don't seem to stay dead. Sportswear in particular is one of those trends and brands like Champion and Kappa are having this type of resurgence in popularity.
Sportswear has been a popular trend for a few seasons now with labels like Lululemon, Adidas and Nike dominating the market but seemingly opening the door for less popular brands to make a comeback. Tear away nylon pants, over sized t-shirts and track suits with bold brand labeling couldn't be more in style then or now. Celebrity trend influencers like Kanye West and Kim Kardashian have "sported" this look on more than one occasion with some success as do a lot of Hip Hop artists. So why is this trend back?

Fitness and healthy lifestyle are major influences in fashion right now. People think about health, diet and fitness in more detailed ways than ever before; even our phones and watches are designed to track our fitness. A healthy lifestyle takes time and effort, it's a daily routine for many so fashion has to accommodate. Transitional clothing that can take you from the office to the gym and whatever errands follow that. Karl Lagerfeld once was quoted saying "Sweatpants are a sign of defeat. You lost control of your life so you bought some sweatpants." but despite his aversion to sweatpants Chanel still sent models down the runway wearing dresses paired with running shoes. The demand for comfort and mindset for fitness has influenced or pressured even the largest labels to participate. If sweatpants signify defeat I raise my white flag in comfortable defeat.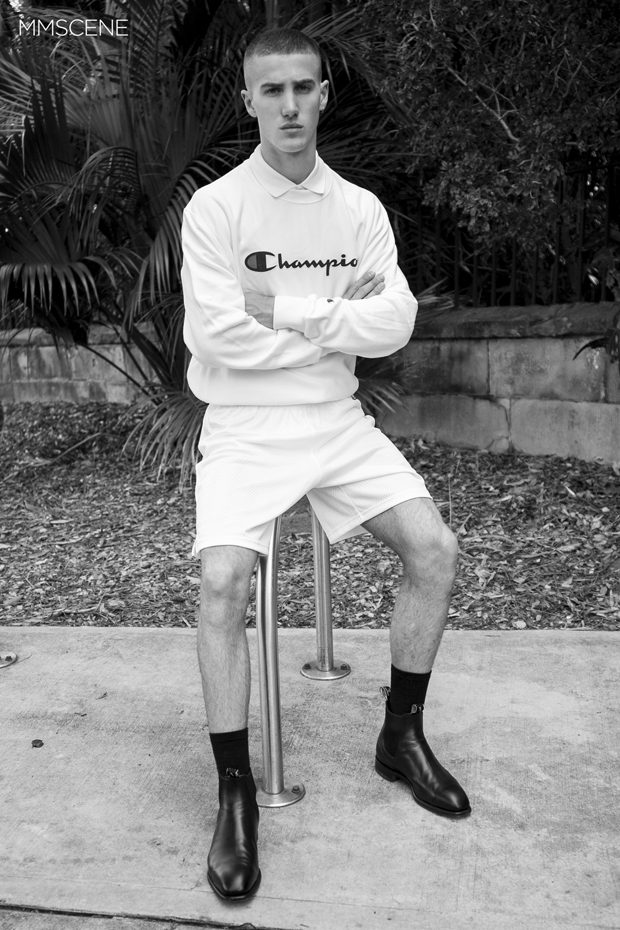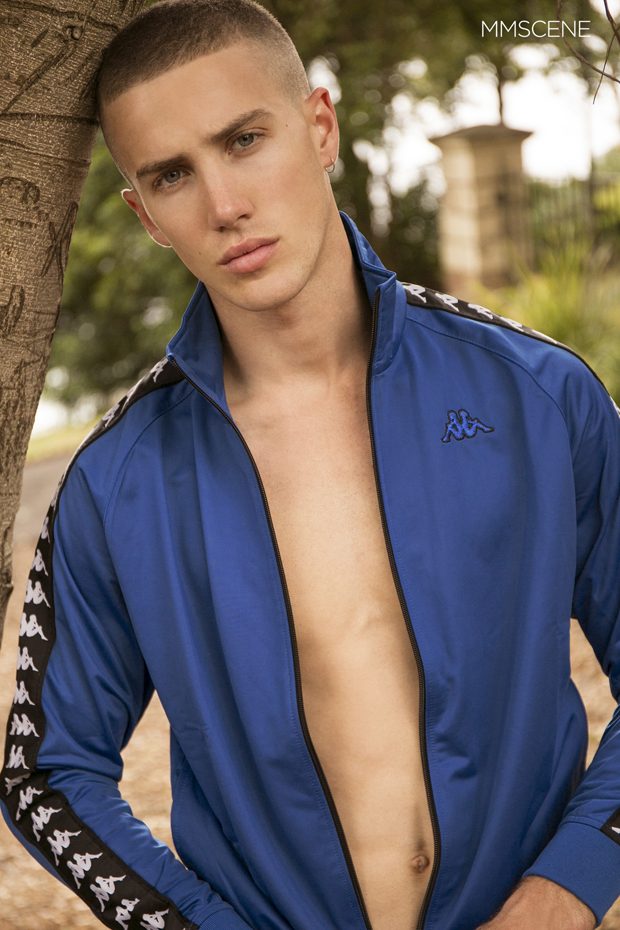 Nostalgia might be a reason we returned to sportswear. It looks familiar, it feels familiar, It's comfortable and reminds you of happier times. The 90's were ripe with trends and styles older Millennials might be missing or desperate to relive before a younger generation takes our spotlight. Maybe it's every aging generations last hooray to bring back a handful of trends from the grave. Maybe not that so much…but nostalgia marketing has been popular for years and likely going to adapt generationally. Large graphic labels you grew up with still look eye catching and if you're still in love with a label you can cover yourself head to toe so everyone knows. I wouldn't suggest doing that but if your label love is strong who am I or anyone to stand in the way of your billboard self expression.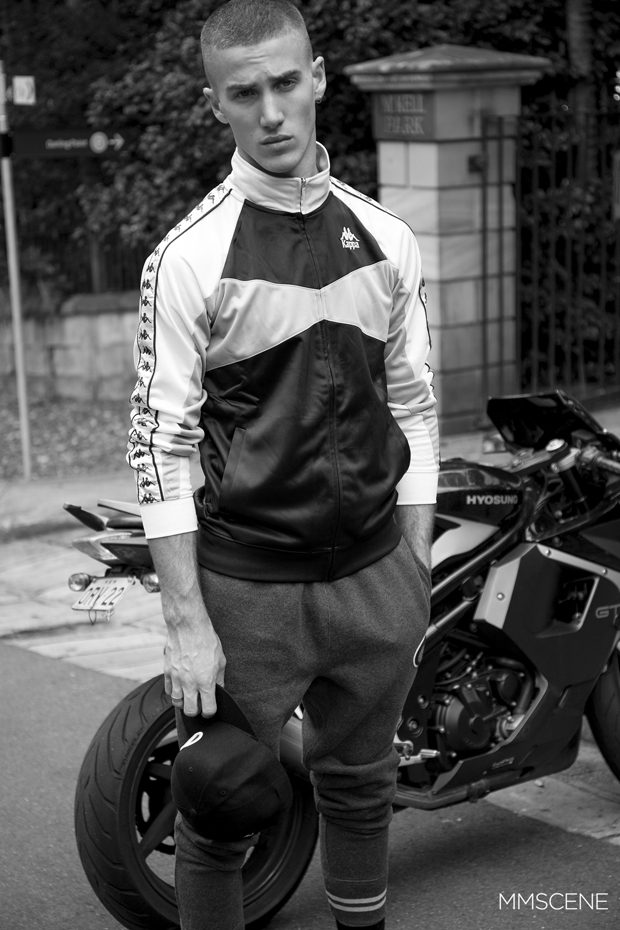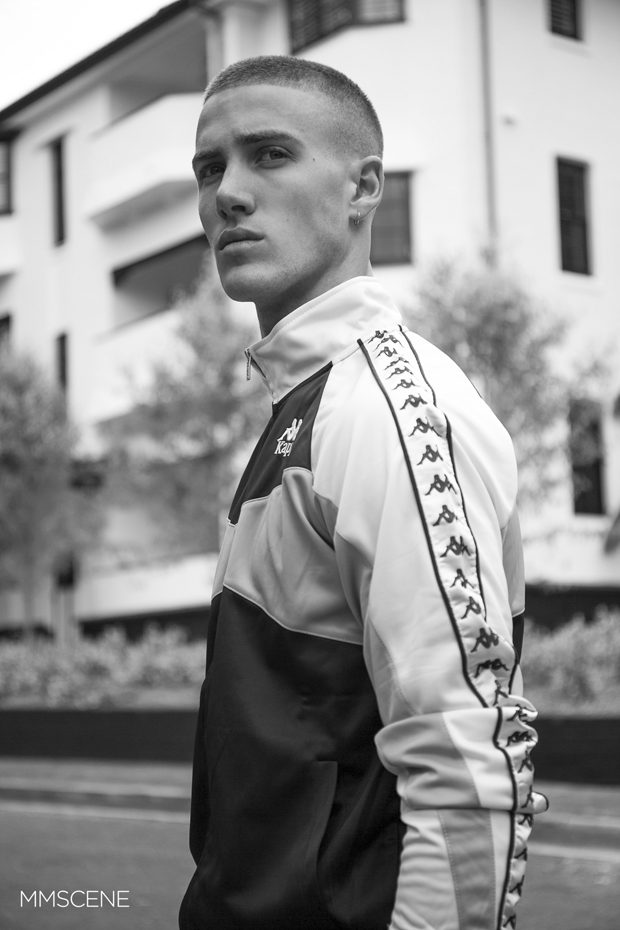 Sometimes the powers that be who set trends give us time to rest up and relax before luring us back into fashion that requires a quota of discomfort to participate. Perhaps sportswear is back to condition us into wanting something terribly uncomfortable like girdles or spaghetti straps. Maybe girdles make more sense when you're exhausted by comfort? Flat shoes and elastic waistband boredom become gateway drugs into hiking your breasts up to your chin, blisters on your toes and the chaffing marks of a waistband without stretch! Or maybe not?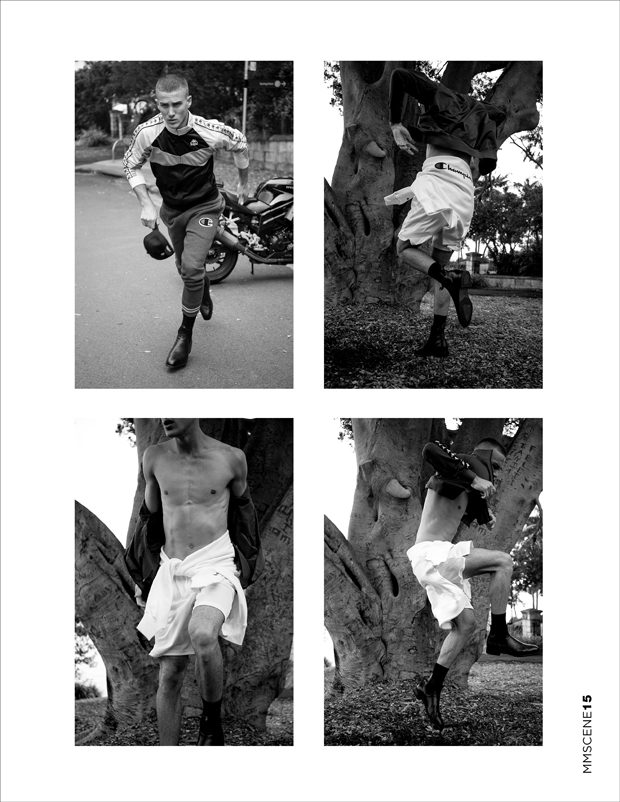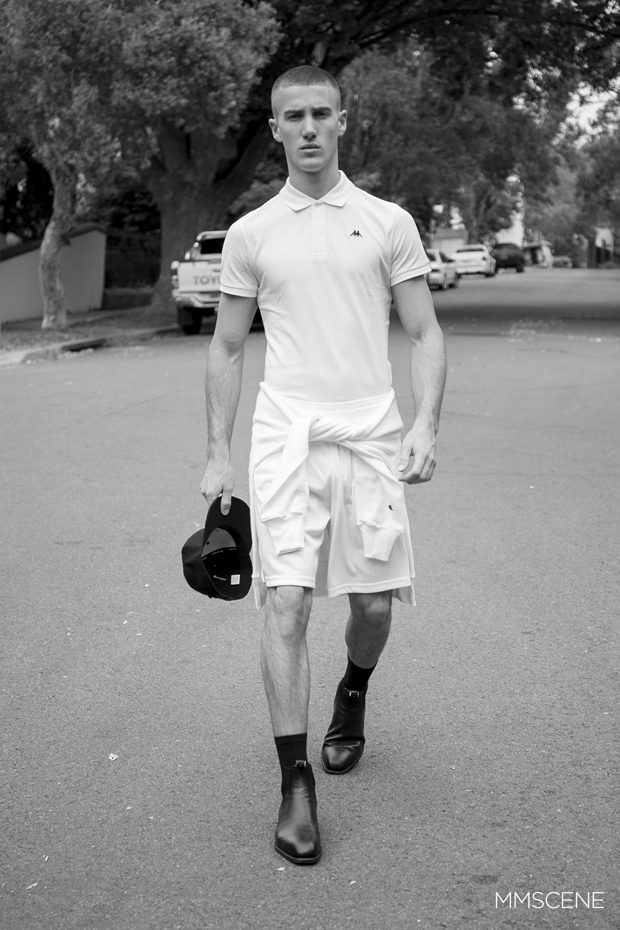 Whatever the reason Sportswear is trending, it's back and more versatile than it's ever been. Sportswear today vs the 90's has a larger range of price accessibility and style selection. Champion, Lacoste, Kappa and Fabletics offer everything from leisure wear, yoga pants to running shoes and serve as good entry points into this trends resurgence. T-shirts and leggings are simple to integrate and easy on the budget. If you're more experienced with sportswear, taking style risks and if the budget permits Yeezy a Kanye West partnership with Adidas offers a line of neutral toned high fashion sneakers that pair with just about everything and nothing. Vetements has a really fashion forward take on bomber jackets, hoodies and sweatpants. I didn't know the hoodie could actually be re-imagined but for the right price it seemingly can be. I'm loving how Vetements has re-imagined length and proportion in sportswear. Its an investment but if the trend is calling your name you might as well turn as many heads as you can.
Lets rise up and take back our comfort after seasons of tucking and buttoning. Take a walk in sensible shoes your feet don't bleed in; bend over in pants with a flexible seams you can trust and throw on a jacket that doesn't require dry cleaning. Spill something on your clothes, you can do that with this look, it's all machine washable! Sportswear isn't here to redefine elegance or make you feel pretty it's here to give you a break and aid in your commitment to fitness…or at the very least make other people believe you're committed to it.
Model Wyatt Caldwell at Five Twenty Model Management in Sydney
Photography and Styling by Pat Supsiri
Hair cut by Paul Anthony @menofpaulanthony
Clothing by Kappa and Champion
Words by Matti Bygod – @mattibygod
Wyatt wears pieces from Kappa and Champion.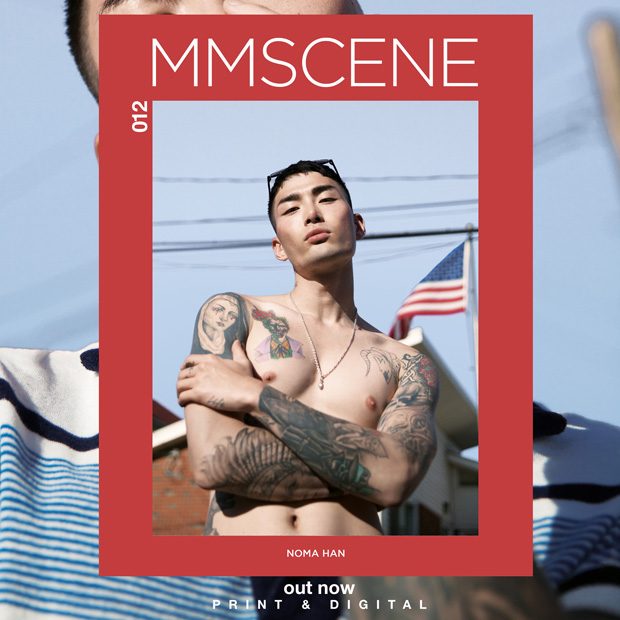 Originally published in MMSCENE Magazine #012 November/December Issue