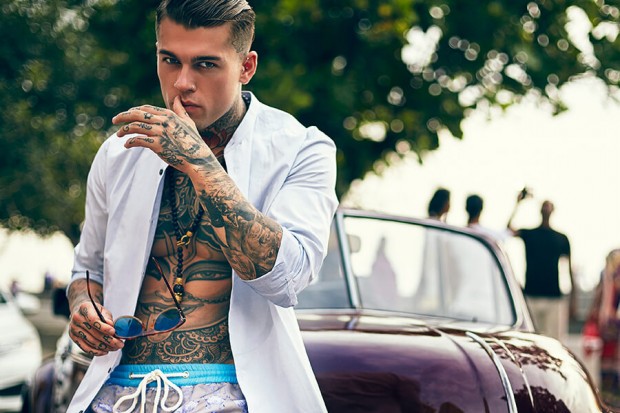 With the days getting longer and the sun finally beginning to show it has finally started to feel like summer may well and truly be on its way. Now is the time to pack away jumpers and boots and invest in on trend pieces for this summer.
Denim Jackets
With many huge designers from Tom Ford to Miuccia Prada showcasing denim pieces in their summer collection, it is a sure thing that denim jacket will be a key item to step out in when there is a slight chill to those summer evenings. Although some may be reluctant to dig out the trend from the 90's denim pieces and denim jackets are back. (Don't miss our denim influenced cover story of MMSCENE print magazine).
Read more after the jump:
The good news is big style icons have been spotted wearing white, light wash as well as dark wash denim jackets. You can tackle this SS16 trend in variety of ways, if you want to keep it cool then team with neutral coloured fitted chinos and patterned trainers. For a smarter look, that can take you from day to night, wear with a shirt and cropped trousers. If you're feeling really brave team with white cropped trousers and finish with loafers.

Nostalgic Shirts
Even if you think it may be too early for shorts and sunnies, nostalgic resort shirts are a key trend to get you in the mood for summer. These Cuban collared shirts come in a range of nostalgic prints from 70's inspired vertical stripes in deep maroon and mustard colours to 50s-esque Hawaiian prints. These retro relaxed-collared shirts are mostly available in a print but if that is too bold try in a block colour. The biggest hues this summer include deep green to subtle mauve and grey shades. The shirts should be worn untucked and for a layback, relaxed look keep them open and team with swim shorts.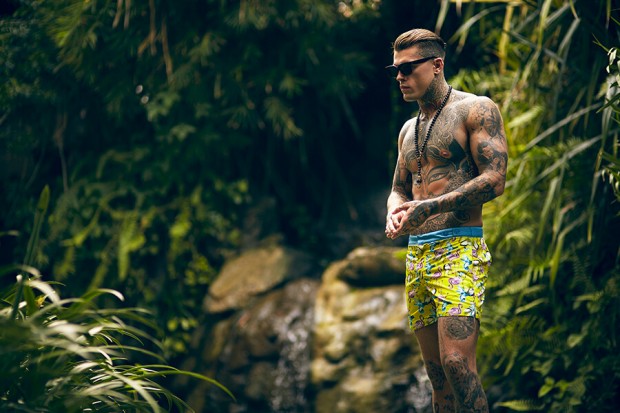 Mid-Length Shorts
Swimwear shorts are essentials for holidays and the summer, and this year the on trend new SS16 mens swimwear collection features mid-length fitted shorts or if you feel comfortable in longer shorts opt for a long smart tailored fit instead. To be on trend this summer by the pool and on the beach, bright prints are taking over from vibrant photographic prints to pastel hues featuring birds and butterflies. If you are looking for more subtle prints this summer, then you are in luck. Shape up your beachwear wardrobe with geometric prints and classic nautical stripes in shades of blue, pink, grey and the odd washed out orange. Prints aren't for everyone so opt for swimming trunks in block colours from pastel blues to daring bold black and navy.
All In The Accessories
When it comes to summer styling no outfit is complete without the essential accessories. Last year hats were becoming big and this summer is no different. Hats aren't just the finishing touch to create the perfect look they are practical too. If you think hats aren't for you then this summer may change your mind as hats come in all shapes, sizes and colours, the styles that are dominating this summer include the classic fedoras and trilbies. Mix tailored pieces with casual separates for the ultimate summer look.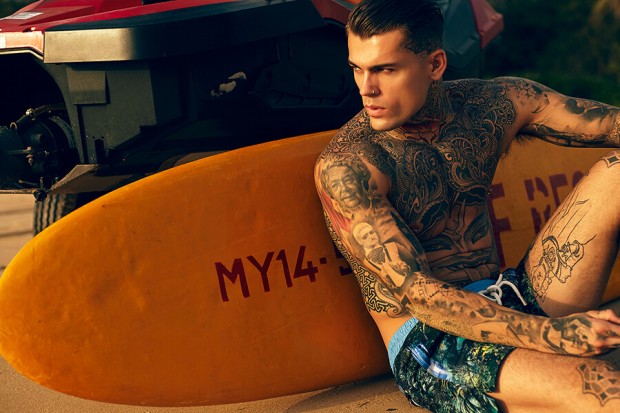 If hats really aren't for you then opt for a pair of coloured tinted sunglasses. Like hats sunglasses also come in a mixture of styles, colours and sizes opt for a pair that suits your style as well as your face shape. No matter which style you choose coloured lens sunglasses will be big this year, they can be worn in a colour that contrasts your outfit or in a shade that compliments your look.
Featured in the photo session accompanying our story is supermodel Stephen James, images courtesy of Thomas Royall.