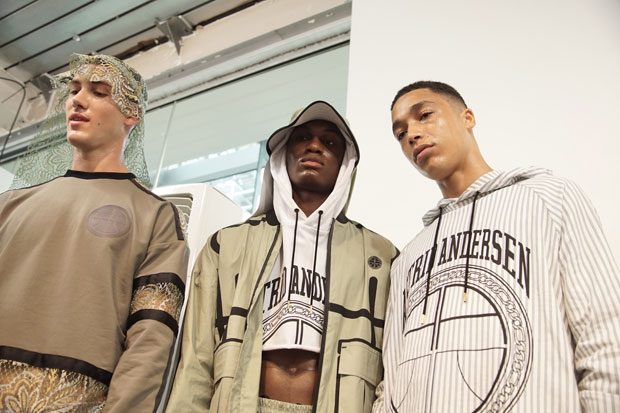 Our Editor ANA MARKOVIC explores the anatomy of London Fashion Week Men's a place where smart tailoring, innovation and exuberance lead the way for another season. 
Now in it's fifth year, the men's version of London Fashion Week has created a formula for showing up and coming designers in addition to the household British fashion labels. Vivienne Westwood, Belstaff and Topman are joined by design talent such as Bobby Abley, Xander Zhou, Astrid Andersen and more than thirty other fashion designers to kick off the month of fashion weeks starting in London.
The international menswear market was worth almost 400 billion dollars in 2014, going up by 3 to 5 percents every year. This growth is certainly outperforming the women's fashion industry, which grows in margins under 3 percent annually since 2014. When it comes to the British isle, menswear fashion business was estimated at 18 billion american dollars, as well as another 11 billion coming from the UK's textiles industry.
As more retail giants are taking their part in the men's market and the consumers are greeted with a wider choice of products, styles and designs, the trade itself is becoming far more competitive. Millennial consumers are also becoming more knowledgeable, on the lookout for higher quality designs, innovative and trend setting brands, making them go to the retailers who take part in the engaging battle between social media and brick & mortar.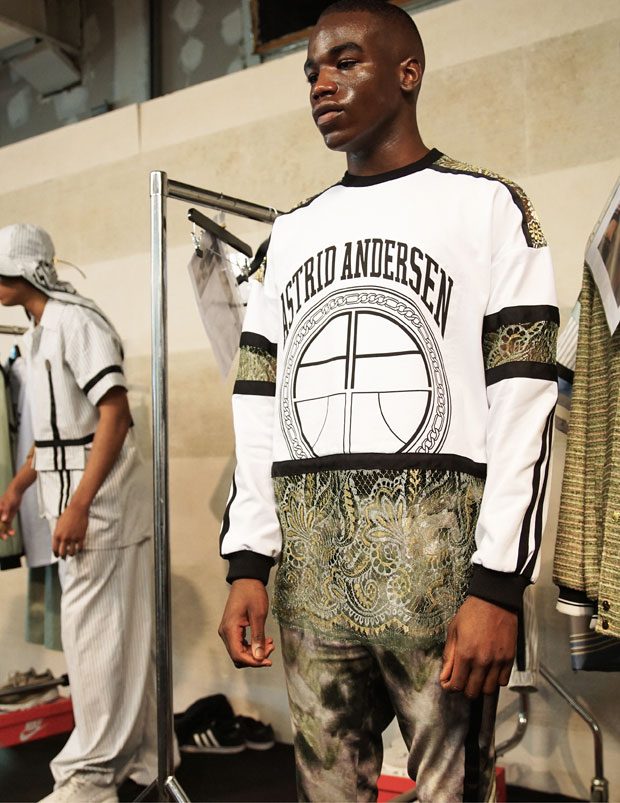 However, bringing a top brand such as Burberry to the schedule, in what was an initially winning strategy for British Fashion Council and city of London, is no longer the case with the fashion magnate changing its view of the fashion week formula. Leaving altogether the menswear fashion week calendar, Burberry is now focused on twice a year in-season catwalk and the buy now see now approach, despite the gloomy financial reports the label is hoping for positive results in the long run. Whether the problems with headlining the now increasingly unpopular and perhaps rushed 'buy now see now' decision have ousted it's President and Creative Chief Office Christopher Bailey is yet unclear. By the reports Bailey is to showcase his last collection in February after more than twenty years at the fashion house. Visible is also the absence of labels J.W. Anderson and Alexander McQueen as well as British heritage fashion house Dunhill. While JW is taking part with a small event in this year's LFWM, Alexander McQueen and Dunhill have opted for showing their collections in Paris.
The absence of big players does leave more space for up and coming and independent designers, who are also to benefit from LFWM's live streams and exposure to the attending press. The chairwoman of the British Fashion Council, Dame Natalie Massenet shared: "London is the greatest fashion capital in the world, at the centre of creative talent, a hub of technological innovation and with a vibrant business community. We create trends, not just in clothes but in reaching our audiences, we were the first capital to live stream our shows in 2009".
Dylan Jones, Chair of LFWM, said: "The fifth anniversary of London Fashion Week Men's has been as surprising as it has been exhausting. With over 100 events, runway shows, presentations, installations, cocktail parties, dinners and full-on raves, #LFWM once again proved that London has more stamina that any other fashion capital. As for the shows, they have been extraordinary, from the psychedelic to the formal, from Charles Jeffrey and MAN to the best of Savile Row, and from Dunhill and Richard James to Vivienne Westwood. There really is no place like London."
However, while to great excitement the move of Vivienne Westwood from Milan to London was announced only a year ago, the fashion house has canceled it's fashion show opting for a digital presentation instead. "We're looking forward to showing you our winter collection, which instead of a catwalk, we will present through the form of film and imagery, so you can get a good look at it and love it as much as we do. Buy Less, Choose Well, Make it Last." shared Dame Vivienne Westwood. The collection is scheduled to debut on Monday January 8th, 2pm London Time, already announced under slogans such as 'Profit 4 Death' and 'Don't get Rilled'.
British Fashion Council for another season continues it's NEWGEN project this year spotlighting work of designers Liam Hodges, Phoebe English, and Charles Jeffrey LOVERBOY. NEWGEN sponsorship is now set aside annually to both mens and womens designers who will showcase their collections at either London Fashion Week Men's or London Fashion Week. This new award is focusing on celebrating the emerging fashion design talent in London. NEWGEN works with designers giving them support to anchor in on critical business skills to grow their businesses. UK is leading the way when it comes to aiding the growth of young talent, working with designers in establish their fashion names on a international ground.
While fast fashion and luxury brands have an overall impact on the success or failure of a fashion week London is still a go-to place for indie talent. Such is the iconic designer Michiko Koshino, who found her longevity in her anti-mainstream approach. Yet Koshino still uses London Fashion Week to present her fashion week collections. The designer shared exclusively for MMSCENE: "The industry is always changing – and it's a blessing and a curse. Something we are very conscious of is that people seem to be far more cautious of where clothes are made and the quality of the pieces themselves. I think that is a positive change – clothes are precious. We should all invest in the best we can".
Yet, while British Fashion Council and the city of London still work to bring new brands, designer numbers are significantly down from the last season. However despite the grilling Fashion Week months ahead, visitor numbers are on the rise, buyers as well as press from 39 countries will be in attendance for the January shows.
Text by Ana Markovic, MMSCENE Deputy Editor. Photos Alin Kovacs backstage at Astrid Andersen menswear show at London Fashion Week Men's Spring Summer 2018 runway show. Originally published in MMSCENE Issue 020.