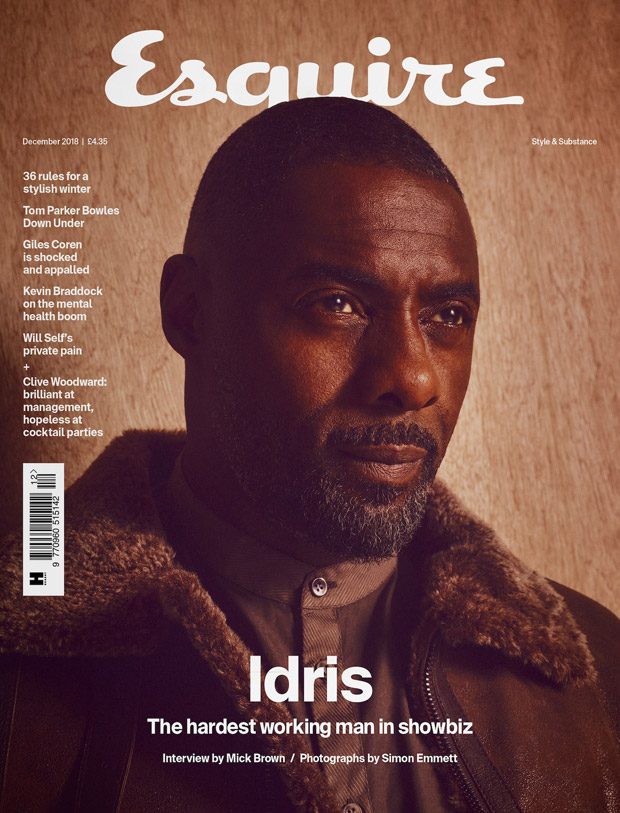 Actor Idris Elba takes the cover story of British Esquire Magazine's December 2018 edition captured by fashion photographer Simon Emmett. In charge of styling was Dan May, who for the session selected pieces from the likes of Canali, Hugo Boss, Ralph Lauren, Trickers, Corneliani, Louis Vuitton, Brunello Cucinelli, Pal Zileri, and Fendi.
"But I recognise to a fault now, almost like being overly self-conscious about yourself, that part of the territory, part of the obligation, of being an actor, especially in our country — I've been told a lot that I'm a national treasure, I get that said: 'the Queen loves you!' — that part of that obligation is to be one, to put yourself second sometimes. It's almost like, we want you to cheer us up! You're an entertainer and we love you! Smile! And I do feel a sense of responsibility to be that person. It costs me nothing. And I've adapted to that. I always take pictures with people, even if I don't want to sometimes, because I feel like it's a moment for me but it's a lifetime for them.
Having met George Clooney, having met Denzel… the guys that I find are the most successful in life are the ones that take that on board, because you are public property. I'm still learning how to be that way, because I think it is a responsibility. And by the way, my parents were working class, my mum got made redundant at one time in her life. Times were really hard. And I'm over here flying around the world pretending to be other people and being paid really well. What the f**k do I have to be complaining about?" – Elba for Esquire UK.