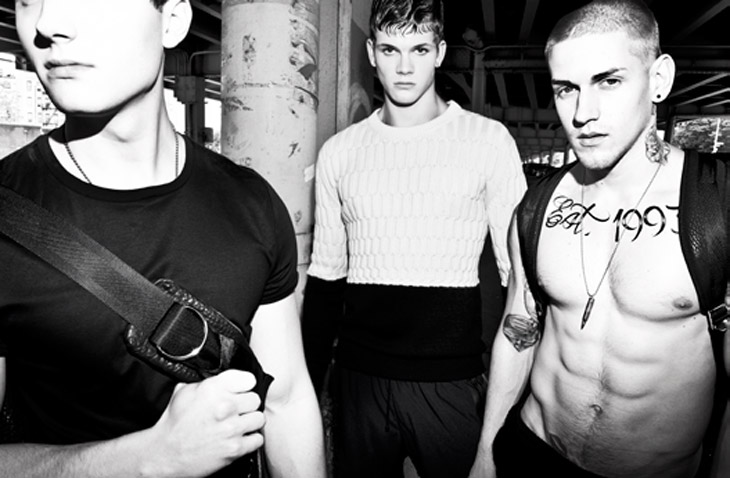 Fashion editor Ryan Davis prepares for IDOL magazine a Tim Coppens features starring models Igor Stepanov at Re:Quest Model Management, Clark Cord at Ford Models, Ian Sheridan at New York Model Management. Naturally the models are clad in pieces from Tim's collection, posing for a shoot by Eli Schmidt.
CFDA nominee Tim Coppens was also interviewed by Ryan for IDOL's latest edition. Read part of the interview accompanied by more of the shoot below:
How did you come to fashion?
My relatives believed that you wear clothes because it's a necessity. in the summer, you wear fewer clothes; in the winter, you wear more clothes because it's cold. a lot of things I taught myself. I grew up in a village of 5,000 people; there, nothing ever happened – you had to get a bus to the next village. It's Belgium, it's small, and there were no televisions. I had to discover everything myself. I did architecture to start with, and then the idea of studying fashion eventually came to me. I knew there was an exam that needed to be passed to get into the school, and i think that part was attractive to me – the thought that not everybody could get in. However, I did the exam and they accepted me.
When I went to school, there were a lot of people who knew they wanted to be a part of fashion. They dressed like they knew a lot about fashion as well. it was a very competitive vibe. my passion grew as my studies progressed. It wasn't just the clothing that intrigued me – it was the world around it. getting the brand language across step by step is not easy. it has to be consistent. You have to stay true to what you believe; but what i believe in is not always the right thing, so it's good to talk to people.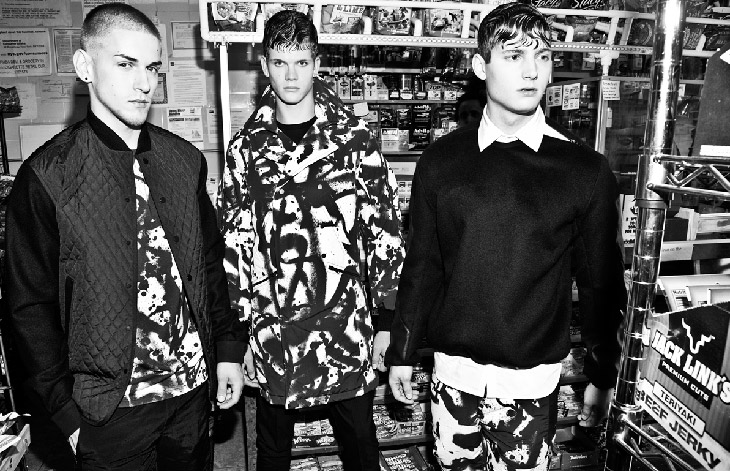 What is it about street and athletic wear that inspires you?
It's about the whole vibe of street cred, and I understand it completely. You can feel the vibe when you're walking down the street, and you're looking good, and you have good music in your ears. I wouldn't have the same feeling wearing a suit and stiff shoes. There's this fast flow with street wear. My guy has something sophisticated about him; it's about that confidence when you're walking on the street fast. It's about an ease. one of our tailored jackets has had a lot of thought about the fit, so when I'm wearing my jacket, it has the same feeling as a bomber jacket. It's still very constructed, but it's cool. Our DNA constantly evolves, and we're going to keep on doing that. Nothing is ever done.
Were you surprised when Barneys picked up your very first collection?

Yes, the fact that they picked it up was a happy surprise. when you make your collection, quit your job and then a year later you're next to Comme des garçons, it's pretty awesome. I've been there four seasons now, and it's been going well.
This was the first season that you showed on the runway. Why did you choose this over a presentation?

I felt we were ready and so did most of the people i work with. The runway is easier for me than a presentation. a presentation is really good because it gives people the opportunity to really see your clothes, and then there's the part when the designer comes out and they all talk to you. for me, it's easier to show at a faster pace, to tell what the story is all about.
Your AW13 show was called 'Acid in my Heart'. What does that mean to you?
It's about when i was growing up and experimenting with graffiti. I was skateboarding a lot, going to clubs and just having fun. Coming from Belgium, I think people my age are very un-alternative, but very subculture. when i was a teenager, there was a lot of the old techno scene. It was nine o'clock in the morning and we would still be going. it was pretty intense. The period with the skating; the club scene, the vibe, the asset – it's all still in my heart. we have all grown up now, we have our professional lives; but in the collection and the dNa of the brand, it's there. It's all so clean, but there's a darker side to it.
FIND THE COMPLETE INTERVIEW IN IDOL MAGAZINE'S LATEST EDITION.
Fashion Assistant Patricia Figueroa
Makeup Artist Jutin St. Clair using Malin+Goetz
Hair Stylist Amy farid using Bumble and Bumble Kate Ryan INC
Website: www.idolmagazine.co.uk