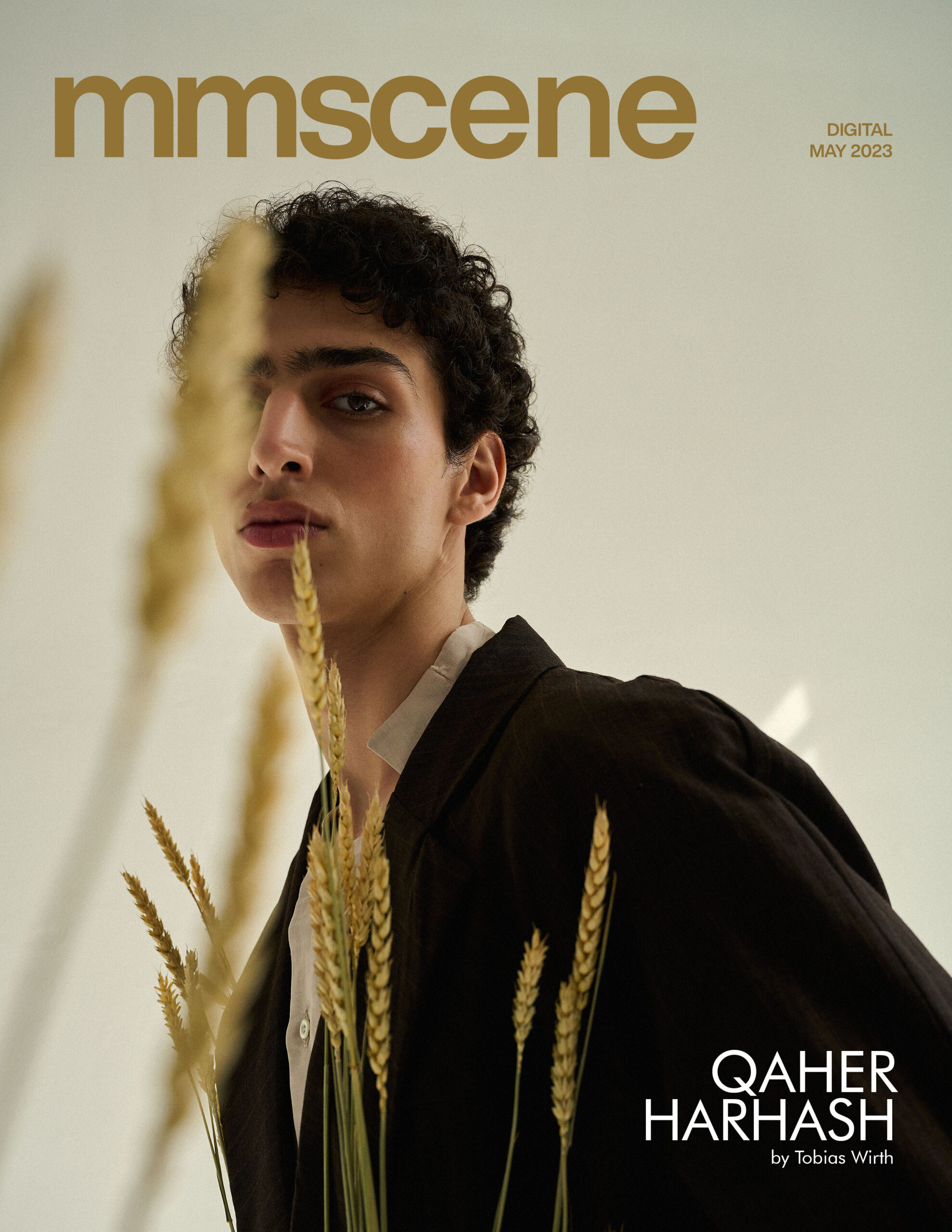 Top model Qaher Harhash takes the cover story of MMSCENE Magazine's May 2023 digital edition lensed by fashion photographer Tobias Wirth. In charge of styling was Lisa Maria Lohmann, with grooming from beauty artist Melanie Hoppe.
Our editor Maja Vuckovic sits down with Qaher to talk about his modeling career, fashion and beauty trends, and much more. Discover more of the story + read the interview with Qaher Harhash below:
Can you tell us about a time when you had to push beyond your limits to achieve success in modeling? People assume that modeling is something that a model is totally in control of, however, when I'm optioned for a job it's because my agent reaches out to a client or vice versa. Most of the work is on the agent, I just show up and do the job. I wouldn't say that modeling on set tests your limits, but the industry certainly does.
How do you maintain your confidence and positivity in a highly competitive industry like modeling? We are a very anxious generation. To not care deeply and just have fun with it, is one of the most important habits to develop as a model. It won't last forever, so have fun with what you get.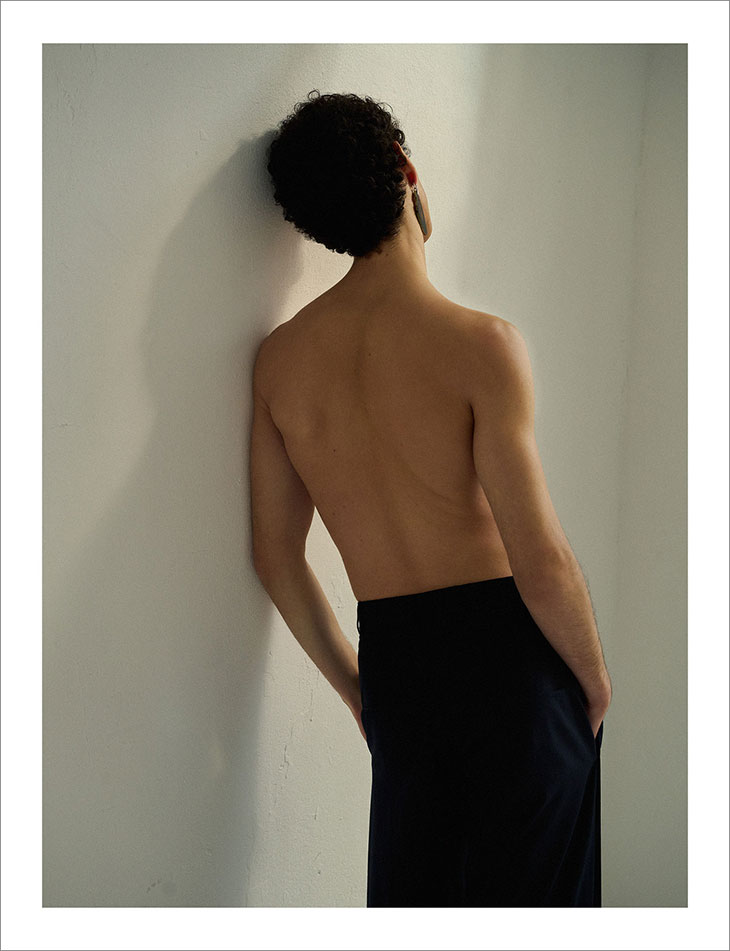 What is the biggest challenge you've faced in your career as a model, and how did you overcome it? I had a designer from a big label attack me for being outspoken about Palestine. I didn't like the feeling of helplessness. So I took matters into my own hands and spoke about it.
What advice do you have for aspiring models looking to break into the industry? Keep modeling on the side and focus on your studies. Eventually if you end up being booked often then it's a sign to pursue it for a few years. Don't go in it for the bling. You'll be highly disappointed.
How do you balance your personal life with the demands of a modeling career? It's hard to manage your personal life because often we are optioned for jobs a few days before the shoot. One is mostly thinking when is my next job? Could I travel back home and visit family? Or will I have an option on these dates? You have to learn to say yes or no. If I feel like a certain job is not more important than my personal life then I happily tell my agent. They understand.
What do you consider to be your signature style as a model? I love 70s fashion but with a modern twist. I feel like I rarely want to be photographed looking emotionless. I try to express emotions through my face. I think of my style maybe as similar to Charlie Chaplin in Film. Just having fun with it.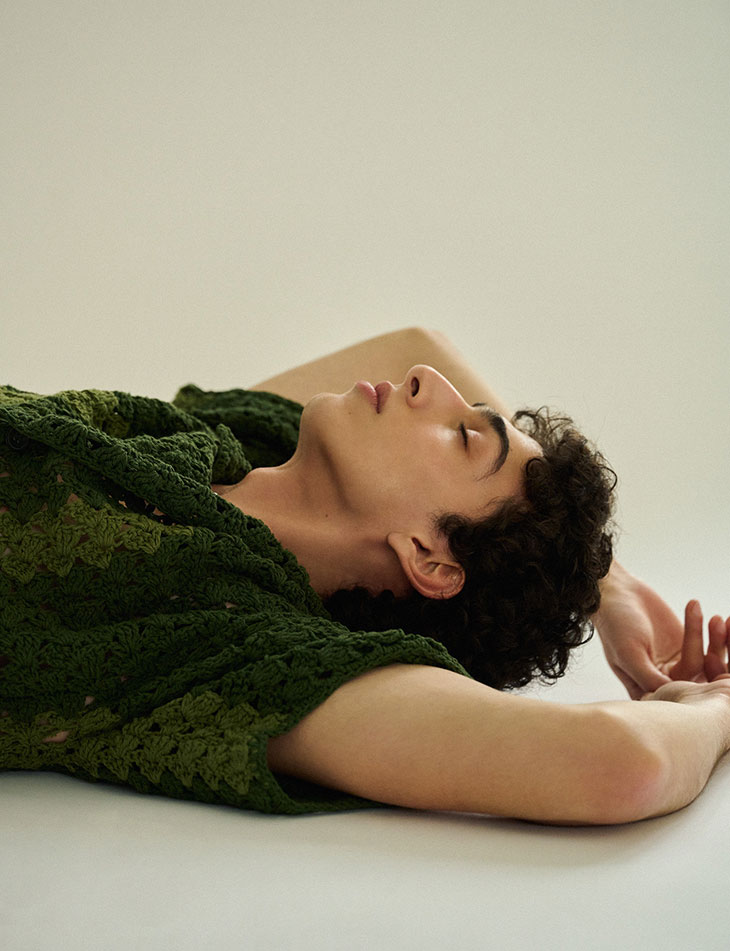 How do you stay up-to-date with the latest fashion and beauty trends? I don't really. I just see something and if it speaks to me I like it. I'm not following trends or beauty trends. I mostly find that pretentious. We should all be our own authentic selves and be critical of whatever is trending.
What has been your favorite modeling experience so far, and why? I love working for Hermes mostly. I love the team there. Everyone is just such fun and sweet people to talk to. I loved shooting the Prada Ramadan Campaign. It felt like I'm doing something for my people.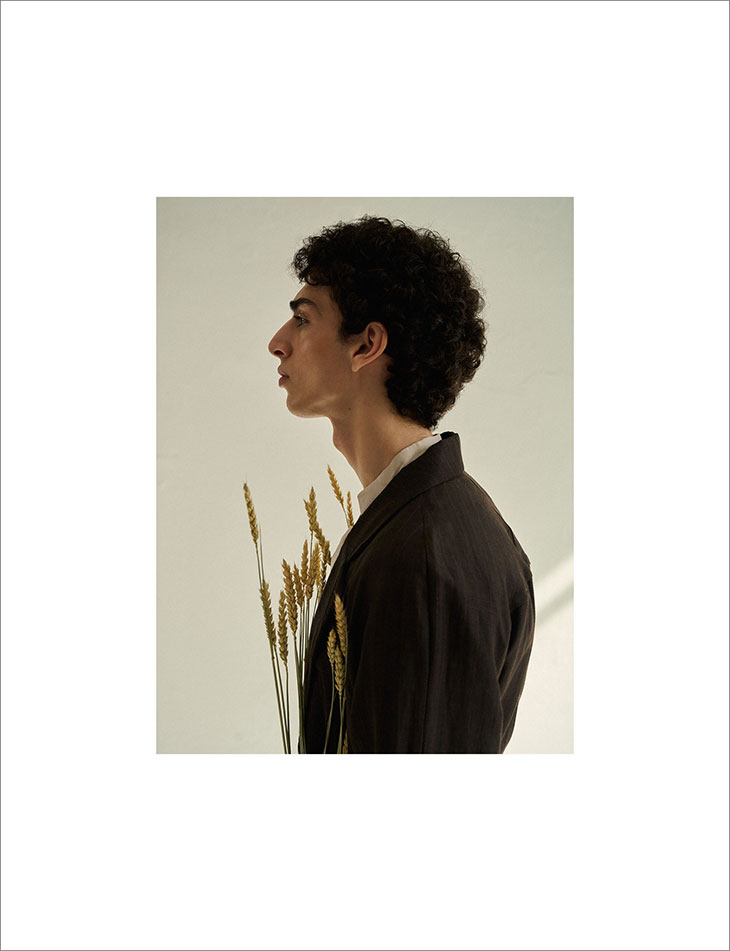 How do you deal with rejection in the industry, and what have you learned from it? It's not an easy thing. Sometimes I deal with rejection by keeping resentment in my heart. But I've learned to use my different outlets like social media and just focusing on my everyday life. Fashion is not a very diverse industry. I can't change it. I can only stay my true authentic self and stay working with people who are genuine and kind. I've learned that people can overlook Arab models, but then there are also gems out there finding inspiration in us.
What are your future goals in modeling, and how do you plan to achieve them? My goal is to accept that not everything is meant to happen. I have to cherish the moments I have had in these jobs. It won't last forever. That's why I'm thankful for every person who wants to work with me or has worked with me. I hope the road we Arab models are paving will help increase visibility and possibly change the narrative on Arabs and the Muslim world. I know it might sound too good to be true but why the hell can't we try?
Photographer TOBIAS WIRTH at BOSCHTOBANRAP – @towilive
Stylist LISA MARIA LOHMANN at BIGOUDI – @lima.loma
Grooming MELANIE HOPPE using BUMBLE & BUMBLE for hair and DRUNK ELEPHANT for Makeup @melanie.hoppe
Model QAHER HARHASH at ICONIC MANAGEMENT – @qaherhar