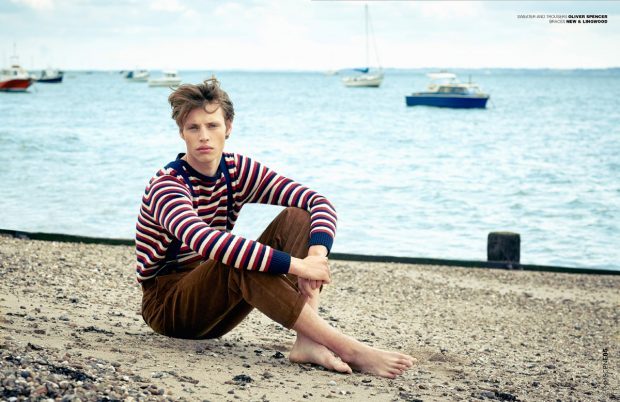 If there is one trend that has taken precedence this season across both women and menswear, it's stripes. They have been seen everywhere this season on so many different types of clothing, and there's no surprise why. Stripes are a very versatile and easy to wear style, creating a statement effortlessly. While it's not a ground-breaking design, it's certainly one that looks great no matter the weather. For this reason, you can expect to see stripes continue into the autumn and winter too.
As a guy, stripes are a great way to break away from an otherwise bland wardrobe peppered with the usual jersey t-shirts, jeans and shirts. Refresh your style with a classic pattern that works time and time again!
Read more after the jump:

Choosing the colour of your stripes
Stripes are a statement in themselves, with a bold appearance. However, by the same token, they should also become a staple in your wardrobe. Stripes look best when kept simple, creating an effortless, stylish look. Black and white are favoured, but you may also want to consider white and navy which is a little easier on the eye. You can choose to contrast these shades whichever way you like; a navy t-shirt with white stripes looks just as good the other way around!
Stick to these colours and you can't go far wrong. If you're feeling brave, incorporate a different colour but keep it as simple as possible if you can. For example; a navy t-shirt with thin, yellow stripes can look great. Try not to mix too many colours, or else you may as well wear a rainbow striped t-shirt!
Most t-shirts will feature horizontal stripes which are the most popular, but keep your eye out for different styles that include vertical stripes too.
How to style stripes
Start your stripe collection with a simple t-shirt; either long or short sleeved, depending on your preference. With a very casual appearance, a striped t-shirt is worn best with jeans, trainers and a light jacket. This is perfect for casual weekends out and about. You may also want to wear a striped t-shirt underneath an open shirt for an equally casual but stylish appearance.
If you're hoping to achieve a more unique look with your stripes this season, consider trousers. You may be conjuring up images of pinstripe suit pants, but striped trousers can do more than that. Choose a looser fitting style of trouser with vertical stripes for a casual everyday look.
Incorporate stripes into your outerwear; bomber jackets look great with thin stripes running down them, adding a great accent piece to your outfit. This is one of the easiest ways to add detail to your look without having to put too much effort in. Likewise, if you want to smarten your look up but still incorporate stripes, look for a striped blazer to wear with the rest of your outfit.
So, whatever new style you want to include in your personal style this year, remember that stripes are a versatile choice that can work no matter the occasion.
Images by by Clara Copley for MMSCENE Magazine