For a few years now Orange Is The New Black has been more than a Netflix show staple, this season the fashion scene is boldly embarrassing the screamingly bright colour. The fashion world no doubt obsessed withe everything total black has with the influence of athletic wear opened itself up to mixing in brighter nuances. Coming into the menswear mix is the mighty orange, as a colour deemed as difficult and unflattering thus an attractive challenge in therms of fashion standards.
The origins of this orange come back may be traced to the rise of athleisure in some of the most unlikely fashionable sports. Such as golf, where high performance waterproof golf clothing has unexpectedly infused itself into the new sportswear obsession of the fashion circles. Top brands such as Hugo Boss have developed their orange lines (even naming a sub label Hugo Boss Orange!), while this trend has placed back on the map sportswear attires such as Galvin Green, Champion and Kappa to name a few.
Naturally, this resurrection of orange by the fashion insiders comes also as a surprise, since the fashion editors are no doubt the worst focus group to ask on anything orange – it's a bunch know for religiously wearing black and navy.
Above two Summer 2018 runway looks from CALVIN KLEIN 205W39NYC 
RAF SIMONS AND THE KING'S DAY
Pushing the trend forward were fashion runways around the globe, and we have to start with Raf Simons who perhaps is the most responsible. Some of the stand out pieces in his CALVIN KLEIN 205W39NYC menswear collection are spotlighting the colour. Simons, hailing from Belgium has grown up around Dutch influences, and his early work was inspired by Gabba subculture, a Dutch and Belgian movement connected with hardcore techno music. Simons, no doubt familiar with everything 'Kings Day', a moment when once a year in April the people of the Kingdom of the Netherlands take to the streets dressed in orange to celebrate the birth of their King Willem-Alexander. The roots of this splash of colour both on this day and in everything Dutch are easy to trace to the Dutch royal family whose name is Van Oranje! Don't get anything wrong here, the Kings Day serves as the definition of this colour's extremely unflattering effect on both grown up men and women, and nobody in Holland will deny that.
However, fashion loves the risk, and while its always easier to go for black or navy, getting it right in orange is no doubt a win-win situation!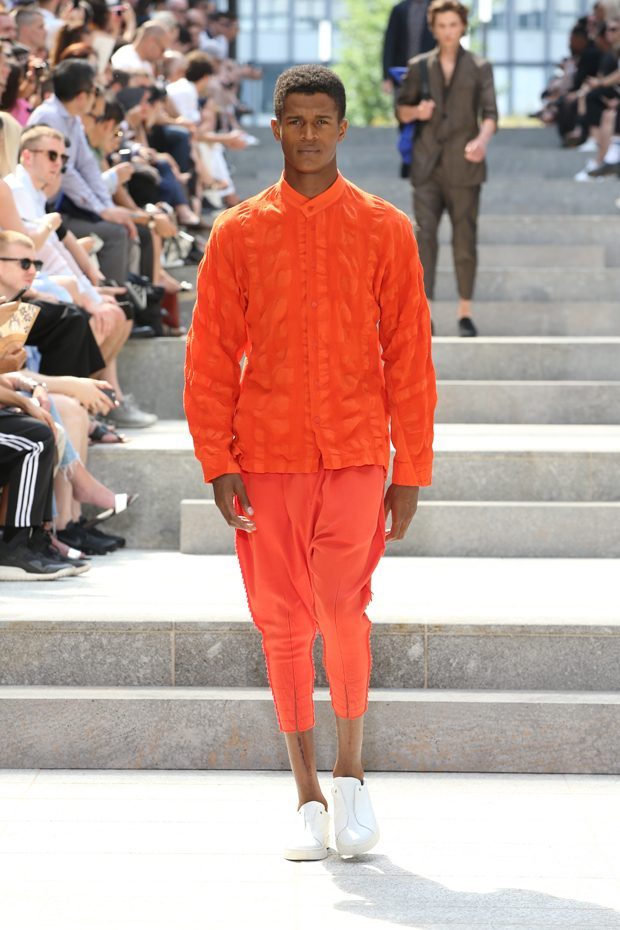 Issey Miyake Men Spring Summer 2018 Collection
Boris Bidjan Saberi Spring Summer 2018 
PARIS AND MILAN TAKING PART
The European across the pond Mr Simons is not the only person fascinated by the trend, the creative director of Issey Miyake Men also ventured in the total-orange looks for the Spring Summer 2018 runway. The same daring response came on the runways of fashion designer Boris Bidjan Saberi (read our exclusive interview with Bidjan), whose followers are known as a total-black army throughout the industry. Till the Paris runways, a Bidjan look was defined as a total black look, yet orange in his new collection is a moment to reflect on.
Naturally the business running the fashion industry answers to what consumers actually purchase, and the buyers know there can be no fashion conversation without a touch of peril. That must be the answer why orange, and any shade of it you can imagine, has been defined as an upcoming trend-to-watch for a few seasons now. Triumphantly this colour for a few years now lives as a future trend, perhaps because it denies breaking down.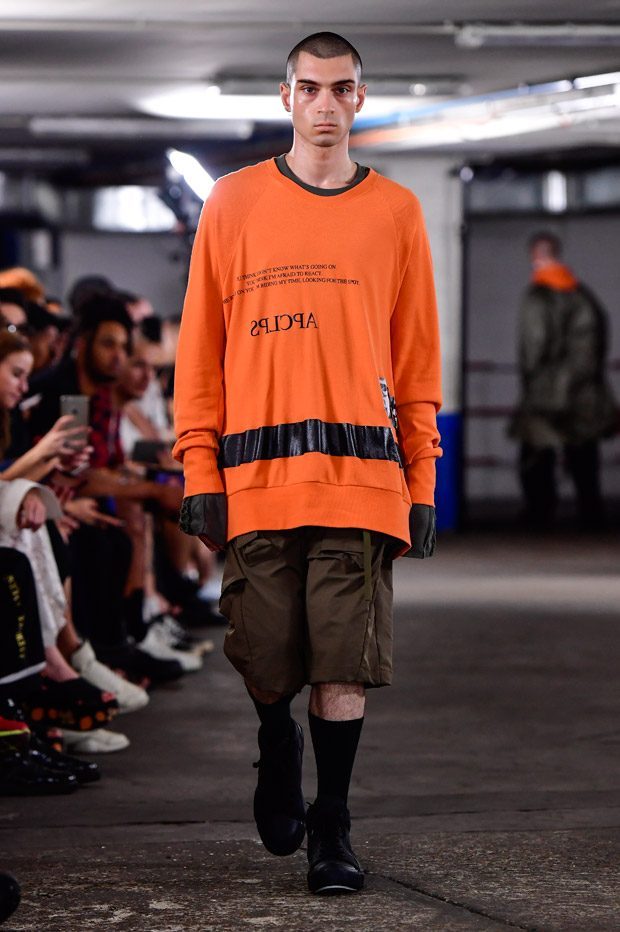 Julius Spring Summer 2018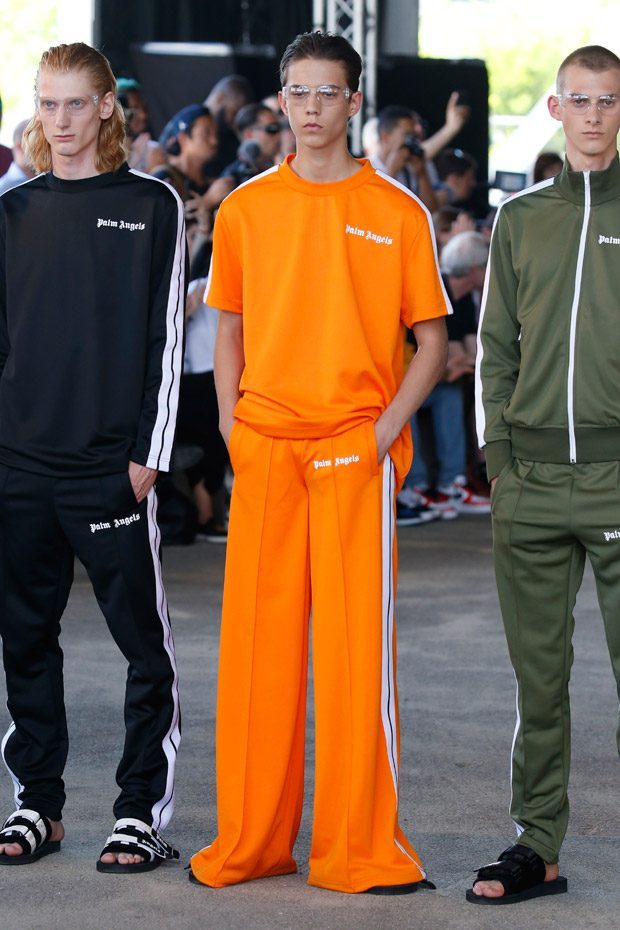 Palm Angels Spring Summer 2018
Fashion editors and street style fixtures are shaping the trends to come on the fashion week street style photos, and by wearing screamingly bright orange construction worker like attires they have redefined the fashion standards. Unless, you are a construction worker, the incredibly aggressive nature of orange might have been a no-go for you, till this season. To make sure it's on trend, please take a look above of Parisian sub-culture brand Julius as well as the much talked about Palm Angels, mixing the work gear with their sportswear inspired designs.  Julius presented its new collection in an underground garage in Paris, while Palm Angels chose a literal building sight for it's runway show, alongside construction machines and mountain loads of sand.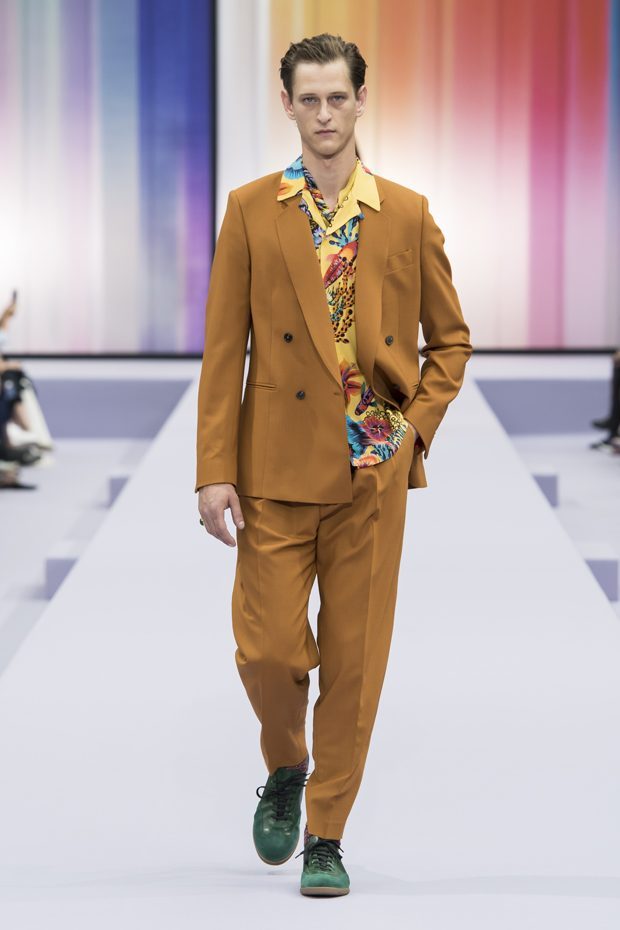 Paul Smith Spring Summer 2018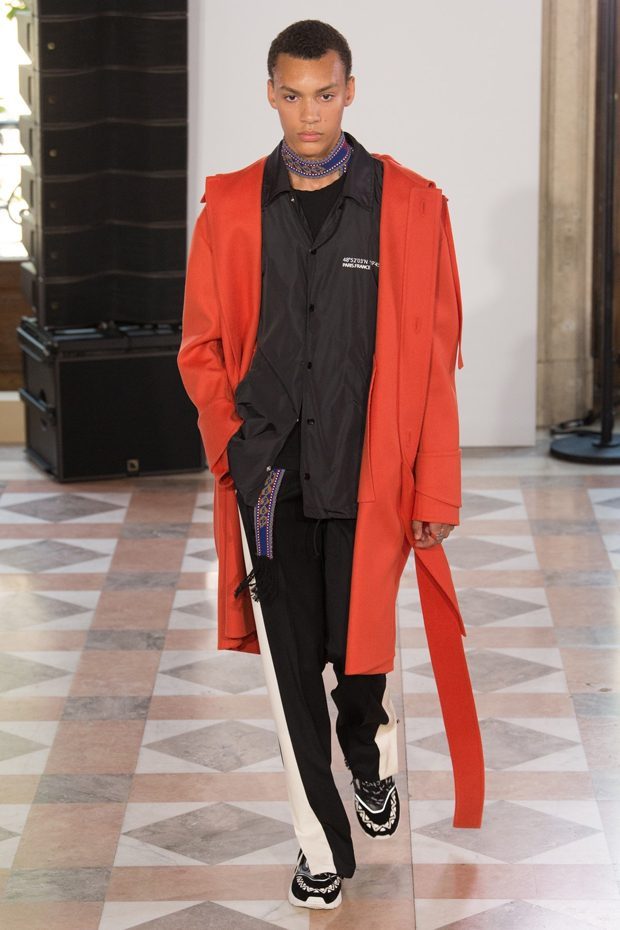 Valentino Men Spring Summer 2018
SARTORIAL KINGS GONE ORANGE
A colour this bright is for a good reason associated with team sports as well as traffic regulation signs, in massive proportions it is indeed an alarming message. One may ask is this fashion's new head turning trick? However, to wear a colour this screamingly loud you do have to be confident enough. No doubt orange is deemed as a colour hard to pull, specifically for men, so are other bright colours such as yellow, green and purple.
Yet this connotations of orange as utility wear and American prisons uniform, has not put off a more sartorial fashion houses into trying out the palette. British designer Paul Smith, known for its sartorial elegance along with Maison Valentino have both joined the orange troups for their latest menswear summer collections shown in Paris.
Text by MMSCENE Fashion Features Director Katarina Djoric