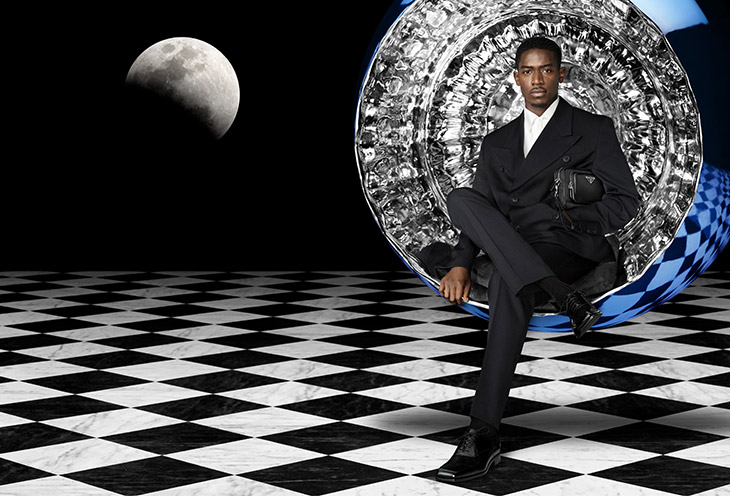 Luxury fashion house Prada has unveiled its Holiday 2023 collection, that transcends the ordinary, offering a moment of serenity, a private celebration, and a personal playground for those who immerse themselves in its wonders. The Prada Holiday 2023 campaign takes the enchantment of the holiday season to new heights by inviting us on an impossible voyage, a journey within our very own sphere of imagination.
In the campaign, the boundaries of reality blur, and the imaginary comes to life. Behind each individual featured in this campaign lies a fantastical space-scape that seamlessly merges the past with the future, memory with expectation. The iconic 1913 Prada boutique, nestled in the heart of the Galleria Vittorio Emanuele II in Milan, provides the stage. Its classic checked marble floor extends into a galactic horizon, a breathtaking panorama of deep space inspired by telescope imagery, adorned with sparkling stars. It's as though you are peering into a gift yet to be unwrapped, with an entire galaxy awaiting your exploration.
Renowned photographer Willy Vanderperre captures this celestial journey, featuring four world-famous stars – Damson Idris, Louis Partridge, Maya Hawke, and Kim Tae-Ri – portraying their true selves within their personal bubbles of creativity. This notion is both literal and ideological: each of them is seated in a glistening bauble, which effortlessly transforms into a flying pod or a personal shuttle. These symbolize metaphorical vehicles that navigate the unique and captivating landscapes of individual imagination.
In charge of creative direction was Ferdinando Verderi, with the impeccable styling by Olivier Rizzo. Beauty is work of the talented team of hair stylist Anthony Turner, makeup artist Lynsey Alexander, and manicurist Sylvie Macmillan.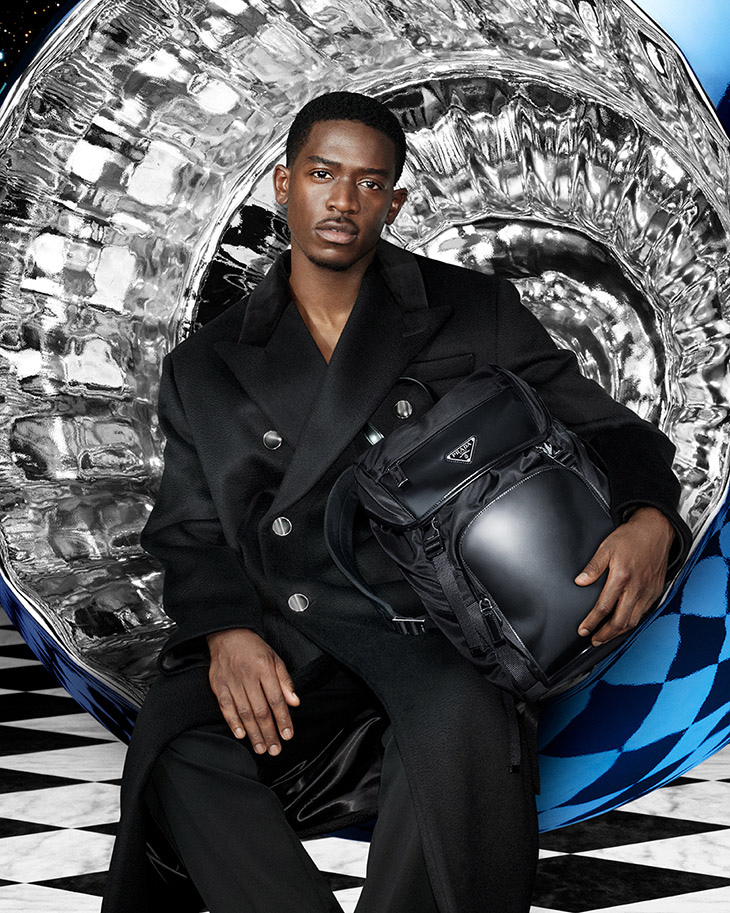 Prada's Holiday 2023 collection is an odyssey through the realms of creativity and imagination, where past and future intermingle, and the stars are your companions on this extraordinary journey. It invites you to embark on a journey of self-expression, encapsulating the spirit of the holiday season like never before.