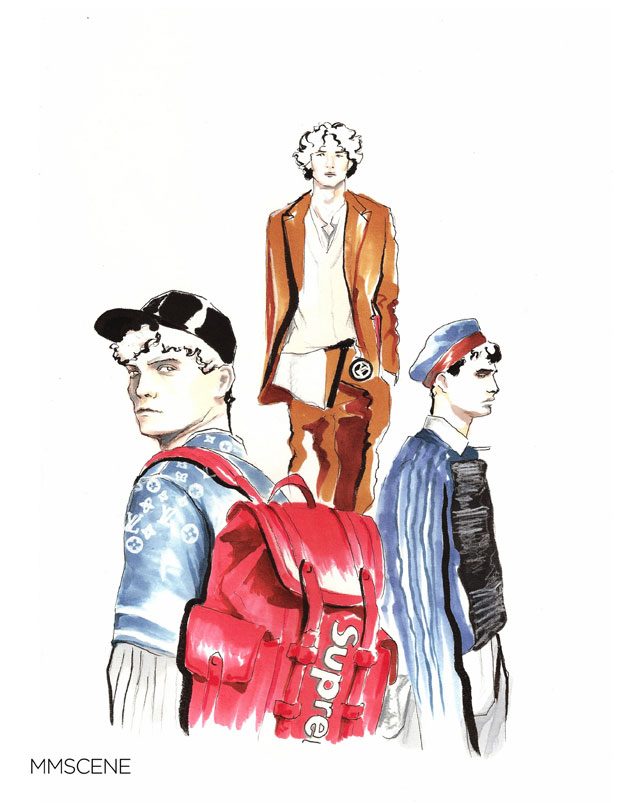 The ultimate Parisian staples Louis Vuitton and the french monarch Louis XIX, are sharing more than their first name, it is their reign supreme. The later, became quite literal for the French fashion house in the year behind us. While, the legendary rois was known for his opulence as well as the reign and influence of his monarchy, Louis Vuitton from it's Parisian throne is the modern era's dominating force in the fashion industry.
While the LV monogram had its ups and downs through the decades, it's latest collaboration with Supreme has seen superior heights of fashion debauchery. The culmination of this mania resulted in countless YouTube Louis Vuitton Supreme Hauls where the aim is no doubt nothing but shameless showing-off. A quick search of these hauls is to take you to the videos of the fame hungry Jeffree Star destroying a $59,000 skate board but also completely anonymous kids with deep pocketed parents burning through somebody's yearly income in a single shopping spree. Still, whether they earned those dollars on their own like Jeffree or used the privilege of a trust fund baby, it's their money to burn. Still, both brands are more than aware anything with their logo is prime property to claim.
Read more after the jump: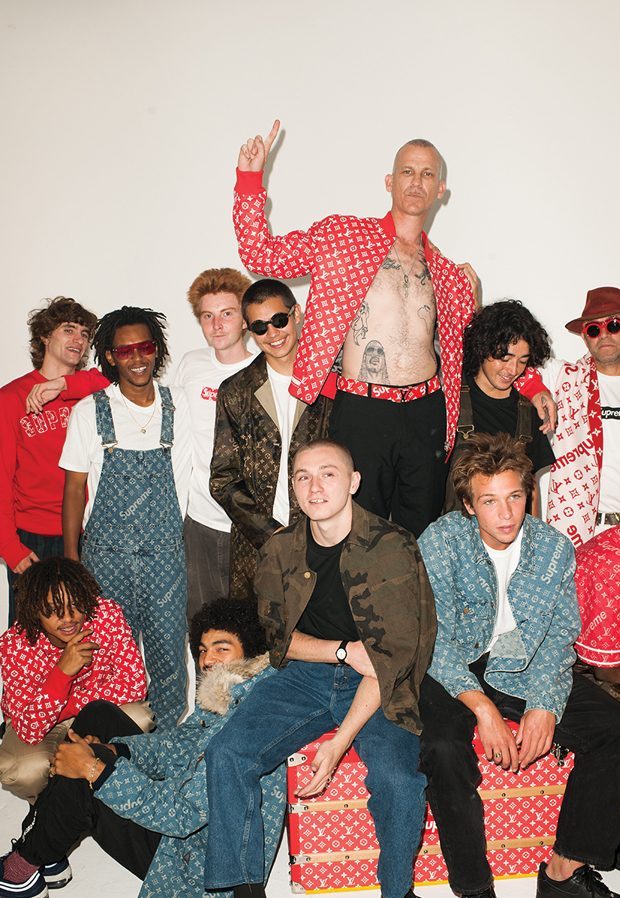 However, this match made in heaven got off to a rocky start, in 2000 it all started with a trademark lawsuit. Vuitton team of solicitors made Supreme shelf their series of t-shirts and skateboards featuring the famed LV monogram without the maison's permission. The feud was so deep, Louis Vuittion forced Supreme to destroy all the questionable merchandise, to an extend of burning the items.
While often sidetracked Louis Vuitton menswear is holding its steady grip on the market for years now under the helm of Creative Director Kim Jones. Yet, the manic hauls were only connected to the past womenswear ready to wear lines by the previous head of design Marc Jacobs and more or less the current Nicolas Ghesquiere. Jones's vision was shaped by his years at Central Saint Martins College of Art and Design where he secured an MA in Menswear. His design sentiment is no doubt influenced by his globe-trotting childhood, going hand in hand with LV's travel genes. While sartorial,well made and profitable collections, the contemporary edge Jones was pushing for years in previous designs hardly ever made a trend-setting impact. The pre-Supreme collections however started to gather the desired momentum, mostly due to it's innovative projects with graphic designers and illustrators such as artist Gordon Flores who collaborated with the design team on a series of original graphics and prints. Yet, while adorned by fashion fans and stylists, the pieces missed hitting the mass-market appeal. Nevertheless, the move read as part of the ongoing bid to please the younger demographic by any means you can imagine. Empires such as Gucci and Valentino are also pleading for the attention of younger audience. While it's hard to imagine the impact this young audience is to have on the bank, where teenagers simply said have no buying power, for fashion houses such as Gucci the move is undoubtedly bringing results.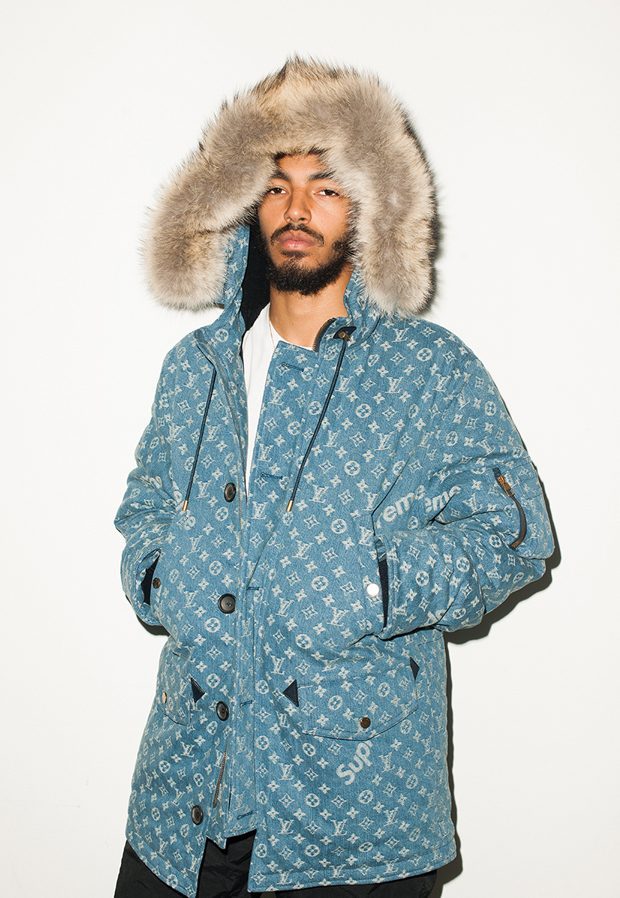 What Supreme managed to achieve since it's first encounter with LV in 2000, is to find a way of leveling up to the luxury item price quotes. Supreme web shop wont bust your bank, however their collaborations will make you reach for your trust fund, if you are lucky enough to have one. While the limited edition items, are to fetch skyrocketing prices on re-seller sites, the limited edition LV x Supreme jacket is to cost you over fifteen thousand dollars on e-Bay. Can only dare you to search for that super rear Supreme brick.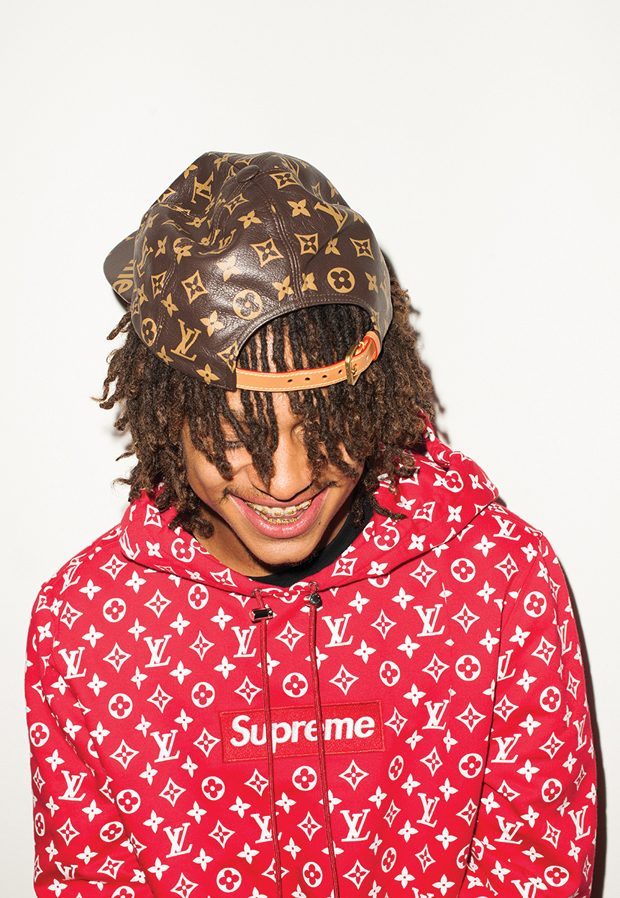 Nevertheless, the results revitalized Louis Vuitton and raised the status of Supreme. The partnership made it's menswear line relevant at a time when internationally luxury consumers are turning to hyped fashion labels. Only today, while at LV everybody can breathe with a sigh of relief, Lanvin is announcing worrying market reports, in a result failing to catch up with the style demand of the current market.
Louis Vuitton is no doubt in power to generate numerous ways to take the spotlight as well as generate legion of monogram obsessed shoppers. However, in the year steadily approaching its finish line, a collaboration of mass-market and luxury was the key, resulting in free press and increased sales. "Brand x Brand" collaborations are no doubt to describe year 2017 in the fashion books.
Text by Zarko Davinic, Illustration by Marco Kowalewski
Images: Louis Vuitton X Supreme on designscene.net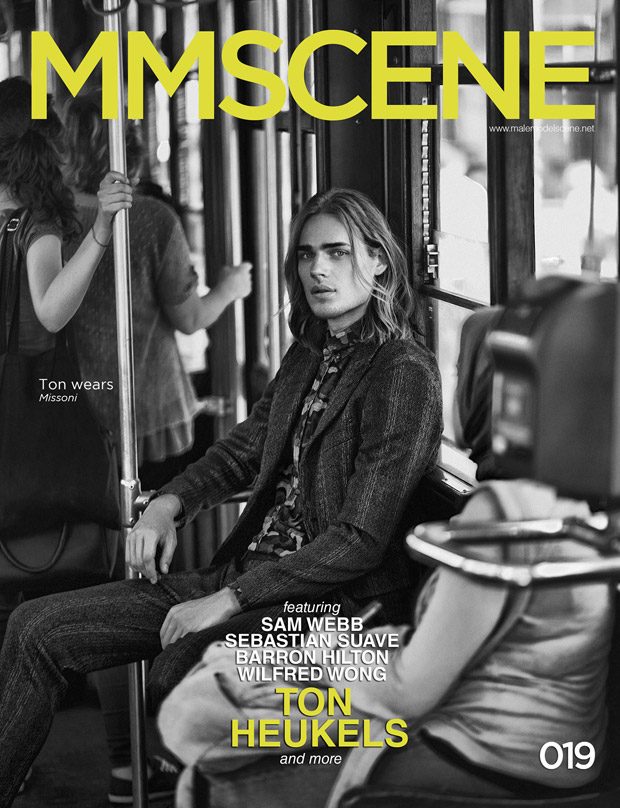 Missed any of our previous issues? Check out MMSCENE magazine print and web store