Trussardi 1911 Fall Winter 2011.12 Collection
|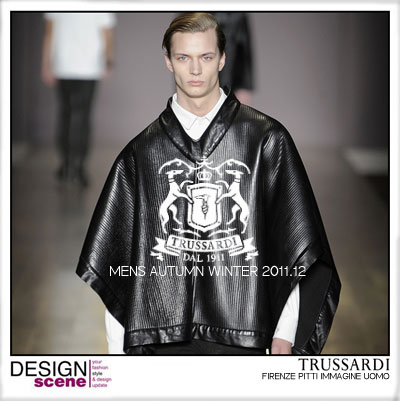 Collection: Trussardi 1911 Men's
Creative Director: Milan Vukmirovic
Season: Fall WInter 2011.12
Models: Rob Evans, Simon Nessman, Diego Fragoso, Miro Moreira, Linus Gustin, Tomek Szczukiecki, Andrey Zakharov, Nicolas Ripoll, Vince Robitaille, Zhao Lei, Jonathan and Kevin Sampaio, Nils Butler, Lucho Jacob, Mark Cox, Bastiaan Ninaber, Arthur Daniyarov, Vladimir Rotar, Francisco Lachowski, Philipp Bierbaum, Oscar Spendrup, Texas Olsson, Alexandre Cunha, Arthur Devalbray, Anthon Wellsjo, Malte Madsen, Isaac Farisato, George Barnett, Michael Wozniak, Clement Chabernaud,
Website: www.trussardi.com
With 100 years of Trussardi 1911 the house takes the main even at Firenze's Pitti Iimmagine Uomo by presenting their Fall Winter 2011.12 collection exclusively designed in leather with creative direction of Milan Vukmirovic. Also as you can see the runway list is equally impressive.
View the complete runway imagery over at our sister site DESIGNSCENE.net.