Chadwick Boseman Stars in the Cover Story of Esquire Magazine Summer 2018 Issue
|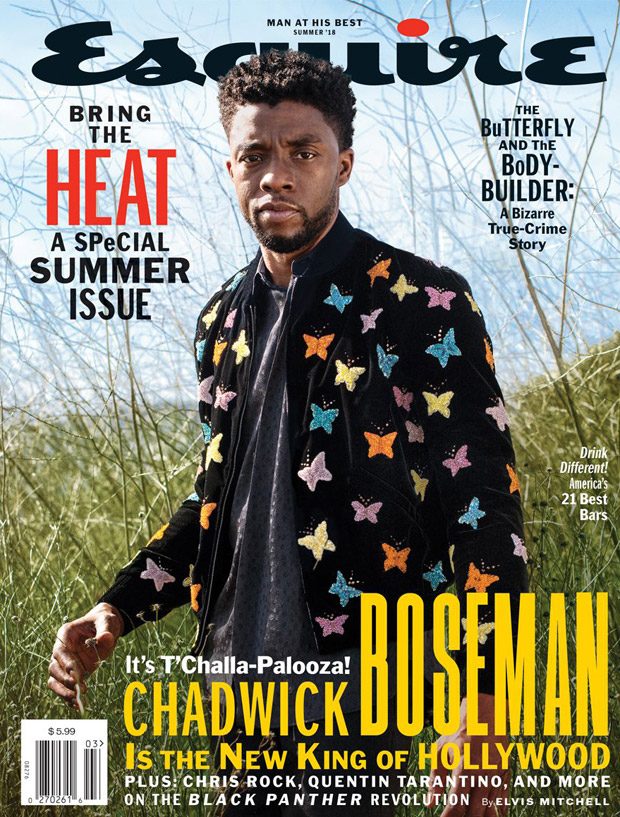 Black Panther star Chadwick Boseman takes the cover story of American Esquire Magazine's Summer 2018 edition captured by fashion photographer Melodie McDaniel. Styling is work of Matthew Marden, with grooming from Saisha Beecham.
"I was more so of the mind of the director and the writer. I didn't want to be onstage and I didn't want to be on camera. Not at all. My older brother, he's a dancer. He danced for Alvin Ailey, for Martha Graham. I grew up watching him take dance classes; he was also in plays. I would sit in the audience with my mom, who came to pick him up from a musical he was doing. And we got there early. I was sitting, watching the director, and I was more interested in what he was doing than the performance onstage. How he was talking to the performers. And how he would change certain things or why he would change certain things. I didn't know that was an interest of mine; it didn't register that it was something I wanted to do. I just enjoyed the process.
At that age, in my opinion, you don't even know what a play is. You're copying without full knowledge of how it works. After a certain point, it came into my head: 'Oh, you actually love this. There's something about that process of creating something that you love.' It took me being at Howard and having a directing advisor and teacher who didn't believe that you could learn how to be a director without learning how an actor thinks and works and how to talk to them. I became an actor because I was just trying to learn the whole process." – Boseman for Esquire US, on his interest in directing and becoming an actor.