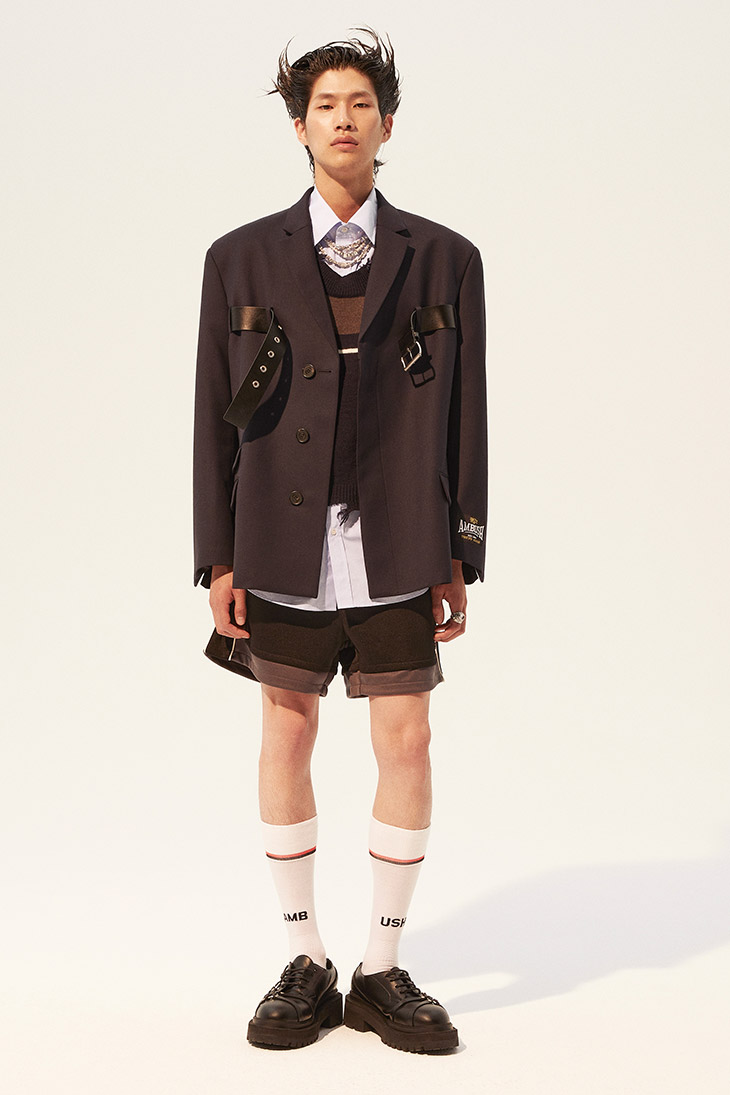 Fashion brand AMBUSH® is gearing up for a spectacular field day in Spring Summer 2024, injecting their signature punkish aesthetic into a fresh, sporty twist that adds a dash of exuberance to their iconic school uniform-inspired designs. The festivities are under the guidance of the visionary designer Yoon Ahn, who seamlessly blends vintage sportswear elements into the brand's trio of utilitarian staples, uniforms, and surreal evening garments that they are renowned for. This season, AMBUSH® delivers an electrifying remix, fusing together all facets of their design DNA, from bedazzled eveningwear to distressed hoodies, creating an eclectic and vibrant collection.
SPRING SUMMER 2024 COLLECTIONS
Drawing inspiration from the nostalgia of teenage field days, the collection combines boxy 1950s silhouettes with workwear aesthetics and simple fabrics. Khaki Harrington jackets are paired with matching miniskirts or cargo trousers for women, and oversized shorts and trousers for men. When combined with plain shirts and white socks, they evoke a summer uniform vibe, fit for both school and life, especially when accessorized with skorts. After establishing this foundation of striped blue and white shirts, vests, thin white knits, and cropped polos in materials like canvas, cotton, and wool, the collection takes an experimental twist. Football laces cinch a crop top and skirt, adding a playful twist to sporty elements, while a football jersey adapts the same design approach for menswear. Graphics reinterpret the collegiate sport identity, featuring AMBUSH® on college hoodies and basketball vests.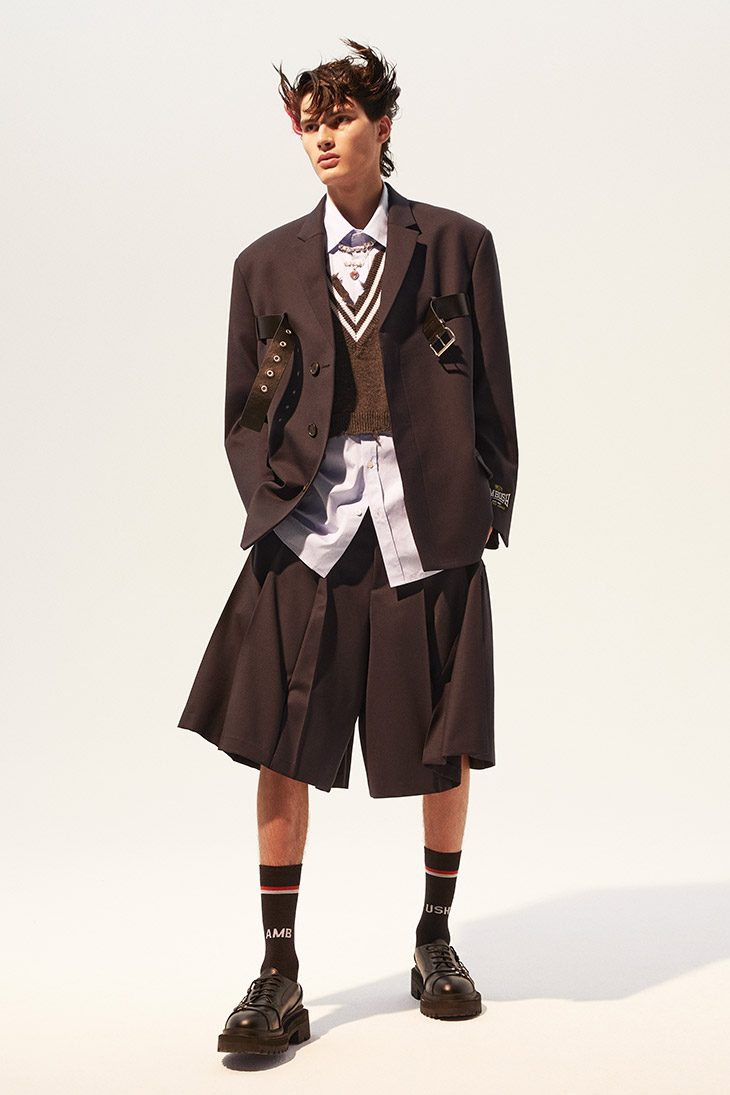 The vintage athletic theme is further explored through track sets in blue and maroon for all genders, with tennis miniskirts paired with zip-up jackets or bras for women, and shell jackets and knit polos for men. Breaking away from the oversized silhouettes of recent seasons, proportions have been scaled down, giving models the appearance of '70s track stars in short-shorts. Mini yellow running shorts with racing stripes, shorts with exposed pockets, and tiny vests contribute to the notion of cherished school sports kits that one can't bear to part with. Denim takes inspiration from workwear, featuring jeans with large flapped pockets or wide-legged designs with a short apron at the front. Denim jackets come in both the beloved boxy shape and a new waisted style.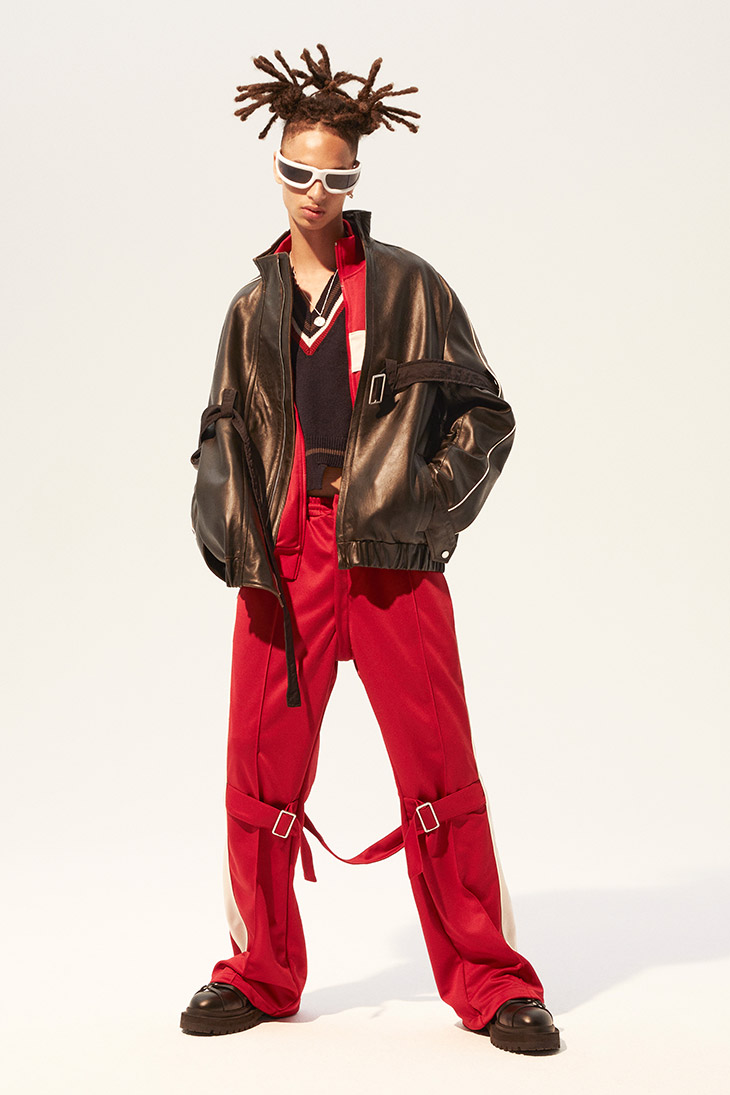 Elegant details make their appearance as the evening approaches. When paired with heels, a transparent dress adorned with crystals or a faux fur shrug adds versatility to the collection, mirroring the way designer Yoon and the AMBUSH® clientele wear the pieces. Two classic AMBUSH® motifs make a return – the bow and the buckle, which have been consistent features in recent collections. Ribbons, reminiscent of sports day honors, embellish various garments in a vibrant carnation pink. T-shirts and vest tops cascade with bows, and to tie together the collection's central themes, a tracksuit jacket boasts bows adorning each sleeve, complemented by a pink crystal-embellished skirt. For men, white bows grace a shirt, while sleeves double as a large ribbon when tied around the front of an outfit. Buckles, on the other hand, add a custom, punk edge to tailoring for both men and women.
AMBUSH® introduces new plaids for men and women in gray and peach/blue colorways, which, when paired with shrunken cardigans and boxer shorts or navy and maroon cricket jumpers, exude the charm of clothing borrowed or thrifted from a stylish grandparent – a signature touch of the brand.
Footwear embraces a '70s thrifted vibe, with loafers and kitten heels lending a touch of chic to the collection, alongside the now-classic AMBUSH® heart bag featuring a delicate lace patch, elevating the customized feel. Jewelry exudes a sense of opulence through rhinestones, with multiple chains adorning the neck and sparkling rhinestone rings adding a hint of extravagance to the understated everyday colors and fabrics. Heirloom jewels paired with shrunken shorts, furry shrugs contrasting with sports gear, and workwear complemented by kitten heels – this season, AMBUSH® presents a delightful fusion of styles and elements that come together in perfect harmony.
Discover more looks from the AMBUSH® Spring Summer 2024 collection in the gallery below: