Worn by supermodels, fashion icons and music stars, CROCS have only grown in popularity over the years. Between 2020 and 2021, thanks to the pandemic and quarantines, the popular clogs became one of the fastest-growing fashion brands, with an increase of 430% in sales.
Crocs didn't become the "it" shoes overnight. It's star-studded collaborations include Justin Bieber's cartoon-themed design, Salehe Bembury's fingerprinted clog, Anwar Carrot's garden-ready model, and many more. MMSCENE brings you the most polar CROCS collaborations of all time.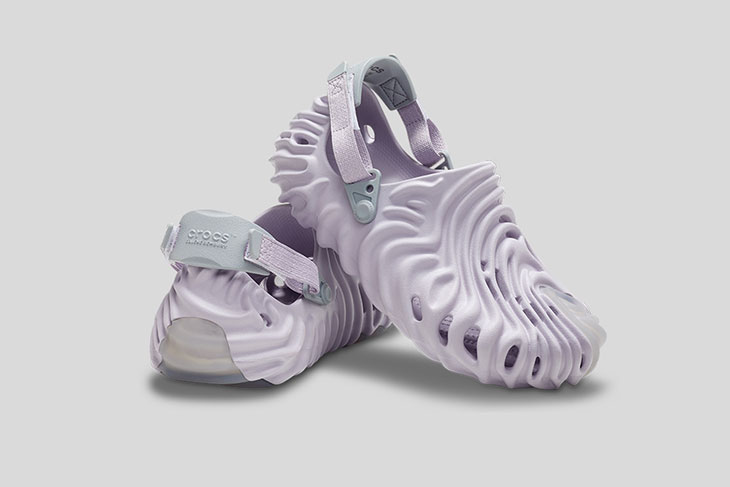 Salehe Bembury x Pollex Clog 'Urchin'
This May, Crocs has collaborated with the American footwear designer, Salehe Bembury on The Crocs Pollex Clog, available in Urchin, Stratus, and Crocodile colorways. The silhouette is an exploration of the Crocs' classic form and function in an entirely new direction. It uses the most innovative mold, to create Bembury's 3 signature fingerprints merged together. The holes are placed strategically to align with the high-heat areas to enhance breathability. The shoe can be worn two ways with two adjustable and removable heel straps.
Anwar Carrots x Clog 'Orange'
LA designer and streetwear icon Anwar Carrots and Crocs reunited this February for  the re-release of their first sold-out Classic All-Terrain Clogs. Coming in the striking orange colorway, the clogs feature white "Carrots" lettering on the lateral side, a rugged turbo backstrap and Jibbitz™ charms.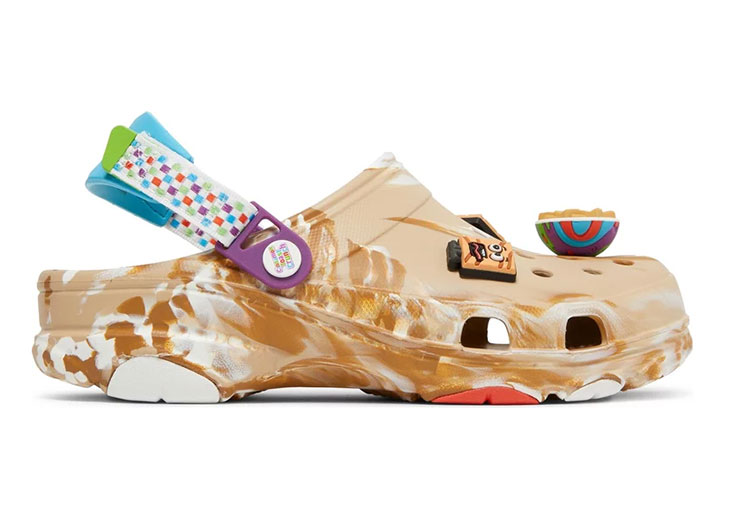 Cinnamon Toast Crunch x Classic All-Terrain
The Classic All-Terrain Clogs, Cinnamon Toast Crunch x Classic All-Terrain celebrate the most important meal of the day – breakfast. Just like the this classic kids cereal, blasted with Cinnadust, you'll want to wear this style every day. Featuring the cinnamon print, embellished with the cereal themed Jibbitz™ charms, the  clogs even smell like cinnamon.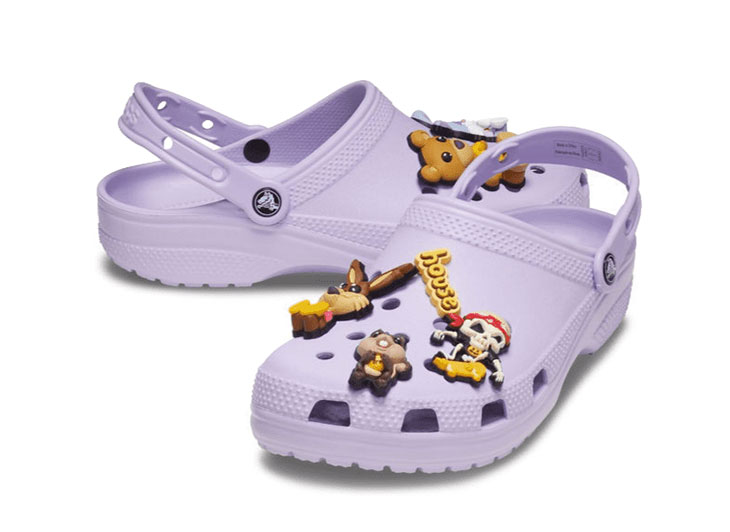 Justin Bieber x Classic Clog 'Drew House – Lavander'
Justin Bieber and his fashion label Drew House are back with a second Classic Clog collaboration to add to your collection. A Justin Bieber style starter pack, the classic clog 2 comes in lavender and includes Drew House-themed Jibbitz charms. Each pair comes with Drew House socks.
"Crocs with socks is definitely the move. They're comfortable, they're fashionable, and most importantly it's fun to bring your own style to how you wear them. It's been a blast bringing this latest collaboration with Crocs to life." – said Bieber in an official statement.
Bieber himself gifted a pair to Victoria Beckham but she said she'd rather die than wear them. "Well that was close! I think I'd rather die but thank you anyway @justinbieber." – she posted on her Instagram.
Crocs x Balenciaga Wmns Pool Slide Sandal 'Black'
One of the most popular (and most expensive) Crocs collabs is definitely the one with the French luxury brand Balenciaga. Known for his unexpected and highly coveted collaborations, Cretive Director Demna, presented the Balenciaga's Crocs Pool Slides that immediately became the it piece at the pools this summer. The model followed in the footsteps of the previously released Balenciaga's Crocs boots and heels. Each style sells out on Balenciaga's website immediately after launching. Find additional Crocs collabs at GOAT.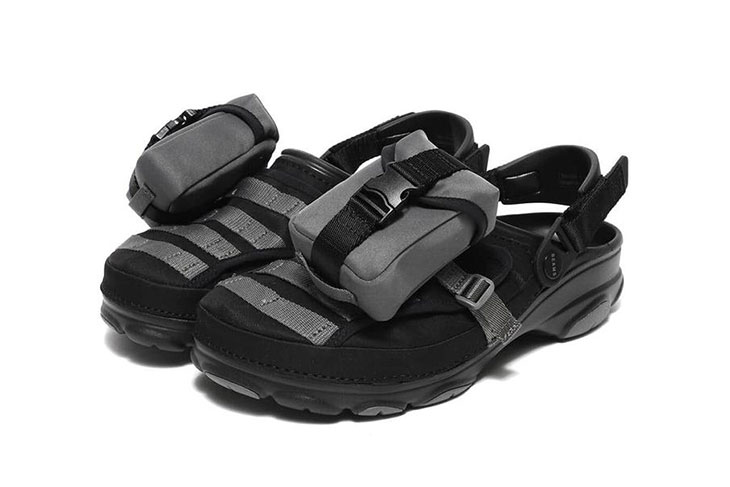 BEAMS x Classic All Terrain Outdoor Clog 'Grey'
Made for the mountains, styled for the streets. Last year, Crocs has collaborated with Japanese contemporary fashion chain and label BEAMS on a military-inspired Classic All Terrain Clog, upgraded with tactical hardware and functional elements. Combining the brand's utilitarian streetwear style with Crocs comfort, the clog is available in two styles with a pouch on either the front or the back.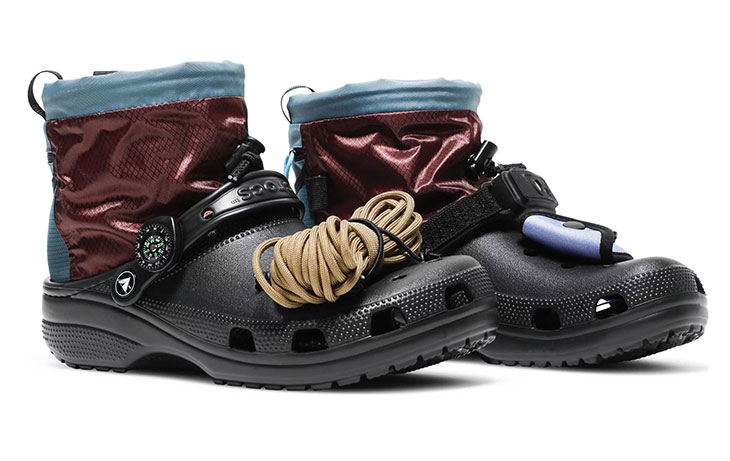 Nicole McLaughlin x Classic Clog 'Survival Kit'
One of the most creative Croc's collaborations is the one with the New York City-based designer Nicole McLaughlin. The Classic Clog is here transformed into a survival kit. Known for her upcycling projects and sustainable fashion, McLaughlin updated the silhouette with a headlamp, paracord, stuff sack, carabiner, and compass.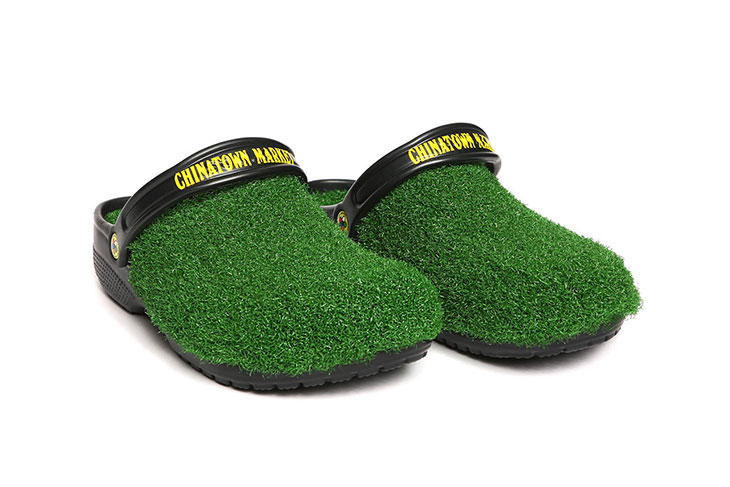 Chinatown Market x Clog 'Grass Turf'
Released in January 2019, the Chinatown Market x Clog 'Grass Turf' features a soft turf appliqué all over. The LA-based label introduced its own spin on the popular clog slip-on that imitates a freshly-shaven lawn. It is finished with a Chinatown Market branding on the crossfoot bar and "THANK YOU HAVE A NICE DAY" written on the hinge.