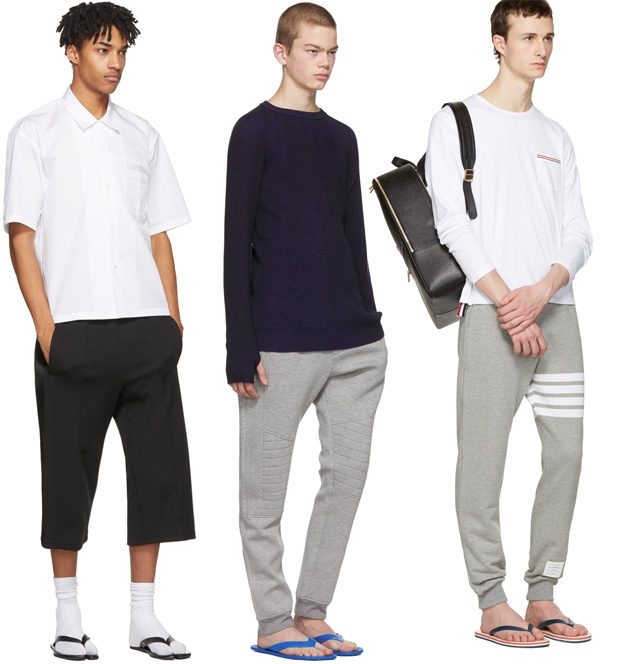 It's summer, a season when it's the easiest to make a style mistake – it's warm, you are tired, you just don't give a damn. So why not wear those flip flops?
We already set the mood – it's literally living hell outside on 100+ degrees (or plus 40 Celsius), so who cares if you walk down the street in a pair of flip flops? No matter how much the menswear style magazines and fashion gurus are trying in these scorching summer days it's hard to care about fashion. We have a scene of a perfect breeding ground for the infamous flip flop.
RELATED: STEVE MADDEN SUMMER COLLECTION
While in the recent years slides became incredibly popular (even while impractical the same are often styled with a pair of socks), the flip flop is still around. A couple of seasons ago Maison Valentino even tried bringing the flip flop comeback to the runway! While not as hyped as the easy to style and embellish slides the flip flop is still a force on the market. Just by simple browsing of sites such as SSENSE you can easily find affordable flip flops from brands such as Diesel, but also a few from top fashion houses such as Maison Martin Margiela (selling for 345 USD) as well as Thom Browne (now on sale for 154 USD). Top brands often shy away from 'flip flop' term, and do prefer calling their own sandals.
So while no doubt defined as out of fashion, why are flip flops still on the market?
WHEN AND WHERE?
Before we find out why are the flip flops still a force in the footwear industry, we need to discuss where and when you can wear them. If you opt to wear them the surrounding is very important. In your home – if you find them as comfortable as a pair of slippers – there's nothing anybody can tell you and you get a pass. It's vacation season and you have flip flops – if you are travelling to a seaside for your summer days off most definitely bring the flip flops with you. They are easy to wear, they will protect your feet from hot sand and yes that is why there were designed – to wear them on a beach. You are to usually pair them with a pair of short trousers but if you are going for a stroll around your hotel in some sweatpants, it's fine you are on a vacation. You get a pass this time as well.


Maison Margiela Black Tabi Sandals designed in Brushed leather sandals in black. Cleft square toe. Signature white stitch at strap. Tonal rubber sole. Tonal stitching. Upper: leather. Sole: leather, rubber. Made in Italy. – Available on SSENSE for $345 USD

WHY NOT TO WEAR FLIP FLOPS
If you still are brave enough to go around town in flip flops, maybe you are on your vacation and you are just a tourist who really does like to fall into a badly dressed tourist stereotype. However there a few facts you should be aware of. No matter how warm it is wear flip flops on the hot city pavements can cause for you more problems than just a pair of dirty feet to wash. Orthopaedic surgeons are strongly against wearing flip flops as well as slides (unless they're supportive like Birkenstocks), especially if you are going for a long walk. According to a research by the American Academy of Orthopaedic Surgeons flip flops are causing more problems than any other form of footwear. Even heels! The simple fact of a very flat and thin rubber sole and just one string between your toes is a good example flip flops were not designed to be comfortable or to provide any kind of support. While many companies are trying to continuously improve their design, flip flops are still not an ideal peace of footwear to walk around in all day long. Wearing them for a long periods of time can leave permanent damage. Orthopaedic Surgeons are listing them as the prime reason of chronic tendon inflammation.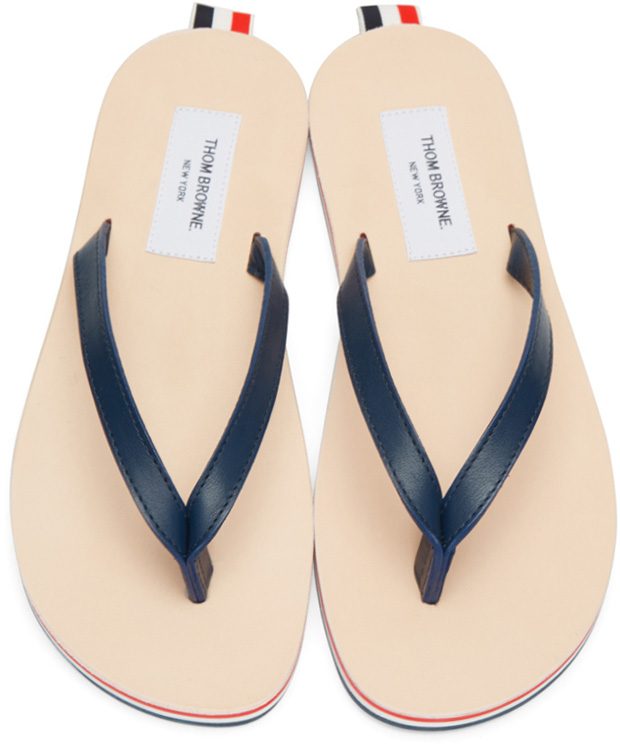 Thom Browne Navy Leather Sandals inBuffed calfskin sandals in navy. Open round toe. Signature tricolor grosgrain pull-tab at heel. Leather insole in beige. Treaded rubber sole striped in red, white, and navy. Tonal stitching. – Available on SSENSE for $154 USD discounted from $440

WHY ARE FLIP FLOPS STILL AROUND
The reason is quite simple, lot of us find them very relaxing to wear around home. Flip flops are often affordable and even while we do wear them at home they do help us reminisce of summer days. Finally, the market is the main reason while we keep buying flip flops fashion houses will still keep producing them! And to wrap up its about when and where. You do not go out that often in your pajamas either way.
Are you pro or anti flip flop? Share with us in the comments below: