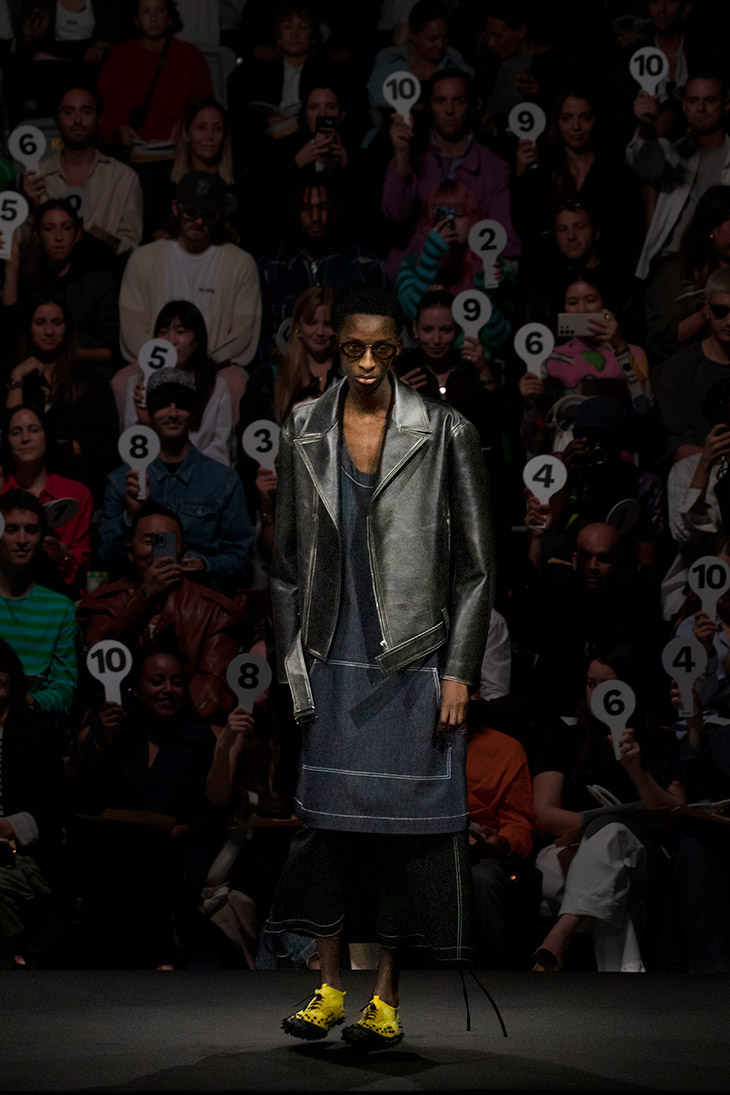 Fashion brand Sunnei unveiled its Spring Summer 2024 collection with a fashion show during the recently finished Milan Fashion Week. The collection for Spring Summer 2024 features a wide range of volumes, from very tight to extra-oversize. Among the offerings are jersey-stretch items, primarily in the form of various tops with cutouts designed for layering. On the other end of the spectrum, the collection includes exceptionally voluminous tulip-shaped intarsia pieces, meticulously crafted by highly skilled artisans. Long fringes add movement and character to the garments, while stripes continue to be synonymous with Sunnei, appearing in various forms. A silk shirt and a multi-layered silk dress featuring a crystal stone-heart, with the image of Giorgio, a Sunnei team member, epitomize "extreme luxury but the Sunnei way."
SPRING SUMMER 2024 COLLECTIONS
The Sunnei Spring Summer 2024 collection's prints – Cuore Di Pietra theme reinterprets an old-school pop motif, the heart with an arrow, incorporating Sunnei's wordplay to create a "stone heart." This unique shape is featured across both ready-to-wear and accessories. In the realm of knitwear, the season's keyword is "see-throughness," exemplified in finely crafted Japanese knit items. Techniques are showcased through azure and ecru items with a pixelated-like print and textured effect. Additionally, some pieces have undergone a transformative process through dyeing already-finished items while maintaining their original structure with visible cracks in the coating.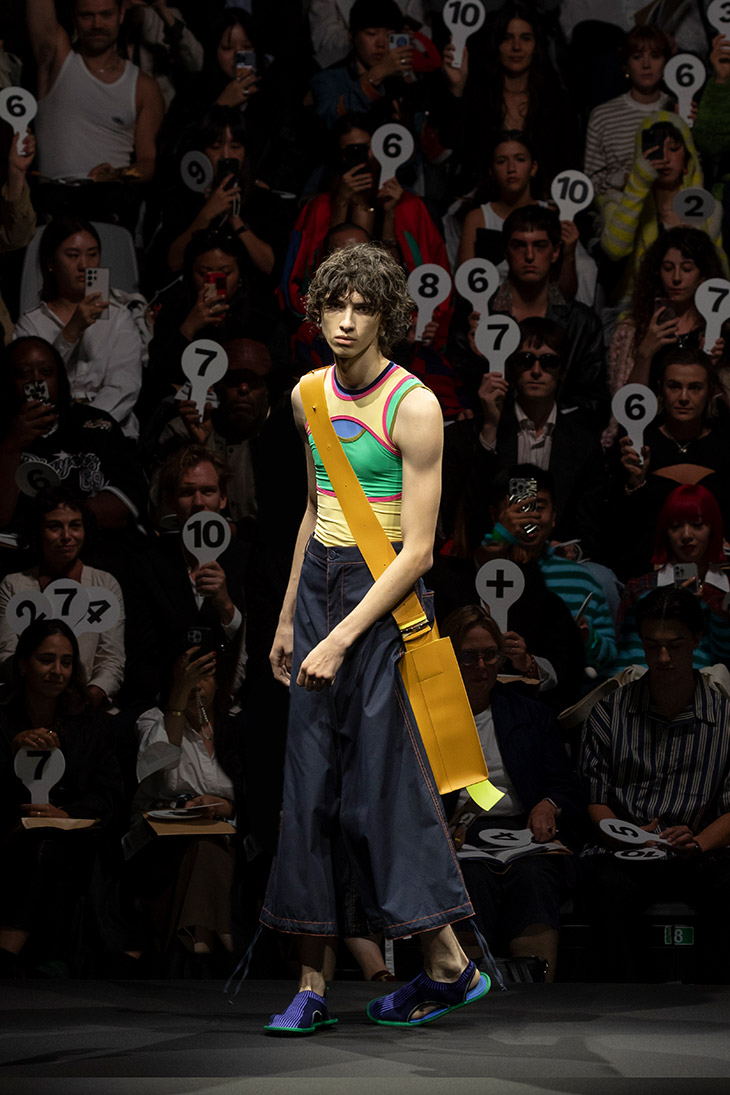 Footwear introduces the Cuoio family, including Mary Jane and Stringata styles for both men and women, along with a selection of knitted shoes, available in flat and heeled versions of 1000CHIODI shoes. Bags and small accessories reflect Sunnei's playfulness, evident in the color palette and new designs. Unique iterations of Twisted Labauletto and Crossed-zipped Lacubetto Bags feature braided shoulder straps created by intertwining shoelaces with leather strips and rubber bands. The Multitasking Bag is a versatile accessory that can be used as a crossbody bag, hobo bag, or weekend bag, suitable for around-the-clock wear.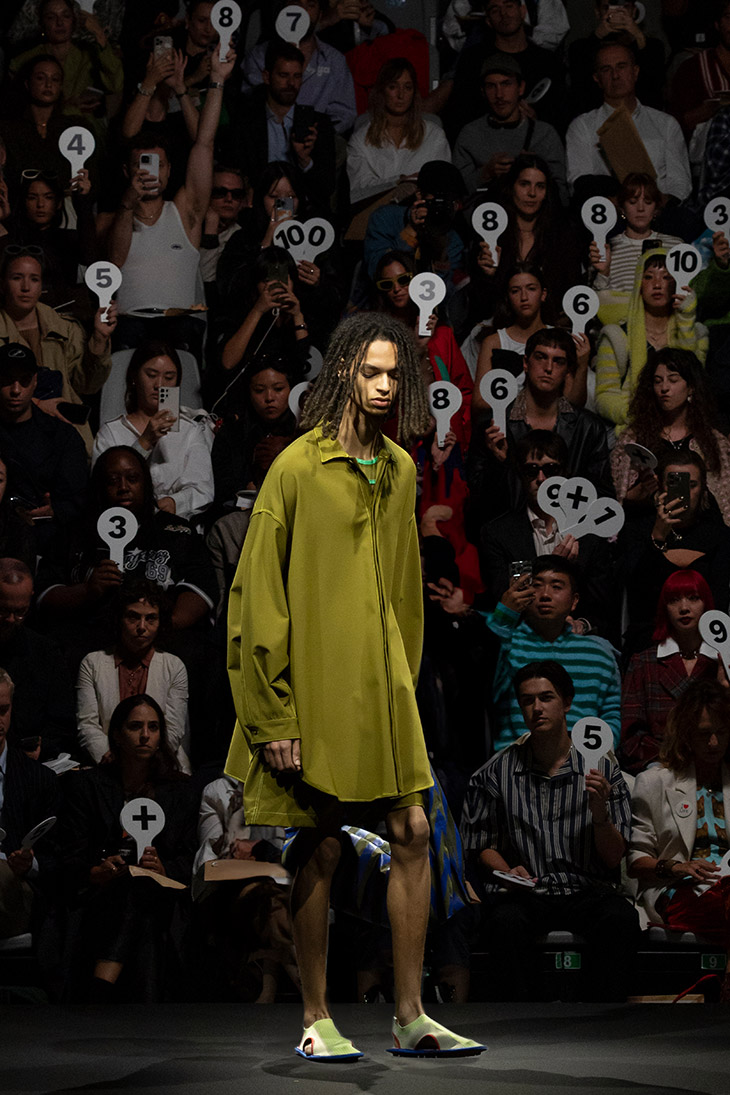 Jewelry features the Cuore Di Pietra theme again, with earrings that resemble hearts carved into stones, offering a texture and weight akin to actual rocks despite being made of brass. The colors and veins of the earrings mimic specific gemstones such as rose onyx, green jade, blue lapis lazuli, and grey rock. Sunglasses, part of Sunnei's Prototipo line, introduces the Prototipo 6, featuring a double lens crafted from the same see-through material used for its frames, adding a distinctive touch to eyewear fashion.