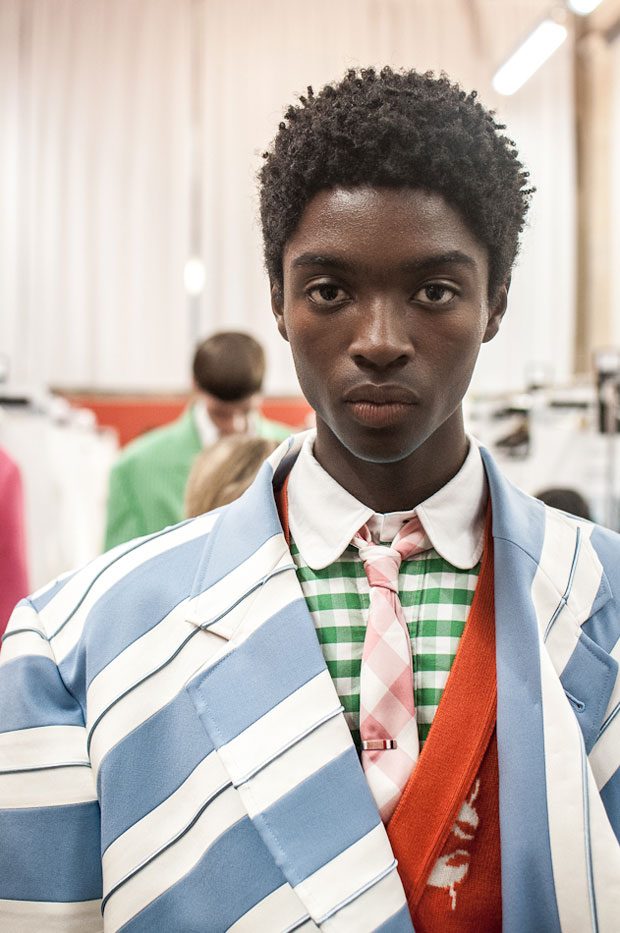 Thom Browne was for years defined as the most underestimated designer in New York, however work on his eponymous line as well as the moves with mega brands such as Moncler secured a spotlight for him on the fashion scene.
Past year's been busy for the designer who moved his collections to Paris, ended his partnership with Moncler and just announced a massive contract with FC Barcelona.
WHEN DID IT START?
It all started in 2001 when Thom Browne started his own fashion house, he was certain there is a place on the market for omnipresence of casual dressing. Browne believed that while everybody is dressed down in a pair of jeans by putting on a jacket you are creating your very own statement.
His first made to measure store opened in 2003 in New York, year after he presented his first complete runway collection at New York Fashion Week. For years later Browne started his collaboration with Brooks Brothers. The awards such as GQ Designer of the year and the CFDA Menswear Designer of The Year Award followed after.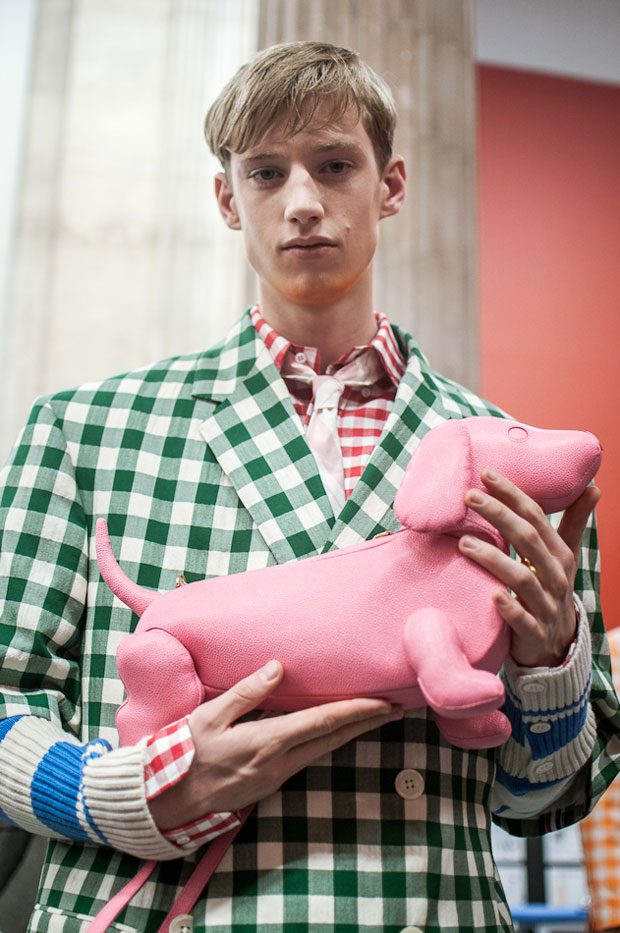 HE USED TO BE AN ACTOR IN LOS ANGELES
Before Browne realized his fashion calling, he worked on an acting career in Los Angeles. While in LA he discovered his love for the vintage men's clothing, and became friends with Johnson Hartig, the Libertine designer. However, leaving his acting dreams in LA, in 1997 Browne took a job as a salesman at the Giorgio Armani New York Showroom. Soon after Browne joined the Club Monaco team then under designer Ralph Lauren, who seeing his potential placed him as a part of the brand's design team.
WHAT DEFINES A THOM BROWNE PIECE
What defines almost every Thom Browne garments is a pattern of instantly recognisable design details. The fashion house has no logo, however each garment showcases details set to help you recognize with ease it is indeed a Thom Browne design. No doubt, a true definition of the aesthetic is the Thom Browne uniformed look.
Browne's aesthetic pushes the form of a uniform, his outfits are easy to form one with. The typical Thom Browne uniform, the one often worn by the designer himself, is created by wearing a gray suit, combined with white oxford shirt, gray tie and black shoes. Just as Mr Browne, his staff at the headquarters dresses the same. In his interview with Esquire Magazine, Thom Browne shared: "The idea of uniformity to me is interesting because I think it does show true individuality, and I think that it shows true confidence. I think it's interesting when you see people that actually have more interesting things on their mind than what they're putting on in the morning."
Also, keeping things short! He is well know for starting and often restarting the trend of cropped menswear trousers. For Browne often shoes are worn without socks and the shrunken fit is celebrated.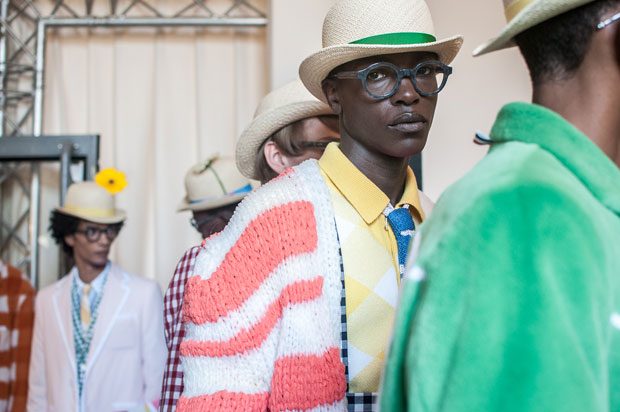 WHEN DID THOM BROWNE START DESIGNING WOMENSWEAR
In the beginning of Thom Browne's journey it was hard to imagine even an option of a womenswear collection. Especially with such a detailed approach to the menswear sartorial moment, nobody even imagined the designer would venture into womenswear. However in 2011 the designer presented his first womenswear collection during New York Fashion Week.
Browne made an audacious move in 2011, launching a womenswear collection at New York Fashion Week. His womenswear aesthetic is as equally novel as that of his menswear, however for all of his collection's avant garde sensibilities Michelle Obama called upon the designer to custom make a coat dress for her husband's second inauguration.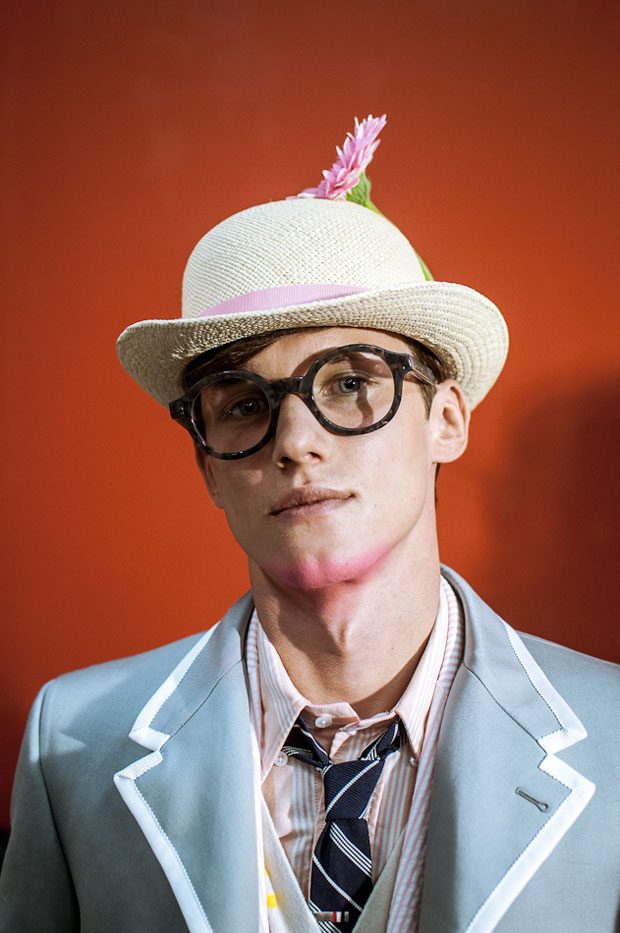 WHY IS MICHELLE OBAMA IMPORTANT FOR BROWNE
Browne's womenswear took the spotlight thanks to Michelle Obama, once she enlisted the designer to create a coat dress for Obama's second inauguration. When she came out in a stunning navy silk jacquard coat by Thom Browne at President Barack Obama's inauguration ceremony in Washington, D.C., the new path for the designer opened up.
The coat was an instant success, selling out with pre-orders for months to come for Browne and his team.
THE MONCLER ERA
Known for his extraordinary fashion shows, Browne had a great run working with Moncler since 2009. The fashion house worked with the designer exclusively on creating the exclusive "Gamme" collections under the designer's collection. The collaboration allowed the designer to explore his creativity and impress the international audience with elaborate fashion shows staged in Milan for his Moncler collections.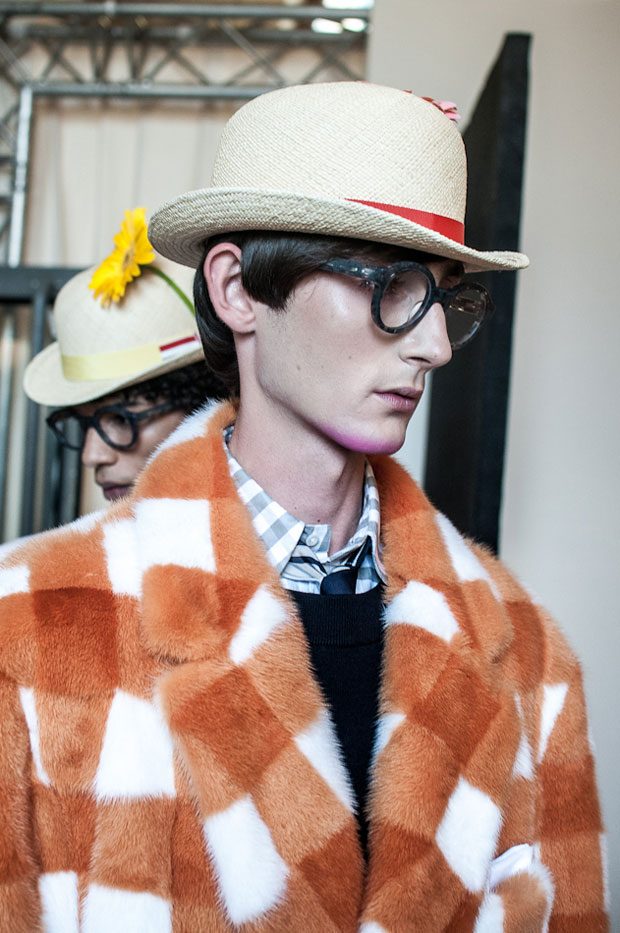 However, late 2017 Moncler opted for a new turn in it's business strategy, discontinuing both Gamme Bleu and Gamme Rouge collections after thee current Spring Summer 2018 season. With no hard feelings Browne shared in his interview with BoF: "It's been a great run, and lots of fun for so many years. But, as we defined a new growth strategy for the Thom Browne brand, I have realised that my focus should be on my own business. The fact that this happened when Remo [Ruffini] was starting to rethink Moncler's future made our decision mutual and effortless. I wish to thank the teams who made things happen, together with Remo, who through the years has allowed me complete creative freedom."
JOINING PARIS FASHION WEEK
While defined as the avant-garde of American fashion design Browne's decision to move his collections to Paris Fashion Week was met with disbelief. However few seasons in Browne is feeling at home on the Parisian Fashion Week schedule, becoming one of the most in demand invites in town. For the designer the move was about bigger press and buyer audience, audience which is ready to respond to his work. "Whether it be New York or Paris or Milan, people approach their own way. It's very easy to say, 'Oh, New York is not interesting anymore.' Well, it is in a way because New York's important responsibility in the world may be more on the commercial side, and there's something very valid to that, so people can approach those shows in that mindset. Paris may be a little bit more conceptual, so I think it's just a different way of approaching the shows. But I am very old school in the way that I do think that the shows are important to fashion." shared Browne with Fashionsta before his first Paris show.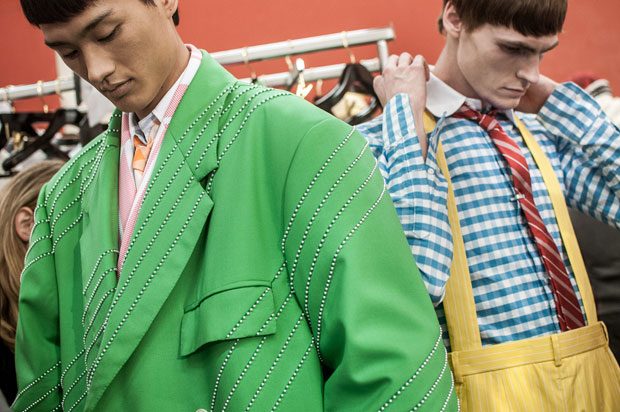 FC BARCELONA PARTNERSHIP
This week his partnership with football club Barcelona marked a new era, especially for the sport who previously never partnered with fashion designers in such a manner. Traditional partners of the leading football clubs are by default big brands such as Nike and Adidas enchanting the clubs with lucrative deals. For the coming three years for Barcelona players Thom Browne will be the official off field wardrobe. Thom Browne uniforms are to be worn at the away games in the massively popular La Liga and the Champions League.
Paris, New York or the Campions Leagued football fields are only the first stops, with plans for venturing into beauty and fragrance the Most Underestimated Designer in New York has a great road ahead!
Words by Ana Markovic. Images by Benoit Auguste captured backstage at Thom Browne's Spring Summer 2019 menswear collection runway show presented during Paris Fashion Week in June. Originally published in MMSCENE Magazine August 2018 issue – available in print & digital.