Fashion house TOMBOGO made its debut at Paris Fashion Week on June 22, 2023, with a spectacular runway presentation at the Hotel D'Evreux. "The Future Is Bright" is the name of Tombogo's exquisite Spring Summer 2024 ready-to-wear collection. The brand is known for its emphasis on functional, sustainable, and utility-driven pieces as well as its proclivity for experimental design techniques. The collection is a tribute to designer Tommy Bogo's personal development trajectory, celebrating each year's ups and downs that propel him to the next phase of his creative and professional journey. It represents a significant turning point, and introduces a new brand logo.
SPRING SUMMER 2024 COLLECTIONS
The collection unveils an assortment of new silhouettes that transcended fan-favorite signature designs by incorporating cutting-edge materials and innovative techniques. Notable pieces included the 3D Printed Mesh Pants, an experimental fabric in the form of oversized trousers, and a reflective full-zip jacket with a cinched waist. The brand introduced premium leather materials, crafted from both genuine and vegan sources, as well as innovative pineapple-based leather, which was converted into a variety of silhouettes and colors. The new brand logo was seamlessly incorporated throughout the collection, subtly adorning zippers, buttons, and even being etched onto designs. The black, white, and gray color scheme was inspired by Tommy Bogo's contemporary personal style, and provided the designer with a framework for experimenting with new silhouettes and materials.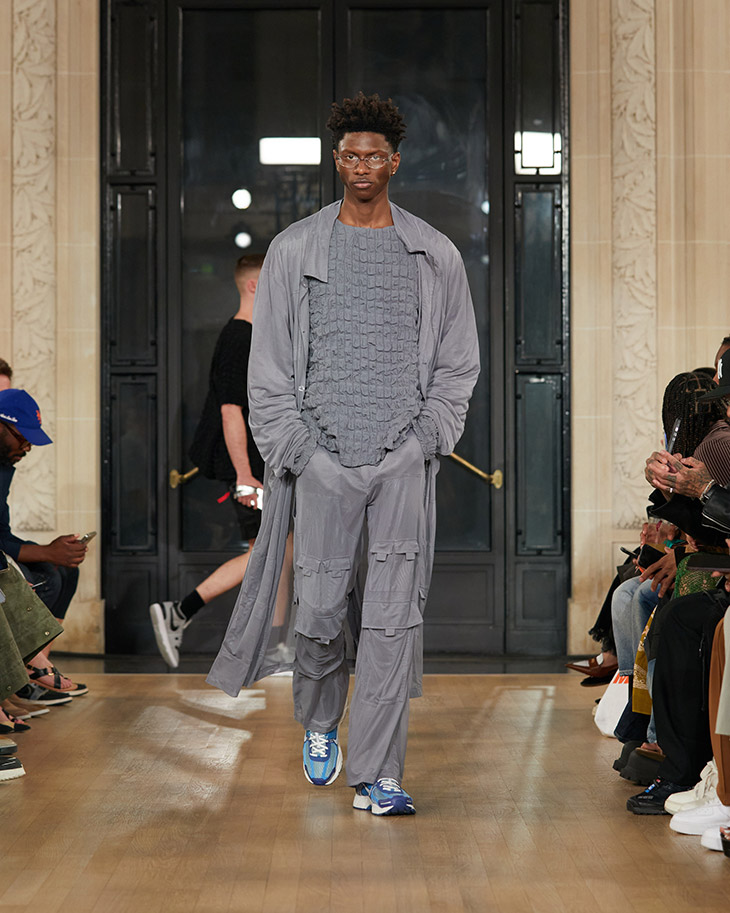 For the season, the brand expanded its assortment of accessories to include new eyewear, handbags, and footwear options. The Light Bulb Bag, a rounded, oval-shaped purse, is available in a variety of hues, including a special light-up variant designed in collaboration with Gantri, a renowned plant-based 3D printing company. The collection of eyewear includes Wireless Glasses with the new logo in silver hardware, Sound Proof Glasses 3D printed with textures inspired by soundproof foam, and the iconic red LED Scooter Glasses. In collaboration with ESENES WORLDWIDE, Tombogo introduced the Dial-Up Derby, a classic wingtip derby shoe made with premium leather and featuring a dial lacing system and complementary lugged outsole.
Remaining committed to sustainability, the designer collaborated with the foremost innovator of circular materials, Ambercycle, to unveil a groundbreaking partnership with the debut of the first garment featuring circular polyester at Paris Fashion Week. This resulted in a gray technical, modular uniform and a gray convertible top, both of which were crafted with Ambercycle's exclusive cycora® regenerated canvas.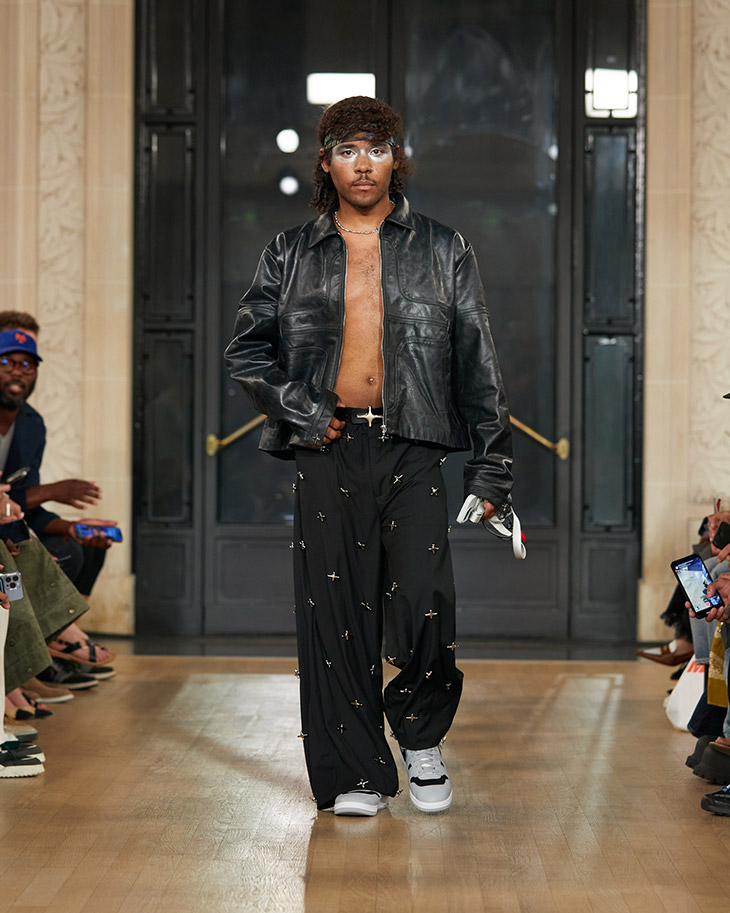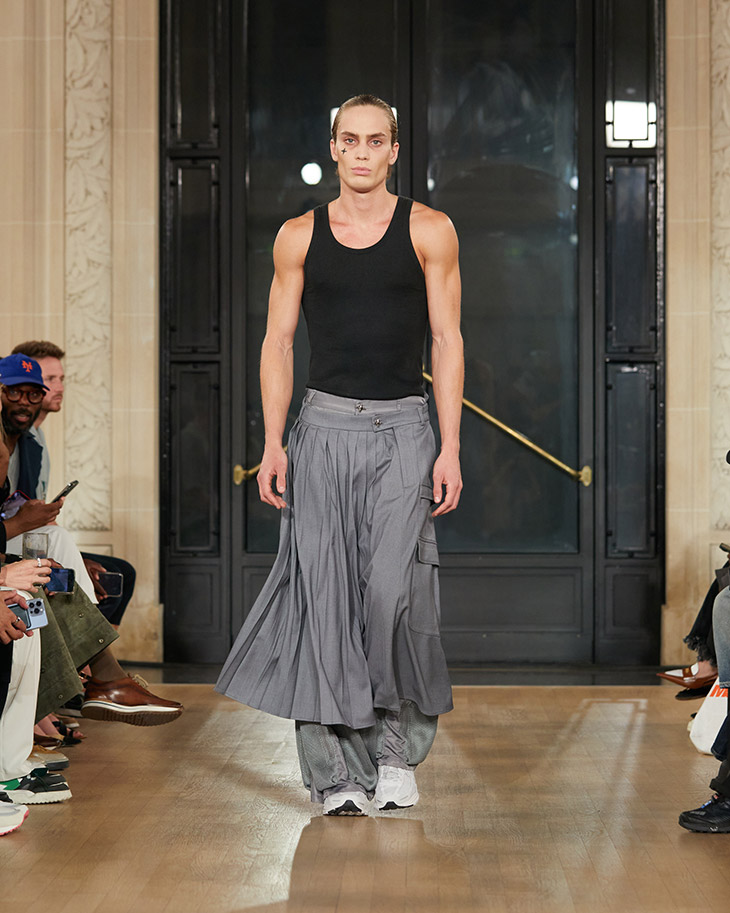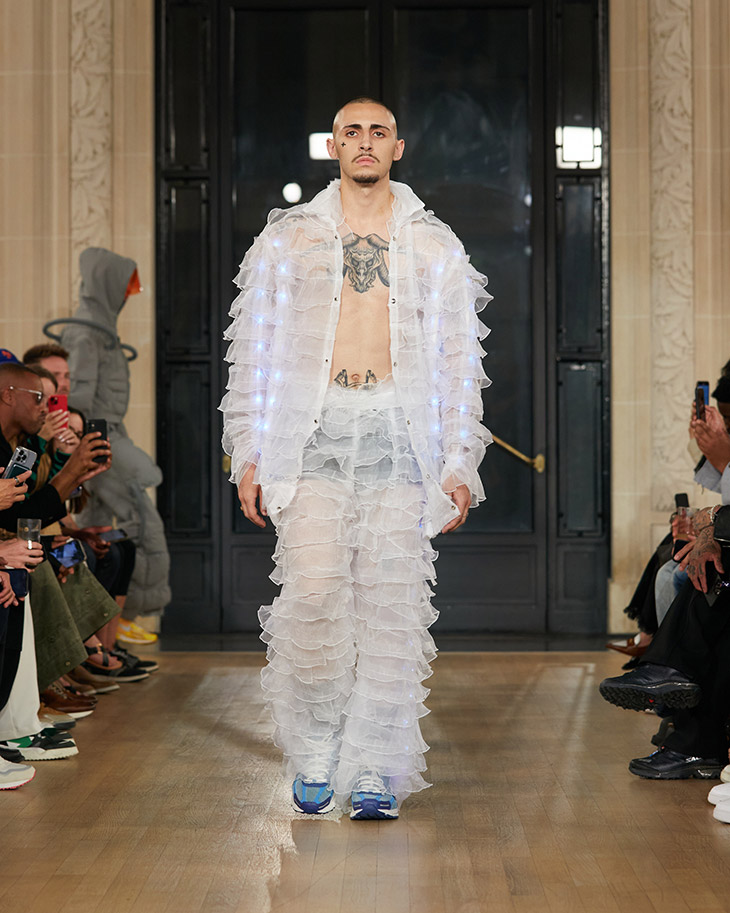 Tombogo also collaborated with the innovative lifestyle brand MOFT to create a line of tech accessories that combine functionality and style, remaining true to the commitment of both brands to functional and influential fashion. The MOFT x TOMBOGO collection is comprised of the Sling Case Set, the Snap-on Phone Stand & Wallet, and the Carry Sleeve, all of which feature Tombogo's new logo and silver colorway. This collection will be formally released on MOFT and Tombogo's official websites in July.
Tombogo collaborated with Nike to elevate the collection by styling a variety of Nike's newest Air Attack and Vomero silhouettes throughout the presentation.