Breakthtrough star KYLE HARRIS sits down after his New York shoot for an exclusive MMSCENE magazine with our Deputy Editor ANA MARKOVIC to talk about his work in theaters as well as TV shows, working on Stitchers, and upcoming roles.
Scroll down for more of our shoot with Kyle, as well as our exclusive interview:
How did you start acting? Was it a childhood dream or did it happen by chance?
I started acting my sophomore year of high school. I played Eugene in the school's production of Grease and thought I was hilarious. Not sure what the audience thought, but the confidence was clearly enough for me to make a new career path at 16. Which in hindsight is probably better than the original goal of becoming a professional soccer player. Dream big kids.
What was it like the first time you were on stage?
Nerve racking as hell. You can't see anything other than blinding lights so you're like, "Oh, this is great! I can't see anything, they must not be out there." Then you get your first real laugh and the rest is history.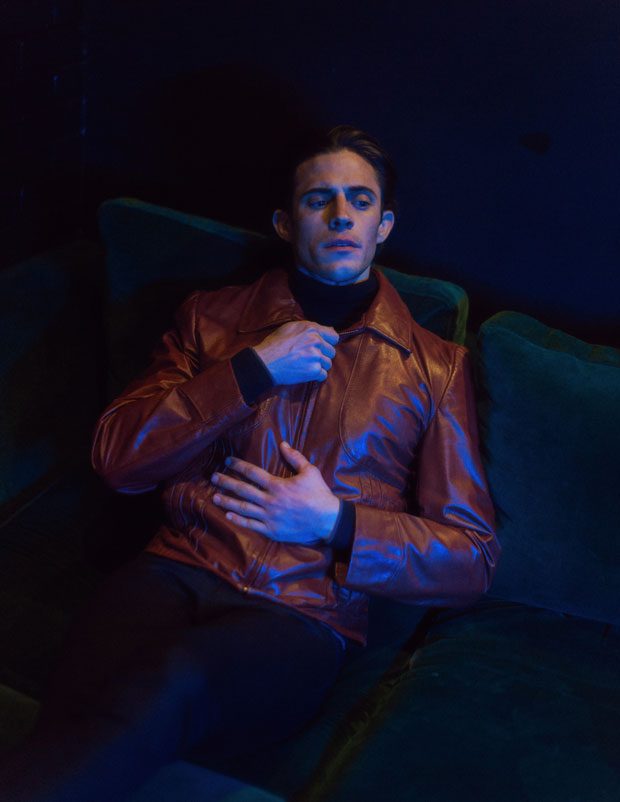 Has a life in showbiz been what you expected it would be?
I'm not sure I ever had real expectations. I've kinda been in this consistent state of Neverland in this business. It's had it's ups and downs, but I'm fortunate enough to be able to truly call myself an actor and I guess that's all I ever wanted out of it.
You've done theater, TV, and movies, what do you enjoy the most and why?
I enjoy myself more when I'm doing theatre. I enjoy my life more when I'm doing TV. Live theatre is so special. It's my first love. You have time to have a process. To truly create something. It's a team effort. And I'm such a team player. Maybe that's the athlete in me? However, television takes you to places you never thought you'd be and lets you do things you never thought you'd do. Crazy stunts or beautiful locations. And so, much, food. It's a longer day, and a machine that doesn't stop until the season's done, but there have been so many pinch me moments in my TV experiences that you just can't find in a theatre.
What does a character need to make a part interesting for you?
A sense of humor. And great hair.
How do you prepare? What are the first things that you do when you get a script?
I count all of my lines. And then determine what color highlighter I'm going to use. Kidding. I'll read the script and if you're lucky the work is already done for you on the page. Those are the ones you want. A lot of stuff I read these days is so up for interpretation and leaves the actor second guessing. It's a constant battle of determining whether or not you're being challenged because the material is rich and your character is deep or the lines are just fluff and meh, and you can't connect at all, but you still gotta make it work. That's the job.
How do you feel the night before your first day on set?
It depends what time I'm called the next morning. I'm always excited to go to set. I'm a big fan of a catered buffet breakfast, but also the energy. You get to meet so many people from different walks of life all coming together in front of and behind the camera to make something that so many people around the world are going to see. And because of the internet, it kinda lasts forever. No pressure.
Do your on-screen experiences ever get under your skin?
I'm always able to walk away and handle life vs. make believe. However, the only thing I have a hard time with is walking away knowing that whatever they shot that day is in the can and now it's someones job to hack it to bits and edit my performance however they want. Could be why actors have such a hard time watching themselves?
Was it hard playing Cameron Goodkin on Stitchers?
The hardest part about playing Cameron was memorizing the random neuroscience terms he'd throw out to his team. This guy is a boy genius and I bow down, but some of those lines still haunt me.
What did you learn from Cameron Goodkin?
That I'm not nearly as good of an interior decorator and to stand up for myself more. I'm still working on that part, but when it came to what he wanted, that guy would stop at close to nothing to get it.
What was your worst audition ever? And the best one?
Worst audition ever was probably my final callback for the Broadway Revival of Hair. I had a long strip of toilet paper hanging out of my jeans, down the back of my leg that the casting director informed me of before I started singing. Everyone in the room noticed and couldn't help but laugh. I crumpled it up and went to shoot it into the trash can and missed. That's why I do musical theatre and not basketball.
What kind of film shoots are the hardest?
The one's where you're covered in blood at 4:30 in the morning in the middle of the woods and you're falling asleep in between takes, looking like an actual dead body.
Any regrets about the roles you've turned down or the ones you accepted?
I'm flattered that you think I've had the opportunity to turn down work. There have been a small handful of things I've said "No thanks" to. In fact my agent at the time, suggested I turn down Stitchers. Three seasons later here I am. I would've missed a life changing experience. He is no longer my agent.
What kind of movies do you love and what kind of movies do you hate?
I love a good Pixar movie. Hate any movie I can't pause and go, "Wait-what's going on??"
What's the last TV show you binge watched? Your favorite TV show?
The last TV show I binged watched was actually Game of Thrones. I know, I know. I'm late to the game, but I made it. I'm here guy. It's also definitely one of my favorite TV shows next to Breaking Bad and Friday Night Lights.
Favorite actor/actress?
Grant Gustin & Stefanie Brown.
TV show or movie you would really like to be part of?
The Marvelous Mrs. Maisel or Game of Thrones. A long lost Stark brother perhaps?
What do you think about evergrowing obsession with fame?
You can't take it with you.
Whats next for Kyle Harris?
Dinner, but until then I'm currently waiting to hear the fate of two new TV pilots I'm attached to. God Friended Me on CBS and The Demons of Dorian Gunn on POP Tv.
Keep up with Kyle on Instagram and Twitter @kyleharris
Photographer Tatiphon Khun-on @tatiphon
Fashion Director & Stylist: Jenn Tachavichien @stylebyjaein
Makeup Nichakamol Setasathien @sandy_nicha
Hair Stylist Keisuke Chikamoto @chikahair66
Assistant Stylist Phapfun Watcharasombut @phapfun