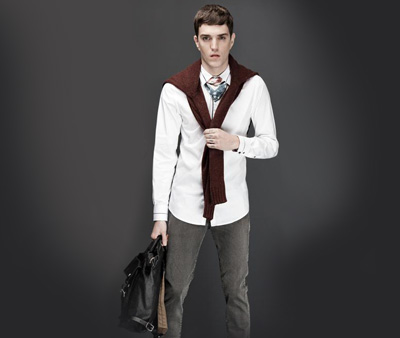 In this day and age analyzing the latest runway collections one can only conclude for most of us interest in menswear has gone back to basics. Slowly workwear has taken a completely new form, even if it is not coming from the most coveted fashion stores certainly it is no longer worn as mere utility. Fashion has taken it's sartorial standards nowadays even to pubs and gigs.
If you ask men interested in fashion (please mind we are excluding the fashion victims) you'll find out they are not interested in becoming a trendsetter or fashionable. Instead, they just want to be stylish. Thinking in that direction leads us to conclusion men are actually most interested in clothes for every occasion?
In the best possible way the ideal look should not yell, and if you know how to select it should even say: "I'll be around for 100 more years". That boils down to the search of that one investment pieces. Comforting to the idea fashion has gone to celebrating both heritage and classicism. Fans of American fashion may point you in a very preppy direction. However modern day's stylish attire comes as much more assured, far less showy, and when it's done right the wearer exudes that hard to find special nonchalance. So instead of the simple preppy, by putting in some thought and effort you should get something more than just preppy's grown up brother.
Going back for only a few yours, by simply searching through the archives of internet's testmaking getaways, anyone with even slight interest in fashion will notice the undeniable shift in attitude. But beware, search for that confident attire can result into a life long affair with style.