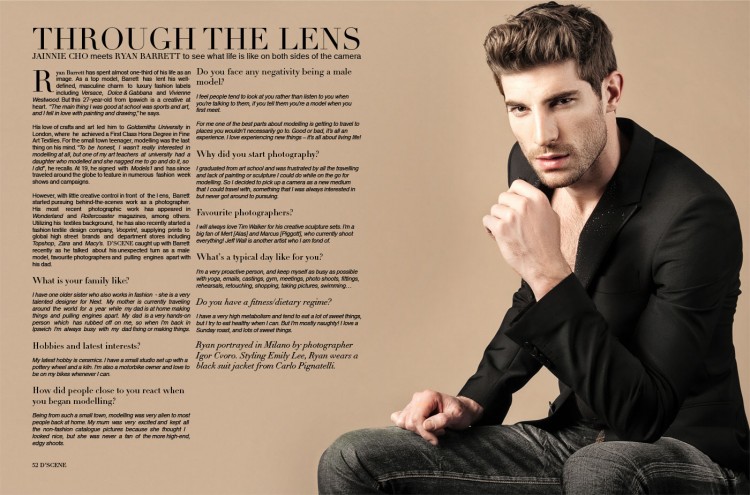 Ryan Barrett has spent almost one-third of his life as an image. As a top model, Barrett has lent his well-defined, masculine charm to luxury fashion labels including Versace, Dolce & Gabbana and Vivienne Westwood. But this 27-year-old from Ipswich is a creative at heart. "The main thing I was good at school was sports and art, and I fell in love with painting and drawing," he says.
His love of crafts and art led him to Goldsmiths University in London, where he achieved a First Class Hons Degree in Fine Art Textiles. For the small town teenager, modelling was the last thing on his mind. "To be honest, I wasn't really interested in modelling at all, but one of my art teachers at university had a daughter who modelled and she nagged me to go and do it, so I did", he recalls. At 19, he signed with Models1 and has since traveled around the globe to feature in numerous fashion week shows and campaigns.
RYAN WAS PHOTOGRAPHED FOR D'SCENE MAGAZINE IN MILANO, WHERE HE's REPRESENTED BY I LOVE MODELS. FOR MORE OF THE INTERVIEW AND PREVIOUSLY UNSEEN EXCLUSIVE PHOTOS CONTINUE BELOW.
However, with little creative control in front of the lens, Barrett started pursuing behind-the-scenes work as a photographer. His most recent photographic work has appeared in Wonderland and Rollercoaster magazines, among others. Utilizing his textiles background, he has also recently started a fashion textile design company, Vooprint, supplying prints to global high street brands and department stores including Topshop, Zara and Macy's. D'SCENE MAGAZINE caught up with Barrett recently as he talked about his unexpected turn as a male model, favourite photographers and pulling engines apart with his dad.
Q: What is your family like?
A: I have one older sister who also works in fashion – she is a very talented designer for Next. My mother is currently traveling around the world for a year while my dad is at home making things and pulling engines apart. My dad is a very hands-on person which has rubbed off on me, so when I'm back in Ipswich I'm always busy with my dad fixing or making things.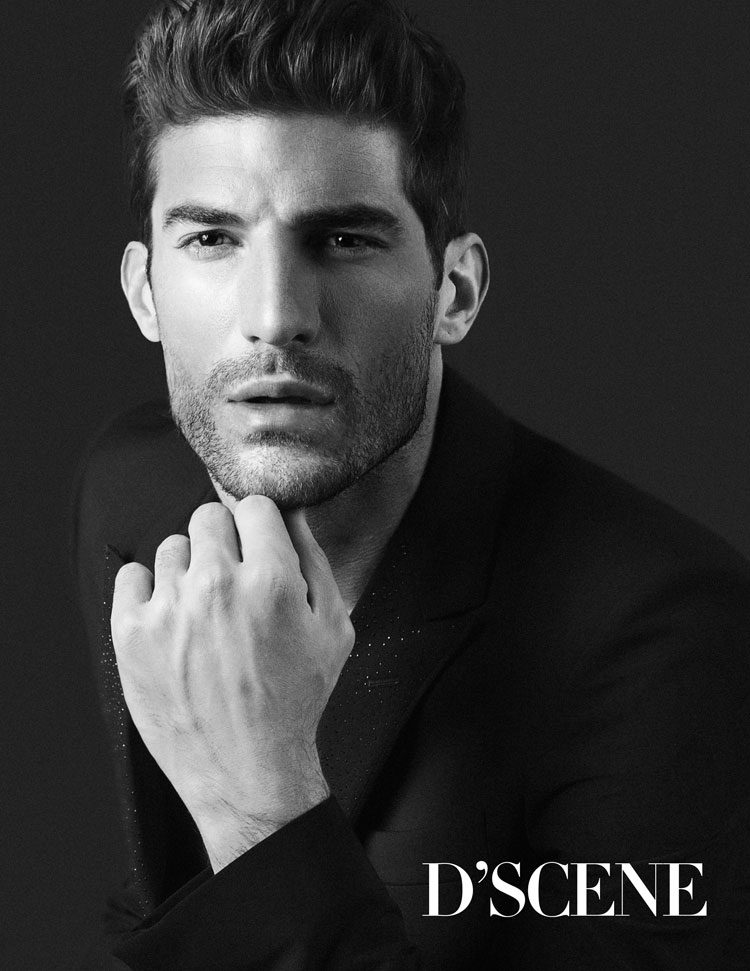 Q: Hobbies and latest interests?
A: My latest hobby is ceramics. I have a small studio set up with a pottery wheel and a kiln. I'm also a motorbike owner and love to be on my bikes whenever I can.
Q: How did people close to you react when you began modelling?
A: Being from such a small town, modelling was very alien to most people back at home. My mum was very excited and kept all the non-fashion catalogue pictures because she thought I looked nice, but she was never a fan of the more high-end, edgy shoots.
Q: Do you face any negativity being a male model?
A: I feel people tend to look at you rather than listen to you when you're talking to them, if you tell them you're a model when you first meet.
For me one of the best parts about modelling is getting to travel to places you wouldn't necessarily go to. Good or bad, it's all an experience. I love experiencing new things – it's all about living life!
Q: Why did you start photography?
A: I graduated from art school and was frustrated by all the travelling and lack of painting or sculpture I could do while on the go for modelling. So I decided to pick up a camera as a new medium that I could travel with, something that I was always interested in but never got around to pursuing.
( For Ryan's photography log on to www.ryanthomasbarrett.com)
Q: Favourite photographers?
A: I will always love Tim Walker for his creative sculpture sets. I'm a big fan of Mert [Alas] and Marcus [Piggott], who currently shoot everything! Jeff Wall is another artist who I am fond of.
Get our launch issue in PRINT or DIGITAL ($1.99)
Q: What's a typical day like for you?
A: I'm a very proactive person, and keep myself as busy as possible with yoga, emails, castings, gym, meetings, photo shoots, fittings, rehearsals, retouching, shopping, taking pictures, swimming…
Q: Do you have a fitness/dietary regime?
A: I have a very high metabolism and tend to eat a lot of sweet things, but I try to eat healthy when I can. But I'm mostly naughty! I love a Sunday roast, and lots of sweet things.
Photography Igor Cvoro
Styling by Emily Lee
Ryan wears a black suit jacket from Carlo Pignatelli
Interview by JAINNIE CHO