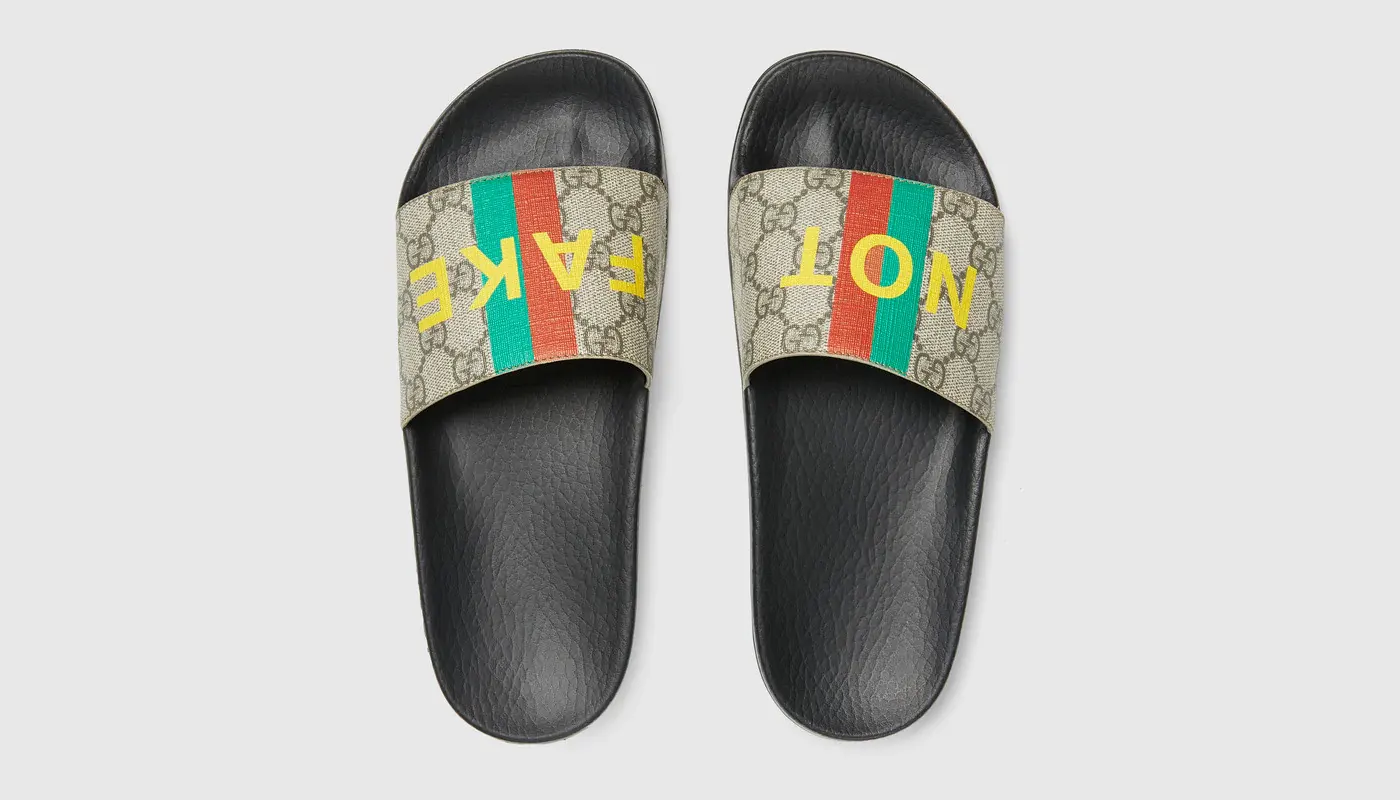 With the arrival of warmer weather, it's time to start considering replacing your daily sneaker rotation with stylish slides, which are the most comfortable shoe design, especially in this heat. Not only do they make for more fashionable shoes you've been sulking in all winter, but they are also now regarded as one of the coolest footwear options available.
Slides may have started out as a straightforward pool, beach, and shower shoe, but they have developed into much more. In just a few short years, slides have gone from being the shoe of choice worn by frat boys to a stylish everyday shoe.
There is no bother or blistering when you put them on and take them off. However, they go beyond mere functionality. The variety of designs that are now offered is intended to freshen up your appearance as well.
And what could possibly be better than wearing a pair of the comfiest shoes available? When they are Gucci. Whether you're looking for a fresh pair of summer slides for yourself or to gift your significant other, Gucci offers a huge variety of options this season, regardless of your style. Also, their slides are really rather affordable, in contrast to much of Gucci's other footwear and their exorbitant ready-to-wear collections.
Here are the top 5 Gucci slides to wear this summer, which range from poolside classics to understated upgrades you can wear with a suit.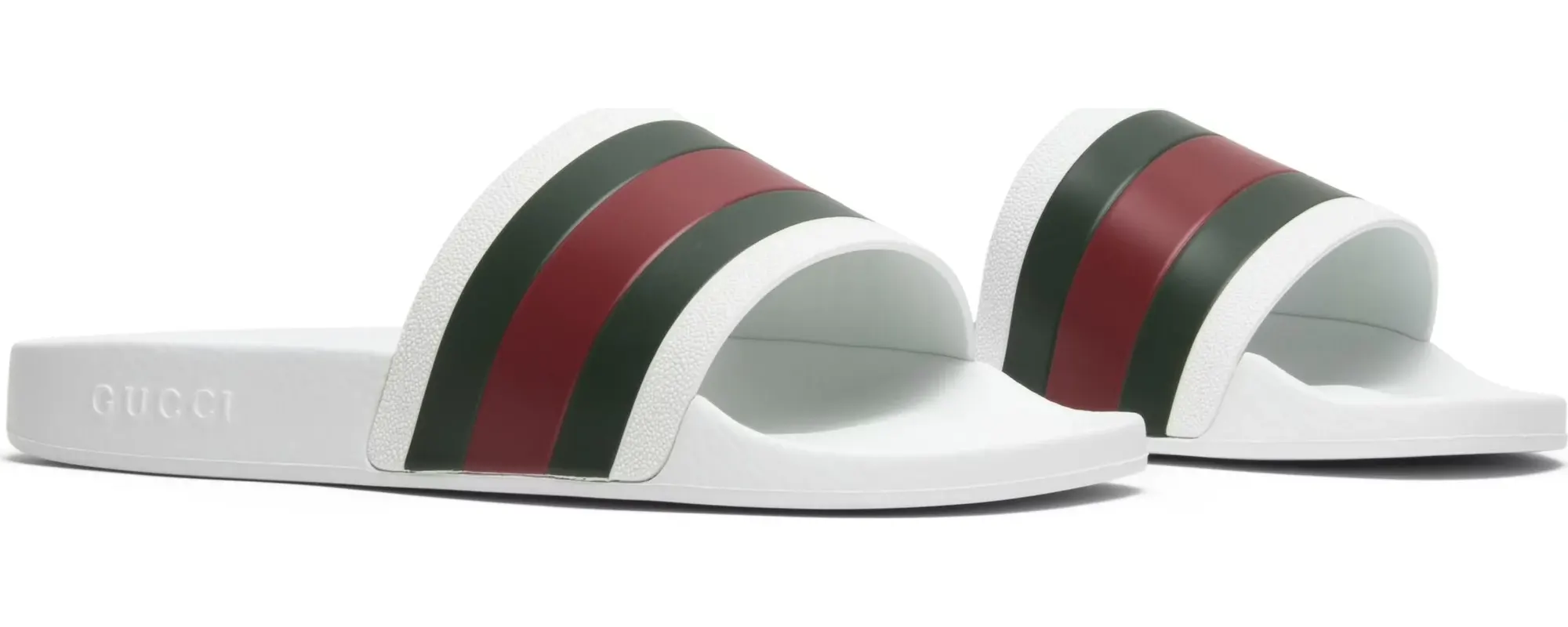 Gucci Pursuit '72 Rubber Slide 'White
Let's start off with a classic. The Pursuit '72 Slide embodies the brand's notion of relaxed luxury. This elegant white sandal puts twist on the classic design. These slides include an EVA outsole that is lightweight and comfortable, a rubber footbed that cradles your feet with soothing cushioning, and the brand's characteristic three stripes on the bandage-style upper. Gucci's striking green and red Web shines up against a coordinating textured rubber strap. Gucci branding can be seen on the top and sides.
Gucci's famous red and green Web stripe, which was originally inspired by historic saddle straps and is now redone across the arch strap of these white slides. They are made in Italy with a white rubber track sole and matching lacquered edges. Additionally, they are lightweight and easy to clean.
Gucci GG Supreme Slide 'Fake/Not'
These statement Gucci Fake/Not GG Supreme slides have been made in Italy from canvas and rubber with little environmental effect. They have an open toe, feature Gucci's signature stripe in green and red, and molded rubber footbed. They feature an EVA outsole that is lightweight and comfortable, and a Cloudfoam footbed that quickly dries and gently cushions your feet. These versatile slides can easily be dressed up od down for wearing around the house, the pool or at the beach.

Gucci Wmns GG Slide Rubber 'Pink'
These slip-on rubber slides are excellent for relaxing at the pool after a dip as a little water won't damage them. A development of the original 1930s style, the slides are adorned with interlocking GG cutouts, adding to the nostalgia permeating the Pre-Fall 2019 collection. They include molded footbeds for additional comfort and are made of strong baby-pink rubber.
Discover additional Gucci Slides at GOAT.
Gucci Wmns GG Marmount Slide 'Black'
A slide sandal for the logomaniacs : The GG logo, which debuted in the 1970s and evolved from the original Gucci rhombi design from the 1930s, has since become a recognized representation of Gucci's heritage. These black matelassé leather slides are one example of how the classic theme changes each season with fresh interpretations and twists.
The GG Marmont Slides are made of full grain leather with and come with a chevron quilting, plaque bearing the GG logo in gold tone with an antique finish, a rubber sole made to seem like faux leather, and a moudled insole.
Disney x Gucci GG Slide 'Mickey Mouse'
This popular piece from the Disney x Gucci capsule collection for 2020, which pays tribute to Mickey and Minnie Mouse, the parents of the Disney family of characters. The slides feature Disney's most popular character reimagined into colorful prints for a modern, luxurious design. These make a statement without a doubt. Due to their great demand, you will either need to wait until the next restock or look on resale websites like GOAT or at retailers like Farfetch. Shop additional Disney x Gucci sneakers and apparel here.