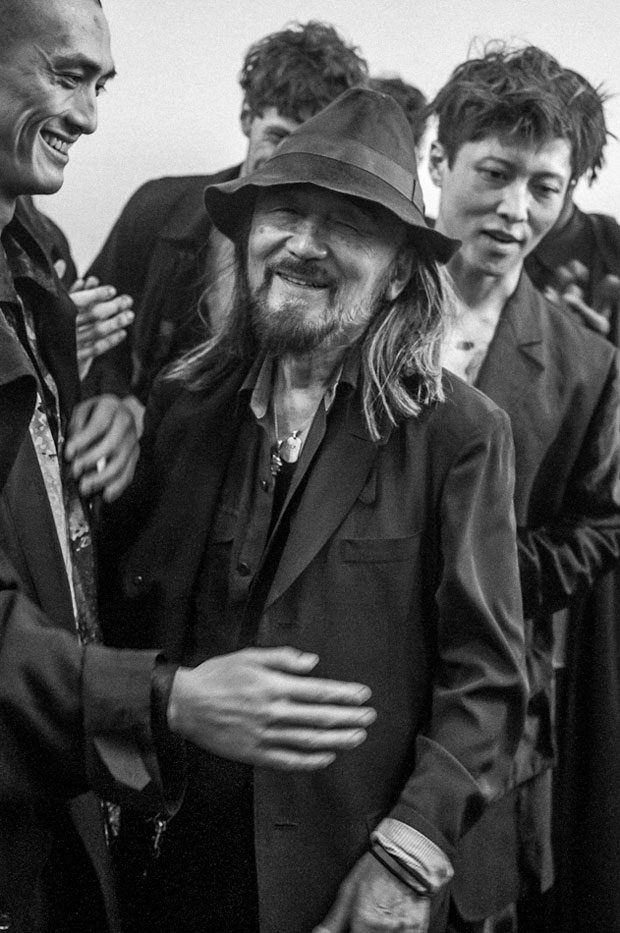 Only a handful of designers can say they withstood the test of time by remaining current while at the same time prolific, that is exactly how you can describe Yohji Yamamoto. Yet there's hardly a designer such as him on the scene who found a way to thrive through the commercial demands of the fashion industry while maintaining his personal identity. Mr. Yamamoto started his career almost four decades ago, now at the helm of what is a true fashion empire branching out into collaborations and lucrative partnerships. Such is the internationally successful Y-3 business move with Adidas, something hardly a son of a humble war widow and tailoring shop owner could have ever dreamed of.
Read more after the jump: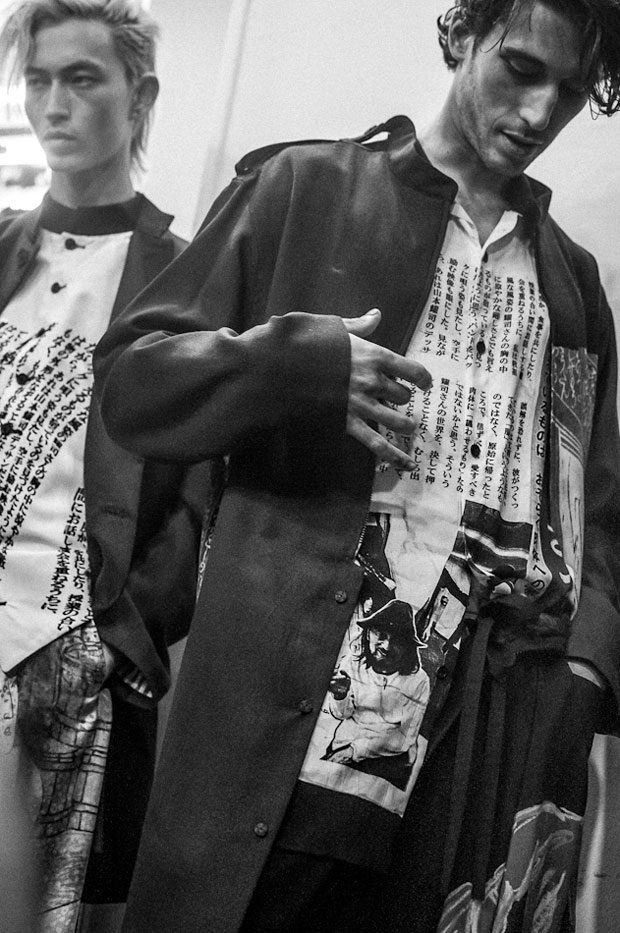 YOHJI's BEGINNINGS
Yamamoto's mother never planned for him to become designer, if anything  she was hoping her son who studied law at the Keio University and got a degree would start a legal career right after graduating. However, after the graduation Yohji left Japan to explore the world, and has traveled to Europe. Upon his return to Japan he decided not to practice law, and instead asked his mother to help at the shop. His first tailoring skills he acquired from his mother who if anything wanted a completely different path for young Yohji. Still after learning basic tailoring at his mother's request he entered the Bunka Fashion College where he got a fashion degree in 1969. Speaking of his mother and his undying personal drive in his interview with British newspaper Independent, back in 2010 the designer shared: "It's fate. I was born the only son of a war widow and my anger started from that moment. When I was three years old, four years old, I knew already that life must be very tough. I had to fight. I had to protect my mother."
Soon after graduating he received a prize to go to Paris for a year, a moment destined to enroll his new life path. With his experience in Paris it was on his return to Japan where he established his very own design vision but it also sparked the beginning of his business adventure. For Yamamoto it started by setting up a small ready to wear house which thanks to it's unique appeal attracted local Japanese buyers. With the success in his homeland and good sales in major Japanese cities as well as the new experience he was ready to go back to Paris. That is where in 1981 he presented his collection followed by opening of his fist Parisian shop. "I decided, maybe in Europe, in Paris there could be a strange person who could like my strange outfit. Maybe I'll open my small shop in Paris. It was 36-7 years ago when I went to Paris to open a very small shop. Then I did a shop opening fashion show. To my big shock many buyers rushed to my shop. Not journalist, buyers! People who own their own shops." shared the designer in his recent Oxford Union address.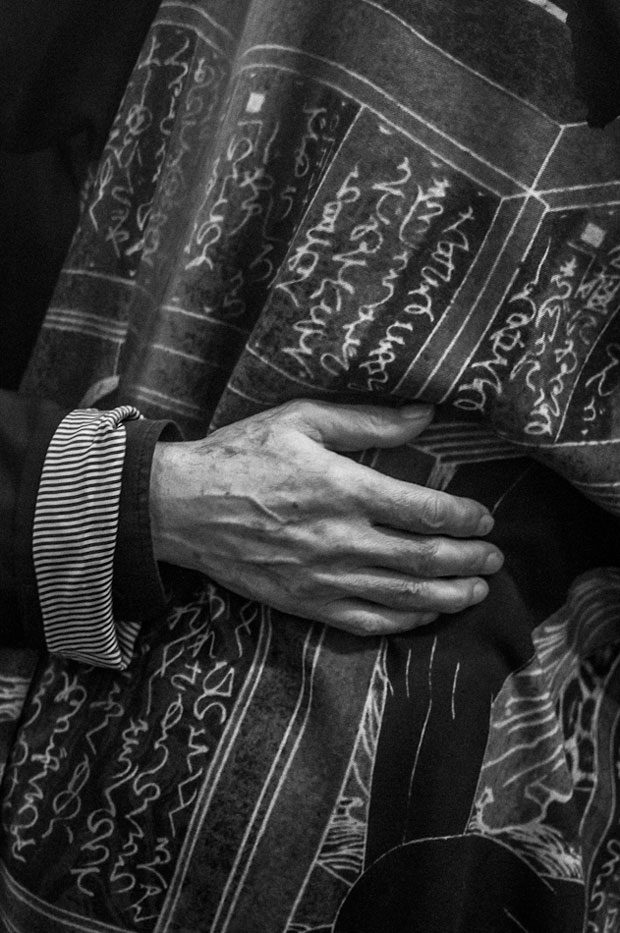 Today Yamamoto name is connected to a true fashion empire, with Yohji Yamamoto and Y's as the house's two main lines there are also multiple collaborations continuously under development by the designer and his teams. Perhaps a best example of sportswear giant teaming up with a ready to wear fashion designer is the collaboration with Adidas nesting the ever popular Y-3. The collection started with Adidas asking Yamamoto to collaborate back in 2002. This sportswear line is a true predecessor and a note worthy example to the continuously appearing new collaboration lines and capsule collections. If anything this was one of the first collaborations on such a scale with a ready to wear designers and a sportswear company of such a scale. What made Y-3 successful is the will of Adidas to continuously respect the avant-garde sentiment brought to the table by the Japanese designer. Today the designer also works on collabs with other brands such as Hermes, Mandarina Duck as well as Mikimoto.
However, while not all in the unparalleled creativity of Mr Yamamoto, the fashion house ran into financial troubles in 2009  leading to multi million dollar debts. With a smart move of partnering with private equity firm Integral Corp and Yohji Yamamoto Inc the fashion house was saved. Today the sales are reporting impressive profits, and steady growth for the designer.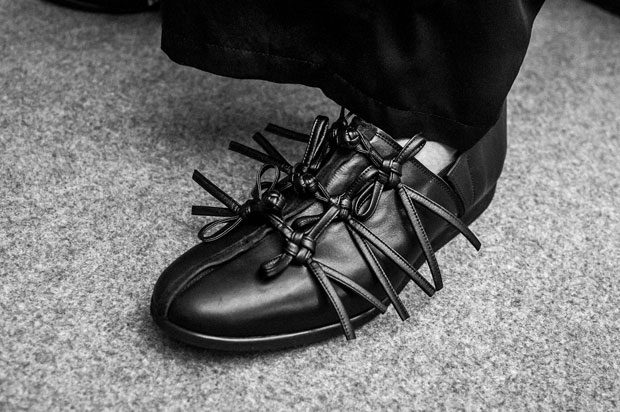 YAMAMOTO FASHION EMPIRE TODAY
Today Yamamoto is a regular on the Paris Fashion Week schedule, four times a year with his eponymous label 'Yohji Yamamoto' but also the Adidas backed sportswear line "Y-3". The new collections showing both in men's and women's Paris weeks while complete opposites easily carry the true signature of the designer. No doubt both shows are the hottest tickets in town.
Yamamoto brand as much as Japanese is after these three decades equally as Parisian. If anybody Yamamoto, Rei Kawakubo and Issey Miyake are no doubt the holly trinity of Japanese designer in Paris. All in their own right true game changers, who gave the Parisian fashion scenes a priceless sentiment of an international joie de vivre. "Having one fashion shop, you have to rent space. You have to pay for the sales people, you have to buy clothes, and you have to sell what you bought in Paris or Italy. Which means buyer's job was always live or die. It is so serious, so in the beginning buyers rushed to my shop. Jouranlist didn't care. Some of the journalist said after looking my outfits… the most terrible one was "Hiroshima!" Can you believe that?" shares Yamamoto with his Oxford Union audience "Dirty, broken. My most favourite critique was WWD. A big newspaper and one side there was a CDG outfit and on the other side my outfit, and they just crossed it out and underneath they wrote – "Sayonara". I loved it, didn't hate it, it was a total no thanks, but that kind of a criticism coming as a joke is nice. Then 10 years after my fashion shows, people started calling me Maestro! What? I was making dirty outfits. Coming from the spirit of anti-fashion."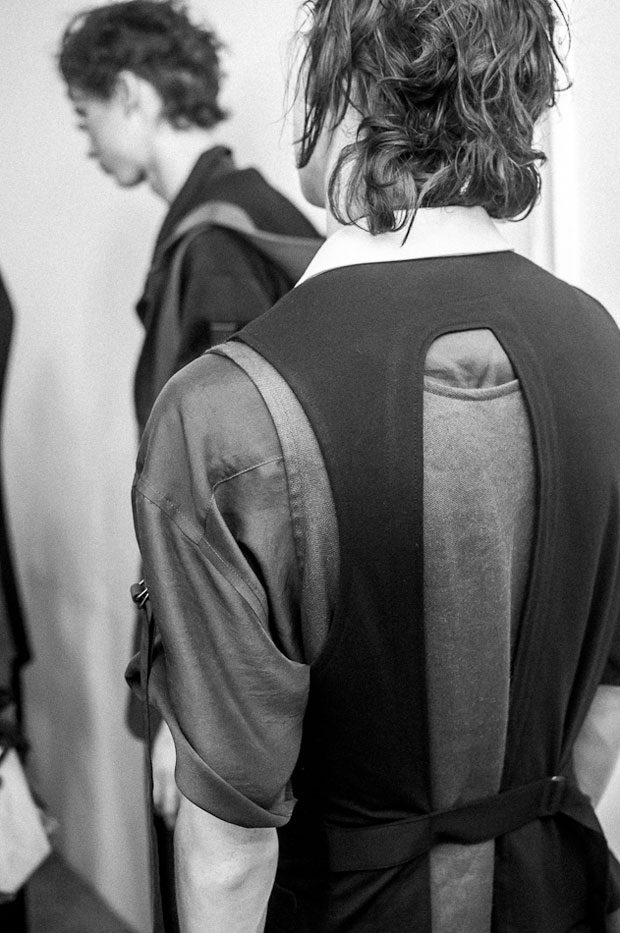 To this day this anti-fashion spirit running through the veins of everything Yamamoto is what kept the brand alive. Naturally the fashion house and the designer while celebrating the love for 'all black" did find a way to reinvent season after season.
Yamamoto's designs certainly did not reshape the fashion scene or the world, but have no doubt changed the way many of us look. His unparalleled influence is ever present, no matter what his love for everything 'anti-fashion' remains a true message of his every collection. Thus reminding the buyers who adore him, but also journalist who love criticizing him he is still present. Yes of course, classic tailored pieces do exist in every of Yohji's collection but there is always a new dose of creativity set to inspire us with every collection. The inspiration which follows no trends, just like Yamamoto himself who has never followed fashion or trends.
All images captured exclusive for MMSCENE Magazine by Benoit Auguste at Yamamoto's Spring Summer 2019 Paris menswear show. Originally published in MMSCENE Magazine August 2018 issue – available in print & digital.
Words by Katarina Djoric.