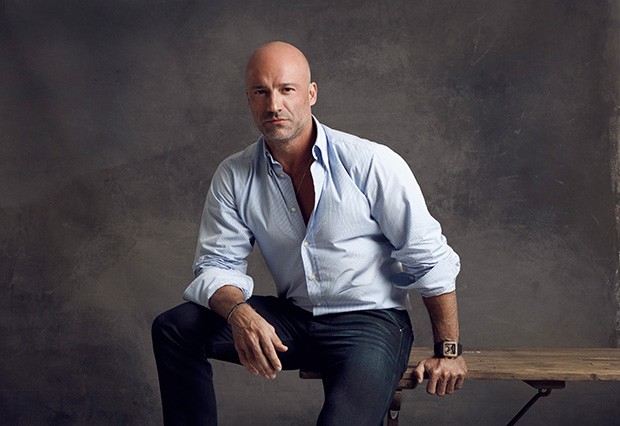 For the June edition of MMSCENE magazine our editor KATARINA DJORIC had the honour to sit down for an interview with EDUARDO SAYAS the CEO and Founder of Sight Management Studio in Barcelona.  With the rise of social media platforms finally giving models their supermodel status back Mr Sayas was the one to talk to about the changes silently yet swiftly charging through the industry.

SIGHT is today one of the leading modeling agencies not only in Spain but globally, taking in account only its massive board representing who's who in the business every move by the agency is note worthy. We were lucky enough to have Eduardo share a few industry tips while talking models and trends.  (image by Edu Garcia)
Read more after the jump:
When and how did you get interested in the modelling industry?
I started working as a model when I was quite young. I soon realized that I could do much more working as booker and I moved to Paris to start working for one of the best agencies there. It was a great experience and I managed to meet other young bookers and started creating my international network.
How did you discover that you have an "eye" for selecting models?
After getting some experience in the industry I discovered there was a gap in the business. Fashion brands started to invest more in the male collections and so the interest in male models started to develop. I moved back to my home town of Barcelona and started creating my own men's board for another agency. Many of the models I created at that time have followed me during my entire career and are still working with me. After many years of focusing myself in the male fashion industry I decided to amplify my path and open my own agency to also start working in the female market. It's been hard work but I'm proud to say that my agency is representing some of the most successful models worldwide in both the male and the female market, as well as developing the career of many promising new faces from Spain.
What is the first thing you notice in a future model?
Which markets he or she would work well in, which brands and photographers would be interested in the model and how to build up their career.
Next to that we look at whether they are ready or not, what they can handle, what might have to wait a bit more until they have some more experience and so on. Those choices are critical in a model's career. They are generally still teenagers when they start their career in which they are their own business. Every step has to be thought about carefully and we have to make sure that the timing is right, both for them as well as which clients to propose them for.
A photo posted by IRENE LORA (@irenelorab) on
What would you say sets apart Sight Management from other model agencies?
First of all the team of people working in my Agency; I have been able to build an excellent team who work as a family. We offer a very personal treatment to our models, proposing them to the most selected clients and magazines.
What are the qualities of a good fashion model?
 Of course it all starts with their look, which ideally would be very versatile. Someone that can look both classic and edgy, and can also play both parts well. The look is only the beginning though. How are they to work with? Will a client want to repeat them? It makes a big difference if a model is professional, pleasant to work with, and has a great personality.
SIGHT represents quite a few top models, for you what are the makings of a real top model?
Looks, takes good career decisions from the bookers, timing, luck, and having some influencing fashion people (eg. a brand or photographer) to believe in the model and give them a stage.
Models who do not have the classic beauty qualities are today very often working better on the market, however it very often lasts a few seasons only (we can all remember Zombie Boy phenomenon). What advice would you give to models experiencing such a rapid stardom?
Stay humble and know how to carry yourself, use this time of rapid stardom to build a long lasting career out of it. The trend will pass and you need to think of the next step if you don't want your spotlight to fade out.
Social Media plays today an important part in castings, basically creating a new rank of 'instagram models' who are signed by leading agencies. What's your stand on the trend?
Influencers give brands more reach, but it only works if the model's image is consistent with that of the brand. The model still needs the same important career guidance as before. It all works together and is an extra element added to the brand's visibility.
Do you encourage models to engage in the social media race?
If they are into it and know how to carry themselves and create a solid image of themselves, then it can definitely help. But I will never push a model to do it. A big part of it is their personal lives too; it's a grey area in between personal and professional. We always give them advise on the implications of using social media for professional purposes and tell advise them on what to do and what not to do.
Speaking of beauty, body shape and skin colour have became an important part of the conversation, do you think the industry is more diverse now?
It is definitely more diverse, which is good, because it has opened up the markets for different and new types of models. Any model we take on is well taken care of and we make sure that they are healthy and feel good. Mental strength, professionalism and getting used to being your own company is a very important asset as well. From a booker's point of view that is what I am more concerned about, whatever their look is.
Why are female models still more influential than male models?
First of all, the market for female models is still bigger than for men. There have always been more brands for women to work for and marketing budgets of female brands are bigger than for men. So they have a bigger stage and are more visible everywhere. There is a shift in place though since the male fashion industry has been growing consistently. Another difference is that women tend to have more of a complete fashion icon image built around them, with brands potentially signing bigger contracts with them than just as the face of their campaign. With men this still occurs a lot less.
Who are the guys and girls on your new faces board on the way to becoming future top models?
Dimytri Lebedyev has already proved himself as one of the faces to look at, he has already walked for the best brands in the international fashion weeks.
Andrés Sanjuan looks very interesting and strong on camera. He is different and really stands out.
Irene Lora has a stunning face and ginger hair. I'm sure she has something big to do in the industry.
Evelyn Yañez also has a big future in fashion. She is a mix of Spanish and Brazilian genetic, giving her a perfect body and a very sensual look.
Where do you see the modelling industry in 10 years from today?
With the appearance of internet the industry made a big change. In my opinion, the power of social media will continue growing more and more over the years. Instagram is creating a new profile, the now so called influencer. I believe the boundaries we have now between celebrities, models or bloggers are going to disappear and models would work towards all the paths of the communication of brands.
Keep up with SIGHT MANAGEMENT STUDIO at sight-management.com and @sightmanagement