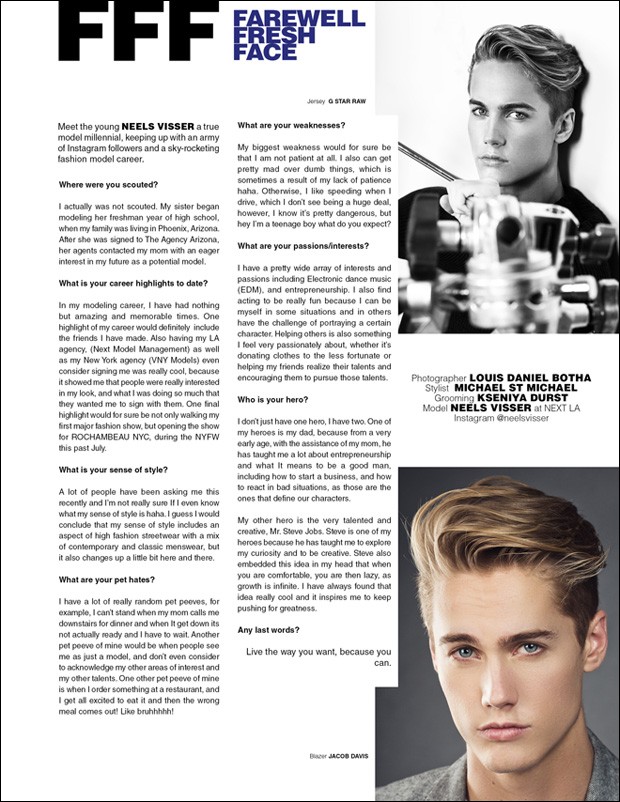 The promising up and comer Neels Visser is our D'SCENE Magazine's latest FRESH FACES FAREWELL – FFF photographed for the pages by Louis Daniel Botha. Neels who is represented by Next Models in LA and VNY Models in New York, also answered a few questions on our list.
Find more of the shoot and our chat with Neels below: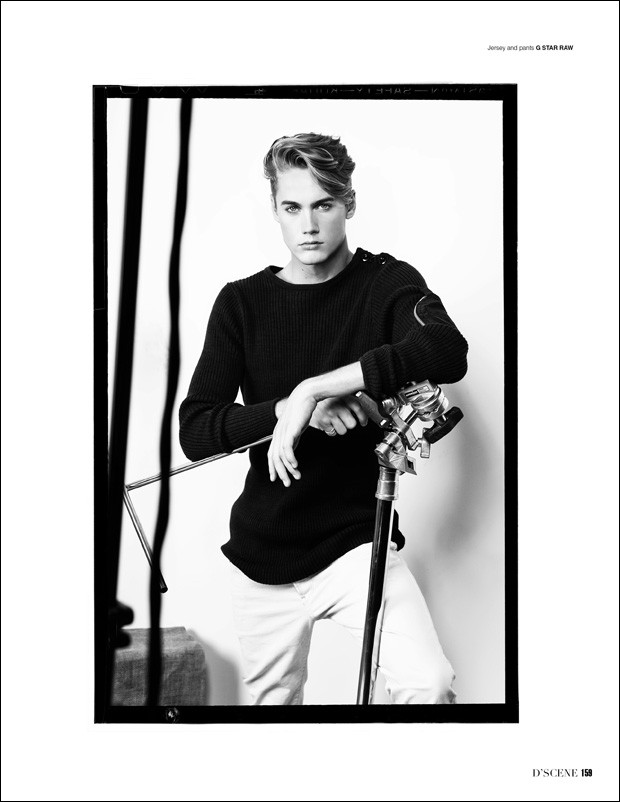 Where were you scouted?
I actually was not scouted. My sister began modeling her freshman year of high school, when my family was living in Phoenix, Arizona. After she was signed to The Agency Arizona, her agents contacted my mom with an eager interest in my future as a potential model.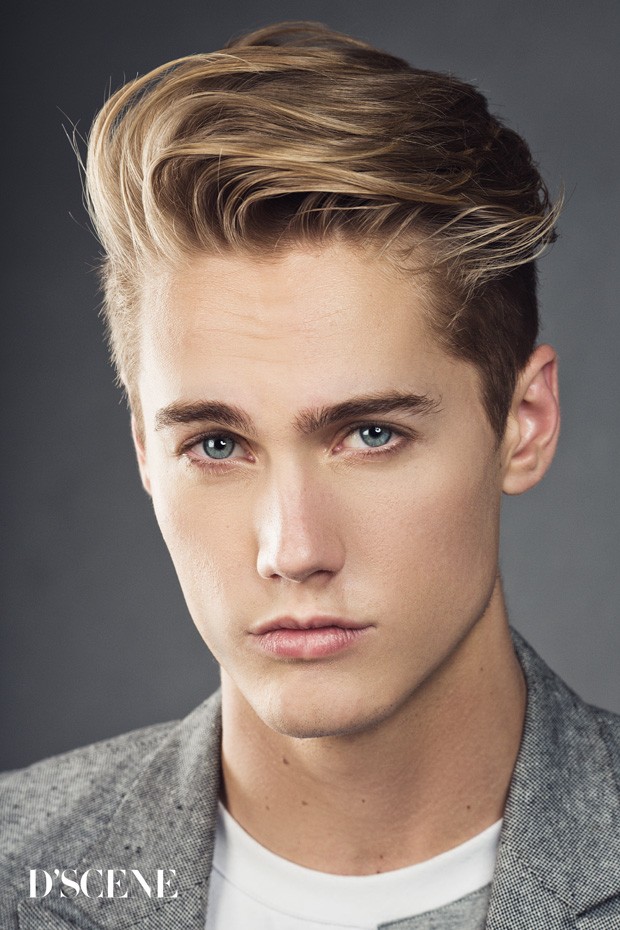 What is your career highlights to date?
In my modeling career, I have had nothing but amazing and memorable times. One highlight of my career would definitely include the friends I have made. Also having my LA agency, (Next Model Management) as well as my New York agency (VNY Models) even consider signing me was really cool, because it showed me that people were really interested in my look, and what I was doing so much that they wanted me to sign with them. One final highlight would for sure be not only walking my first major fashion show, but opening the show for ROCHAMBEAU NYC, during the NYFW this past July.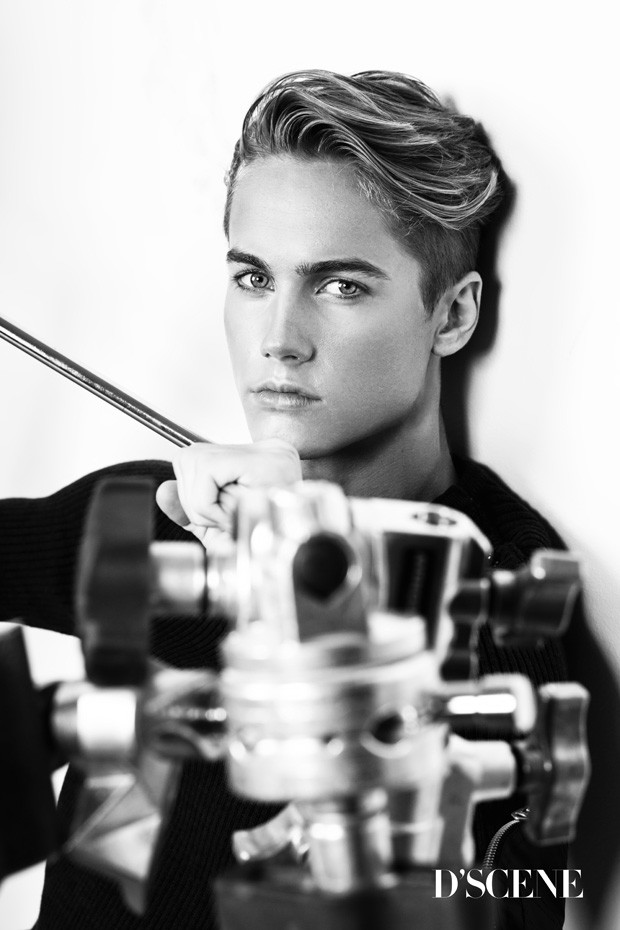 What is your sense of style?
A lot of people have been asking me this recently and I'm not really sure If I even know what my sense of style is haha. I guess I would conclude that my sense of style includes an aspect of high fashion streetwear with a mix of contemporary and classic menswear, but it also changes up a little bit here and there.
What are your pet hates?
I have a lot of really random pet peeves, for example, I can't stand when my mom calls me downstairs for dinner and when It get down its not actually ready and I have to wait. Another pet peeve of mine would be when people see me as just a model, and don't even consider to acknowledge my other areas of interest and my other talents. One other pet peeve of mine is when I order something at a restaurant, and I get all excited to eat it and then the wrong meal comes out! Like bruhhhhh!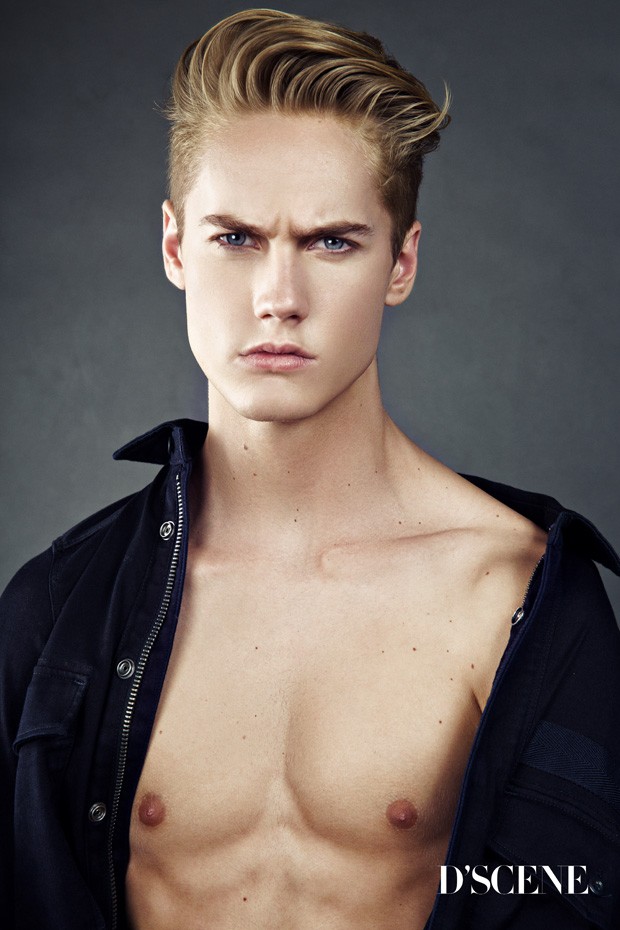 Wearing G-Star Raw Jacket
What are your weaknesses?
My biggest weakness would for sure be that I am not patient at all. I also can get pretty mad over dumb things, which is sometimes a result of my lack of patience haha. Otherwise, I like speeding when I drive, which I don't see being a huge deal, however, I know it's pretty dangerous, but hey I'm a teenage boy what do you expect?
What are your passions/interests?
I have a pretty wide array of interests and passions including Electronic dance music (EDM), and entrepreneurship. I also find acting to be really fun because I can be myself in some situations and in others have the challenge of portraying a certain character. Helping others is also something I feel very passionately about, whether it's donating clothes to the less fortunate or helping my friends realize their talents and encouraging them to pursue those talents.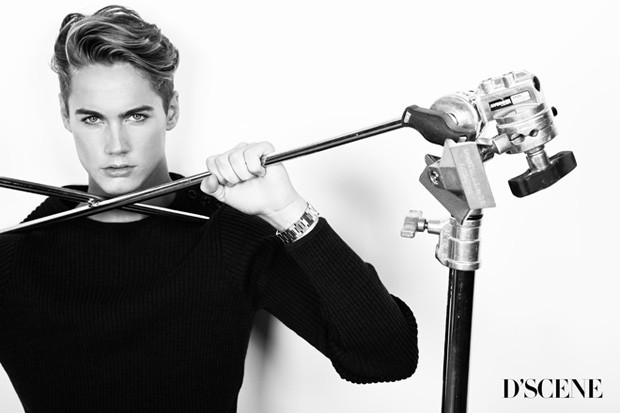 Wearing G-Star Raw Jacket and Cartier Watch
Who is your hero?
I don't just have one hero, I have two. One of my heroes is my dad, because from a very early age, with the assistance of my mom, he has taught me a lot about entrepreneurship and what It means to be a good man, including how to start a business, and how to react in bad situations, as those are the ones that define our characters.
My other hero is the very talented and creative, Mr. Steve Jobs. Steve is one of my heroes because he has taught me to explore my curiosity and to be creative. Steve also embedded this idea in my head that when you are comfortable, you are then lazy, as growth is infinite. I have always found that idea really cool and it inspires me to keep pushing for greatness.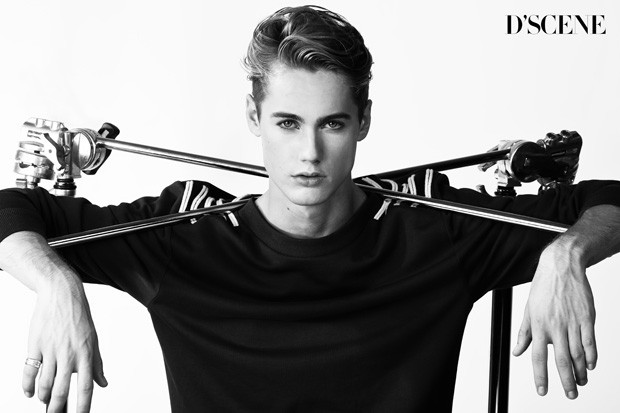 Wearing Jersey Jacob Holston
Any last words?
Live the way you want, because you can.
You can follow Neels on Instagram @neelsvisser as well as his YouTube channel.
Photography by Louis Daniel Botha – www.louisdanielbothaphotography.com
Styling by Michael st Michael
Grooming by Kseniya Durst
Model Neels Visser at NEXT LA