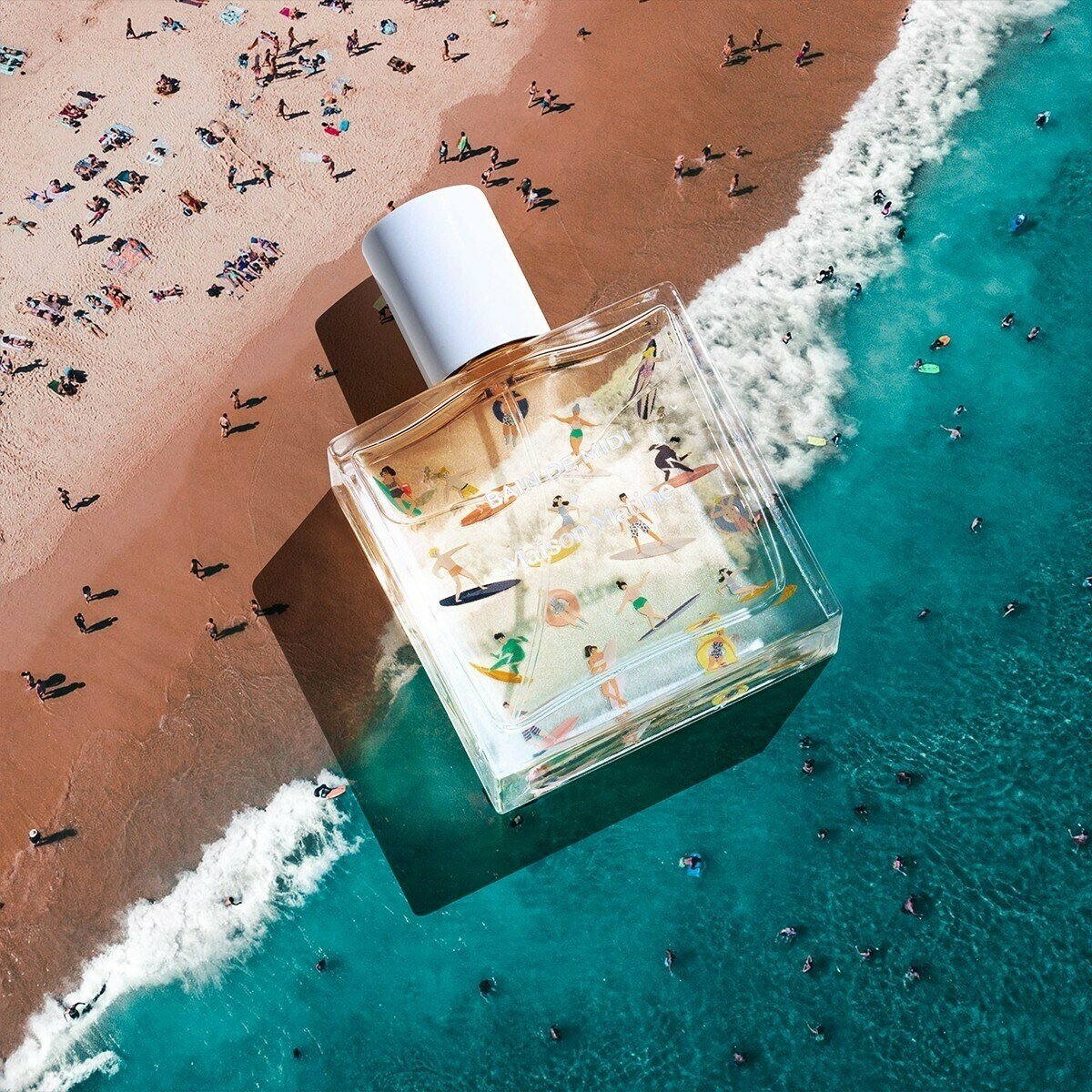 As the summer sun casts its warm embrace, the allure of the beach beckons. There's something magical about the sea breeze, the soft sand beneath your feet, and the radiant sunshine that makes summer holidays unforgettable. To fully immerse yourself in the essence of a tropical vacation, nothing complements the experience better than the right fragrance. Beach inspired fragrances capture the very essence of the seaside, evoking memories of carefree days spent under the sun and the salty sea breeze.
Coconut is a popular note in beach-inspired summer scents, if not the most popular. Its creamy and delicious aroma instantly transports you to a tropical oasis, evoking thoughts of swaying palm trees and sun-kissed shores. Although some coconut-forward fragrances have been criticized for smelling like sunscreen straight from the tube, many of them offer intricate olfactory blends of citruses, ylang-ylang, tiaré, salty marine, and other delightful notes, elevating the beachy scent with layers of complexity and sophistication. A vibrant burst of citrus notes energises and lightens the compositions, conjuring thoughts of freshly squeezed cocktails and the zest of citrus fruits under the hot sun. The note of tiaré flower adds a touch of exotic elegance, reminiscent of floral leis and the gentle breeze that carries the essence of the islands. Ylang ylang, with its heady and floral aroma, brings a sense of romance, capturing the essence of a dreamy sunset stroll along the water's edge.  Marine notes lend a salty, oceanic charm to the overall experience, wonderfully embodying the sense of coastal joy and adding a touch of aquatic fascination.
For those seeking to explore a diverse selection of beachy summer fragrances, Parfumdreams offers a wide array of options to satisfy every olfactory desire. Our editors have carefully reviewed an extensive selection of beach-inspired scents, skillfully curating a collection of the most exquisite fragrances, perfectly capturing the essence of the beachy allure, just in time for the holiday season.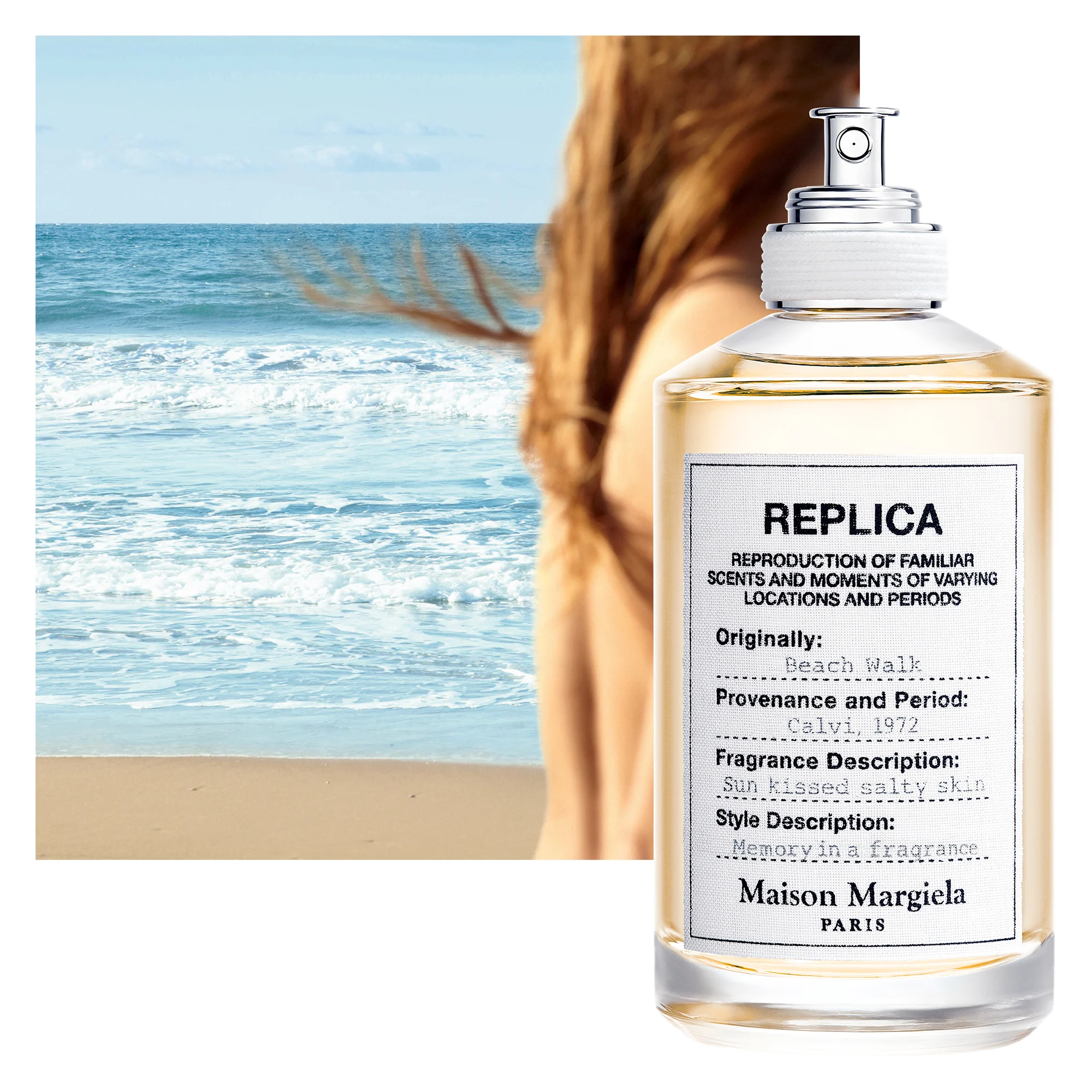 'REPLICA' Beach Walk Eau de Toilette by Maison Margiela
Maison Margiela's Beach Walk takes you on a nostalgic olfactory journey, recreating the sensation of strolling along a sandy shore with the sun gently caressing your skin. This fragrance encapsulates the carefree spirit of a beach vacation with its fresh and radiant character.  The fragrance opens with a fresh burst of bergamot and pink pepper playfully dance together, whisking your senses away to a world of sunny warmth and zest.
The heart unveils an exquisite blend of coconut milk and ylang-ylang. This harmonious fusion is like walking barefoot on warm sand, feeling the softness beneath your feet and the gentle caress of a balmy breeze. As the fragrance gracefully transitions to its base, earthy tones of cedar and musk emerge, grounding the composition with a sense of natural tranquility. Adding a final touch of allure, benzoin weaves its magic into the fragrance, leaving a subtle hint of cinnamon and vanilla-like warmth that lingers on the skin. With moderate longevity, the fragrance is ideal for daytime wear and casual summer gatherings.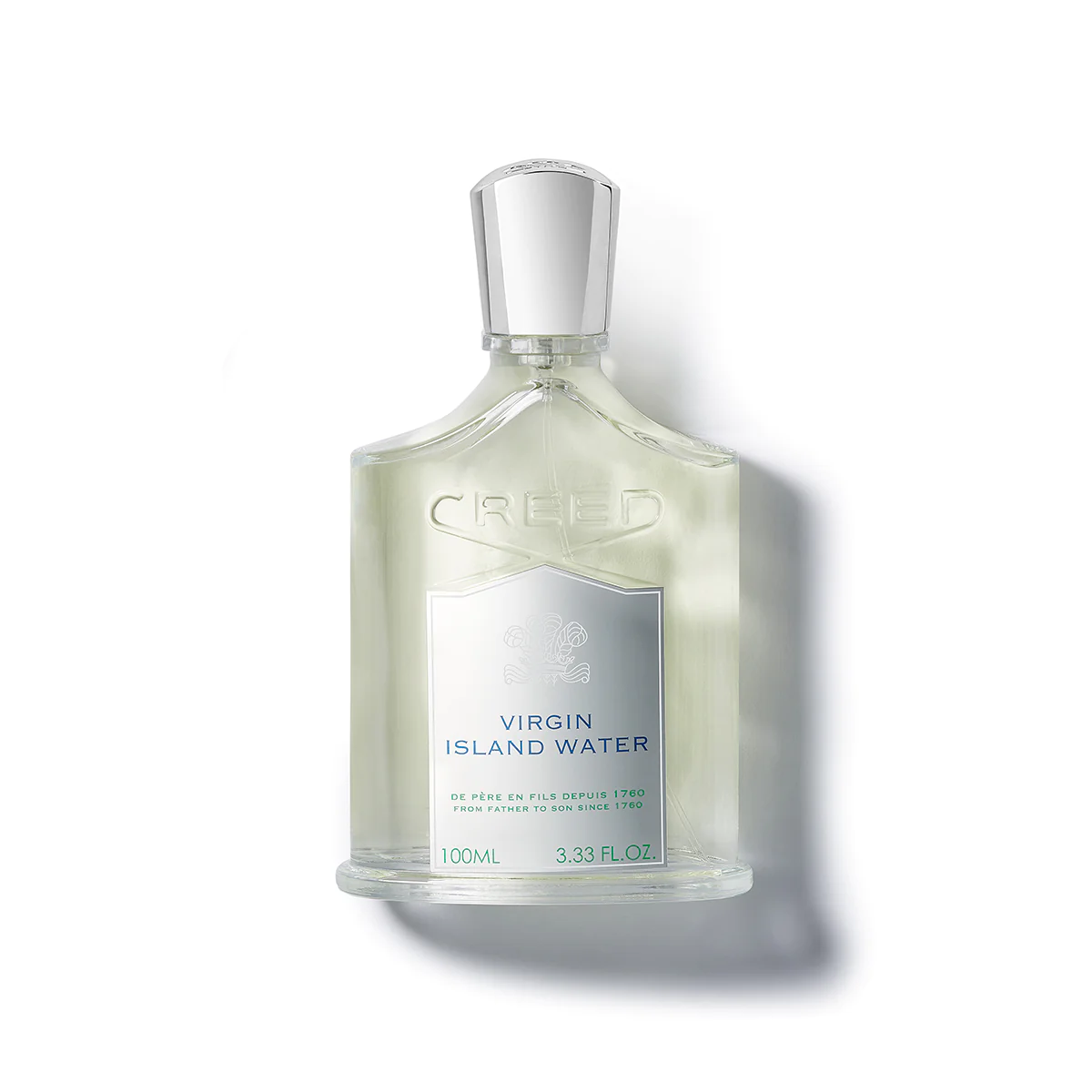 Virgin Island Water Eau de Parfum by Creed
Virgin Island Water is a delightful unisex scent that offers a captivating olfactory journey with its refreshing, sweet, and creamy accords. The opening notes of coconut, lime, and citrus fruits create a vibrant and invigorating experience.
As the fragrance develops, the addition of jasmine and green tones from ginger and hibiscus lends complexity and depth to the composition, complemented by the gentle ylang-ylang notes. The base notes of Caribbean white rum and sweet sugar cane infuse the fragrance with a creamy and warm character, while the Tonkin musk adds a subtle depth that makes the scent truly memorable.
The versatility of Virgin Island Water is one of its standout features. Its fresh and citrusy top notes make it a perfect companion for warm weather, ideal for outdoor events during summer or springtime days. Moreover, the aquatic undertones add a touch of sophistication that makes it suitable for both sporty activities and evening outings. It adapts beautifully to any setting, be it a formal business meeting or a casual night out with friends. It effortlessly adds a touch of energy and freshness to your daily life, making it a go-to fragrance for various occasions.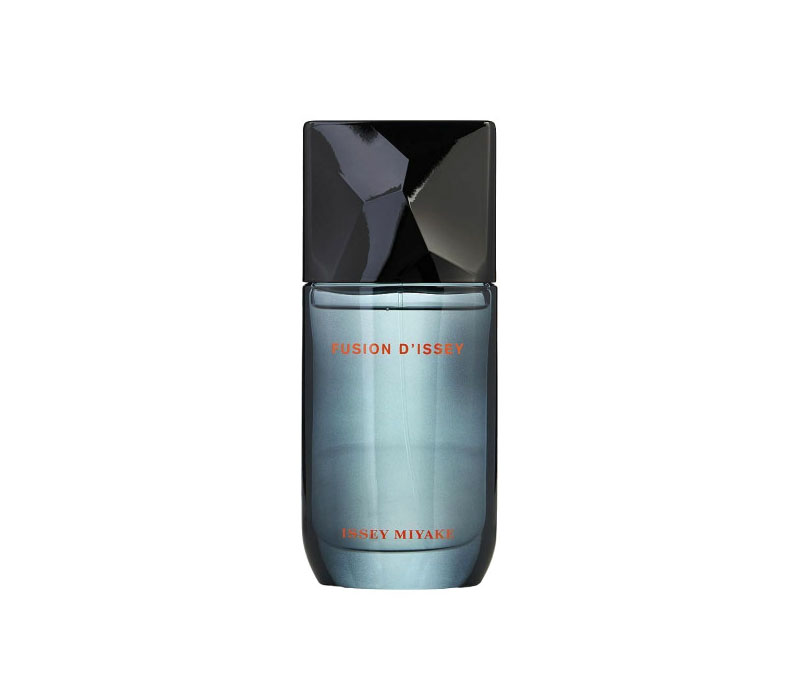 Fusion d'Issey Eau de Toilette by Issey Miyake
Issey Miyake's Fusion d'Issey captures the essence of the ocean with its unique aquatic and woody fusion. Inspired by the meeting of water and wood, this fragrance is a modern interpretation of a beach-inspired scent. It expertly blends lemon "primofiore" from Syracuse, Sicily, with a mineral and salty accord, giving it a fresh and distinctive opening. As the fragrance evolves, it introduces a creamy and milky facet of coconut water and fig nectar, expertly balanced to avoid excessive fruitiness.
The middle notes provide a compelling aromatic and slightly spicy accord, combining fragrant rosemary, eucalyptus, cardamom, geranium, and nutmeg, all contributing to the sunny and mineral-like character reminiscent of stones basking in the sun. The base brings forth a creamy sandalwood and earthy patchouli combination, along with the ingredient ambroxan, which adds a mineral and salty quality to the composition.
Throughout its development, Fusion d'Issey maintains its polished and clean profile, making it an excellent choice for warm weather, especially during the Spring and Summer seasons. It starts with a moderate sillage that garners compliments in the initial hour but eventually settles into a more intimate, skin scent with average longevity.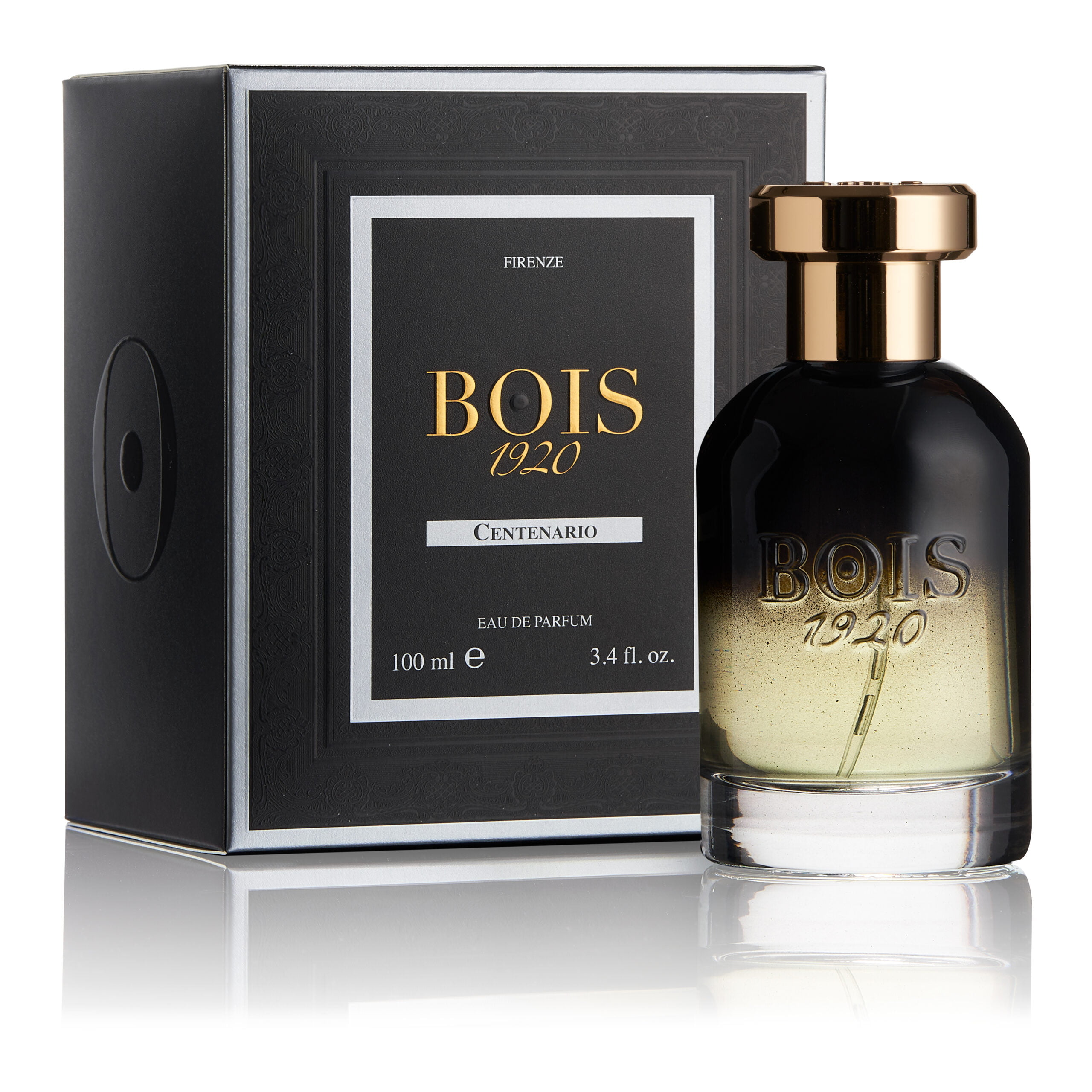 Centenario Eau de Parfum by Bois 1920
Centenario by Bois 1920 is a rich and tropical fragrance that captures the essence of an exotic island retreat. With its intoxicating blend of tropical fruits and lush florals, this scent embodies the opulence of a luxurious beach vacation. It opens with a wonderful coconut note that immediately refreshes and captivates the senses. However, it soon transitions to a sweet yet fresh bubble gum smell, which may not be everyone's preference. As the heart notes take over, the coconut scent resurfaces and blends harmoniously with iris and other top notes. The fragrance becomes sweetish but not overpowering, with a constant light freshness lingering in the background. The base notes are desert-like, light, and airy, providing a feel-good and good mood scent. While the coconut in the opening is definitely a crowd pleaser, in the base the fragrance starts to shine and becomes more interesting.
The scent lasts for around 7 hours, with a subtle presence that lingers even on clothes. Centenario is a fragrance that amplifies a positive mood, and as such is an ideal choice for celebratory occasions or when feeling cheerful.
In case you missed it: Check out our ultimate guide on the best men's fragrances for Summer 2023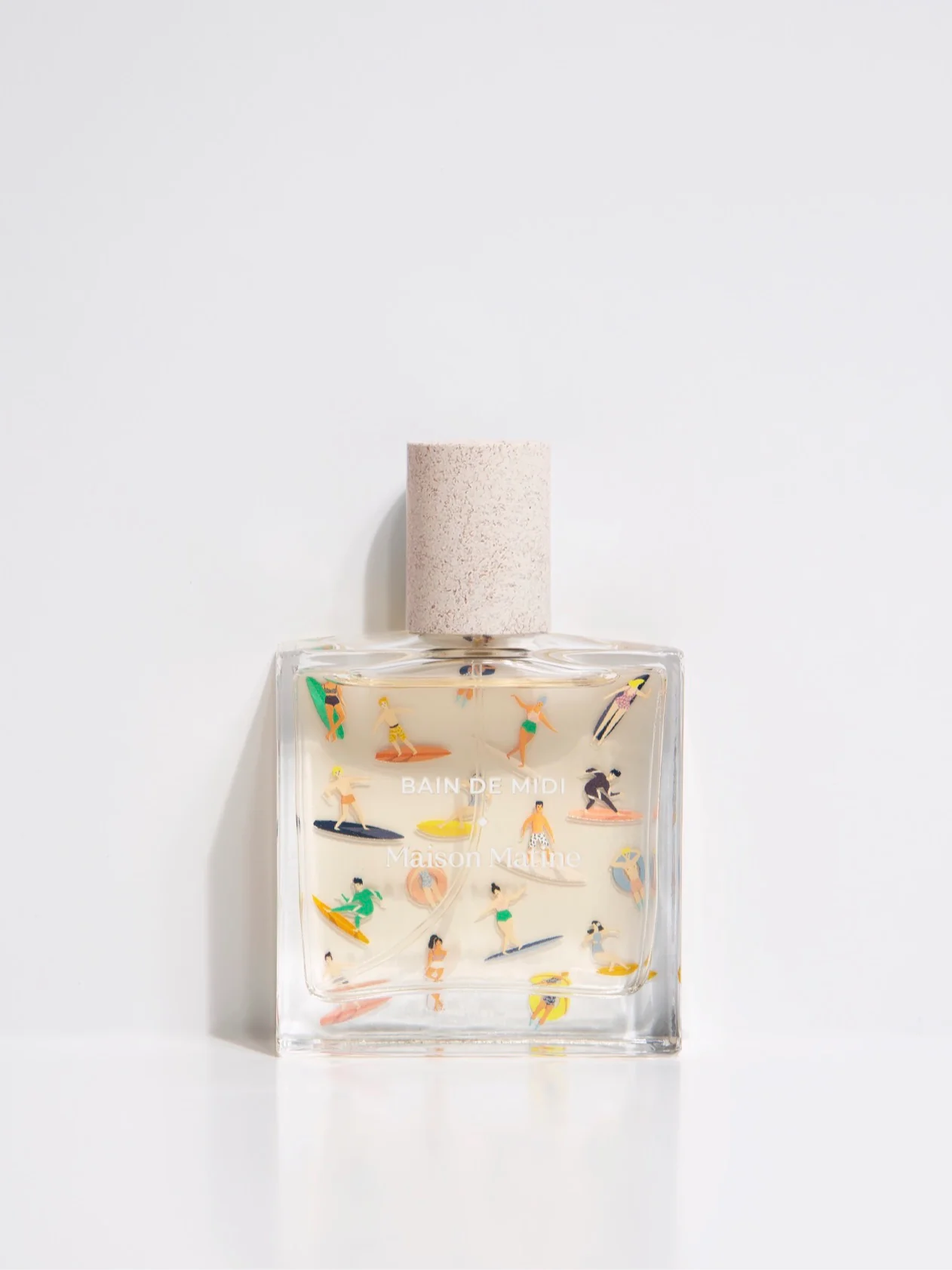 Bain de Midi Eau de Parfum by Maison Matine
Maison Matine's Bain de Midi from the Origine Collection is a refreshing and uplifting scent that encapsulates the pure joy of being on a sunny beach. With its invigorating citrus and marine notes, this fragrance is like a revitalizing dip in the ocean. The initial combination of sweet, intense tiaré and ylang-ylang notes creates a rich and exotic opening. After a while, it gracefully transitions into heart notes of jasmine and neroli, adding a touch of delicate floral sweetness to the mix. Finally, the base notes of vetiver and white musk create a soothing foundation that lingers pleasantly on the skin. The subtle hints of coconut and a touch of citrus add a refreshing and bright aspect to the fragrance, enhancing its summery vibe even further.
Maison Matine not only excels in creating captivating fragrances but also takes its environmental responsibility seriously. The Origine Collection is committed to eco-friendly practices, using sustainably sourced and cruelty-free ingredients. The brand's dedication to sustainable packaging is evident in the recyclable materials used for the bottle and the eco-friendly cardboard packaging.
The power of fragrance to transport us to far-off destinations is truly remarkable. With these beach perfumes in your collection, you can close your eyes and let the scents whisk you away to tropical paradises. The long-lasting qualities and versatility of these scents ensure that you can wear them on various occasions, leaving a trail of beachy nostalgia wherever you go.