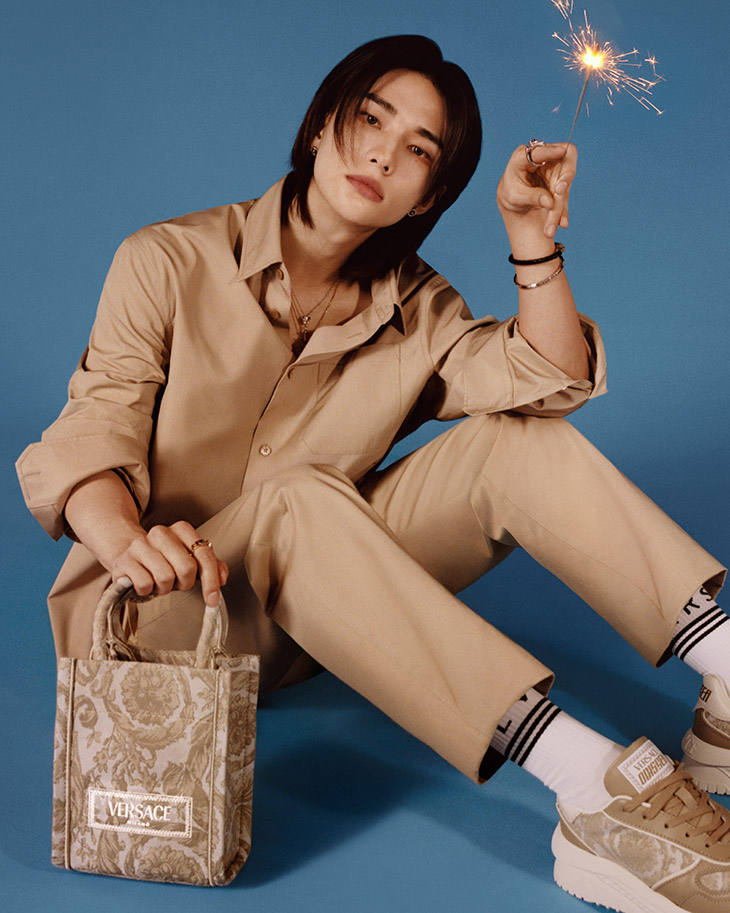 Multi-talented member of K-pop boy group, Stray Kids, Hyunjin takes center stage in the Versace Holiday 2023 campaign, a dazzling celebration of Versace's signature attitude, elegance, and playful spirit. The campaign marks his first appearance as a Versace Global Brand Ambassador, following his appointment earlier this year. Hyunjin introduces the all-new Athena tote bags, a collection that effortlessly brings the iconic opulence of the House's Barocco print into the realms of daily life, offering styles that blend fashion with functionality. Captured through the lens of fashion photographer Angelo Pennetta, Hyunjin showcases Versace's extensive array of offerings for the festive season, including Barocco ready-to-wear, high winter coats and jackets, exquisite eveningwear, and exceptional gifting options. For the campaign Hyunjin was joined by Amelia Gray, Hedi Ben Tekaya, and Sacha Quenby. In charge of styling was Jacob K, with casting direction from Piergiorgio Del Moro. Video direction by Rosie Marks.
The Athena tote bag collection offers a fresh perspective on Versace's iconic Barocco print. While retaining the brand's core values of creativity, freedom of expression, and enchantment, this collection introduces new soft tone-on-tone colors that infuse the bags with a contemporary and chic allure, making them an ideal choice for everyday use. The craftsmanship and Barocco finish in these tote bags unmistakably embody Versace's luxury aesthetic, and their design captures the essence of the festive season.
"Versace is exactly how I want the Holiday season to be – it's exciting, looks amazing, feels incredible, and is shared with good friends. That is how I felt making this campaign with my Versace family. Thank you Donatella, you are the best!" – Hyunjin
Barocco's distinctive and rebellious classicism, combined with a dash of pop-culture playfulness and opulence, encapsulates the very spirit of the Holiday season. The collection incorporates alternative materials and fresh tone-on-tone color finishes, breathing new life into the signature print while ensuring its adaptability for everyday use. These innovative design elements include intricate lace inserts on luxurious satin evening dresses, jacquards in knitwear, tailoring, and outerwear suitable for gifting, as well as laser-printed Versace denim pieces.
The Barocco print, originating from a 1991 runway collection, stands as a vibrant celebration of creativity, freedom, and magic. With its roots in ancient Greek architecture and Baroque art, it swiftly became one of Versace's most recognizable hallmarks, alongside the iconic Medusa and the graphic framing Greek key pattern.
The eveningwear collection showcases Versace's unique approach to tailoring and proportions, featuring double- and single-breasted jackets adorned with the Barocco jacquard. For the high winter season, Versace presents a selection of coats and jackets that incorporate the Barocco in tone-on-tone jacquard patterns across cashmere overcoats, heavy wool tailored coats, and the quintessential trench coat.
"I wanted to celebrate Joy with this Holiday campaign – the joy of the season and being surrounded by those we love. I am thrilled Hyunjin has become part of our Versace Family. I love his energy and the joyful spirit he brings to these images." – Donatella Versace
The Athena tote bag line, crafted from GOTS-certified cotton canvas, features the Versace logo and textural Barocco tone-on-tone jacquard. These bags come in a range of sizes, from extra-large to small, complete with top handles and detachable shoulder straps. Introducing the Greca Goddess hobo bag in new material finishes, such as metallic gold and patent leathers, as well as quilted satin and velvet plissé.
The Gianni Ribbon slingback pumps feature an archival 'nastro Gianni' satin ribbon bow. The Medusa '95 loafers offer a versatile day-to-evening option with the Medusa '95 as a prominent hardware detail. These shoes come in new leather finishes, including croc-embossed calf leather and metallic options.
Versace's Greca Sneakers now come in new finishes, including the House's signature Barocco in denim and canvas jacquard. Elios, the men's shoe line, reimagines typically formal styles in luxurious high-sheen leather, featuring a more relaxed and versatile rubber sole.