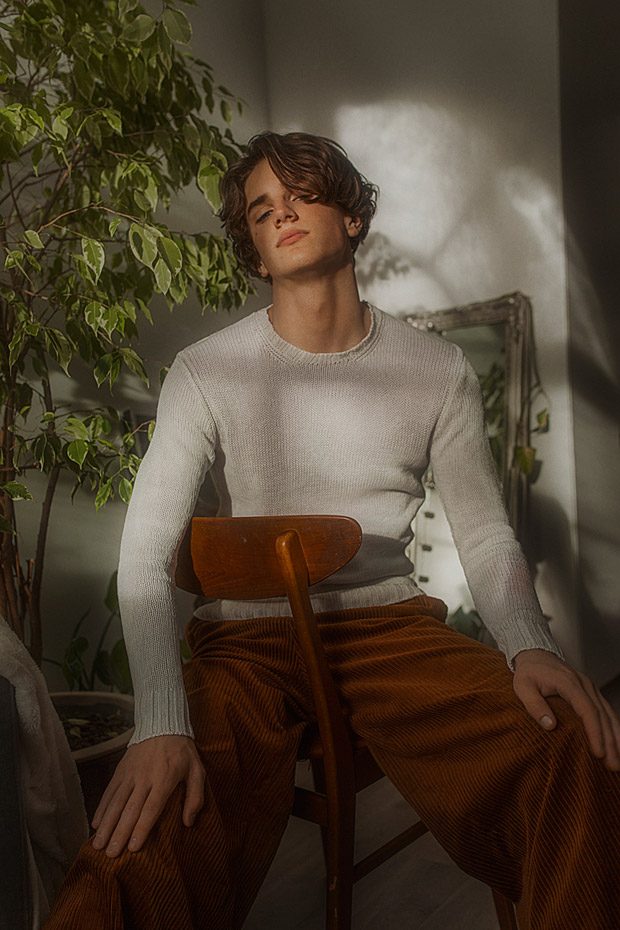 Spring has arrived (let's rejoice), and summer isn't far off too. So it's time to think about clothing for the spring/summer season. Urban clothing is still very in for 2018, so put down your warm parka or bomber jackets and look forward to what you should be wearing over the next few seasons.
In this article, we will take you through the hottest urban clothing styles for the spring/summer season.
White Sweaters
Perfect for spring, or the colder days of summer. White sweaters bridge the gap between clothing for the autumn/winter and spring/summer seasons. Warm, functional and stylish, the colour white is a refreshing change from the grey and black sweaters usually associated with the colder months.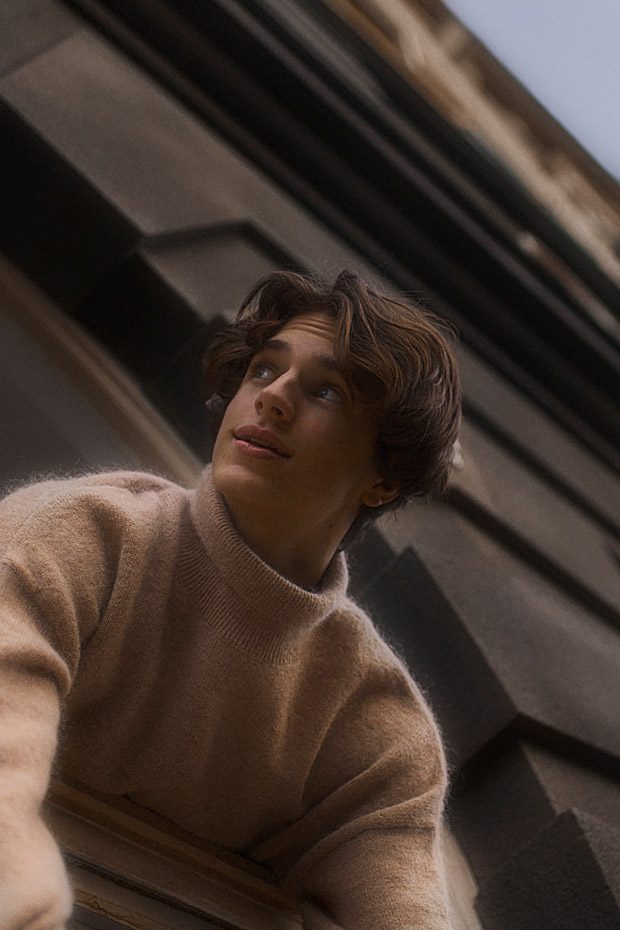 Look for stripped back white sweaters, that only contain the brand logo. You don't want a white sweater crowded with graphics, these look messy and don't really fit the bill for spring/summer attire. We really like this White Star Sweater by 304 Clothing, the striking red logo makes a great contrast to the bright white cotton sweater, making it extremely aesthetically pleasing. The description even states 'Careful your girlfriend doesn't steal this one' – and we couldn't agree more!
White Trainers
Is white the colour of spring/summer 2018? It could well be. White trainers are back, the popular urban fashion style commonly seen in London is here to sweep the nation again. We do advise you choose black or blue jeans with your white trainers, especially if you are thinking of embracing a white sweater as well!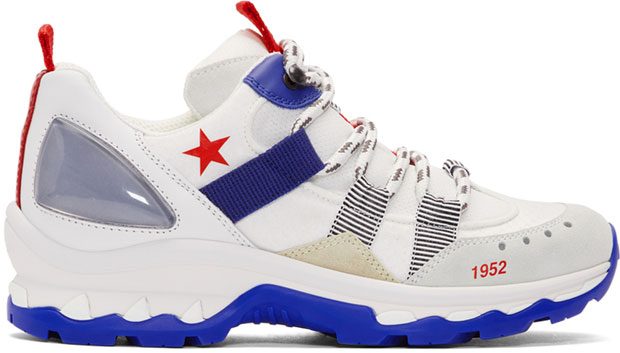 Givenchy White 1952 Star Trainer Sneakers
Trainers made from breathable upper mesh material, like the Nike Air Presto Fly; look great, offer extreme comfort and allow your feet to breathe on even the hottest of days. Top fashion designer are also working hard on various renditions of the white trainer – our style pick the Givenchy trainer perfect mix of sporty, trendy and comfortable.
Graphic Tees
Graphic tees are great for adding an artistic element to your menswear get up. There are 100s of styles to choose from, depending on your personality and what design you think looks good. We say graphic tees are best for the spring/summer season as you are more likely to be wearing just a t-shirt, as oppose to in winter when your coat would be covering them up!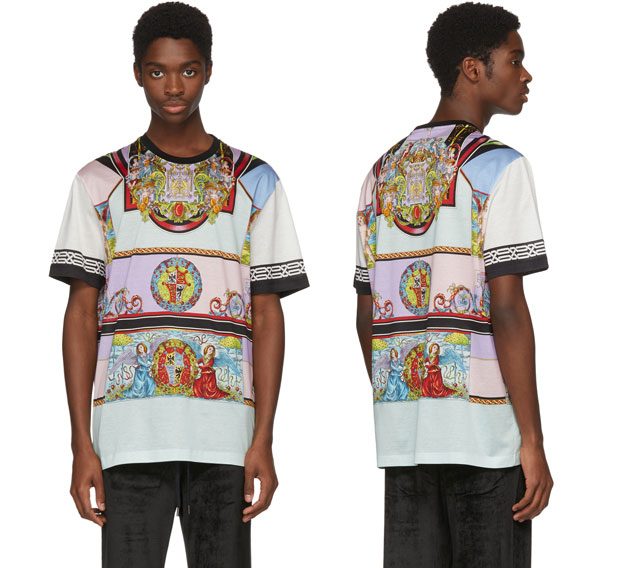 Versace Multicolor Angel Print T-Shirt
This is especially relevant when you choose a graphic tee that makes use of the front and back of the t-shirt. We really like this Portal T-shirt by 304 Clothing, it's simple yet beautiful design is something to be admired! Another to add up to our shelves is the Versace Multicolor Angel Print Tshirt, a complete homage to the Italian label's 90s Gianni Versace era.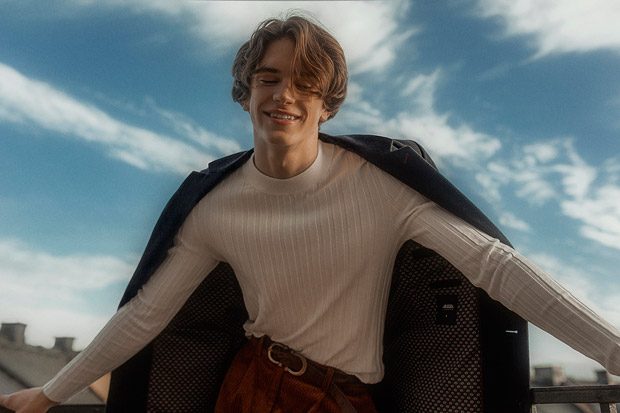 Branded Baseball Caps
Baseball caps are not only practical, but also stylish too. You may have noticed some people wearing them throughout autumn/winter, but the real season for the baseball hat is still spring/summer. You don't want any old plain baseball cap however, look for one with a striking brand logo.

Gucci Black UFO Garden Baseball Cap
There are loads of fringe brands that offer something slightly different, yet come across as visually appealing – so we encourage you to look beyond the usual Adidas or Ralph Lauren baseball caps. We would also advise that you stick to darker coloured baseball hats; white or even sand coloured may stand out, but for all the wrong reasons. And if you really want to stand out, you can always choose a flashy, and very coveted, Gucci baseball cap by the label's creative director Alessandro Michele.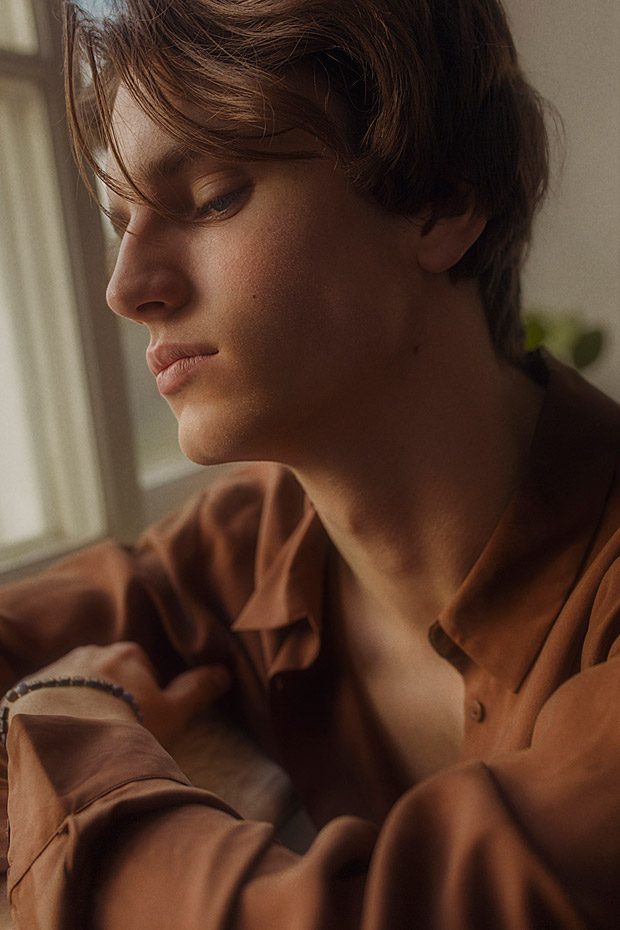 Neutral Shirts
Just as we have discussed graphic tees, neutral shirts are also looking to be in high demand for the spring/summer season. In particular, light coloured shirts, camel and sand tones are also back on the shelves. Whites and sandy colours help bring out your natural skin tone, so it makes sense to stock up on these neutral tees for when you are more likely to get a tan – even if that is a rarity in the UK!
All editorial images from MMSCENE Magazine online exclusive starring Theo N by Emelie Lundqvist – discover the full session.