The Moncler x Salehe Bembury collection brings a human touch to luxury, with a reimagined outdoor range that explores colour, shape, and practicality, all highlighted by Salehe's trademark fingerprint.
This campaign is a dialogue about humanizing luxury. My goal is to harmoniously balance Moncler DNA with the heritage of the outdoors. This collection embodies a juxtaposition of ethos rarely seen in either environment. – Salehe Bembury
Moncler Genius' growth as a platform for collaboration between many creative worlds continues with Moncler x Salehe Bembury. The collaboration pushes the traditional cooperation model into uncharted territory of creation, paving the way for sneaker designer Salehe Bembury's debut ready-to-wear collection, as well as footwear and accessories.
The collection, titled Moncler ēquipements inspired by a late 1950s archived Moncler mountaineering line, draws on the brand's original design codes, re-interpreted through Salehe's distinctive creative language. Salehe, an ardent hiker, draws from Moncler's heritage to design a uniform for rewilding. A shared appreciation for the environment inspires a palette of earthy hues, including burnt orange, sunset coral, moss green, and muted brown.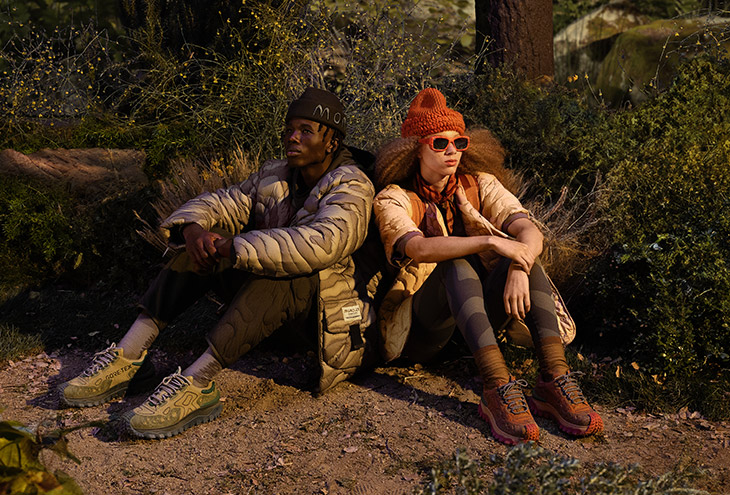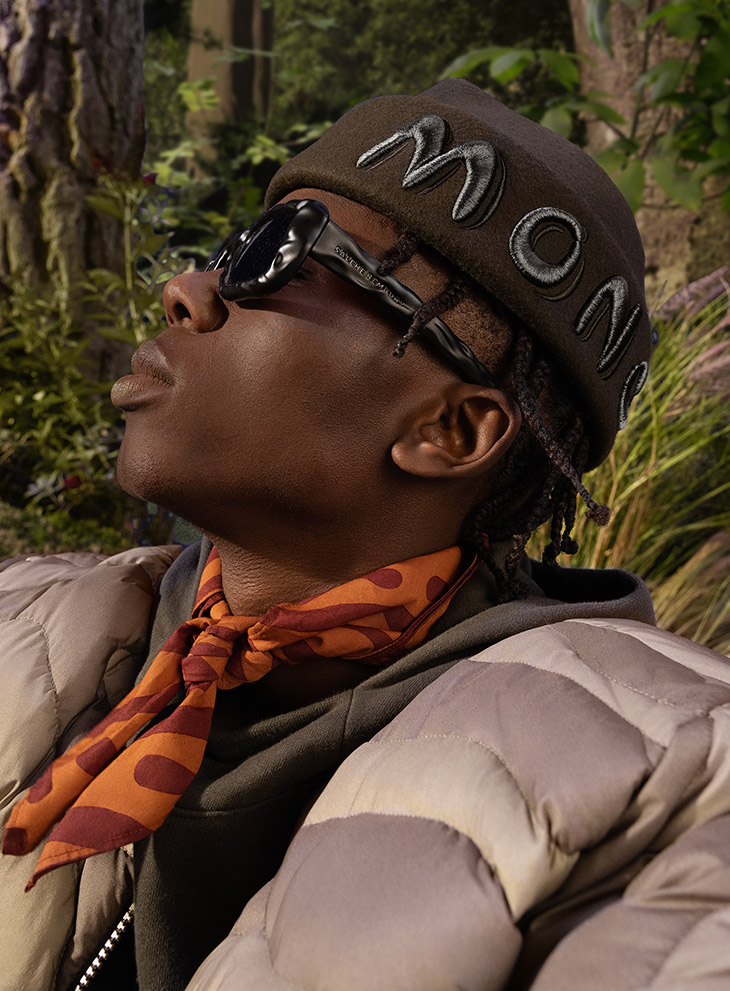 Moncler ēquipements is an exploration of palette, shape, and utility. From extensive time spent in the wilderness, I have developed a deep appreciation for nature and the elements that come with it. – Salehe Bembury
Salehe's entry into outdoor gear aims to broaden the field with functional pieces that invite a diverse community to explore the freedom of nature. He designs pieces that feel authentic to him and is empowered by Moncler's technical expertise in the space. Collarless puffer jackets feature practical utility compartments, and GORE-TEX INFINIUMTM parkas are paired with teddy fleeces and leggings, topped off with caps and beanies. Bembury's signature 'grain' thumbprint merges with Moncler's iconic quilting on a selection of padded outerwear, vests, and lighter layers, in accordance with the Genius co-creation codes.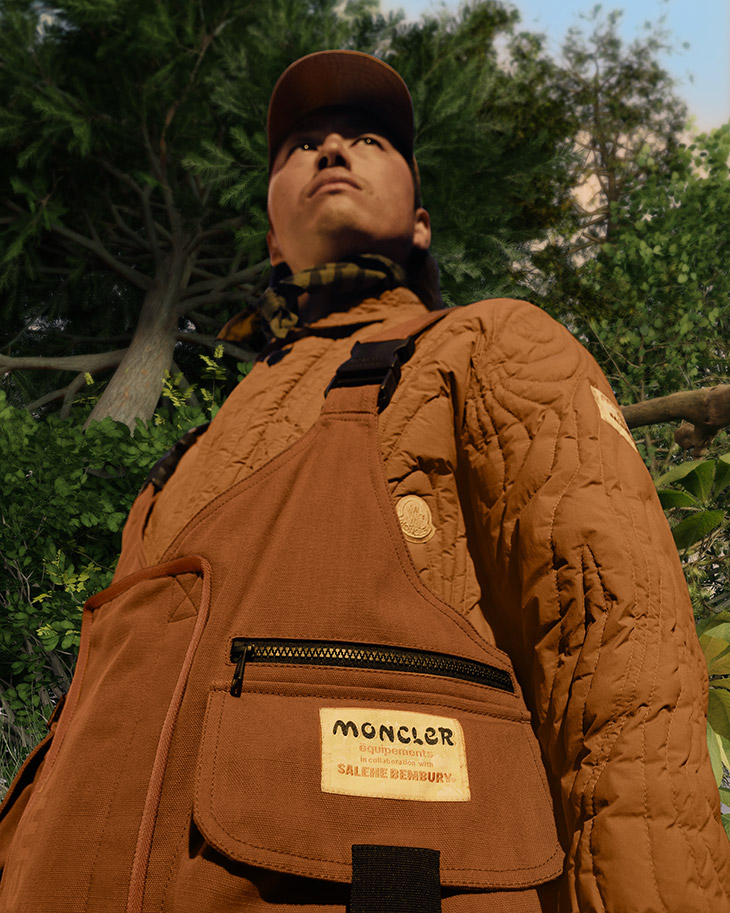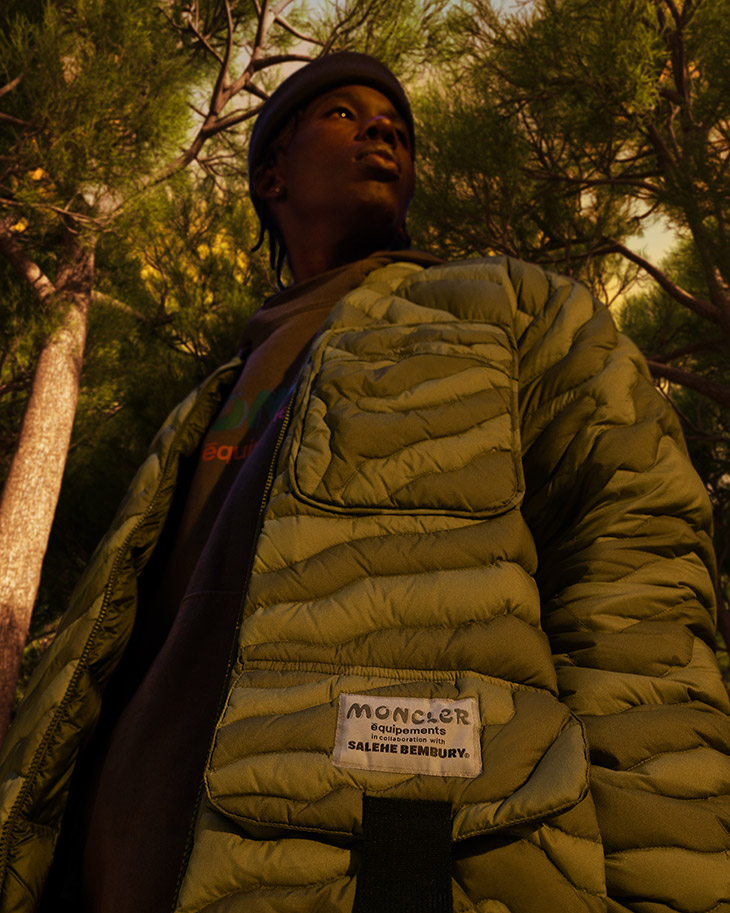 Moncler's signature Trailgrip sneaker has been redesigned for the brand's next iteration of outdoor adventurers and enthusiasts. The Trailgrip Grain by Salehe Bembury resounds with a new frequency in organic green, orange, and pastel taupe shades that feature the 'grain' thumbprint quilting.
The accompanying campaign for ēquipements, captured by Hala Matar and Lauren Kim, features a group of trekkers communing with nature on a California-inspired forest trail. Raindrops, wind, and sun transform into musical notes, blending with the sounds of footsteps on verdant grass, zippers opening and closing, and raindrops adhering to fabrics. In a unique interpretation of the Moncler x Salehe Bembury community, utopian harmony between people, fashion, music, and the natural world is brought one step closer.