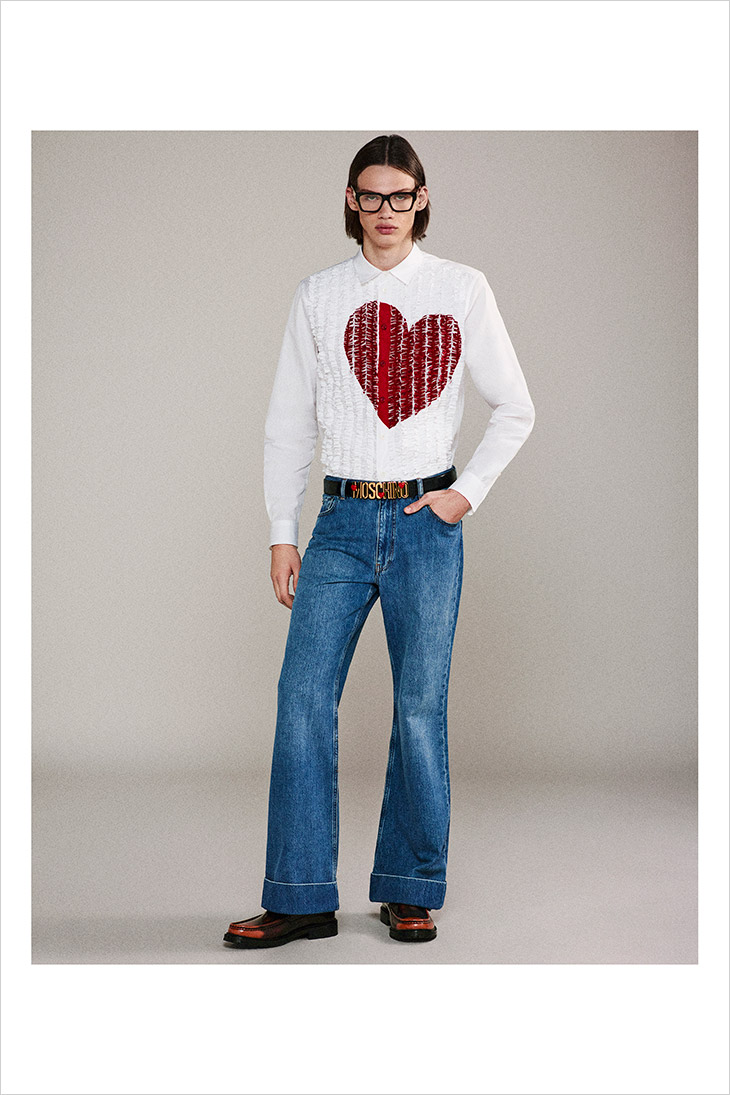 The Moschino Pre-Fall 2024 Menswear collection is a captivating fusion of sophistication and youthful charm, bringing together grown-up vibes with a dash of boyish spirit. It's a style journey where mixed media steals the spotlight, playing with textures and colors in a way that's both unexpected and delightful. The collection speaks to the street-loving grown-ups, those who appreciate tailored fashion but aren't afraid to infuse it with a bit of playfulness.
Signature motifs, the beloved hearts, and polka dots, undergo a chic metamorphosis. Ruffled shirts reminiscent of bib-like structures and short shorts cleverly styled as briefs peek mischievously from under casual sweatpants, creating a harmonious blend of casual and formal elements. The sweatpants themselves come complete with built-in conservative striped cotton undies, adding a touch of unexpected refinement to the laid-back aesthetic. Magnified polka dots and hearts command attention on evening suits, creating captivating chiaroscuro effects that elevate traditional formalwear into artistic expression.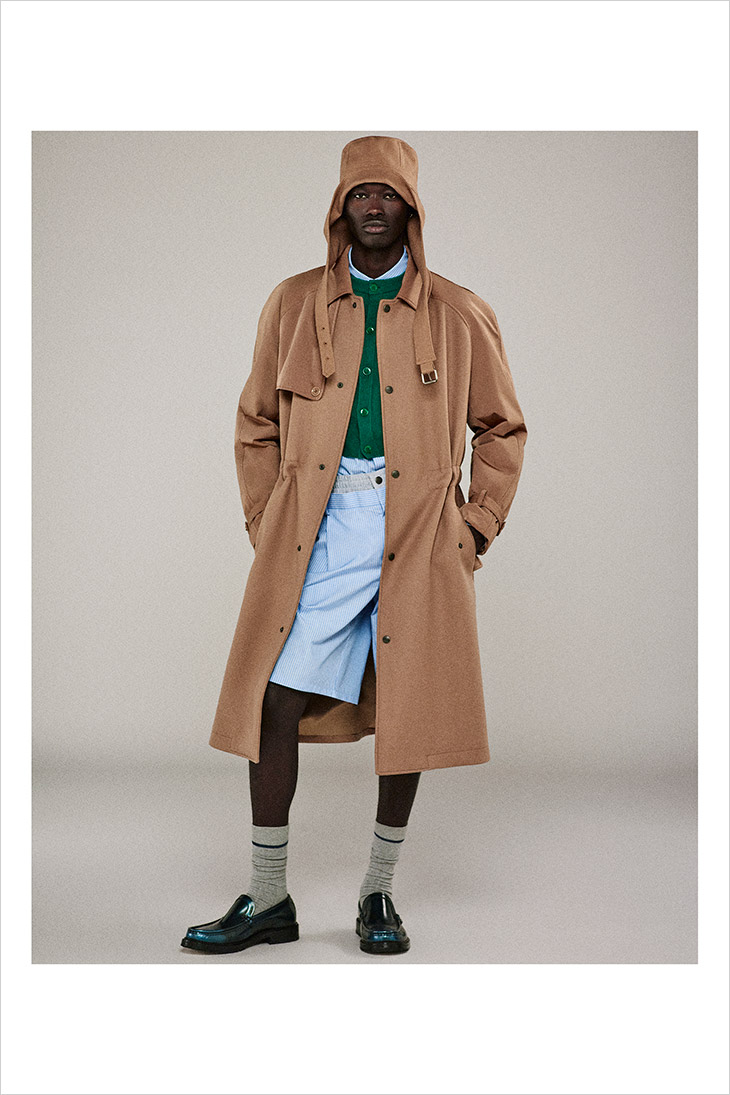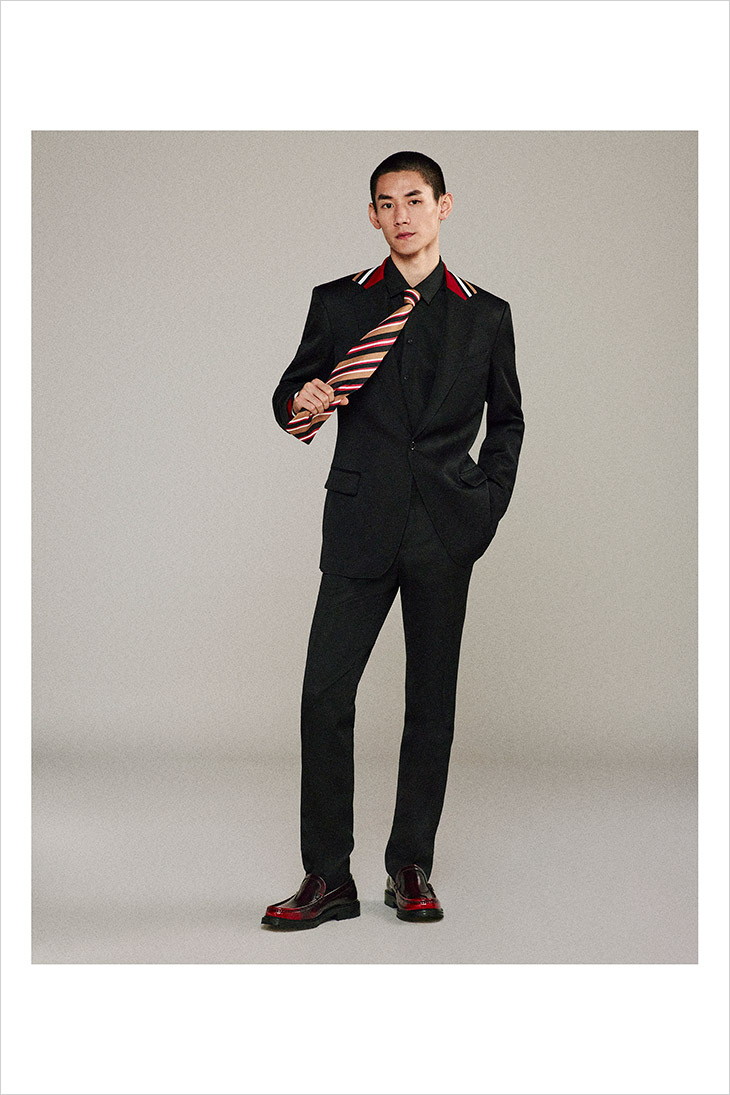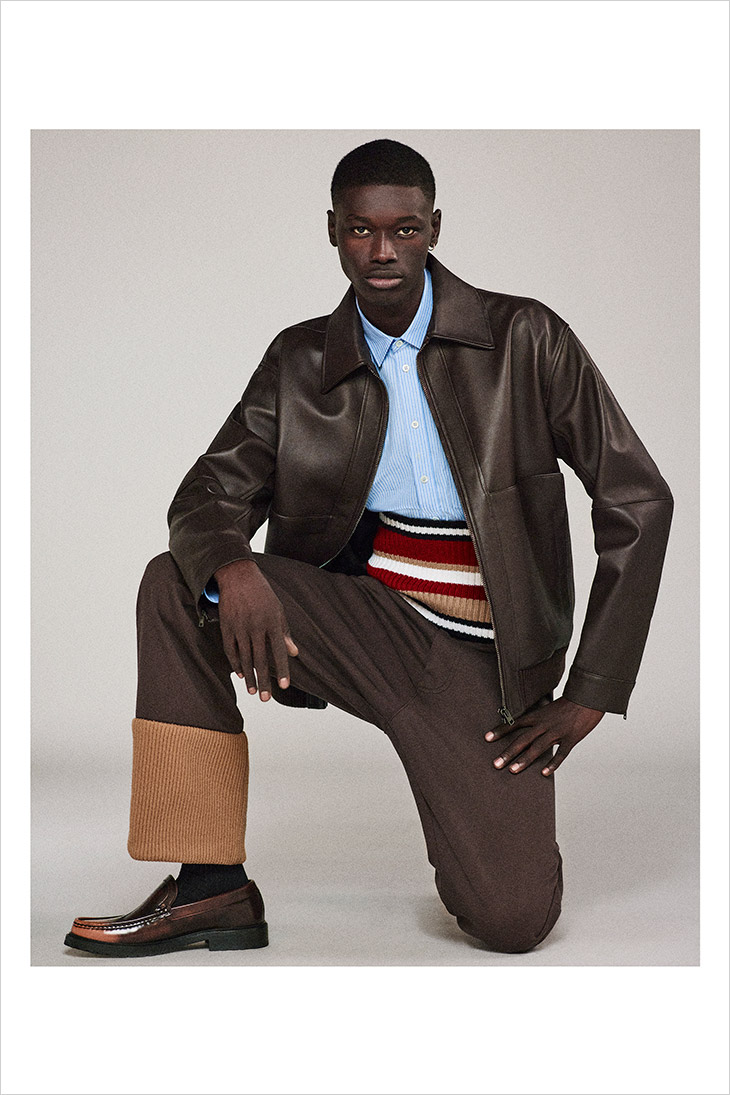 The art of deception becomes a recurring theme as Moschino plays with mixed media and layering techniques. Cropped hooded sweaters unveil a surprise element with built-in striped shirts, echoing a perfect harmony between casual comfort and tailored precision. Trompe l'oeil tailored pants integrate briefs, while T-shirt and shirt combos redefine the boundaries between casual and formal attire. Blazers, true to Moschino's innovative spirit, feature rib-knit insets mid-way through the arms or on the collar, while leather biker jackets boast knitted front panels, adding depth and texture to outerwear.
Offbeat touches become the collection's playful signatures, anchoring the looks with a touch of whimsy. Ties take on a cropped and slightly oversized persona, challenging traditional norms and injecting a dose of contemporary flair. Knit cummerbunds transform into belly warmers, bridging the gap between style and functionality. The iconic perfecto biker jacket surprises by doubling as a briefcase, merging fashion with functionality. The tiny embroidered hearts, a house signature, embark on a stylish migration from shirts to the iconic Moschino belt, creating a thread of continuity and brand identity.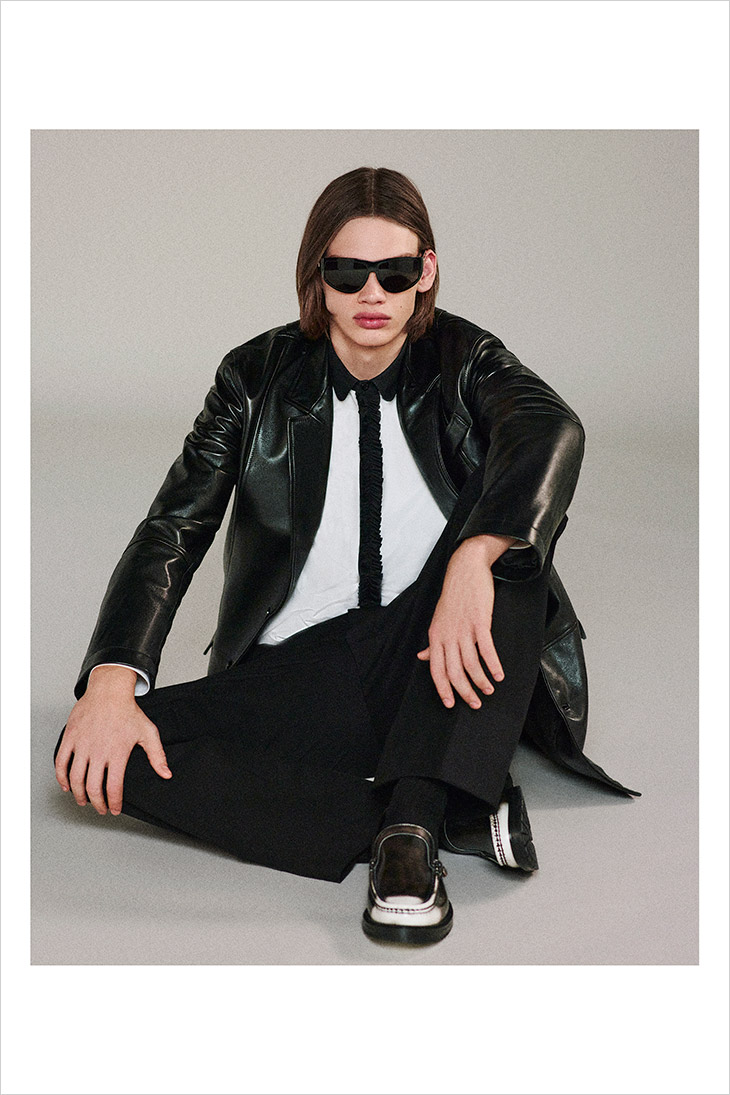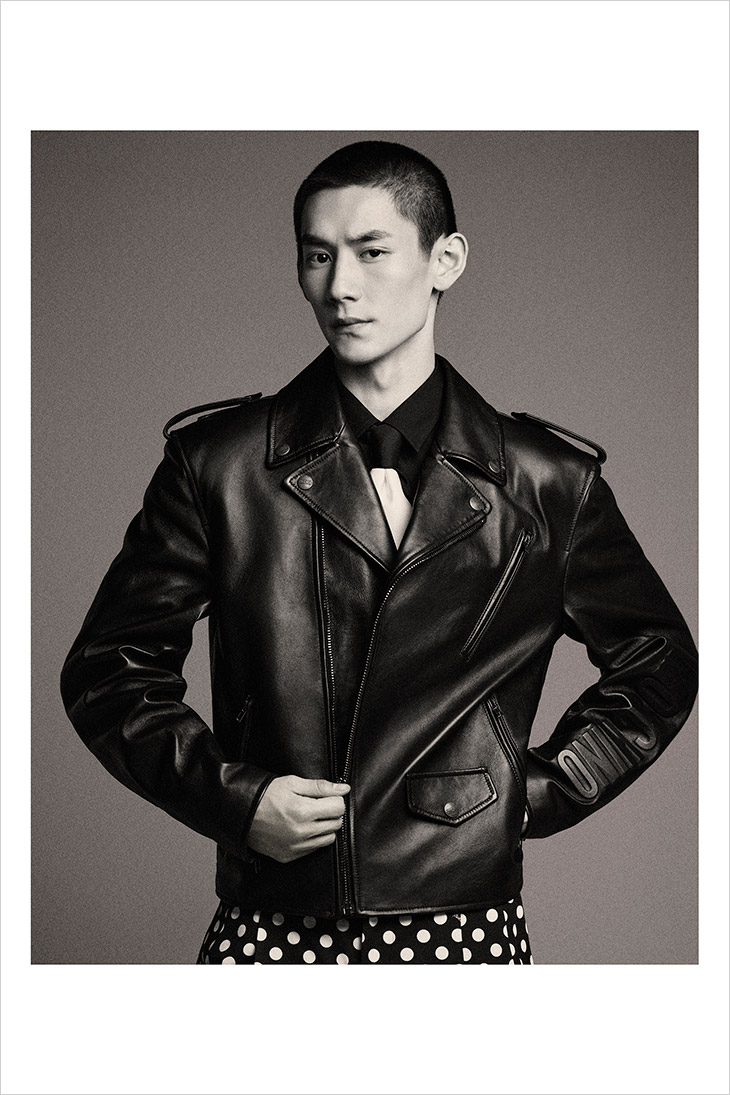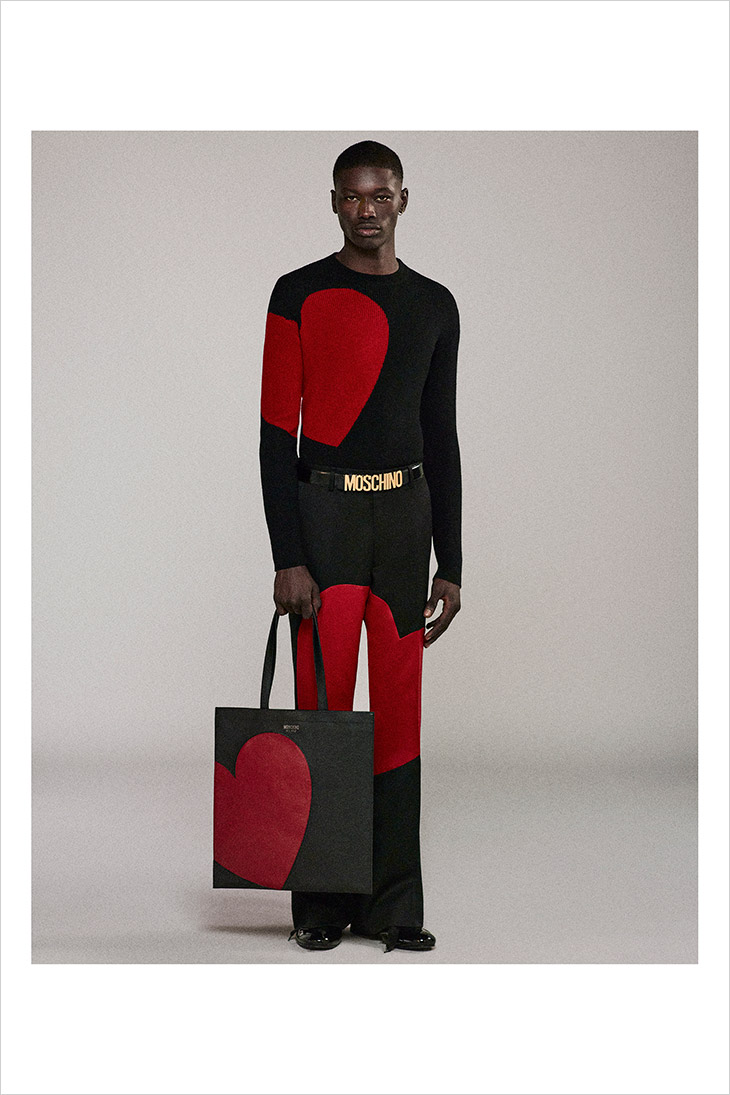 Adding a final twist to the narrative, fiery red security tags make an unexpected appearance as pins scattered on tailored power-shouldered overcoats and parka jackets. The Moschino Menswear Pre-Fall 2024 collection is a celebration of individuality, creativity, and the art of fashion deception.
Fashion photographer Mark Kean captured the lookbook featuring models Alexander Tesini, Cheikh Diakhate, and Jie Zheng. In charge of styling was Imruh Asha, with grooming from beauty artist Andrew Guida.